1. LeBron Closes Out Cleveland Victory
By Chris Broussard
ESPN The Magazine
CLEVELAND -- Jamario Moon tried his best, draining killer 3s all night long. But it's hard to steal the show when you play with LeBron James.
On a night when Moon, a 32 percent 3-point shooter, hit 4-of-5 from behind the arc, the marquee still belonged to James.
With the eighth-seeded Chicago Bulls playing his Cleveland Cavaliers even, applying the type of pressure the Cavs weren't supposed to see for another round or two, James put together a three-minute highlight reel that buried the Bulls.
Scoring 11 straight Cavs points, James willed his team to a 112-102 victory and a 2-0 lead in this first-round Eastern Conference series. The late run was the defining stretch of a terrific outing by the soon-to-be two-time MVP, who turned in a dazzling 40-point, 8-assist, 8-rebound, 2-block performance at Quicken Loans Arena.
"It was a sight to see,'' said teammate Antawn Jamison, who followed LeBron with 14 points. "To see how close the game was and for him to take over, you just have to realize that you're witnessing history. There's only a certain amount of guys who can do that. I've seen my fair share of that as an opponent and it's gratifying to be on the same team as a guy like him.''
The Cavs needed every bit of LeBron's 40, 8 and 8 because these undermanned Bulls, showing all the guts and resiliency they did a year ago in stretching Boston to seven games, were their equal for most of the night. With Derrick Rose (23 points, 8 assists) attacking the paint, and Joakim Noah (25 points, 13 rebounds) owning the offensive glass, Chicago was within three at 96-93 with 4:45 to play.
That's when James said, "Enough."
First, with the 6-foot-11 Noah breathing down his chest and raising his wickedly long arms, he sank a 3-pointer. Then he grabbed an offensive rebound, drew a foul and hit two free throws. Then came a driving layup. Suddenly, the lead was 10 points.
But James wasn't done. He answered a jumper by Rose with a 19-footer. Then, after a 3-pointer by Kirk Hinrich, James hit a 20-footer. Having fun by now and keenly aware he was in "The Zone,'' James threw up the proverbial heat check -- an off-balanced 19-footer over Hinrich and Luol Deng -- just for good measure. Finally, he missed.
But by that time The Chosen One, King James (as if he needs another nickname), had more than lived up to the new moniker his teammates have for him.
"They call me The Closer every time I come in in the fourth quarter,'' said James, who made 16 of 23 shots. "That's my time to put the game away or do what I do best, and that's just try to close the game the right way. Am I always successful? Not all the time, but it makes me stronger when I'm not always successful. I know how to react the next time I'm in that situation. So it's great to actually live up to what those guys now are starting to call me, The Closer.''
While Chicago did most things right Monday, they did one thing horribly wrong: They taunted James. Even though he was butchering them at will the whole night through, the impudent visitors talked trash.
"They were talking the whole game,'' James said. "Every time I caught the ball over there [by the Bulls' bench], they were daring me to shoot the ball, telling me that I couldn't shoot or 'You can't make jump shots, so take the shot.' So that's what I did. They asked me to shoot a jumper and I did that, over and over and over and over and over and over and over again.''
For all his late-game excellence, though, it was a play in the first quarter that will most likely reign supreme on SportsCenter's Top 10. James Johnson, a brash young rookie for the Bulls, was assigned to cover James late in the first quarter.
The 6-9, 245-pound Johnson tried to muscle LeBron -- hounding him, holding him, pushing him. You could see James getting tired of Johnson's nonsense, and with 59.9 seconds left, he finally erupted.
And that's putting it mildly.
Driving hard toward his right, he blew by Johnson and elevated. Johnson elevated as well, just not as high, and in one powerful, arena-shaking motion, LeBron threw down a one-handed flush that was at least the equivalent of his famed dunk over Boston's Kevin Garnett two years ago. Johnson was actually pushing him away from the rim as James was throwing it down.
Simply put, the dunk was ferocious.
"In that situation, when I turn the corner and I see the rim, it doesn't matter if there's a guy in front of me or a guy behind me, I'm going to attack the rim at it's highest level,'' James said. "And that's what I did tonight. I knew I got around him and I didn't believe he was going to jump. But once I saw him out of the corner of my eye, I decided to jump just a little higher.''
Oh yeah, Moon had a nice game for the Cavs, too, scoring 12 points -- all on 3s -- in just under 20 minutes off the bench.
"J-Moon was excellent,'' LeBron said. "He's probably the main reason why we won tonight because he knocked down big shot after big shot after big shot. They cut it down to three [points], they cut it down to two, and J-Moon just kept knocking down 3s.''
But when it came time to knock down the Bulls for good, it was James, as usual, who delivered the blow.
Chris Broussard is a senior writer at ESPN The Magazine.
Dimes past: March 30 | 31 | April 1 | 2-3 | 4 | 6 | 7 | 8 | 9-10 | 11 | 12 | 13 | 14 | 17 | 18
2. Don't Count Out the Utah Jazz
By Kevin Arnovitz
ESPN.com

Williams
DENVER -- A beleaguered Utah Jazz team entered Game 2 in Denver with a litany of worries. In Game 1, they lost starting center Mehmet Okur for the season with a torn left Achilles tendon, thrusting the very green Kyrylo Fesenko into the starting lineup for Monday night's Game 2. Meanwhile, the Jazz were already without their best defender, Andrei Kirilenko, whose absence put excessive pressure on his understudies, C.J. Miles and Wesley Matthews. Carmelo Anthony torched the young tandem for 42 points in Game 1 and arrived hungry for more.
Undermanned on both the offensive and defensive ends of the floor, the Jazz had only one saving grace -- their lethal screen-and-roll combination of Deron Williams and Carlos Boozer. The pair orchestrated a clinic, baffling the Nuggets' defense with their two-man waltz -- with Williams as the lead. Williams finished with 33 points and 14 assists, vaulting the Jazz to an improbable and frenetic 114-111 win over the Nuggets at the Pepsi Center, evening the series 1-1.
"This is a big win for us," Williams said. "Nobody was really giving us a shot. We just wanted to come out here and put that to rest. We feel like we still have a great team that can compete and we're really proud of how we played and battled tonight."
Williams had a series of offensive imperatives on Monday night, and he succeeded at every one. First, he attacked Denver off the dribble every chance he got, looking for either a seam to the basket or contact against a collapsing Nuggets defender. Williams made his way to the free throw line for 18 attempts, draining 16. Second, Williams engaged Boozer in their classic middle pick-and-roll. Finally, if Williams was unable to find a seam or his post option was covered, he empowered weakside threats like Kyle Korver by executing the Jazz's offensive system to perfection.
"[Williams] set the tone from the beginning," Boozer said. "He came out aggressive, got to the basket, hit shots -- jumper after jumper -- then got to the free throw line."
Williams' most exquisite play came out of a timeout with 1:43 remaining in the game and the Jazz trailing 106-105. At the top of the circle, he broke down Chauncey Billups off the bounce. When the Nuggets' wing defenders collapsed on him in the paint, Williams threw a dart to Kyle Korver in the right corner, where the sharpshooter drained a 3-pointer to give the Jazz a 108-106 lead they would never relinquish.
For more on the Jazz win, go to TrueHoop
3. Still Searching For A Ring
By Tim MacMahon
ESPNDallas.com

Nowitzki
DALLAS -- Dirk Nowitzki's display of remarkable scoring efficiency during Sunday's playoff opener added to a case that he'd rather not make.
He's one of the best postseason performers in NBA history who doesn't own a championship ring.
Nowitzki's playoff production places him among the all-time elite. He's one of five players with career playoff averages of at least 25 points and 10 rebounds, joining Elgin Baylor, Hakeem Olajuwon, Bob Pettit and Shaquille O'Neal.
To read the entire column, click here.
4. Daily Dime Live Recap
ESPN.com writers and TrueHoop Network bloggers chatted with fans and gave their in-game opinions throughout Monday's games -- all in Daily Dime Live.
---
By Maurice Brooks
ESPN.com
MONDAY'S BEST

James

LeBron James, Cavaliers
I guess he proved his point. On a night when the Bulls kept daring him to shoot jumpers, LeBron was up to the task, making 16 of 23 shots from the field on the way to a 40-point performance.

MONDAY'S WORST

Smith

J.R. Smith, Nuggets
The Sixth Man of the Year candidate wasn't even the top shooting guard off the bench against the Jazz. That honor went to Kyle Korver (13 points), who hit several key shots on Smith. Smith made just 3-of-10 from the field.

QUOTE OF THE NIGHT

"Not at all. You like it? You think Cleveland's cool? I never heard anybody say, 'I'm going to Cleveland on vacation.' What's so good about Cleveland?"

-- Bulls big man Joakim Noah giving his thoughts on the city of Cleveland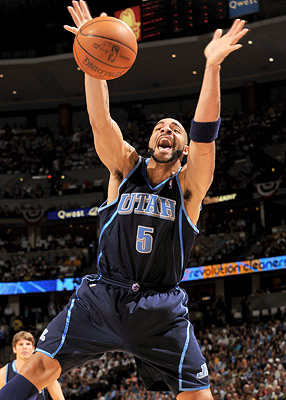 (Garrett Ellwood/NBAE/Getty)
Carlos Boozer scored 20 and pulled down 15 rebounds, and Deron Williams had 33 points and 14 assists, as the shorthanded Jazz held off the Nuggets in Denver, 114-111.
8.

Nuggets Stumble Down Stretch
By Jeremy Wagner
TrueHoop Network

Billups
The Denver Nuggets simply can't accept good fortune. Whether it's losing double-digit leads to teams like Minnesota and the Clippers in the regular season, or letting a physically embattled Jazz team tie their first-round series 1-1 by dropping Game 2 114-111, the Nuggets just keep refusing to be great.
On Monday night versus the Utah Jazz, the Nuggets fought their way back into the contest in the second half by pressuring the ball and scrambling on defense and attacking the rim on the offensive end. Once they took the lead, instead of capitalizing, they handed it back with inexplicable offensive fouls and long-range 3s.
Leading the way were supposed leaders Chauncey Billups and Carmelo Anthony. In a quarter when Denver was dominant in the paint -- 8-for-10 on layups and dunks in the fourth quarter alone -- Billups took an unnecessary 3 with the Nuggets ahead 106-105, and Denver would never lead again. Billups also committed an offensive foul when he drove out of control to the basket with the Nuggets down 108-107 with only 31 seconds left.
That foul was far less egregious than the mind-numbingly stupefying foul Anthony committed with 25 seconds remaining as he rode C.J. Miles up the sideline in the backcourt and finally reached in across Miles' body just for good measure to ensure a call had to be made. The sad thing is Carmelo has committed that foul over and over throughout his career. He gets in his mind that he wants to play aggressive defense, and next thing you know he fouls his man 45 feet from the basket. The difference is, this time it was near the end of a tight playoff game, and to make things worse, it was his sixth foul. It was actually not the only unnecessary foul Melo committed in the closing seconds of the contest. Anthony committed his fifth foul -- and his fourth offensive foul of the game -- with 77 seconds remaining when he flung his elbow at Wesley Matthews and knocked him down after he had already beaten him with his first step.
The biggest knock on the Nuggets has always been that they are knuckleheads. In the past, I have argued that this reputation is overblown, but after seeing the two "team leaders" blow another season-threatening game, I have run out of ammunition.
To read more from Wagner, check out the blog Roundball Mining Company.
9.

Suns Must Adjust For Game 2
By John Hollinger
ESPN.com

Nash
PHOENIX -- You're going to hear one word a lot over the next few days: "adjustments."
It's part of the yin and yang of the playoffs, especially for teams that lose Game 1. On the one hand, teams need to resist the urge to panic and do something rash just because of one game. On the other hand, every Game 1 loser knows that things need to change -- fast -- or their season will be over in a matter of days.
The team in the most dire circumstances after the opening game is the Phoenix Suns, because unlike the other seven Game 1 losers, they lost home-court advantage. A second defeat on their own turf would be calamitous.
Thus, the Suns must ponder several items as they head into their most important game of the season Tuesday. In the lead-up to Game 1, the Suns insisted that their uneven play against the Trail Blazers in the regular season wasn't a big deal. And even afterward they felt the biggest problem was that they simply didn't play well.
To read the entire column, click here