1. Bryant A Little Older, A Little Wiser
It always seems personal for Kobe Bryant, a continuous quest to test himself against the sport like a golfer taking on the course.
A year after he realized his vision of winning a championship without Shaquille O'Neal, he suddenly had to prove himself all over again, to demonstrate that he can still steer the Lakers to a single playoff victory even with more than 37,000 NBA minutes on his odometer.
And so, while the Oklahoma City Thunder were deservedly emboldened that they could come into Staples Center and give the defending champions all they could handle over two games, it probably gives equal bits of satisfaction and relief to the Lakers and Bryant that he still can will them to victory the way he did Tuesday night by scoring 15 of his 39 points in the fourth quarter.
"What'd Mark Twain say?" Phil Jackson asked rhetorically. "Rumors of my demise are overrated or whatever?"
Yes, there were growing numbers of doubters.
"After 13 years, you'd think they'd know better," Bryant said.
But the point is, it's been 13 years. At some point, that long time in the league ceases to be a body of work and starts to work against the body. His days of getting by on physical superiority are over. When I saw Grant Hill in Phoenix over the weekend, I told him that Kobe had come to remind me of him: a former high-flyer forced to play a ground-based game.
"It happens," Hill said.
That it happened to Bryant at age 31 is what's so eye-opening. But that's what comes with more than two full season's worth of playoff games, plus playing on so many nights when he should have been soaking in a hot tub.
His father, Joe Bryant, watched his son play in person for the first time in five years because he's been coaching in Japan, and saw the same old Kobe.
"It's all part of it, and what makes him special is he plays through it," Joe Bryant said. "A lot of athletes will use that as an excuse. That's what makes him special. You guys will understand it once he retires and you look back. I remember some players, their knee was a little sore and they couldn't play. But Kobe played through it all."
Even this recent slump of 30 percent shooting.
"You make shots and you miss shots," the father said, in a tone of voice I've heard his son use many times. "It's all part of the game."
Hill has been able to remain effective because he isn't asked to carry a team anymore. Kobe takes so many shots that if he shoots a low percentage the whole Lakers-based portion of the L.A. economy will suffer from a short playoff run. Bryant hasn't suffered a single injury as catastrophic as Hill's ankle that required five surgeries and wiped away entire seasons. But Bryant's fractured finger and sprained ankle and various other ailments have left him off balance, by his own admission. He looks out of sync; his jumps shots have been coming up short.
He can't blow past people or soar over them, and the way the Thunder played Tuesday night the lane ceased to be an option.
The Thunder don't have a Dwight Howard to single-handedly deter shots. That might even work to their advantage. Players get lured into thinking they have a layup, then a long arm -- be it Kevin Durant's or Serge Ibaka's or someone else's -- appears to knock the ball away. They blocked 17 shots Tuesday, the most ever by a Lakers' opponent in the playoffs. It was so bad that Lamar Odom wound up shooting a rarely seen fallaway hook shot.
Bryant had five of his shots blocked. And so he found his own alternate ways to score. A free throw line jumper. A turnaround jumper and one over Eric Maynor when the point guard got caught in a switch. A pump-fake to get Jeff Green airborne and draw a foul to get to the line. Another long jumper over Durant, originally ruled a 3-pointer, but dropped to a 2 after video review. He scored eight consecutive points for the Lakers, got through a mini-duel with Durant (who scored 32 of his own but missed a 3 for the lead near the end) and the Lakers won 95-92.
"[It's] being about what I do, what I do best," Bryant said. "So I just had to be more aggressive and then the truth would follow through."
Still alive. Still capable of nights like this. Although he denies it, I think he needed to see it again for himself, too, just as much as he needed to show it to everyone else. It's still there.
J.A. Adande is a columnist for ESPN.com.
Dimes past: April 1 | 2-3 | 4 | 6 | 7 | 8 | 9-10 | 11 | 12 | 13 | 14 | 17 | 18 | 19
2. Big Baby Fills Garnett's Shoes
By Chris Sheridan
ESPN.com

Davis
BOSTON -- This just in from Danny Ainge's basement: Kevin Garnett was vocal and animated while watching the game with a few buddies on Ainge's sofa, but he didn't break any furniture and he kept the decibel level low enough to avoid waking his 2-year-old daughter.
Which means only one thing went wrong for the Boston Celtics on Tuesday night: Paul Pierce guessed incorrectly afterward when he said Garnett "probably hit his head on the ceiling a couple of times."
If that crashing of cranium and plaster had actually happened, there's no doubt it would have been violent enough to awake not only Garnett's daughter, nicknamed "Peanut," but probably a few of the Ainge children, too.
Instead, peaceful slumber was all Garnett's toddler, Kapri, experienced as she slept upstairs while KG and some buddies retreated to Ainge's man cave to watch Boston's 106-77 destruction of Miami in Game 2 of their first-round series.
To read the entire column, click here
3. Horford, Smith Too Much For Bucks
By Bret LaGree
TrueHoop Network

Smith
With center Andrew Bogut sidelined and coach Scott Skiles primarily using his best available defender, Luc Richard Mbah a Moute, on Joe Johnson, the Milwaukee Bucks simply can't handle Josh Smith and Al Horford. In the Hawks' 96-86 Game 2 victory, they outscored the Bucks 67-45 during the 30:23 that both Horford and Smith were on the court. When neither was on the court, the Bucks outscored Atlanta 19-4 in just 6:42. (Take out the final 1:50 of garbage time and the margin was 15-4 in favor of the Bucks in 4:52.)
Smith's 21 points, 14 rebounds, and 9 assists in Game 2 left him one assist short of posting the first playoff triple-double by a Hawks player since Mookie Blaylock accomplished the feat in Game 5 of the 1994 Eastern Conference semifinals. Horford had 20 points and 10 rebounds of his own as the young post duo combined to make 17 of 24 shots from the field and 7 of 8 free throws. With Jamal Crawford and Mike Bibby making only 4 of 18 shots from the field, and the other seven Hawks getting to the line only 12 times between them, such offensive efficiency was essential to the easy victory.
Even Johnson, who (as is typical) took the largest role in Atlanta's offense, benefited from Smith and Horford's consistent ability to create good looks against the Bucks. Johnson scored a team-leading 27 points (he also recorded 6 assists against three turnovers) but needed 23 shots to get those points while either Smith or Horford assisted on 5 of his 12 makes.
Not that their impact is felt only on the offensive end. They have combined to block 14 shots in two games; against Milwaukee's offensively limited starting frontcourt of Mbah a Moute and Kurt Thomas, both Smith and Horford either can switch screens and pick up Milwaukee's guards early in a possession -- without fear of serious repercussion for leaving their initial assignment -- or help on those guards late in a possession if they beat Atlanta's perimeter defense.
To read more from LaGree, check out Hoopinion.
4. Daily Dime Live Recap
ESPN.com writers and TrueHoop Network bloggers chatted with fans and gave their in-game opinions throughout Tuesday's games -- all in Daily Dime Live.
---
By Maurice Brooks
ESPN.com
TUESDAY'S BEST

Bryant

Kobe Bryant, Lakers
With his dad sitting next to the Lakers' bench, Kobe put on a show, scoring 39 points, including 15 in the fourth quarter, as the Lakers held on for a 95-92 win against the Thunder and a 2-0 series lead.

TUESDAY'S WORST

Jennings

Brandon Jennings, Bucks and Jermaine O'Neal, Heat
O'Neal went 1-for-10 from the field and finished with just two points in Miami's loss to the Celtics, while Jennings looked like a rookie, going 3-for-15 from the field, in a loss against the Hawks.

QUOTE OF THE NIGHT

"No, I mean I hate the Spurs. I have a hard time being civil to [Spurs owner] Peter Holt at the board of governors meetings and he has a hard time being civil to me, even though we both like each other."

-- Mavericks' owner Mark Cuban on the Dallas-San Antonio rivalry
7.

More Than Just Defense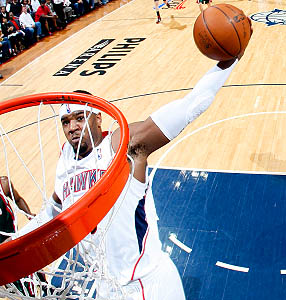 (Kevin C. Cox/NBAE/Getty)
On the day it was announced that he placed second in the Defensive Player of the Year voting, Josh Smith scored 21 points, grabbed 14 rebounds and handed out nine assists as the Hawks took care of the visiting Bucks.
8.

Suns Pull Even With Blazers
By John Hollinger
ESPN.com

Richardson
PHOENIX -- If there's been one constant for the Suns over the last half decade, it's that they deliver their best performances when the least is expected from them.
"We're much better when we have our backs against the wall," said Suns coach Alvin Gentry during Monday's off day. "We play from an underdog mentality a lot better. We'll play our way out of this, I truly believe that."
They did that and then some in Tuesday's Game 2. After hearing for 48 hours how they couldn't run against Portland, couldn't stop the Blazers' guards and couldn't get Amare Stoudemire free against Marcus Camby, the Suns did all three repeatedly en route to a 119-90 romp that tied the best-of-seven series 1-1.
Especially notable was the pace. Phoenix had 15 fast-break points in the first three quarters after totaling just four in Game 1. Additionally, the Suns scored several more buckets early in the shot clock that could just as easily have been termed fast-break points.
Phoenix killed the Blazers on quick post-ups for Grant Hill and Jason Richardson any time they were cross-matched against a Portland guard, with Nash shredding Portland for 16 assists in just 29 minutes. Several of those were to Hill, who made his first 10 shots to fall two short of an NBA playoff record and finished 10-of-11. Overall, the Suns shot 56.3 percent in the first three quarters -- by which point the game was effectively over -- compared to 43.8 percent in the teams' first four meetings.
Sum it all up, and the big takeaway was that Portland's methodical style of play, one that had proven so successful both in the team's first three regular-season meetings and in Game 1, was nowhere to be found in the sequel. Instead, a typical Phoenix Suns game broke out, and the Blazers are totally overmatched in that style.
The final score wasn't the only bad news for Portland. Forward Nicolas Batum, one of the few Blazers to play well with 12 points, left with a right shoulder strain. It's the same shoulder that was surgically repaired at the start of the season, costing him 45 games, so obviously his return is a major concern for Portland. Batum will have an MRI on Wednesday to determine what's wrong, but losing him for any length of time would be a huge blow.
Meanwhile, the Suns will revel in the fact that they've regained the momentum in the series, and that teams who split the first two games of a best-of-seven at home are a healthy 31-18 this decade. And while their ability to put themselves in adverse situations can be a bit frustrating, there's no questioning the Suns' ability to circle the wagons and respond to such adversity.
"The big thing to me," said Gentry, "is that even when we went through a terrible time, when we were 12-18 over 30 games, not one guy wavered on what we were trying to do."
9.

Balanced Effort For Hawks

Horford
All five starters scored in double figures in the Hawks' 96-86 win over the Bucks. Not only was that the second straight game in which Atlanta has done that, but it marks the second straight postseason that the Hawks have opened with consecutive games in which all five starters scored at least 10 points. No other teams have done that in any of the last three playoff seasons.
Check out the rest of Elias, by clicking here