1. Jefferson's Big Night Helps Spurs Pull Even
DALLAS -- Every path to his locker was blocked. Tony Parker couldn't see a single opening to get where he wanted to go because a panting pack of reporters had encircled Richard Jefferson.
A triumphant Richard Jefferson.
"Incroyable," Parker barked in French.
Parker might have been exaggerating his frustration with the postgame traffic in the Spurs' locker room, but he wasn't far off with his word choice Wednesday night. Not when it comes to Jefferson's turnaround and the way coach Gregg Popovich dogged him just a few nights back.
Incredible? The difference between Game 1 and Game 2 was legitimately in that ballpark for the San Antonio Spurs' much-maligned newcomer.
It was undeniably Tim Duncan who finished off the Dallas Mavericks with a vintage fourth-quarter flurry, sealing a 102-88 triumph to even this first-round reunion of longtime Texas rivals at 1-1. But Duncan was the first to volunteer afterward that the Spurs couldn't have won a game they had to have if they didn't have this kind of Jefferson.
"We're going to a need a game from someone like that throughout this series," Duncan said, "if we're going to win it."
Translation: Someone outside of San Antonio's core trio of Duncan (brilliant with 25 points and 17 boards), Manu Ginobili (whose 23 points including a game-sealing triple with 1:48 to go) and Parker (16 points and eight assists in his new sixth-man role) is going to have to come through at least three more times. Those three need the help to turn back a Dallas team that, despite deplorable defense for 2½ quarters, sliced a 20-point deficit to five halfway through the fourth quarter before the Dallas fivesome responsible for the rally faded just as Duncan surged.
Ideally, that someone will be Jefferson, after Spurs owner Peter Holt stunned longtime Spurs-watchers by trading for the remaining two years and $29 million-plus on Jefferson's contract to pitch this season's payroll into the $80 million range. Yet even Holt -- whose demeanor is typically far sunnier and more optimistic than, say, his coach's -- seemed surprised to see that Jefferson was capable of busting loose for 19 points and seven rebounds.
With the Mavericks reeling from Dirk Nowitzki's two fouls in the game's first three minutes, Jefferson rung up 17 of those points in a highly aggressive first half. That included six buckets alone in the second quarter, highlighted by a rare 3-pointer and a pretty reverse layup that lifted a yelping, fist-pumping Holt out of his courtside seat.
It was quite a contrast to Jefferson's four-point virtual no-show in Sunday's series opener, when no one had to guess who Popovich was referring to when he announced that San Antonio had a "lot of guys that played like dogs."
"No one took offense to that," Jefferson insisted in a quiet moment after the crowd around his locker finally dispersed. "His message wasn't taken in a negative way. I know he was trying to motivate guys and you don't wait until you're down 2-0. You don't ease into it."
Mavericks guard Jason Terry, who had 27 bounce-back points of his own in this one, didn't hesitate to describe Jefferson as "the difference in the game." Duncan went on to make the same claim, even though he hit the Mavs with four straight hoops in crunch time after Dallas got as close as 89-84.
It started for Jefferson with an offensive rebound and two free throws in the opening minute and continued for a whole half, with RJ saying afterward he said it was the determination of his teammates to find him on drive-and-kicks that triggered his aggression and confidence to attack the rim.
"It was a matter of them giving up something of themselves," Jefferson said. "This has been a humbling season and I'm still trying to find my way. But there was a concerted effort to get me going. And I appreciated that."
Ditto for Popovich, who also (A) reveled in the fact that the Spurs had just nine turnovers, (B) welcomed the return of George Hill's mobility to allow Hill (on a gimpy ankle) to keep up with Dallas' Jason Kidd and (C) survived without sending waves of double-teams at Nowitzki after Dirk's near-perfect Game 1.
Not unlike past showdowns with the Phoenix Suns, when he decided that the Spurs could live with Amare Stoudemire's offensive eruptions against single coverage if that kept other Suns from getting involved, Pop undoubtedly figured that not swarming Nowitzki would make it harder for multiple Mavs to get comfortable.
It's a tactic the coach can save for the next two games back in San Antonio, thanks to those two early fouls. Nowitzki was forced to sit out more than nine minutes of the first quarter, after which he never found a groove resembling Sunday night's, despite finishing with 24 points and 10 boards. Nowitzki even missed a free throw during the Spurs' surge to a 12-point halftime lead … after 88 consecutive makes.
Duncan picked up two (relative) quickies, too, but the early foul trouble for No. 21 did nothing to slow the Spurs. Not when the Mavericks couldn't keep the visitors out of the paint and not with Jefferson clicking at last.
It didn't matter that the Spurs missed eight of their first 17 free throws. They shot 68 percent from the field in the second quarter, stretched the lead to 80-60 in the third and weathered the inevitable late charge from the Mavs, who led the league with 18 successful comebacks from double-digit deficits in the regular season.
The Spurs, in essence, responded with the sort of grit and poise that they usually flash in this rivalry.
Jefferson gave them the platform. And then Duncan -- subjected to far milder heat than Jefferson this season but occasionally dogged nonetheless about how much he has left, given the bulky brace on his left knee and his approaching 34th birthday on Sunday -- showed everyone how well he can still close.
"If he's out there on one leg or in a wheelchair," Jefferson said, "we're going to try to get him the ball."
Marc Stein is the senior NBA writer for ESPN.com. To e-mail him, click here.
Dimes past: April 1 | 2-3 | 4 | 6 | 7 | 8 | 9-10 | 11 | 12 | 13 | 14 | 17 | 18 | 19 | 20
2. Mavericks Unhappy With Execution
By Tim MacMahon
ESPNDallas.com

Nowitzki
DALLAS -- How could Gregg Popovich not react to Dirk Nowitzki's Game 1 offensive brilliance with a steady diet of double-teams?
"I might be just dumb," Popovich said. "I don't know."
As foolish as the strategy appeared a few days ago, Popovich sure seems pretty smart with his San Antonio Spurs heading home with a split.
Nowitzki, fresh off one of his most efficient playoff performances, never got in a rhythm during the Dallas Mavericks' 102-88 loss in Game 2 on Wednesday night.
To read the entire column, click here
3. What's Holding Back The Nuggets?
By Kevin Arnovitz
ESPN.com

Anthony
SALT LAKE CITY -- When Jazz center Mehmet Okur collapsed to the floor on Saturday night in Game 1 of Utah's series with Denver, the prevailing sentiment -- even among those with the highest reverence for what the Jazz do -- was that Utah was cooked. Already without Andrei Kirilenko in a series that demands an elite perimeter defender, the Jazz would now have to start an untested 23-year-old project at center and hope for the best. When the Jazz squeaked out a win in Game 2 at Denver, the improbable outcome produced a lot of head-scratching. How did the Nuggets lose on their home floor to a shorthanded skeleton crew like the Jazz? You can attribute the improbability of the Jazz's victory in Game 2 to a number of factors, but the long and short of it is this:
To read more from Arnovitz, click here.
4. Daily Dime Live Recap
ESPN.com writers and TrueHoop Network bloggers chatted with fans and gave their in-game opinions throughout Wednesday's games -- all in Daily Dime Live.
---
By Maurice Brooks
ESPN.com
WEDNESDAY'S BEST

Duncan

Tim Duncan, Spurs
Richard Jefferson had a big game, scoring 19 points, but Duncan is the reason San Antonio evened the series at 1-1. Duncan dropped in 25 points, pulled down 17 rebounds and made several big plays down the stretch.

WEDNESDAY'S WORST

Marion

Shawn Marion, Mavs
There are several Dallas players who can occupy this spot -- Erick Dampier went scoreless, Jason Kidd shot 1-for-7 -- but Marion gets it for grabbing just two rebounds while failing to block a shot or make a steal.

QUOTE OF THE NIGHT

"The thing that sticks out with me is he's got a really good pulse what's going on with the team. He can sense when we're slipping a little bit and kind of light a fire under us or get on us. Or he can sense when maybe we need a little confidence and not push so hard and try to pick us up a little bit."

-- Thunder forward Nick Collison on Scott Brooks, who was named Coach of the Year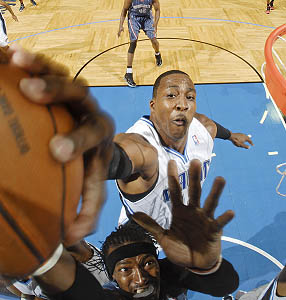 (Fernando Medina/NBAE/Getty)
The Bobcats are finding out the hard way why Dwight Howard is the two-time Defensive Player of the Year. Howard has blocked 11 shots in two games for the Magic.
By John Hollinger
ESPN.com

Fernandez
PHOENIX -- In the wake of a 119-90 Game 2 stomping at the hands of the Suns, the Trail Blazers will face myriad questions when they return to Portland for Thursday's Game 3. The concerns range from the disappearance of their transition defense to their inability to find quality shots against a defense they riddled just 48 hours earlier.
But one of the biggest issues comes at the shooting guard spot, and everyone in Portland is asking the same question: Just what the heck is up with Rudy Fernandez?
Brandon Roy's absence due to a knee injury was obviously expected to hurt the Blazers, but it was supposed to be partially mitigated by his replacement, Fernandez, who is one of Portland's better bench players. The Blazers' brass sees him developing into a Richard Hamilton-type scoring threat because of his ability to move without the ball, shoot and jump.
That talent has been apparent at times during the past two seasons, but not lately. Tuesday night's five-point, two-assist performance didn't include a field goal in Fernandez's 28 minutes, and that's par for the course since Roy went out. Fernandez played 37 minutes against the Lakers and scored just nine points in that April 11 game. In the four games since, he's yet to reach double figures in points despite being the Blazers' primary shooting guard and playing 157 of a possible 240 minutes.
To read the entire PER Diem, click here.
9.

Howard's O, Not D, Key For Magic
By Chris Sheridan
ESPN.com

Howard
ORLANDO -- He is now the two-time reigning Defensive Player of the Year, but there was one major question about Dwight Howard after Game 1 of the Orlando-Charlotte series that continued to be pertinent at halftime of Game 2.
What the heck happened to Superman's offense?
A complete answer never came, but a partial one was provided in a span of 4½ minutes at the start of the second half. Howard scored Orlando's first nine points of the third quarter to help the Magic build what eventually became a 20-point lead that held up in their 92-77 victory Wednesday night that gave the Magic a 2-0 lead over the Bobcats.
Howard scored on a free throw, two layups and two dunks to give Orlando a 50-38 lead, and the advantage stayed in double figures for all but 27 seconds of the third quarter and all but 24 seconds of the fourth.
To read the entire column, click here