1. Feel-Good Moment For Oklahoma City
OKLAHOMA CITY -- These are the moments we wait for in sports, why we wade through protracted contract negotiations and lockout talk and super-long television timeouts. All of a sudden none of that matters and the only thing filling your field of vision is Russell Westbrook soaring for a dunk over Lamar Odom, followed by an otherworldly noise filling your ears.
"That was the loudest I've ever heard a crowd," the Thunder's James Harden said.
The decibel levels got jacked up even higher when Harden hit a 3-pointer, then Kevin Durant followed that with another 3 and the Oklahoma City Thunder, after playing from behind all night, had finally tied the score against the Lakers.
A sound they'd never heard before; a moment they'll never experience again. The next time they will be expected to win in the playoffs, not just get there. They won't be lauded for competing hard while losing the first two games. Soon it will be time to decide who gets contract extensions and who will be jettisoned to keep the accountants happy.
And they'll think back to this night, when the Thunder hosted the first NBA playoff game in Oklahoma City and beat the defending champion Los Angeles Lakers. It arrived well ahead of schedule, only a year after the Thunder won 23 games in their first season after moving from Seattle. And speaking of ahead of schedule, it was a night when the difference-making superstar was not Kobe Bryant but Durant, something that's supposed to be a year off at least.
Durant took on the assignment of guarding Bryant in the fourth quarter and blocked one of the eight shots he missed in the final 12 minutes, while scoring 12 points at the other end to deliver a 101-96 victory for the Thunder. Durant finished with 29 points and 19 rebounds, part of a 53-39 rebounding edge for the Thunder. His 13 free throw attempts were almost half of the 34-12 advantage the Thunder enjoyed at the line, a disparity Phil Jackson correctly attributed to their aggression, not the officiating.
It was the fitting culmination of a moment so long in the making, from the warm embrace of the evacuated New Orleans Hornets four years ago to the importing of the former SuperSonics to the playoff prepping of the past few days, when "Go Thunder" signs appeared on buildings and giant pictures of the players were draped from the convention center across the street from the arena (and for every ticket purchased and every yell of encouragement from the supportive fans.)
"We owe this to them," Westbrook said. "Especially the season we had last year, they stayed with us and came every day and sold out. That showed support. We owe this to them."
Sports don't always deliver victories on cue. But like everything else positive that has come this team's way -- including the Coach of the Year trophy David Stern handed to Scott Brooks before the game -- it's been a result of the unrelenting effort of these players.
They found themselves down 10-0 right away, as the Lakers got back to exploiting their height advantage to get point-blank baskets from Andrew Bynum and Pau Gasol. But as they did in the first two games, the Lakers stopped forcing the ball inside, and as they did in the first two games the Thunder came back. But this time they finished the job.
Harden produced 15 points in the first half after going without a point in the first two games. Durant made up for his 2-for-10 shooting by grabbing 11 rebounds. The crowd of 18,342 -- almost all of them wearing the blue T-shirts that were draped across the seats when they arrived -- found reason to roar again.
By definition there must be a loser for every victor in sports, and it was hard not to feel for Seattle on Thursday. It was a great NBA city that deserved a team like this one, but lost its chance when the populace reached construction fatigue after building new stadiums for the Seahawks and Mariners. (If you SuperSonics fans really want to suffer at the thought of what could have been, click on the "Seattle-Drive-Pull-Good" button on this page to hear what it would sound like to have Gus Johnson call a championship-winning jumper by Durant for the Sonics.)
But even the residents of the Pacific Northwest can agree that the people of Oklahoma City deserve something good to happen to them. They just crossed the 15-year anniversary of the bombing of the Alfred P. Murrah building, a tragic event that occurred only a mile from the Ford Center. Stern alluded to that when he praised Oklahoma City for "the entire process of a city enduring such hurt and deciding to grow and regrow itself through development and sort of a non-defeatist attitude. There may be parallels, but Oklahoma City is unique in that regard."
The Lakers might be a team that snaps back into championship mode. It's possible that this is as good as it gets for the Thunder and they become just another team that doesn't follow up on its golden time, much like the erstwhile OKC-resident Hornets haven't returned to the success they enjoyed in 2008.
As Stern said: "Whether they can maintain this heady pace … this is a tough league. This is a tough Western Conference. But it's good to see that their patience, their strategy and their plan was rewarded."
For one night, at least.
"It feels good to bring a win to Oklahoma City," Durant said.
In sports, you'll take feel-good moments whenever they come.
J.A. Adande is a columnist for ESPN.com.
Dimes past: April 1 | 2-3 | 4 | 6 | 7 | 8 | 9-10 | 11 | 12 | 13 | 14 | 17 | 18 | 19 | 20 | 21
2. Rose Leads The Charge For Bulls
By Chris Broussard
ESPN The Magazine

Rose
CHICAGO -- It sounded like a cute little chant from the hometown crowd, a nice -- albeit wildly exaggerated -- salute to a local kid who made it. Then again, maybe it was prophetic.
Derrick Rose, the Chicago Bulls' second-year point guard, has been that good.
Continuing to lay waste to one of the league's best defensive units, Rose led the never-say-die Bulls to a wild 108-106 victory over the top-seeded Cleveland Cavaliers on Thursday night at the United Center.
The Chicago native was so dominant that at one point in the third quarter the sellout crowd of 22,991 sang in unison "M-V-P, M-V-P," even though the true MVP, LeBron James, was in the building.
To read the entire column, click here
3. The Jazz Get Their Reps
By Kevin Arnovitz
ESPN.com

Williams
SALT LAKE CITY -- It's something you hear frequently when talking to people in the Utah Jazz organization and opponents around the league:
Jerry Sloan has been running the same stuff for more than 20 years, yet most defenses seem powerless to stop it.
"You know flex in high school," Jazz point guard Deron Williams said last month. "Wisconsin ran the heck out of flex when I was in college. You play at any level, you're used to it."
The most basic description of the flex is a five-man motion offense that relies on a series of back screens, hard cuts and other off-ball actions. If the defense responds well to the initial actions, there are natural counters built into the system.
To read more from Arnovitz, click here.
4. Daily Dime Live Recap
ESPN.com writers and TrueHoop Network bloggers chatted with fans and gave their in-game opinions throughout Thursday's games -- all in Daily Dime Live.
---
By Maurice Brooks
ESPN.com
THURSDAY'S BEST

Durant

Kevin Durant, Thunder
What more could he have done? He scored 29 points, grabbed 19 rebounds and still had enough energy to slow down Kobe Bryant on the other end of the floor as the Thunder earned the first playoff win in Oklahoma City.

THURSDAY'S WORST

Bryant

Kobe Bryant, Lakers
It's not too often that Kobe finds his name in this spot, but it's not too often that he goes 2-for-10 from the field in the fourth quarter. All the news wasn't bad for Bryant, though, who finished with 24 points to surpass Jerry West's franchise record for playoff scoring.

QUOTE OF THE NIGHT

"I didn't go into the season to win a big award like this. I would love to be in the playoffs with this award, but due to the circumstances, we didn't get there. But this is a great award.

"This is a great accomplishment for me, one of the most important awards I've earned in my life."

-- Rockets guard Aaron Brooks after being named the league's most improved player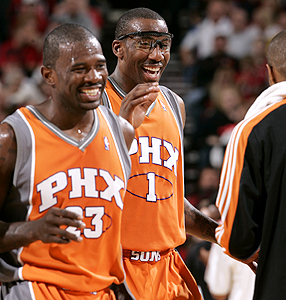 (Sam Forencich/NBAE/Getty)
Jason Richardson went off, scoring 42 points on 13-for-19 shooting (including 8-for-12 on 3-pointers), to lead the Suns to a 108-89 victory against the Blazers and a 2-1 series lead.
8.

Suns Have Too Much Talent
By John Hollinger
ESPN.com

Richardson
PORTLAND, Ore. -- Well, at least this time they made Phoenix put its starters back in.
That about sums up the positives for the Trail Blazers in a 108-89 loss to Phoenix in Game 3 on Thursday night, a second straight blowout loss that puts them behind 2-1 in their best-of-seven series. The Blazers trailed by 31 points late in the first half and were never within 10 points in the game's final 41 minutes.
Game 2's 119-90 defeat could be written off as a bad night, but this performance made the Blazers' Game 1 upset win seem like an aberration. For the second straight game, Phoenix completely outclassed Portland in the first half. This time the Suns rode a 66-37 advantage into the break, leading by as many as 31 points, and coasted to victory from there. In fact, the Blazers' longest "run" of the first half was four points.
Things went from bad to worse when Blazers forward Nicolas Batum aggravated his strained shoulder on a late second-quarter drive and didn't return. He barely caught rim on a free throw attempt afterward before somehow muscling in the second; when the Blazers called a timeout afterward he went straight to the locker room. Even before the injury he seemed limited; after driving for an early first-quarter dunk he didn't score the rest of the night.
To read the entire column, click here.
9.

Chicago Guards Star In Win

Hinrich
Derrick Rose scored 31 points and Kirk Hinrich added 27 in the Bulls' 108-106 victory over the Cavaliers. It was only the third playoff game in team history in which both starting guards scored at least 25 points. Michael Jordan (36) and Sam Vincent (31) did it against the Pistons in 1988; Jerry Sloan (27) and Norm Van Lier (26) did it against the Lakers in 1973.
Check out the rest of Elias, by clicking here