1. Thunder Rough Up Lakers To Pull Even
OKLAHOMA CITY -- Since the question is already floating out there, the answer is yes: If the Thunder knock off the Lakers, it would be a bigger first-round upset than the Warriors over the Mavericks in 2007.
Although the 2009-10 regular-season win disparity between the Lakers and Thunder was only seven games instead of the 25-game gulf between the Mavericks and Warriors, the Mavericks weren't the defending champions, and the Warriors weren't the playoff neophytes the Thunder were a week ago. (At the start of that Mavs-Warriors series, Baron Davis had played 35 playoff games, Stephen Jackson 43 -- including a championship ring -- and Al Harrington 25.)
The reason we're even having this discussion is the Thunder are halfway there, tied at 2 in their first-round series with the Lakers after a thorough 110-89 victory in Game 4 on Saturday night.
To me, it still feels a little less like Mavs-Warriors and a little more like Celtics-Hawks from a couple of years ago or even Lakers-Kings in 2002. The Kings were a better overall team that season, but the Lakers were championship-tested. (Don't even start with the Tim Donaghy-fueled conspiracy theories about Game 6. The Kings gagged in a Game 7 at home.) In other words, although the Thunder have played well, I'm not convinced they'll win this series.
It's all about Game 5. If the Lakers can win, it's hard to imagine the Thunder being prepared to win a Game 7 on the road. Playoff newcomers don't do those types of things.
That's all the Lakers have on their side at the moment. If you cleared the slate and didn't know which team had the experience or championship rings in its safe-deposit boxes, you'd give the advantage to the Thunder.
Let's say Kevin Durant and Kobe Bryant effectively neutralize each other (even though Durant's ahead right now). The Thunder's No. 2 man, Russell Westbrook, has been consistently better than any Lakers candidate for the second-best spot. His Game 4 line: 18 points, 8 rebounds, 6 assists.
The Thunder are playing better interior defense, rebounding better, getting easier baskets in transition, getting to the line more often and converting their free throws at a higher rate.
They were so superior in this game that they led by as many as 29 points, and Bryant spent the waning moments back in the locker room getting a head start on his treatment.
The Thunder have all the momentum; the Lakers have no answers. Starting with Westbrook's series-altering dunk in the third quarter of Game 3, the Thunder have outscored the Lakers 145-111.
When asked what the Lakers' frame of mind is right now, Bryant said, "Um, I'm not sure."
After constantly hearing that the solution was to get the ball inside to their big men, the Lakers dutifully complied at the outset of Game 4, with Bryant taking it to the extreme by not shooting in the first quarter. "I was managing the game exactly how I wanted," he said.
Despite getting quality looks, the Lakers made only 36 percent of their shots in the first quarter. Pau Gasol converted four of his first six but turned into a liability during the course of the game because he wouldn't come out to guard Jeff Green. The Thunder forward made two 3-pointers and scored 15 points, in addition to outrebounding Gasol 9-4. Gasol had a plus/minus of minus-22, worst on the Lakers.
The Thunder have turned all their negative attributes into positives. They're shorter, but they're faster down the court and to the ball, which translated into 24 fast-break points and 23 second-chance points Saturday. Their youth had them looking much fresher after the teams played four games in seven days. But the pace slows now, with two games in the next six days. And home-court advantage swings to the Lakers, with two games in Los Angeles if the series goes the distance.
"We know we still have a lot of work to do," Westbrook said. "We have to go to L.A. and try to figure out a way to squeeze out a win."
The Thunder can be buoyed by the memory of their last visit to the Staples Center, when they attempted a 3-pointer to win and then a 3-pointer to tie in the final seven seconds.
The Lakers can feel better based on what? Their ability to advance despite a pair of pathetic losses in Houston in the second round last season? That they found a way to win four of their last six road playoff games last year?
Phil Jackson isn't having it.
"Last season is entirely off the books," the Lakers' coach said.
And if they're not careful, their 2010 chapter will close a lot sooner than expected.
J.A. Adande is a columnist for ESPN.com.
Dimes past: April 2-3 | 4 | 6 | 7 | 8 | 9-10 | 11 | 12 | 13 | 14 | 17 | 18 | 19 | 20 | 21 | 22 | 23
2. Blazers' Roy Makes A Triumphant Return
By John Hollinger
ESPN.com

Roy
PORTLAND, Ore. -- We'd been hearing the whispers all week: that All-Star guard Brandon Roy's knee surgery was far less invasive than originally expected, that he had basically popped off the operating table and into the workout room, that his recovery had been amazingly pain-free, and that he might be able to return before the end of the first round.
Still, nobody expected this. Just eight days after surgery to repair a torn meniscus in his left knee, Roy returned and scored 10 points to lift Portland to a 96-87 win over Phoenix and tie their best-of-seven series at two games apiece.
The Blazers had been hoping to tread water until Roy could return, and as his recovery gained steam, that scenario loomed as more likely. Over the past few days, what started as "maybe Game 7," became "probably Game 6," and then suddenly ramped up to "How about now?"
To read the entire column, click here.
3. Nelson Comes Up Big For Magic
By Eddy Rivera
TrueHoop Network

Nelson
Entering Game 3, the Charlotte Bobcats were looking to do something they had never done before -- win a playoff game. The Bobcats whiffed on their first two chances to do it against the Orlando Magic on the road in Games 1 and 2. However, Charlotte had a golden opportunity to get the proverbial monkey off its back in front of a sellout crowd at Time Warner Cable Arena in Sunday's game.
Unfortunately for the Bobcats, Jameer Nelson ruined the party.
For Nelson, who had torched Raymond Felton & Co. in Game 1 on Sunday by scoring 32 points, it was déjà vu all over again, but with a twist. Yes, Nelson scored 32 points for the second time in three games, tying his playoff career high, but this time he set a franchise playoff record by scoring the most points in a quarter (19 in the first). Considering that the Magic's postseason history includes prolific scorers like Shaquille O'Neal, Penny Hardaway and Tracy McGrady, just to name a few, it's an impressive accomplishment for Nelson.
How did he do it?
Nelson scored a majority of his 19 points in spot-up situations, contrary to the first quarter in Game 1, when he scored either in the pick-and-roll with Dwight Howard or in transition. Nelson did an excellent job of staying ready and being decisive on the perimeter when he received the basketball off a pass from Howard, Rashard Lewis or whomever else.
Perhaps what was most impressive about Nelson was his court awareness on the final play of the first quarter. After a missed shot from Stephen Jackson, Nelson raced down the floor and looked to put up a desperation heave before the buzzer. In the process of crossing half court, Nelson drew a foul after Felton was reaching in and hoisted a 35-foot 3-pointer immediately after the referee blew his whistle with 1.3 seconds left.
The shot went in on the continuation -- after brief deliberation from the officials -- and Nelson was able to connect on the ensuing free throw to make a four-point play.
It was that kind of outing for Nelson, who is quickly reminding everyone why he was named an All-Star in 2009 and, in the process, putting the Magic in the driver's seat to sweep the Bobcats.
To read more from Rivera, check out Magic Basketball.
4. Daily Dime Live Recap
ESPN.com writers and TrueHoop Network bloggers chatted with fans and gave their in-game opinions throughout Saturday's games -- all in Daily Dime Live.
---
By Maurice Brooks
ESPN.com
SATURDAY'S BEST

Aldridge

LaMarcus Aldridge, Blazers
All the Portland headlines are about Brandon Roy, but it was Aldridge who played the starring role for the Blazers, scoring 31 points and grabbing 11 rebounds in the win over the Suns.

SATURDAY'S WORST

Nash

Steve Nash, Suns
He led the league in assists during the regular season but struggled with the ball in the loss to the Blazers, committing six turnovers while giving out eight assists -- three fewer than his average.

QUOTE OF THE NIGHT

"We've got a tough fight, and it should be fun."

-- Kobe Bryant on the top-seeded Lakers being even with the eighth-seeded Thunder after four games
7.

Bobcats Feeling Rejected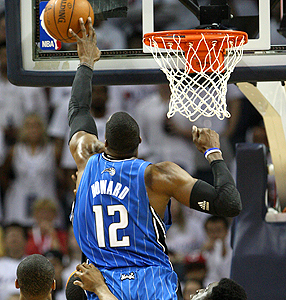 (Mike Zarrilli/NBAE/Getty)
Despite being limited to just 26 minutes because of foul trouble, Dwight Howard managed to block seven shots against the Bobcats.
8.

Practice Notes: Jazz-Nuggets
By Kevin Arnovitz
ESPN.com

Anthony
Carmelo Anthony vocally called out the Denver Nuggets' effort after Game 3, and conversation continued Saturday.
"That was the main thing we talked about this morning in the locker room," Anthony said. "We've got to get out of our own heads. [Friday] night I didn't see it in us. The body language wasn't there. People didn't seem focused throughout the game. As far as X's and O's, we know what they're going to do and they know what we're going to do. We just have to want it more than them."
This line of reasoning was less persuasive to Adrian Dantley, who shrugged when asked about the Nuggets' effort Friday night. "Whenever you lose, you're always going to say 'lack of effort,'" Dantley said. "You just have to come with better effort and match their energy."
Dantley joked that to amp his guys up, he was going to find an old clip of a Woody Paige story that characterized Dantley as a dog when Dantley's Jazz team trailed the Nuggets in a postseason series. "We came back and won the series," Dantley said. "Maybe I'll bring that to them."
To read the entire blog entry, click here.
9.

Bucks Shoot Past Hawks
By Jeremy Schmidt
TrueHoop Network

Jennings
I remember walking out of the Bradley Center on March 28 feeling very good about things. The Bucks had just defeated the Grizzlies, the day was still young after the early game, the temperature was in the 60s and a possible successful playoff run was on the horizon. Now, less than one month later, clouds draped the air on a cold and damp Saturday afternoon when I approached. It was almost too perfect a representation of Milwaukee's season.
What was once so bright had turned so dim that the light was nearly off.
And then Brandon Jennings hit a 3 and busted out the 3-point monocle. And then he did it again. And again.
Then John Salmons got involved. When it was all said and done, Milwaukee was up 36-19 after one quarter, the Jennings/Salmons duo was 9-for-10 and the brightness had officially returned to Milwaukee's season.
Surprise seems to be the appropriate reaction, but should anyone be shocked? Atlanta was a below-average road team this season, Milwaukee was an above-average home team and Milwaukee had shot very poorly from 3 in the first two games. All those factors seemed to work in Milwaukee's favor.
Aside from the playoff victory, I saw things from Milwaukee that I haven't in years.
For example, the mild-mannered Luke Ridnour holding his pose on a 3 with the shot clock running down to put the Bucks up 93-65. If you think Jennings isn't the rookie of the year, I get that. But don't try to tell me he didn't have a greater impact on a team than any other rookie. This one started with Jennings and the monocle and ended with Ridnour holding his pose. These are not your slightly older brother's Bucks NBA fans.
To read more from Schmidt, check out Bucksketball .