1. What Took The Lakers So Long?
LOS ANGELES -- At the moment, after a thorough domination of the Oklahoma City Thunder that followed two days of Senate hearing-level grilling for the Lakers, the main question to ask them is ... what took so long?
Why did coach Phil Jackson wait until Game 5 to defend Russell Westbrook with Kobe Bryant and slow down the point guard who was torching the Lakers?
Why did Ron Artest choose now to show he still can make shots and even dunk on people? (More importantly, why did it take him a week to shave off that Easter egg hairdo?)
Why did the Lakers stick with the go-inside game plan for more than just a quarter, and finally adopt the defensive principles their coaches have been preaching all series?
"A sense of urgency gets you going," Pau Gasol said. "We needed to win this ballgame no matter what."
OK, so they're not self-motivators. But they have found a way to get out of whatever bind they've placed themselves in over the past two postseasons. The latest red alert in Lakerland was a dismal two-game trip to Oklahoma City that ended with a 110-89 loss in Game 4 and brought the Thunder to even footing with the Lakers.
That lasted until the Lakers knocked the Thunder backward from the outset of Game 5 and never let them off the ropes. The Lakers scored the first 10 points, led 31-16 after the opening quarter and led by as many as 32 points in the course of their 111-87 victory.
It started with Bryant on Westbrook, who had zipped through the Lakers' defense as if he had an E-ZPass strapped to his head, averaging 22 points on 55 percent shooting in the first four games. Jackson was reluctant to have Bryant defend him because "it's a much higher activity level playing the ball and having to play every play. There's no time off on defense."
Bryant made the choice for him. After a video session on Monday, Bryant said, according to Jackson: "'I'd like to take Westbrook.' I said, 'OK.'"
Westbrook shot 1-for-5 and had three turnovers in the first quarter and finished 4-for-13 with eight turnovers and six assists. As he went down, so did the Thunder.
"I enjoy the challenge," Bryant said. "He's been playing sensational. If we're going to be eliminated, then I don't want to go into the summer thinking I could have done something about it."
How crazy is it that the thought even entered his mind, that "eliminated" and "summer" and "Lakers" could be associated with "Thunder" and "first round"? If you had typed those phrases into a search engine before the series it would have returned zero hits.
But if you'd come into this series cold, knowing nothing about the history or previous experience of both teams, you would have considered the Thunder the superior squad after four games. After Game 5, you wonder why the Lakers haven't finished this thing off already, if this is what they're capable of doing.
Coming home helped. The Staples Center crowd, which Jackson called "laid-back" as he doubted it could provide the same edge as the vociferous Oklahoma City fans, responded to the moment as well as the Lakers did.
"The crowd was a lot better than it was the first two games here," Kevin Durant noted.
Another benefit from the change of venue: The Thunder didn't own a time-share at the free throw line the way they did in Game 4, when they had 48 attempts.
It was a loosely whistled game, in which a lot of contact on Thunder drives went uncalled. (The Thunder still wound up with more free throws than the Lakers in the first half, but like the Lakers in Game 4 Oklahoma City couldn't convert on the few opportunities they had. Final attempts: 31-24, Lakers).
The Lakers dominated the action, getting everyone involved in the offense, resulting in 46 combined points from Gasol and Andrew Bynum and 14 from Artest (on 6-for-11 shooting including 2 of 4 3-pointers for a man shooting 13 percent from behind the arc). They scored 58 inside points to 26 for the Thunder and blocked 10 Thunder shots.
"The paint was theirs," said Thunder coach Scott Brooks, whose team shot 37 percent. "Both ends of the floor. They controlled the game."
Things got so twisted for the Thunder that they even ceded the advantage in fast-break points, a category they had dominated 47-9 in the previous two games.
There was only one unresolved issue for the Lakers: Can Bryant still dominate if he needs to? He was the only Lakers starter to shoot below 50 percent, missing 5 of his 9 shots. He's still having difficulty finishing at the rim. He remains a facilitator, although this time at least he shot the ball in the first quarter. His shot-less first quarter in Game 4 caused the usual Kobe Konsternation around the basketball world. He remains the game's most polarizing player, criticized when he launches shots, criticized when he doesn't shoot enough.
Jackson took a more measured approach, saying Bryant "probably overdid it a little too much" in his attempt to utilize his teammates in Game 4. "He'll have to find balance," Jackson said beforehand.
His Game 5 stat line would meet approval from the Bureau of Weights and Measures: 13 points, with more assists (seven) than field goals (four). That little anomaly isn't unheard of for Kobe; the last time it happened in the playoffs was an eight-assist, six-field goal game against Denver in the Western Conference finals last year. But it's unusual.
Jackson still wants Bryant to take more shots. Bryant says he doesn't need to.
"If I didn't have Pau, Andrew and the crew that I have, I'd score 45, 50 points and everybody would say, 'He shoots too much,'" Bryant said. "I have a great crew. I don't have to do that."
Was this bounce-back game strictly a byproduct of the extra day off between Games 4 and 5? If so, the Lakers better take advantage of another two-gap before Game 6 Friday or risk running out of gas before Game 7 Sunday.
Maybe the Lakers should thank the Thunder for forcing the Lakers to elevate their play two rounds earlier than they did last year. Sometimes it takes a team a while to figure out its opponent. And sometimes players just need to wait for the test results to figure out what's going on inside themselves.
"Tonight we understand that this is the only way it's going to work for us in order to get another championship," Gasol said.
Finally, the Lakers have demonstrated they have it. So can they sustain it?
"I know we won tonight," Bryant said. "That's it. We just move on to the next one."
And whatever that might bring.
J.A. Adande is a columnist for ESPN.com.
Dimes past: April 8 | 9-10 | 11 | 12 | 13 | 14 | 17 | 18 | 19 | 20 | 21 | 22 | 23 | 24 | 25 | 26
2. Cavaliers Finish Off Pesky Bulls
By Chris Broussard
ESPN The Magazine

James
CLEVELAND -- Maybe, bored with these Bulls and sick of the small fries, they were looking ahead to the Celtics. Maybe they figured Sunday's demolition had zapped Chicago of its resolve and that bringing their A-game wasn't a must. Heck, maybe they were just hanging out late Monday night, doing the "Stanky Legg" for kicks and giggles at some Cleveland hot spot.
Whatever the case, in Game 5 on Tuesday, the Cavaliers looked nothing like the world-beaters their 61-win regular season suggests they are. A bit nonchalant, a bit sloppy, and perhaps even a bit too cavalier, they made this close-out game much tougher than it had to be. But on a bad night, they had enough to get past the pesky Bulls, winning 96-94 to dismiss Chicago 4-1 in their first round-series.
Now, it's on to Boston, that roster of proud old heads who are determined to make one last run for the ring before bowing at the feet of age and attrition. The second-round series everyone wants to see begins Saturday at The Q.
"We're looking forward to it,'' LeBron James said. We knew at some point we were going to have to face this team and we're happy it's now.''
To read the entire column, click here.
3. Celtics Turn Off Heat, Ready For Cavaliers
By Chris Sheridan
ESPN.com

Rondo
BOSTON -- By any measure, the Boston Celtics looked pretty darn good if you sum up their five-game body of work against the Miami Heat.
Good, but not great.
And if they are going to put a scare into the Cleveland Cavaliers in the next round, the Celtics will need to perform at a sustained higher level -- a championship-caliber commodity that eluded them over the course of the first round.
With Ray Allen keeping up his torrid outside shooting and the defense finding a way to limit Dwyane Wade, the Celtics finished off the Miami Heat 96-86 Tuesday night to win their first-round series 4-1.
But did the Celtics discover enough positives about themselves that they can carry into the next round and capitalize on? Was this series a learning experience, or an exercise in shaking off the cobwebs that developed over their 27-27 finish to the regular season following their 23-5 start?
To read the entire column, click here.
4. Daily Dime Live Recap
ESPN.com writers and TrueHoop Network bloggers chatted with fans and gave their in-game opinions throughout Tuesday's games -- all in Daily Dime Live.
---
By Maurice Brooks
ESPN.com
TUESDAY'S BEST

Butler

Caron Butler, Mavericks
With the Mavs' backs up against the wall, it was Butler, not Dirk Nowitzki, who saved the season for Dallas by scoring 35 points and grabbing 11 rebounds in a 103-81 win against the Spurs.

TUESDAY'S WORST

Duncan

Tim Duncan, Spurs
Where's the O, Timmy? For the second straight game, Duncan has struggled to put the ball in the basket; he finished with just 11 points on 3-for-9 shooting in the Spurs' Game 5 loss to the Mavs. The future Hall of Famer scored just four points in Game 4.

QUOTE OF THE NIGHT

"I think it's a great matchup. It's great for basketball -- such a classic series."

-- Celtics forward Paul Pierce on their upcoming series against the Cavaliers
7.

Mavericks Not Done Yet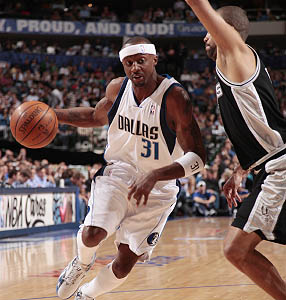 (Danny Bollinger/NBAE/Getty)
Jason Terry (12 points) and the Mavericks dominated the second half against the Spurs on the way to a 22-point home victory in Game 5. San Antonio leads the series 3-2.
8.

Now It's Spurs' Turn To Sweat

Duncan
DALLAS -- A four-point game from Tim Duncan can be dismissed as an aberration. Especially when you win anyway.
What happens, though, when Duncan follows up the four points with a mere 11 points in what was supposed to be his bounce-back game?
The San Antonio Spurs are about to find out. It's their turn to be subjected to some uncomfortable skepticism after the No. 2-seeded Dallas Mavericks, facing the humbling prospect of a first-round elimination Tuesday night, responded with a 103-81 rout that couldn't have played out much better in hope-building terms for the Mavs.
The reality is that Dallas still trails this series 3-2 and can't extend it any further without finding a way to win Game 6 in San Antonio. It's likewise important to note that Duncan was rested for the entire fourth quarter in Game 5, when Spurs coach Gregg Popovich preferred the idea of starting Game 6 preparations for the likes of Duncan, Manu Ginobili and Tony Parker as opposed to letting Duncan try to pad his modest totals of 11 points and six boards.
San Antonio, though, will be facing undeniable pressure all its own to close the Mavs out at home Thursday, after Dallas hit the visiting Spurs on Tuesday night with an active and effective defensive display that led to numerous opportunities to push the ball, setting up Caron Butler to finally join this series with a career playoff-high 35 points.
And because Dallas quickly rebuilt its lead in the third quarter after the Spurs had sliced a 17-point deficit to seven at halftime, several key Mavs also came away with some bonus rest in the fourth quarter: Dirk Nowitzki, Shawn Marion and, most crucially, 37-year-old point guard Jason Kidd.
"They definitely don't want to come back here," Nowitzki said of a potential Game 7 on Saturday.
"You know they're going to be ready. Both teams got enough rest to really throw everything out there."
Spurs coach Gregg Popovich, however, was predictably peeved that his team didn't respond to the Mavericks' inevitable first punch.
He didn't go back to the "played like dogs" slam he introduced after the Spurs dropped Game 1, but 18 turnovers and San Antonio's third-quarter capitulation had Popovich lamenting the waste of "a wonderful opportunity" to finish off a Mavs team that had clearly been shaken by two narrow losses in San Antonio.
"Mostly it was the case of they came with the mental and physical toughness," Popovich said, "and our starting group wasn't very good in either category. As a group, just the mental approach to the game, that was disappointing."
It remains to be seen whether the Mavs can reproduce the D that generates this kind of tempo on the road, where they so quickly lost their poise in the series-changing third quarter of Game 4. But Dallas did enough to at least generate some fresh doubts about the South Texans.
The big knock against the Spurs going into these playoffs was the concern about whether their vets could stay fresh enough to deliver consistently through a seven-game series. Those doubts were largely hushed when San Antonio reeled off three straight wins against its longtime rivals, but Manu Ginobili's mere seven points in 18 minutes -- on top of Duncan's two straight quiet games since turning 34 on Sunday -- would suggest that he's still getting used to playing with that broken nose he sustained in Game 3.
"The series isn't over, even though a lot of people are assuming that it is," Mavericks coach Rick Carlisle said.
For more on Dallas-San Antonio, click to ESPNDallas.com's Mavericks blog
9.

Crawford NBA's Top Reserve

Crawford
Jamal Crawford won the NBA Sixth Man Award for the 2009-10 season. Crawford had 1,425 points, 201 rebounds and 238 assists off the bench for Atlanta this season. The last player to have at least 1,400 points, 200 rebounds and 200 assists off the bench in one season is Crawford's current coach, Mike Woodson. Woodson had 1,414 points, 239 rebounds and 246 assists as a substitute for the Kansas City Kings in 1982-83. Woodson did not win the NBA Sixth Man Award that season. Bobby Jones of the 76ers did.
Check out the rest of Elias, by clicking here