1. Carmelo Anthony Gets His Wish
DENVER -- Even if Carmelo Anthony didn't say a word after Game 4, Game 5 was going to be on him. He could have Rasheed Wallace'd his way through the postgame news conference, repeating a solitary phrase, and it wouldn't have deflected the pressure.
Playoff exits go on stars in the NBA the way wins and losses go on quarterbacks in football. Anthony had a record of 0-6 when facing playoff elimination. When the going got tough, Anthony was going fishing.
This time Anthony came through. He and the Nuggets won't go home, they'll go on to Utah courtesy of a 116-102 victory over the Jazz in Game 5 on Wednesday night. Utah still leads the series 3-2.
Anthony not only received the assistance from his teammates he all but Bat-signaled for after Game 4, but he also delivered 26 points and 11 rebounds. He managed to involve his teammates without too much drop-off of his own from his 39-point, 11-rebound Game 4. Sure, the point total declined, but the number of turnovers also went from nine to one.
A team official told Anthony he was as proud of him as he'd ever been after this game. If the Nuggets are going to exit the playoffs, apparently their disappearance won't be traced back to Anthony. He has already doubled his double-double total compared to last year's playoffs (two this year ... anyone else craving In-N-Out Burger after that sentence?). And he's put up a better resistance to elimination. In Game 6 of the Western Conference finals against the Lakers last season, in what turned out to be the finale of his breakthrough playoffs, Anthony scored 25 points but shot only 35 percent and grabbed two rebounds.
It's not just production, it's leadership. It's funny how perception shapes reaction. His post-Game 4 remarks -- "At the end of the day, I need some help. As a unit, we've got to do this together. I can't do this by myself" -- caused a surprising stir.
Larry Bird called out his Celtics teammates in the middle of the 1984 NBA Finals. Spurs coach Gregg Popovich just said he had a pack of players "play like dogs" after the opening game of these playoffs. They already had championship hardware when they said it, though. The unproven Anthony wasn't extended the same courtesy.
But his words had the desired effect where it mattered most, in the Nuggets locker room. Chauncey Billups bounced back with 21 points. Kenyon Martin had 18 points and nine rebounds. Chris Andersen went from catching flak from Anthony on the bench in Utah to catching passes from him in the paint and had 10 points and seven rebounds. The wild card, J.R. Smith made 4 of 5 3-point attempts. Yeah, it was that kind of night for Denver.
"I think once everybody figured out what I was saying, I think everybody responded to that challenge," Anthony said. "I never pointed nobody out. I never said any names. I said as a team we've got to do it. Tonight we responded to that."
They hit the magic 20-assist mark; they were 44-7 during the regular season when they had 20 or more assists.
"We came together," Martin said. "Wasn't no team meeting or nothing, just guys got to look in the mirror. And we did and we came out and played basketball the right way."
But with the newfound unity has also come even more injury.
Nene went to the locker room with a sprained left knee in the first half and didn't return (an MRI is scheduled for Thursday). The Nuggets aren't sounding optimistic about his return.
They do feel a little bit better about themselves, though.
"At times like this, you learn a lot about your team," Billups said. "Some people will hang their head and say, 'Man, they got us.' We didn't have one guy that did that. Everybody came in today very focused."
It started with Anthony. If nothing else, he bought himself a postgame free of requests and an off day devoid of explanations.
J.A. Adande is a columnist for ESPN.com.
Dimes past: April 9-10 | 11 | 12 | 13 | 14 | 17 | 18 | 19 | 20 | 21 | 22 | 23 | 24 | 25 | 26 | 27
2. Bucks Do All The Little Things
By Jeremy Schmidt
TrueHoop Network

Ilyasova
Before Game 4 in their series with the Atlanta Hawks, Bucks coach Scott Skiles noted that the Bucks were the first-ever NBA team to make the playoffs despite seeing opponents make more free throws than his team attempted in the regular season. So, it's safe to say getting to the line has been a significant problem all season long.
Or at least it was a problem all season long, until just 6:20 remained in the fourth quarter on Wednesday evening in Atlanta. Down seven points, the Bucks found themselves in the bonus and proceeded to connect on 13 of 16 free throws the rest of the way. Milwaukee watched its seven-point deficit turn into a four-point win.
It was all those free throws that perfectly complemented all the little things Milwaukee did right against the Hawks, and have been doing all season. The little things like Ersan Ilyasova hurling himself out of bounds to save a loose ball to a teammate, who paid him back by nailing a 3. Or a foul-plagued Kurt Thomas returning to the game to steal an inbounds pass and then later taking a charge that fouled Joe Johnson out of the game with the Hawks up one.
But really, those aren't little things. Rather, they're big plays that don't show up in the final box score. But these Bucks aren't much of a box score or big-name team anyway. You can count their collective All-Star appearances on one hand and most people can't name their starting five, but they aren't worried about any of that. They're merely worried about playing defense, working hard and playing hard.
And it has them one game from the second round.
To read more from Schmidt, click here.
3. Hawks Fall Apart Down The Stretch
By Bret LaGree
TrueHoop Network

Crawford
The Atlanta Hawks are in trouble. Winners of one of their last 11 road playoff games, they must win one of their next one on the road just to have a chance to win their first-round playoff series against the Milwaukee Bucks.
The Hawks led 82-73 with just over four minutes left in the game. From that point, John Salmons beats Josh Smith (who had switched onto him) off the dribble, draws a foul on Marvin Williams, and makes both free throws to cut the deficit to 82-75. On the other end, Josh Smith misses a layup. Salmons then makes a 3-pointer while Joe Johnson worries about a yet-to-be-set ball screen from Kurt Thomas (82-78). On the other end, Jamal Crawford misses a layup. Johnson commits his fifth foul closing out recklessly on Brandon Jennings beyond the 3-point line with two seconds left on the shot clock. Jennings makes the first free throw. He misses the second wildly but Ersan Ilyasova beats Josh Smith to the rebound. Eventually, Salmons gets Al Horford switched onto him, beats him off the dribble and gets fouled at the rim by Smith. Salmons makes both free throws (82-81). The Hawks take 12 seconds to set up a 1-4 set for Johnson. With nothing doing and the shot clock dwindling, Johnson puts his head down and runs into Thomas in the lane. It's Johnson's sixth foul. Ilyasova, after saving a mistimed pass from Salmons from going out of bounds, takes the ball from the left block across the lane and scores over Smith (Bucks leading 83-82). Smith, a career 26.1 percent 3-point shooter, responds by attempting a 3 off the first pass with 11 seconds left on the shot clock. Horford misses a follow try. Jennings misses a runner in the lane. Ilyasova gets another offensive rebound and passes out to Carlos Delfino in the corner. Delfino can't find an open teammate, then realizes no Hawk is closing out on him so he shoots, and makes a 3-pointer (86-82 Bucks). The Hawks call timeout. Three Crawford misses (all on one Atlanta possession) later, the Hawks start fouling intentionally. One Salmons missed free throw and one Horford banked-in 3-pointer aren't enough to change the outcome.
Taking nothing away from the Bucks, who executed flawlessly on the offensive end down the stretch, but it was also a complete meltdown on both ends for the Hawks, reminiscent of many late leads they blew in the regular season -- and, barring an atypically strong performance away from home, the beginning of the end of five years' worth of progress as a franchise.
To read more from LaGree, click here.
4. Daily Dime Live Recap
ESPN.com writers and TrueHoop Network bloggers chatted with fans and gave their in-game opinions throughout Wednesday's games -- all in Daily Dime Live.
---
By Maurice Brooks
ESPN.com
WEDNESDAY'S BEST

Jennings

Brandon Jennings, Bucks
From his personal 12-0 run, to the two big free throws he nailed down the stretch, the rookie stepped up in the biggest game of the season. He finished with 25 points.

WEDNESDAY'S WORST

Korver

Kyle Korver, Jazz
He may be one of the top long-range shooters in the league, but he was off target against the Nuggets, going 0-for-6 from the floor in a scoreless night.

QUOTE OF THE NIGHT

"It was a terrible loss. It was embarrassing."

-- Atlanta's Joe Johnson after the Hawks stumbled down the stretch at home in Game 5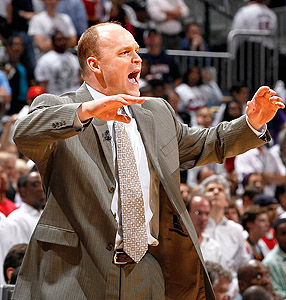 (Kevin C. Cox/NBAE/Getty)
With his best player, Andrew Bogut, on the sidelines, Scott Skiles -- second in the Coach of the Year voting to the Thunder's Scott Brooks -- has the Bucks one win from advancing to the Eastern Conference semifinals.
8.

The Jazz's Thin Margin of Error
By Kevin Arnovitz
ESPN.com

Williams
Basketball at the NBA level is a game played at the margins, particularly when the league's most competitive teams face off in seven-game series. For an undermanned Utah Jazz team that's been playing without its best perimeter defender and lost its starting center in Game 1, that margin for error is razor-thin.
The Jazz came into Game 5 with a 3-1 lead over a talented Denver Nuggets team only because Utah played near-perfect basketball for the better part of a week. Utah's precision and smarts picked apart an easily frustrated Nuggets squad that succumbed to its worst instincts.
Utah didn't play horrendously on Wednesday night in its 116-102 loss to Denver. Deron Williams and Carlos Boozer controlled the game for extended stretches. Williams scored a game-high 34 points and chipped in 10 assists, while Boozer went for 25 points and collected 16 rebounds.
But many of the finer details that the Jazz mastered during their three-game winning streak in this series were absent from Game 5. Against a Denver team that played up to its collective potential for the first time since the series opener, Utah couldn't overcome those imperfections.
"Especially with the guys we have out, we have to have everyone contribute for us to be successful," Williams said. "We play team basketball. We've got to have everyone going on all cylinders, even moreso on the road."
There were visible blemishes to the Jazz's game that we haven't seen since the fourth quarter of Game 1. A kickout pass from Williams to a wide-open Wes Matthews in the corner -- the kind of play that Utah executed in style during Games 2, 3 and 4 -- sailed into the front row behind the Jazz bench. Denver scored only one field goal in the final six minutes of the fourth quarter, but was able to put the game away at the stripe because a foul-happy Jazz team put the Nuggets in the penalty early in the period. And Kyle Korver, whose quick trigger has been instrumental to Utah's second-ranked postseason offense, missed all six of his shots from the floor.
While these failures hurt the Jazz's cause, they weren't nearly as detrimental as the defensive meltdown to start the second half.
"They scored on the first nine possessions of the third quarter," Jazz coach Jerry Sloan said. "I thought our defense kind of broke down. They did a terrific job with what they were trying to accomplish."
Among those stated goals for Denver coming into Game 5 was swinging the ball from side to side. To Sloan's point, the Nuggets were able to spot up shooters on the weak side and bury Utah from the perimeter with much-improved ball movement.
"The thing that hurt us as much as anything was they got the ball inside," Sloan said. "We started crowding inside to keep them from getting the ball in there. When you do that, you give up something."
That something was a barrage of open looks for guys like Arron Afflalo and J.R. Smith, whom the Jazz did a good job of blanketing over the previous three games. The shooting exhibition bore a striking resemblance to Game 1 when the Nuggets overwhelmed the Jazz defense with the kind of inside-out attack that powered Denver to the conference finals last season.
"They were super-aggressive, especially in the second half -- I mean, like, attacking the basket," Jazz forward C.J. Miles said. "They made it tough for us."
The Jazz have been spirited while executing their airtight system against the Nuggets. But a palpable fear has lurked beneath the surface of this series that the slumbering giant would eventually wake up. Utah has demonstrated that it's capable of playing flawless basketball on its home floor. They'll need to summon that perfection for Game 6 on Friday night.
9.

Bucks Run Away With It

Salmons
The Bucks were trailing by nine points with slightly more than four minutes to go in the fourth quarter on Wednesday, but they reeled off 14 straight points and defeated the Hawks 91-87 in Atlanta. It's the first time that a road team won a postseason game by scoring 14 or more straight points in the fourth quarter or overtime after trailing at the start of the run since the Mavericks scored 20 unanswered points in the fourth quarter to win in Houston in 2005.
Check out the rest of Elias, by clicking here