1. With Bosh Watching, Bynum Struts His Stuff
LOS ANGELES -- Andrew Bynum is entitled to a matchup like this, in which he looks like Godzilla tromping through the undersized Utah Jazz, gets a career-high 14 rebounds and plays an important role in a Lakers playoff victory.
It seems as if ever since that rookie-year dunk on Shaquille O'Neal it's been nothing but injuries, a disparaging video starring Kobe Bryant, injuries, embarrassing Internet pictures taken in clubs and injuries and, uh, injuries.
It had reached the point that the latest injury news -- a meniscus tear in Bynum's right knee announced just before the start of the second-round series against the Jazz -- didn't bring wails of anguish or gasps of fear from Lakers fans. Instead, it brought scorn and derision for the guy who can't seem to stay on the court.
And then who shows up and takes a courtside seat at Staples Center to watch Game 2 of the Lakers versus the Jazz? Chris Bosh, the free-agent-to-be center who already popped up in a trade rumor for Bynum this season and would likely require Bynum to be sent to Toronto if the Raptors want to do a sign-and-trade with the Lakers this summer (although the buzz has Bosh heading to join Dwyane Wade in Miami).
It's as if no one takes into account the rehabilitation work Bynum did to get back to as good or better than he was before each major injury. They haven't factored in that he has yet to play a full season alongside Pau Gasol (who was acquired after Bynum went down for the count in 2008, and has missed his share of games with injuries this season as well).
"It's tough," Bynum said. "A couple of injuries weren't my fault."
Most notable among those was the time Bryant rolled into Bynum's knee last season and tore Bynum's MCL.
"It's part of playing the game," Bynum said. "Stuff happens."
But you know what happens when Bynum's on the court, when his body feels good enough and the referee's whistle doesn't blow too often on him and he actually gets minutes?
Good stuff.
He had 17 points and four blocked shots Tuesday night, taking full advantage of his size on both ends of the court.
The cartilage tear brings him pain, especially when he jumps and lands. The knee swells after games. The medical staff has told him he can't damage it further; it's a matter of how much pain he can tolerate. After missing 132 regular-season games, and the entire 2008 playoffs, and irritating the Lakers by following some outside medical and training advice, there was some skepticism about just how much he would give them.
But he produced a solid 29 minutes Tuesday night, yielding for Jackson's preferred lineup featuring Lamar Odom at the end, not for fatigue. He was effective to the end, blocking a Deron Williams drive right before he came out.
It seems as if Bynum is earning more respect from Jackson.
"During the game he never complains," Jackson said. "He goes out and does the job."
Jazz coach Jerry Sloan called Bynum "a huge factor" and kept coming back to the Lakers' size when Bynum and Gasol are in together.
"I was pretty comfortable," Bynum said. "Especially in the first half."
Four of his five first-half field goals were dunks and layups.
"We've got smaller guys on us this series," Bynum said. "For the most part if we get our work done early and keep them pinned, we should get the ball."
They should, but there's Bryant's top place on the shooting hierarchy and Ron Artest's insistence on shooting 3-pointers as if he's a new-school Reggie Miller.
Artest attempted nearly as many 3-pointers (seven) as Bynum took shots from close range (nine).
Bynum could be watching another playoffs. His injury will eventually require surgery.
"The reason I didn't want to get [surgery] done now is the pain level isn't that high," Bynum said. "I can play through it. And then going through the rehab process, nobody knows exactly how long it's going to take. So I don't want to do it and miss the rest of the playoffs. It's cool if they say two weeks, and then if it goes three or four and you miss the playoffs, everybody's looking at you crazy."
He's been there before, coming back on the far side of the estimated return range. No crazy looks for Bynum. Just eyes on him. Including those of Bosh, out of contention and watching Bynum do work in a playoff game.
J.A. Adande is a columnist for ESPN.com.
Dimes past: April 19 | 20 | 21 | 22 | 23 | 24 | 25 | 26 | 27 | 28 | 29 | 30 | May 1 | 2 | 3 | 4
2. Annihilation At Amway: Magic Win By 43
By Chris Sheridan
ESPN.com

Howard
ORLANDO -- Two primary observations from Game 1 of the mismatch otherwise known as the second-round series between Orlando and Atlanta:
• Nice to be reminded how good a player Dwight Howard can be when he's not watching from the bench in foul trouble.
• Awfully strange to see Mike Woodson pull one of his two All-Stars, Al Horford, early in the first quarter after he picked up his first foul.
You are rightfully excused if you did a little channel surfing during Tuesday night's early game, a 114-71 mauling of the Hawks by the Magic that turned in Orlando's favor during a 17-0 second-quarter run and turned into a joke the rest of the way. Atlanta managed only 10 points in the second quarter and 11 in the third in an annihilation of epic proportions witnessed by none other than his highness, commissioner David Stern.
The commish (who attended with his wife and stayed until the final buzzer) was booed by the hometown fans before the game when he stood at center court for the announcement that the Magic will play host to the 2012 All-Star Game. The Orlando faithful undoubtedly placed the blame for Howard's four games of foul trouble in the first round squarely on Easy Dave's shoulders.
It should be noted that the Magic lost none of those games, a detail that might have escaped your memory banks during the eight days of idle time the Magic spent awaiting the winner of the Milwaukee-Atlanta series.
To read the entire column, click here
3. Phil Jackson On His Future

Jackson
LOS ANGELES -- When Jeanie Buss said last week that Phil Jackson would coach next year, "Whether it's here or someplace else I don't know," it wasn't what she said so much as that she said it.
My sense was that it was a hollow negotiating tactic. Jackson doesn't mind having the concept of him coaching somewhere else out there, but I doubt it's something he would want to see through. Most noteworthy was that Buss would violate Corleone Principle No. 1 and take sides against the family. To reset, she's the owner's daughter and a team executive and she's dating the coach and taking his side. You wonder if that's something that could have ramifications that last beyond Jackson's time here, whether it ends this year or 2012.
But when Jackson was asked Tuesday night if he could envision himself coaching elsewhere, he replied: "I really couldn't. I can't see that as an image or even as a prospect."
He went so far as to say "There's a 90 percent chance of, if I'm coaching, I'd be here."
To read the entire blog entry, click here
4. Daily Dime Live Recap
ESPN.com writers and TrueHoop Network bloggers chatted with fans and gave their in-game opinions throughout Tuesday's games -- all in Daily Dime Live.
---
By Maurice Brooks
ESPN.com
TUESDAY'S BEST

Bynum

Andrew Bynum and Pau Gasol, Lakers
The dynamic duo punished the Jazz inside, combining for 39 points, 29 rebounds and six blocked shots as the Lakers turned away Utah to take a 2-0 series lead.

TUESDAY'S WORST

Crawford

Jamal Crawford, Hawks
You can put just about any Atlanta player here. Mike Bibby went 1-for-5, Al Horford was 1-for-7 and the Sixth Man of the Year winner missed 10 of his 11 attempts from the floor, finishing with five points.

QUOTE OF THE NIGHT

"It's embarrassing. They embarrassed us."

-- Atlanta guard Mike Bibby after the Hawks were blown out by the Magic in Game 1
7.

All-Star Game Headed To Orlando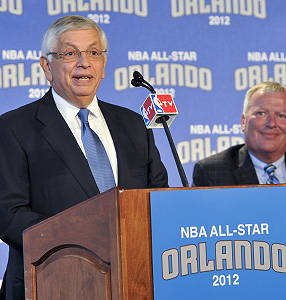 (Kevin C. Cox/NBAE/Getty)
NBA commissioner David Stern announced Tuesday that the 2012 NBA All-Star Game will be played in Orlando at the Magic's new arena. Orlando also hosted the game in 1992.
By Kevin Arnovitz
ESPN.com

Williams
LOS ANGELES -- When their offense is humming, the Utah Jazz zip around the floor. They attack opponents with crisp passes into and out of the post for high-percentage shots. For much of Game 2 against the Los Angeles Lakers at Staples Center, Utah's inside-out strategy worked, as the Jazz generated 59 shot attempts in the paint. They got close-range looks for their big men down on the block and for their perimeter players on slashing drives through the seams of the Lakers' defense. There was only one problem:
The Jazz couldn't convert.
In fact, Utah's failures inside Tuesday night were spectacular. Of those 59 chances in the paint, the Jazz converted only 25 of them -- a woeful 42 percent.
"That's their size," Jazz head coach Jerry Sloan said. "They blocked a lot of shots, especially down the stretch. We just seemed to be in such a big hurry."
Thirteen of those 34 missed shots inside were swatted away by Lakers defenders, while others were chippies that wouldn't fall through the iron. For a group of players that prides itself on mastering the commonplace tasks of the game, how did the Jazz miss so many chances so close to the net? Was it the Lakers' length or was it the anxiety of an undersized team eager to get into the kind of offensive flow that carried it in the first round?
"A little bit of both," Jazz point guard Deron Williams said. "They're doing a good job of defending us right now and taking our offense away. They've scouted us well."
The Lakers' end of the floor was an entirely different story. Thirty-two of the defending champions' 40 field goals originated in the painted area. During the second quarter, when they built a double-digit lead, the Lakers drained 12 field goals: 11 of them in the paint and one from beyond the arc. With a showcase of efficiency like that, it didn't matter that the Lakers hit only eight of 31 shots outside the paint. They got everything they needed inside against an undersized Jazz defense.
"The closer [the Lakers] get to the basket, the more efficient they are," Jazz forward Carlos Boozer said. "The further we can keep them out, push them out a little bit, be more physical, try to dog the ball out with different guys and go from there."
Unfortunately for the Jazz, there aren't many different guys they can throw at the Lakers' three-headed front line. Pau Gasol, Andrew Bynum and Lamar Odom combined for 51 points, 44 rebounds, nine blocked shots and 75 percent shooting from the field. Boozer has average defensive instincts, Paul Millsap has a height deficit, and the young tandem of Kyrylo Fesenko and Kosta Koufos have issues that are probably better addressed in summer workouts.
Heading back to Salt Lake City, the Jazz should focus not on the 34 interior misses, but rather the 59 attempts they harvested in the paint. Utah moved the ball effectively to get those opportunities. With better execution and more confident finishes, the results should follow as long as Utah maintains its aggressiveness.
9.

PG Rankings: Who's No. 1 Now?
By John Hollinger
ESPN.com

Nash
All of which makes the debate over the game's top point guard more heated than ever. Chris Paul of New Orleans, the standard-bearer at the position the past three seasons, once again led point guards in player efficiency rating (PER) at 23.74, but he played only 45 games and was markedly less effective once he returned from knee and ankle injuries. At the very least, his health has thrown the question wide open again; at worst, he might not be capable of regaining the throne.
To read the entire PER Diem, click here