1. Balanced Effort Helps Suns Take 2-0 Lead
PHOENIX -- It's always been the great irony of Steve Nash's sporting life. The name of his favorite team on the planet is right there on the black road jerseys that belong to the team he's never been able to get past in the NBA playoffs.
It's a paradox he's had to live with as North America's most famous fan of the North London football club known simply as Spurs ... and as someone whose basketball seasons have been ended by San Antonio six times as a pro.
It's the backstory that helped make Wednesday -- with breakthrough wins for his footballing Spurs and then his Phoenix Suns -- as significant as any day in Nash's 14-year career.
"Not complaining," Nash cracked, unable to suppress a smile as he took it all in.
He couldn't quite stay in downplay mode, because there simply haven't been many nine-hour spans to rival this one for Nash and the Suns. Mere hours after his beloved Tottenham Hotspur beat Manchester City to clinch a spot in European soccer's elite team competition for the first time since 1962 -- in a match he tried not to watch because he was convinced he'd expend emotional energy he couldn't afford to burn so close to tipoff -- Nash quarterbacked the Suns to a 110-102 victory that didn't merely stake Phoenix to a wholly unfamiliar 2-0 series lead over hated San Antonio.
It was instantly deemed, by Suns coach Alvin Gentry and Nash himself, to be the finest show of teamwide toughness in the Nash era.
The Spurs got a throwback 29 points and 10 rebounds from Tim Duncan and took away the Suns' running game, holding them to a measly eight fast-break points. Yet Phoenix found a way to overcome 35-percent shooting in the first half, reach 110 points against the Spurs for the fifth time in five meetings this season and defiantly snag this Game 2 anyway.
"I think it was about as gritty a win as we've had since I've been around here," Gentry said.
Nash added: "So many guys made plays for our team tonight. I can't remember really being part of a team that's had so many guys step up and play well."
Not against San Antonio. Not in the Duncan era. Never did Nash imagine, back in the summer when he signed a two-year extension with the Suns that many questioned, that Phoenix would finally be holding serve in a May series against the Duncan/Tony Parker/Manu Ginobili Spurs with three Suns teammates making flashier contributions than Nash did.
First it was first-half relentlessness on the offensive boards from reserve swingman Jared Dudley after San Antonio took an early 11-point lead. Then it was Channing Frye drawing Tim Duncan far away from the rim and sinking two of his five 3-pointers in a crucial third-quarter stand. Lastly it was Grant Hill, wrapping three clutch mid-range jumpers around another Frye triple early in the first half of the fourth, adding to Hill's sticky defense on Ginobili and extending a lead that enabled Nash to get the full six minutes of rest to start the final quarter that Gentry is convinced he needs.
"I can't tell you guys how important that is for us," Gentry said.
It showed. With the Spurs still hanging around at 103-97 in the final two minutes, Nash was fresh enough to quickly turn a corner and bank home a crucial lefty scoop shoot to get the lead back up to eight. So when Duncan drained a long triple from the left wing with 14.9 seconds left -- prompting a stunned Gentry to ask various fans sitting near the Suns' bench why Duncan saves all his playoff threes for Phoenix -- it came too late to hurt the hosts.
The gritty performance put the spotlight back on basketball after the considerable pregame furor surrounding Phoenix's decision to wear "Los Suns" jerseys, which was partly to commemorate Cinco de Mayo but mostly to lodge an organizational protest against a controversial new Arizona immigration law that President Obama has likewise blasted as "misguided." After the Suns received more than 1,500 protest phone calls Wednesday morning before shutting down the team's switchboard, they knew they'd be facing a really negative reaction had they succumbed to the Spurs again after making such a bold political statement, as so many locals were fearing thanks to all those bad San Antonio memories.
No current Sun has suffered more Spurs-induced burn than Nash, who has never before tasted so much as a 2-0 lead in San Antonio series. Not with Dallas or with Phoenix. So this was an epic day for the 36-year-old, which actually began the night before when his brother-in-law, Manny Malhotra, helped the San Jose Sharks take a stunning 3-0 lead in their playoff series with the Detroit Red Wings.
Then at lunchtime Wednesday, after shootaround, Nash decided he had to shut the TV off in the first half, realizing that he was getting too wound up with Tottenham and Manchester City locked in an 0-0 draw. He managed to steal nearly an hour of sleep (or half-sleep) before finally switching the TV back on to see that Tottenham, on the road, had sealed a 1-0 victory that clinched fourth place in England's Premier League and a spot in next season's Champions League.
But Nash knew he had no time to celebrate, bracing for the inevitable physical response from San Antonio to the Suns' Game 1 triumph. It would take Nash's 19 points and six assists, Amare Stoudemire's 23 points and 11 boards and more toughness and bench help than they've ever seen to survive.
Not that Nash will mind. He sounds as proud as Gentry that Duncan's assessment -- after Game 1 -- is being proven correct ... that the new Suns are "definitely better and deeper" than the three Nash-led teams vanquished by the Spurs in 2005, '07 and '08.
They look too good for the Spurs to beat four times in five games, unless Duncan starts getting more help on the boards (Phoenix had a 49-37 rebounding edge) and Ginobili (just 11 points with his 11 assists) can shake Hill and the Suns' help defenders.
"I'm not really worried about what they're feeling," Nash said. "To be honest, it's because it's a compliment. We know they're not going away. Even if they are frustrated they're going to come out and give us a heck of a time in Game 3 and Game 4."
Spoken like someone who knows all too well that, with these Spurs on the other side, even a roll this good has limits.
Marc Stein is the senior NBA writer for ESPN.com. To e-mail him, click here.
Dimes past: April 20 | 21 | 22 | 23 | 24 | 25 | 26 | 27 | 28 | 29 | 30 | May 1 | 2 | 3 | 4 | 5
2. Will The Big Four Be Enough For Spurs?
By Timothy Varner
TrueHoop Network

Jefferson
The current Phoenix squad is the best incarnation of the Steve Nash-led Suns that Tim Duncan has faced in the playoffs. San Antonio's current squad is not the best Spurs team Nash has faced. It's simple like that, and now the two teams find themselves in unfamiliar territory in advance of Friday night's decisive Game 3.
The Suns' 110-102 victory over the Spurs represents more than a 2-0 series lead. It's the Suns playing bugaboo-free basketball; it's the Suns unafraid of the Spurs.
The early returns suggest that Nash has finally found his role-reversing series, cast for once in the role of the Road Runner and no longer as the Spurs' personal Wile E. Coyote, suspended in midair with an armful of anvil and a long way to fall.
Through the first two games of this series, Steve Nash is the clever conqueror. And while his modest 19 points and six assists suggest something less than conquest, the Suns' 32-point fourth-quarter flurry was typical of the "Beep Beep" orchestration Nash has established in Phoenix.
For the Spurs, 2-0 is a deep hole. And their cartoon escape hatch couldn't come soon enough.
When the Spurs traded for Richard Jefferson, they imagined themselves upgrading from a Big Three to a Big Four. That never happened; Jefferson's play in San Antonio had been mostly underwhelming until Wednesday night.
The Spurs got a double-double from Duncan, Manu Ginobili and Jefferson; Tony Parker may not have notched a double-double, but his 20 points and seven assists on 8-for-14 shooting certainly held up his end of the Big Four concept. And while the Spurs were obliterated on the offensive glass (and by the infectious, game-changing energy of Jared Dudley), they played well enough to win. They probably should have. This game went the way the Spurs hoped these games would go when they traded for Richard Jefferson.
With their decisive Game 2 victory, Phoenix is sending the Spurs back to San Antonio with a question that lingers like a bad debt: Is their Big Four big enough?
To read more from Varner, check out the blog 48 Minutes of Hell
3. Phoenix's Bench Keys Game 2 Victory
By Michael Schwartz
TrueHoop Network

Frye
PHOENIX -- In prior years, the Phoenix Suns played their bench only when they absolutely had to.
This year, their bench is a big reason the Suns are two victories away from the Western Conference Finals.
After a lackluster first quarter in which Phoenix's starters hit just 33 percent of their shots, Jared Dudley and the Suns' bench came in at the start of the second quarter and "changed the whole game," as Spurs coach Gregg Popovich put it.
Although the bench only chopped three points off the Spurs' nine-point first-quarter lead in six minutes of action to open the second, the energy they brought changed the complexion of a game San Antonio controlled defensively in the opening quarter. Much of that had to do with the Suns' sparkplug Dudley, whom Steve Nash called his player of the game.
Dudley injected the Suns with a shot of energy, typified by the second-quarter possession in which he twice corralled an offensive rebound and scored while being fouled.
"We were kind of flat, we weren't in sync, and it kind of gave us a little bit of life there," Grant Hill said. "The second unit, they find different ways to contribute. Tonight they just established the mental toughness, and we came back in and were able to get going from there."
Added Dudley, "That's what our bench is supposed to do: bring energy."
Channing Frye chipped in with 15 points, Lou Amundson worked the offensive glass and Goran Dragic played well enough in the fourth that the Suns felt secure resting Nash for half of the quarter.
So while Nash and Amare Stoudemire remain from prior Phoenix teams that found nothing but despair against San Antonio, one of the biggest reasons this series has been different thus far is that the Suns' stars can rest easily while they're on the bench.
To read more from Schwartz, check out the blog ValleyoftheSuns.com
4. Daily Dime Live Recap
ESPN.com writers and TrueHoop Network bloggers chatted with fans and gave their in-game opinions throughout Wednesday's games -- all in Daily Dime Live.
---
By Maurice Brooks
ESPN.com
WEDNESDAY'S BEST

Stoudemire

Amare Stoudemire, Suns
He paced six Suns in double digits with 23 points, and grabbed 11 rebounds and blocked a shot to help Phoenix take a commanding 2-0 series lead on the Spurs.

WEDNESDAY'S WORST

Ginobili

Manu Ginobili, Spurs
He did an excellent job setting up his teammates for easy scores, but struggled with his own shot, while being guarded by Grant Hill. He went just 2-for-8 from the floor, but his point total was helped by five made free throws.

QUOTE OF THE NIGHT

"The team stood up for that part of our community because I think that's the side of this bill that could open the door to racial profiling and racism, and I'm talking about American citizens who are Latino. Their quality of life and freedoms could change because of this bill."

-- Guard Steve Nash on the Suns celebrating diversity on Cinco de Mayo and protesting the immigration bill
7.

Spurs Waste Duncan's Big Night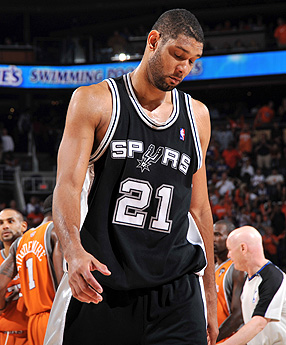 (Jesse D. Garrabrant/NBAE/Getty)
Tim Duncan did his part, scoring 29 points and grabbing 10 rebounds, but it wasn't enough to keep the Spurs from dropping a 110-102 decision to the Suns in Game 2 on the road.
By John Hollinger
ESPN.com

Dudley
PHOENIX -- The San Antonio Spurs probably envisioned several possible ways they could lose Game 2 to the Suns, but I'm guessing "getting absolutely pounded on the glass" wasn't one of them.
But sometimes truth is stranger than fiction. Let the record show that the soft, mellow, all-style-no-substance Phoenix Suns dominated the big, tough, experienced San Antonio Spurs on the glass Wednesday. Mercilessly beat them. Bloodied their noses and battered them into submission, in fact, en route to a 110-102 victory that gives them a 2-0 series lead in their best-of-seven series. Game 3 is Friday in San Antonio.
Phoenix hammered the Spurs to the tune of 18 offensive rebounds, while the Spurs generated just seven, and several of the Suns' second chances came at the most crucial junctures. Most notably, an offensive board by Amare Stoudemire with 0:56 left allowed the Suns to run 20 more seconds off the clock before a dagger jumper by Jason Richardson put them up 107-97 and effectively ended the game.
Yet the real impact of the board battle was much earlier than that. We don't commonly think of NBA playoff games being won or lost in the second quarter, but the Spurs are likely to rue a period that saw them blow an 11-point lead almost entirely because they couldn't control the caroms.
"Jared Dudley changed the whole game," said Spurs coach Gregg Popovich. "He came in and he was a monster. He was committed to the boards and it was infectious, and for that period they really got after us on the boards, and that changed it for the first half."
To read the entire column, click here
9.

All-Defensive Team Picks
By John Hollinger
ESPN.com

Howard
As a general rule, we don't pay nearly enough attention to defense. Pick a game, any game, and the first player mentioned in the wrap-up will be the high scorer from the winning team. The game's statistical revolution, to this point, hasn't been particularly helpful in that regard. While we can show you in very precise terms how effective somebody like Kevin Martin is at the offensive end, we have very little ammunition to make similar arguments for his teammates like Chuck Hayes or Shane Battier.
But there are ways to try to rectify such oversights, and with that, it's once again time for me to name my All-Defensive team.
Despite all that's been done with numbers over the past decade or so, this remains an inherently subjective exercise. So let me lay down some ground rules.
First, I named players at the position they guard, not the position they play on offense. For one player below in particular, this is a very important distinction. Second, minutes matter: Somebody who plays great in 1,000 minutes can't match the value of somebody who plays 2,000.
From there, I used three techniques to choose the team. First, I looked at the player's on-court versus off-court point differential at the defensive end, measured per 100 possessions (hat-tip to BasketballValue.com for that one). I've included that measure for every player listed below; the more negative the number, the better. Second, I looked at a team's defensive efficiency; having an average point differential for the top-ranked defense (Charlotte) is a very different feat than doing the same for the worst defense (Toronto).
And, as always, there's the subjective component. On this front, I'll at least mention that I've put in the legwork. I saw all these teams play start-to-finish on the tube at least 10 times, and saw all but one of the top 17 defensive teams in person, most of them more than once. (Sorry, Bobcats, the schedule didn't work out for us this season. Maybe in the playoffs.)
To read the entire PER Diem, click here