1. Dragic Turn Of Events In San Antonio
By John Hollinger
ESPN.com
SAN ANTONIO -- Of all the explosive displays of Phoenix's awesomely potent offense this season, this one was perhaps the greatest.
Just consider the setting. The Suns were on the road, against a veteran Spurs team renowned for its defensive discipline, with their three best offensive players sitting on the bench watching and facing a one-point deficit at the start of the fourth quarter.
It didn't matter. Not only did they keep scoring, but they scored more than ever. Over a span of 13 offensive possessions, the Suns scored the jaw-dropping total of 29 points with a display of dribbling, passing and shooting that's rarely been witnessed in NBA playoff annals ... despite having Steve Nash, Amare Stoudemire and Jason Richardson on the bench for the entirety of the run.
That's more than two points per trip, if you're scoring at home, and thus even better than if they'd dunked on every play. The Suns scored from every possible angle, making four 3s, five layups, three midrange jumpers and one free throw. It could have been worse -- San Antonio's only "stop" in that span came when Suns reserve Goran Dragic missed two free throws.
Faster than you can say "Slovenia," a one-point deficit was a 14-point lead and the Suns were three-quarters of the way to knocking the San Antonio monkey off their back for good, as Phoenix beat the Spurs 110-96 on Friday to take a commanding 3-0 series lead in their best-of-seven series.
"They really picked us apart," Spurs guard Manu Ginobili said, "and it seemed there was no way to stop them. It was kind of embarrassing."
Those two free throw misses were about all Dragic did wrong. He scored 17 points in a five-minute span and finished with 23 in the quarter, making all but one shot from the field. Included in the barrage were a four-point play on which he was fouled by George Hill on his way up and still muscled the ball in from the corner, a pair of twisting layups in the paint after head-fakes and pivots had freed him, and a flying lay-in over Tim Duncan.
That last shot, his 19th and 20th points of the period, caused Suns coach Alvin Gentry to turn to the scorer's table and double over in amazement. So amazing was Dragic's flurry that, after beginning the night as a no-name backup, he finished it as a trending topic on Twitter.
"Steve who?" Gentry began his postgame news conference, as two-time MVP Nash was scarcely needed in the fourth because Dragic played so well.
"I think everyone forgets what a great athlete he is. He's as fast with the ball as anyone on our team, he's got a lot of little tricks and he can shoot the ball really well."
"I knew I was hot," Dragic said, "so I just wanted to have the ball during the pick-and-roll. On a lot of those plays, I had Tim Duncan on my side, and Coach told me if you feel it, shoot it."
Dragic's tag-team companion in the desecration of the Spurs' pick-and-roll defense was speedy cohort Leandro Barbosa, who caught the Spurs in bad mismatches on switches and scored seven points of his own in the fourth. Together, he and Dragic combined for 39 points while missing only five shots and committing just one turnover.
"[Dragic] was fantastic," Spurs coach Gregg Popovich said. "Their second team kicked our butt."
The key was the Suns playing small, using sharpshooter Channing Frye as the lone big man, spacing the floor and preventing San Antonio from helping on screen-and-rolls. Once San Antonio's big man -- either DeJuan Blair or Duncan -- switched onto the dribbler, the Spurs were dead ducks.
"They switched the screen-and-rolls, and we decided if they switched we would try to dictate that," siad Gentry, "and we thought Goran and [Barbosa] would be able to get around their big guy. They did a great job of it."
"We did several different things," Duncan said, "and it always seemed to end with them making a shot."
An offensive explosion by the Suns is hardly a new phenomenon, of course -- Phoenix led the league in offensive efficiency for a sixth straight season this season. What's different this time around is the resilience, depth and chemistry that put the Suns in position to make such an amazing run.
The Suns trailed by as many as 18 points in the first half, and with the Spurs playing with their backs against the wall and the Suns getting a tough whistle throughout the first half (San Antonio's first team foul came nearly 16 minutes into the game), it would have been easy to pack it in and try again in Game 4.
"Hang around," Gentry could be heard yelling to his squad, and hang around it did, with the help of seven straight missed Spurs free throws in the second quarter and a decisive switch to small ball early in the second quarter. Gentry pulled Louis Amundson after just two minutes to play Grant Hill with four subs in a smaller alignment, and it helped the Suns maintain contact. It was the second straight game in which they trailed by nine after the first quarter and came back and won, and once again the bench played a major role.
So convincing was the final margin, in fact, that Ginobili decreed the Spurs would need to play "a perfect game" to beat Phoenix in Sunday's Game 4 -- the only game now standing between the Suns and a shocking sweep of their longtime nemesis.
No team has ever lost a series after leading 3-0, although snake-bit Suns fans will be the first to volunteer that if it ever happens, it probably will happen to them in a series against San Antonio. Nonetheless, Friday night's explosion was another example of what a deep, talented and cohesive squad the Suns possess -- remember, they're now 35-9 since late January.
The Spurs might still have a perfect game or two left in them to extend the series, but it no longer matters. After Friday night's fourth-quarter explosion, it seems a foregone conclusion that the Suns' explosive offense can look forward to testing its skill against the Lakers' airtight defense in the conference finals.
ESPN Insider John Hollinger is a regular contributor to the Daily Dime.
Dimes past: April 21 | 22 | 23 | 24 | 25 | 26 | 27 | 28 | 29 | 30 | May 1 | 2 | 3 | 4 | 5 | 6
2. Duncan, Spurs Left With More Questions

Duncan
SAN ANTONIO -- Tim Duncan was sitting on the corridor floor, with Gregg Popovich standing over him, two unquestioned champions presumably trying to make sense of what had just happened to the team that just last week was being hailed as the most fearsome No. 7 seed in history.
You couldn't get close enough to hear what they were saying. Yet you could safely assume that this was not the way they expected the Phoenix Suns to finally get their vengeance.
The sight of Duncan and Popovich commiserating in a hallway outside the Spurs' locker room was the chilling picture Goran Dragic left in his wake late Friday night, after shredding the San Antonio Spurs like they belonged in his Slovenian league back home. The Suns still have to win one more game to say they've at last beaten Team Duncan in a playoff series for the first time in five tries, but good luck finding someone willing to pick these Spurs to become the first team in NBA history to recover from a 3-0 deficit after the 23-point highlight reel Dragic assembled in the final 12 minutes.
Never in the Duncan era have the Spurs sounded as bewildered in defeat as they sounded after this 110-96 Game 3 pounding. Never did they imagine missing seven straight free throws in the first half to throw away their early momentum, ultimately blowing all of an 18-point lead and then fading away in crunch time against the speed of a tiny, sub-filled, drive-and-kick lineup ... while Steve Nash, Amare Stoudemire and Jason Richardson led the cheers from the Suns' bench.
"In the first game, we fouled them too much an they [scored] too much in transition," Manu Ginobili said. "In Game 2, they stopped running but they beat us on offensive rebounds. Tonight we didn't foul them, they didn't beat us on the offensive boards, Amare scored seven points and they killed us anyway. That's the tough part to swallow."
To read the full Stein column, click here.
3. LeBron Sends C's To Worst Home Playoff Loss
By Chris Broussard
ESPN The Magazine

LeBron
BOSTON -- It ticked him off. All of it.
The questions about his toughness when it was falsely reported that he might need three MRIs for his strained right elbow. The disregard for his team's splendid 61-win regular season, after one bad loss. The idea that The King was buckling under pressure, overemphasizing his injury to create a convenient excuse for potential failure.
Well, now we know what LeBron James -- the media-friendly, quick-to-laugh, nice-guy superstar -- plays like when he's mad.
He blocks shots with such abandon that it leaves the 6-foot-9-inch, 290-pound former football player sprawled out on the floor.
He pours in points in every conceivable way, outscoring a team full of future Hall of Famers by himself.
He makes a Big Three, Gigantic Four, or whatever cute nickname folks give his opponents, look infinitesimal, smaller than the lion's face on his signature sneakers.
In a mammoth performance that put every naysayer, hater and Boston Celtic to shame, James put the Cleveland Cavaliers back in control of their postseason, leading them to a historically-lopsided 124-95 victory and a 2-1 advantage in this Eastern Conference semifinal series. The margin, which Boston's Paul Pierce called "embarrassing,'' was the largest ever in a home playoff loss by the Celtics.
James' statistics, as mind-blowing as they were (38 points, 8 rebounds, 7 assists, 2 blocks), don't come close to telling the story of his dominance. This was Mike Tyson vs. Trevor Berbick. Troy Aikman's Cowboys vs. Jim Kelly's Bills. Usain Bolt vs. anybody.
To read the full Broussard column, click here.
4. Daily Dime Live Recap
ESPN.com writers and TrueHoop Network bloggers chatted with fans and gave their in-game opinions throughout Friday's games -- all in Daily Dime Live.
---
FRIDAY'S BEST

Dragic

Goran Dragic, Suns
In 17 minutes or less, "The Dragon" devoured the Spurs. Dragic scored 23 of his 26 points in the fourth quarter. In all, he was 10-for-13 from the field, including all five 3-point shots. Put that on a poster.

FRIDAY'S WORST

Pierce

Paul Pierce, Celtics
Not quite the Pierce-LeBron duel of 2008. Pierce's 11 points on 4-for-15 shooting amounted to his lowest output in eight playoff games this year. LeBron had 21 in the first quarter alone.

QUOTE OF THE NIGHT

"I think it's safe to say that may have been the best fourth-quarter performance I have ever seen in a playoff game."

-- Grant Hill on Goran Dragic's eruption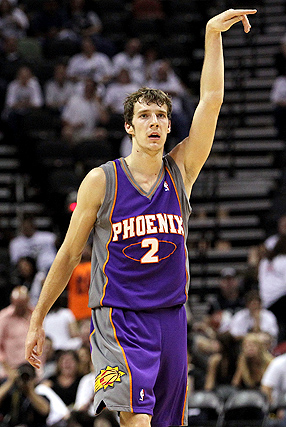 (Ronald Martinez/Getty Images)
Goran Dragic was feeling it in Game 3. According to the Elias Sports Bureau, his 26 points in 17 minutes of action were the most points scored by a player who played fewer than 20 minutes in a postseason game in the shot-clock era.
8.

What's Up With Pierce?
By Peter May
Special to ESPNBoston.com

Pierce
BOSTON -- It's hard to point fingers after you've suffered the worst home playoff loss in the history of the franchise. This was an Enronian collapse by the Celtics with plenty of blame to go around.
So let's start at the top. What has happened to Paul Pierce in this series?
Is the Celtics captain simply spooked by the prospect of having to defend and go against the league's two-time MVP again and again? Guarding LeBron James, first-team All-NBA, and being guarded by LeBron James, first-team All-Defense, makes for harrowing, even hazardous duty. But this hasn't been a matchup. It's been a walkover.
No one expects Pierce to match LeBron basket for basket or to smother him defensively. But what was a pretty good matchup two years ago -- remember the epic Game 7 Pierce delivered -- has turned into a one-man show. James had outscored the entire Celtics team by the time Pierce made his first exit with 3:15 left in the first quarter, having missed all five of his shots. It was a trend that would continue throughout, ending only when the final horn sounded and the Cavaliers had a stunning 124-95 victory and a 2-1 lead in the series.
Pierce didn't exactly dazzle against Miami, but he was good enough (19.6 points per game) and shot well enough (45.7 percent) to be a factor. He was instrumental in turning around Game 1 with an 11-point third quarter and then knocked down the game winner at the end of Game 3. He started out strong in this series, connecting on four of his first five shots. Since then? He has made only nine of 37 shots. He was 4-of-15 in Game 3.
In only two of the 12 quarters in this series has Pierce made more than one basket. In three of the quarters, he has pitched a shutout. He finished with 11 points in Game 3 and is averaging a Kendrick Perkins-like 12.7 points and shooting an un-Piercelike 31 percent from the field.
Not to belabor the point, but the estimable James is averaging 32.3 points a game and shooting 54 percent. He had 38 in Game 3, with 21 of them coming in the first quarter.
To read the entire column, click here.
9.

Troubled By Pick-And-Roll
By Sebastian Pruiti
TrueHoop Network

When you think of the Orlando Magic, you think of four shooters surrounding the perimeter as Dwight Howard kicks it out to them. You don't really think of the pick and roll too much; however, in Game 2, the Magic ran the pick and roll at the beginning of the fourth quarter almost exclusively as they were able to pull away from the Hawks.
Three different times when the Magic ran their pick and roll in the fourth, the Atlanta Hawks tried three different ways to stop it. The one common link in these three plays were the Hawks going over the screen set by Dwight Howard. This is because the Magic were using Vince Carter as the ball handler in these PNRs. If the Hawks' defenders went under these screens, it would have given Vince Carter an open jumper, and he is a very good shooter when he is shooting off the dribble going to his right side. So to prevent that, the Hawks went over the screen to chase him off the 3-point line.
To read the entire column, click here.