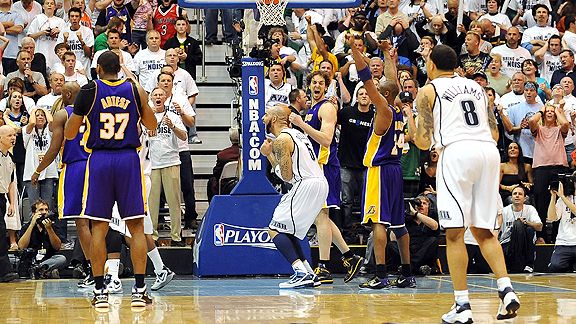 Noah Graham/NBAE via Getty Images The Lakers survived a Deron Williams jumper and a Wes Matthews tip-in try to escape with Game 3.
1. Artest Back On Track For Lakers
SALT LAKE CITY -- To an NBA postseason that gets goofier each day and already has given us such unexpected titles as "Goran Dragic, Fourth-Quarter Dominator," let us add "Ron Artest, 3-Point Marksman."
That would be the same Artest who made 17 percent of his 3-point shots in the first eight games of the playoffs, the one who caused a minor stir in Lakerland this week by Twitter-shooting Phil Jackson for his coaching methods, the man who recently has averaged single-digit points.
It's all right there in the box score, the line that shows Artest making 4 of 7 3-pointers and contributing 20 points to the Lakers' exciting 111-110 victory over the Jazz that gave them a historically insurmountable 3-0 lead in the series.
And you can check the play-by-play to see the back-and-forth between Artest and the lava-hot Kyle Korver, such as the time Artest answered a Korver 3-pointer with one of his own, or came back from another Korver 3 to drive the baseline and make a reverse layup. Those were a couple of the best sequences in a fourth quarter that featured 12 lead changes and two ties.
Among the many statements the Lakers made Saturday night -- Kobe Bryant still can get you 35, Derek Fisher still can score 20 points and hit big shots, Pau Gasol's long arms still can collect key rebounds -- Artest's 18 second-half points was the least expected.
He had his first Podium Game of the playoffs, and when I tweeted my excitement about his pending arrival in the interview room, someone responded, "Is he wearing clothes?"
With Artest, that was a legit question. He's still the most unpredictable player around.
He almost literally threw away all his accomplishments in Game 3 when an attempted inbounds pass to a stumbling Fisher wound up in Korver's hands with six seconds remaining. But Artest gave himself credit for causing Deron Williams to abruptly change directions before he pulled up for his attempted winning jumper. Williams missed, and so did Wesley Matthews on a tip-in attempt at the buzzer.
Now the Lakers are on the brink of the Western Conference finals, and Artest hasn't had a meltdown, hasn't been ejected from a game, hasn't even been assessed a technical foul in the playoffs.
But if the Lakers didn't get the antics they might have feared, they also haven't had the 20-point scorer they expected before Saturday. Opponents kept leaving Artest wide-open, and he kept falling for it, jacking up 3s even though he started the playoffs cold and then went Antarctic. He had just as much trouble finishing near the rim.
After Jackson publicly called him out for his shot selection, Artest finally interrupted a slow Lakers news week with some nocturnal tweets expressing his displeasure about having to learn of Jackson's criticism secondhand. (I'm guessing the irony of tweeting about a preference for private conversations was lost on him.)
As Lakers controversies go, this one hardly ranked with, say, Kobe and Shaq blasting away at each other right before the 2003-04 season.
"It's not a big deal at all," Bryant said. "Not even a whisper. It's entertaining."
As one Lakers staffer, who had been braced for much worse from Artest, said: "Is that all you got?"
More troublesome to the Lakers was Artest's lack of communication when he was late to Thursday's practice because he attended the funeral of music lawyer Peter Lopez, who had committed suicide.
But when the cyberdust settled and Artest was fined for the practice delay, Jackson ultimately got what he wanted. Artest was effective and made 7 of his 13 shots in 39 minutes.
"All in all I thought he made really good decisions tonight, situations in which the shots were there, the rotation was there and it was the right thing to do," Jackson said.
Artest had showed improvement.
"He had a different focus," Shannon Brown said. "It started in practice [Friday]."
Artest called it "moving on to the next day," a phrase he repeated multiple times.
Do we really expect there to be easy explanations to the inexplicable Artest? Because social media has been a main part of the narrative, I'll seek answers from a Facebook update of a friend who attended the funeral service: "I saw Ron Artest of the Lakers at Peter Lopez's funeral, and he was praying HARD. Could be why he had such a good game! He has God on his side!"
Artest credited a coaching legend, not a deity.
"I do everything Phil tells me," Artest said, although that might come as news to Jackson. "We never had an issue. I was just getting used to his coaching style. And I love his coaching style. And I'd rather be coached under his style than any other style. It's a thing where I'm the new guy and I have to adjust. I love being here, I love that new challenge of adjusting to different characters, personalities, schemes."
No one is more of a character than Artest. And in Game 3, no one was more important.
J.A. Adande is a regular contributor to the Daily Dime.
Dimes past: April 21 | 22 | 23 | 24 | 25 | 26 | 27 | 28 | 29 | 30 | May 1 | 2 | 3 | 4 | 5 | 6| 7
2. Korver's Spree Not Enough
By Arash Markazi
ESPNLosAngeles.com

Korver
SALT LAKE CITY -- As Kyle Korver sat in front of his locker, the last Utah Jazz player to take off his jersey in the team's deserted dressing room after a 111-110 loss to the Lakers, he took a deep breath and shook his head midway through a question about his performance.
It was the frustrated look of a player who had played one of the best games of his career yet had nothing but another loss to show for it. He came off the bench for the Jazz and scored a playoff career-high 23 points in about 23 minutes, hitting all five of his 3-point attempts and 9 of 10 shots from the field (connecting on his first eight).
Maybe his teammates will have more to offer in Game 4 to prevent Utah from being swept, but this was as good as it got for Korver, and he felt as badly as he ever has after a game.
"When the Lakers beat us in Game 6 two years ago, that was the toughest loss, but this is right up there," Korver said.
The difference was that loss came in an elimination game. But from the looks of Korver and many of his teammates in the Jazz's locker room, so was Game 3.
If there was any chance Utah was going to turn this series around, this was going to be it. Despite all the talk about the size disadvantage and talent disparity between the Lakers and Jazz, Utah lost the first two games in Los Angeles by an average of 6½ points and knew it wasn't that far from beating the Lakers. But after Saturday's heartbreaker in which the Lakers came back from a 13-point deficit and finished with back-to-back 3-pointers from Kobe Bryant and Derek Fisher, the Jazz knew they had let their chance slip away.
To read Markazi's full story, click here.
3. Matthews So Close, Yet So Far For Jazz
By Brian Kamenetzky
ESPNLosAngeles.com

Matthews
If the hand of Wesley Matthews were angled an eighth of an inch in another direction, perhaps his buzzer-beating tip of a Deron Williams miss would have dropped through the net rather than off the side of the rim, and the story would be different. Perhaps we'd be chastising Ron Artest for an errant inbounds pass on the previous possession (or the refs for not calling a potential foul as Derek Fisher went/was brought to the floor), turning the ball over with the Lakers up one and giving Utah a chance to win. Or maybe we'd be critical of Kobe Bryant despite a top-shelf 35-point, seven-assist night, for ball watching on Williams' shot and letting Matthews, his man, slip inside on the play.
Maybe in Salt Lake City they'd be beating up Williams for missing the jumper or Matthews for botching the opportunity.
But really, to do any of that -- on either side -- would be a disservice to both teams and the game itself. Saturday night, the Lakers and Jazz engaged in 48 minutes of what playoff basketball is supposed to be. Two teams playing at an extremely high level, rising to the occasion to make plays down the stretch and throughout the game. How many of you stood in your living rooms for the final plays of the game? Or were so wired after the buzzer that you inhaled all the leftover Zankou Chicken still sitting on the counter from the halftime meal? (OK, that's a little specific, but you get the point. …)
To read the full Land O'Lakers blog entry, click here.
4. Daily Dime Live Recap
ESPN.com writers and TrueHoop Network bloggers chatted with fans and gave their in-game opinions throughout Saturday's games -- all in Daily Dime Live.
---
SATURDAY'S BEST

Fisher

Derek Fisher and Ron Artest, Lakers
Fish hit the go-ahead 3, and the Lakers held on. Fish and Ron put up 20 points apiece for their playoff season highs, all without reckless hoisting in the Game 3 win.

SATURDAY'S WORST

Johnson

Joe Johnson, Hawks
Johnson's sixth straight game below 50 percent from the field yielded eight points and a disheartening defeat to the Magic. Does he have just one game left in a Hawks uniform?

QUOTE OF THE NIGHT

"I could care less if they showed up or not."

-- Joe Johnson on the home Atlanta crowd, which booed him in the second half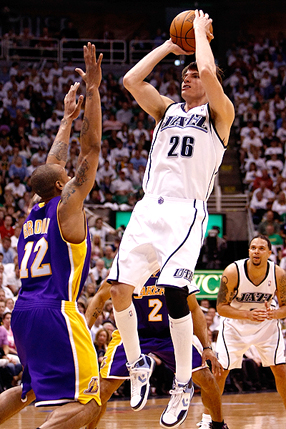 Jonathan Ferrey/Getty Images
Kyle Korver launched 10 shots, missing only one, in Utah's Game 3 loss to the Lakers. Korver also made all five 3-point attempts.
By Chris Sheridan
ESPN.com

ATLANTA -- "Joe, do you think you are costing yourself money?"
That was the question posed to Joe Johnson after one of the more lackluster playoff performances a supposed max-salary player had played since the term "max-salary player" was added to the NBA lexicon in 1999.
And even more unbelievable than his performance and that of his teammates was Johnson's answer: "No."
Huh?
Let me try to get this straight: In one of the final games this highly talented player will perform in before becoming an unrestricted free agent July 1, Johnson attempted 15 shots, missed 12 of them, was booed repeatedly and loudly and had about as much impact on the outcome as teammate Mario West, who was inactive.
Memo to Johnson: Go back and take a look at what the Dow Jones did Thursday. Look at the value of Accenture stock, which went from $35 a share to mere pennies in an eyeblink. (OK, so that was caused by a glitch.) Read up on what's happening with the economic crisis in Greece, where the word "plummet" is being redefined with each passing day.
Because a stinker like the one Johnson played Saturday in the Atlanta Hawks' 105-75 shellacking at the hands of the Orlando Magic is bound to have a profound, multimillion-dollar impact on the value of the contract(s) Johnson will be offered when he hits the open market.
To read the entire column, click here.
By Chris Forsberg
ESPNBoston.com

WALTHAM, Mass. -- Each of the first four questions Doc Rivers fielded to start his daily confab with the media Saturday focused on the Celtics' offense. When the fifth one continued that trend, Rivers paused to politely make one thing clear.
"Listen, if we're going to go over the offense when we just gave up 120 points, then we have a problem," Rivers said a day after his team's 124-95 thumping at the hands of the Cleveland Cavaliers in Game 3 of their Eastern Conference semifinal series.
"That was not an offensive problem [Friday]. It was a defensive problem. We score off our defense. If you take the ball out every time [after an opponent's make], you're not going to score in the playoffs. You have to get stops, multiple stops."
Needless to say, the Celtics struggled to get stops Friday. They forced LeBron James and the Cavaliers into jump shots, but the visitors couldn't miss. When they did misfire, they usually got an offensive rebound. Boston had nine -- nine?! -- rebounds in the first half, and four of those were offensive.
That means Boston got a mere five first-half possessions in which it had the opportunity to attack Cleveland on the run. Heck, even when the Cavaliers made turnovers, they threw the ball out of bounds, still forcing Boston to inbound and operate out of the half-court set.
To read the entire column, click here.