1. Best Way To Describe The Lakers Is ...
SALT LAKE CITY -- These are the adjectives that can be said with a straight face and no apologies when a team just won a closeout game on the road for the fourth time in four opportunities.
"Maturity, focus," Lamar Odom said.
"Tough, strong-willed," he continued.
They all applied after the Lakers silenced another of the NBA's loudest arenas, sweeping the Jazz out of the second round of the playoffs with a 111-96 Game 4 victory. The Lakers finished the first round in Oklahoma City and ended their last two series of 2009 in Denver and Orlando.
Coach Phil Jackson sensed how close his team was to finishing this leg of the race, so he leaned hard on his veterans, playing Kobe Bryant 42 minutes and Pau Gasol and Derek Fisher 40 minutes apiece, knowing the promise of six days off before the start of the Western Conference finals awaited them if they could just prevail.
"Instead of the normal rotation, I knew that if we could push it through we'd sustain a longer rest period for this team, which is important," Jackson said.
He was rewarded with 33 points and 14 rebounds from Gasol, who was surprised to see the Jazz abandon their Game 3 strategy of having a second defender drop down on the Lakers' post players every time they touched the ball.
"I'll take it," Gasol said.
And take advantage of it. He outscored Jazz forward Carlos Boozer by 23 points and contributed to Boozer's fouling out with 3½ minutes left in what could be the pending free agent's final game in Utah.
Bryant had his fifth consecutive 30-point game, hitting 32 on 11-for-23 shooting. And who better to speak on closing than the game's top closer?
"The thing about closeout games, you have a tendency to lose focus," Bryant said. "It was important for us to maintain what we've been doing, the attention to detail that we've been doing. That's really the key, to stay steady."
How do you win road playoff games? Try this word: carefully. The Lakers protected the ball as if it contained nuclear warhead launch codes. They committed only six turnovers in Game 4, somehow managing to improve on an eight-turnover night in Game 3.
"The idea is to go away from pressure, not to put the ball in jeopardy," Jackson said. "We know this team runs so well off the loose balls and turnovers that it was very important for us to have this type of game."
The Jazz, meanwhile, looked scattered. They missed layups, they reached in and went over the back for fouls, they were vulnerable defensively.
"We lost it a little bit in the first part of the ballgame," Jazz coach Jerry Sloan said.
The Lakers led by 22 in the second quarter and survived Utah's only push, which got the lead down to six in the third quarter. Shannon Brown gave the Lakers a lift off the bench, and Bryant had some more acrobatic shots in his arsenal.
"Team," Odom said. "You need a team to do it, even though guys get big stats, you've got to do it with your whole team."
Now, while we prepare for the lengthy buildup to the Western Conference finals, there's another word to keep in mind for the Lakers: vengeful.
As much as the Suns wanted to erase their decade of futility against the Spurs, the Lakers still are bitter about losing to the Suns in the 2006 and 2007 playoffs.
"We've still got guys that remember it," Odom said. "Ask Kobe about it."
We did.
"What you think?" Bryant shot back. "You already know."
So yes, in addition to their height advantage and their ability to handle the Suns over the past couple of seasons, the Lakers are also bringing an attitude with them. One last description, then, for the Lakers: determined.
J.A. Adande is a columnist for ESPN.com.
Dimes past: April 22 | 23 | 24 | 25 | 26 | 27 | 28 | 29 | 30 | May 1 | 2 | 3 | 4 | 5 | 6| 7 | 8 | 9
2. The NBA's Best Team? Orlando Magic
By John Hollinger
ESPN.com

Nelson
ATLANTA -- We interrupt the brewing Kobe vs. LeBron storyline awaiting us in the conference finals to bring you this important bulletin: The Orlando Magic are putting together one of the most dominant late-season runs in late-season history, and perhaps it's time we started paying attention. Monday's 98-84 win over Atlanta in Game 4 didn't just put the finishing touches on a laughably one-sided four-game sweep, or keep the Magic's playoff record a perfect 8-0 against two overmatched teams.
No, this goes much deeper. Orlando is on a torrid hot streak and nobody seems to have noticed.
Want to guess the Magic's record in their 30 games since March 1?
Would you believe 27-3?
To read the entire column, click here
3. Is This The End For Woodson?
By Bret LaGree
TrueHoop Network

Woodson
Mike Woodson coached his 521st game with the Atlanta Hawks Monday night. The 14-point loss completed a sweep at the hands of the Orlando Magic and might have been his last game with the team, capping a remarkable, unlikely run in charge.
Woodson's tenure is remarkable because he got a second contract after winning 106 games in his first four seasons in charge and because he's unlikely to get a third contract offer after winning 100 games over the past two seasons while taking the Hawks to the second round of the playoffs in consecutive years, a feat last accomplished in Atlanta by Lenny Wilkens in 1996 and 1997.
Last season's second-round sweep could be (fairly) blamed on injuries as much as Cleveland's superiority. This season's sweep demonstrates just how far the Hawks, despite their slow, consistent improvement under Woodson, have to go to compete for a championship. With the contracts of both Woodson and Joe Johnson expiring, an era may be over in Atlanta.
It would be unduly charitable to view Woodson as a victim of his own success. This team, in perhaps its last week together, revealed the consistent weaknesses of the Woodson era: an overreliance on jump shots created off the dribble and in isolation, lots of talk about defense but little in the way of results, and a lack of depth. The first two problems are directly related. Though Woodson retains, from his association with Larry Brown in Detroit, a defensive reputation in some circles, the Hawks never finished better than 12th in the league in defensive efficiency largely because Woodson was most comfortable turning the offense over to veteran point guards.
Tyronn Lue, Anthony Johnson, Mike Bibby, Flip Murray and Jamal Crawford each took their turn spotting up on the weak side while Joe Johnson had the ball. Each also took his turn guarding the opposition's least-dangerous offensive player as Woodson cross-matched in an attempt to hide his point guard from quicker players.
In time, this effort to hide, on the defensive end, players deemed essential to the offense turned the Hawks into a fully predictable team, one that switched almost every screen, both on- and off-the-ball, in an effort to maximize the involvement of its two good defensive players (Josh Smith and Al Horford) in each possession.
In the playoffs -- especially on the road, where the Hawks lost 12 of 14 games under Woodson -- opposing teams took advantage of this defensive predictability to create whichever matchup they desired and/or to pull Smith and Horford away from the basket. It proved just as damaging as the more-publicized isolation-heavy offensive sets which too often failed to trouble sound defensive clubs in the postseason. It was damaging, because the Hawks never appeared to have any other options, either in terms of tactics or personnel, at their disposal.
Woodson has become, over the course of six seasons, quite competent at installing a game plan. However, he has failed to make successful adjustments when teams foil that plan. If this is the end, it may be the similarity, more than the number, of Hawks defeats that convinces the organization to hire a new head coach.
To read more from LaGree, click here
4. Daily Dime Live Recap
ESPN.com writers and TrueHoop Network bloggers chatted with fans and gave their in-game opinions throughout Monday's games -- all in Daily Dime Live.
---
By Maurice Brooks
ESPN.com
MONDAY'S BEST

Gasol

Pau Gasol, Lakers
With the Lakers trying to finish off the Jazz, it was Pau, not Kobe, who did the most damage in Game 4. The big man scored a game-high 33 points and pulled down 14 rebounds in the clincher.

MONDAY'S WORST

Williams

Marvin Williams, Hawks
Atlanta's starting small forward didn't put up many statistics in his 23 minutes on the floor. He finished with two points and just one rebound and no assists in the loss.

QUOTE OF THE NIGHT

"There's nothing wrong with me."

-- Celtics captain Paul Pierce, who is averaging just 11.8 points per game against the Cavaliers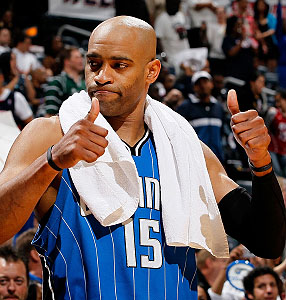 Kevin C. Cox/Getty Images
Vince Carter shook loose for 22 points to help lead the Magic to a victory in Game 4 against the Hawks. Orlando has now won 14 in a row and 28 out of their past 31 games.
8.

Is Johnson Telling The Truth?
By Nick Friedell
ESPNChicago.com

Johnson
ATLANTA -- Joe Johnson says he has no idea what he is going to do this summer.
He says he hasn't even thought about all the possibilities that free agency holds and he definitely hasn't thought about all the different teams and cities he might consider.
"Honestly, I don't know," he repeated over and over again as he stood in the empty Hawks locker room, deflecting questions as if they were passes.
He says he would definitely consider coming back to Atlanta.
Don't believe him.
As much as Johnson tried to stop the swirling rumors surrounding his future, he just couldn't help himself as he answered the first question of his final postgame media session of the season, and quite possibly his Hawks career.
"It's been great," he said, when asked to sum up his feelings about the season's end. "I've had a great five years here. We had an unbelievable year here. We've accomplished so much -- we ain't got nothing to hang our heads about. Yeah, we came up short of our goal, but it's no reason to walk around here with our head down."
Does that sound like a guy who plans to re-sign with a Hawks team that just got absolutely pummeled by the Magic over the past week?
The Johnson era in Atlanta may not be officially over yet, but it sure seemed like a farewell at Philips Arena on Monday night.
Fans booed the veteran forward the first time he touched the ball, letting him have it for the critical comments he made regarding the lack of support during the Game 3 blowout.
"It doesn't bother me, man," Johnson said. "I got thick skin. I've been booed louder than that."
Again, that is hard to believe considering he finished the night with just 14 points, going 5-for-15 from the field.
Several media members wondered aloud exactly who would go after the All-Star after his abysmal showing against the Magic.
"Sought after by who?" one media member said while listening to the TNT announcers discuss Johnson's future.
"The Knicks have done dumber things, so they might," another voice chimed in.
While his teammates and coaches all hope Johnson returns, even they seem resigned to the fact that their leading scorer is probably heading elsewhere once July 1 rolls around.
"He's such a quiet guy that it's hard to gauge," Hawks guard Jamal Crawford said. "You just support and hope that things work out for him. You hope he comes back, but you never know. It's a long summer. Decisions have to be made, but we'll see what happens. I hope he comes back."
But does Johnson even really want to come back?
He says he would, but does anyone really believe him?
Friedell covers the NBA for ESPNChicago.com.

The Magic defeated the Hawks 98-84 on Monday night, completing, by one measure, the most dominant sweep in the history of the NBA playoffs. Orlando outscored Atlanta by 101 points over those four games, a league record for a series sweep. The previous high was the Lakers' 89-point advantage over the Spurs in the 2001 Western Conference Finals.
To read more from Elias, click here