1. Trying To Figure Out LeBron's Future
By Chris Sheridan
ESPN.com
BOSTON -- So which LeBron James do you want to believe?
The LeBron who said he hasn't given much thought to what he's going to do with his future?
Or the LeBron who said "my team has a game plan"?
Because James said both of those things after finally making his way to the interview room more than an hour after the Cavaliers' season came to a swift and stunning end with a 94-85 loss to the Boston Celtics in Game 6 of their Eastern Conference semifinal.
Myself, I'll go with the LeBron behind Curtain No. 2, and beyond that I'll only go so far as to say I believe he has played his final game for the Cleveland Cavaliers. It's been seven long years for James in Cleveland, and as Kevin Garnett pointed out, it's hurtful at times when you cannot get your youth back.
And the crossroads James now finds himself at is the one at which he chooses between staying in the state where he was born and raised, the state where he was loved like no other professional athlete Ohio had ever produced, or moving on to the next stage of his life, the stage where he breaks beyond the boundaries that have confined him to a Midwestern comfort zone and goes on to bigger and better things.
Chicago? Miami? New York?
Could be any one of those three, and whoever knows exactly what details Team James' game plan entails isn't yet spilling those beans.
Celtics fans certainly had fun letting James know their prediction, chanting "New York Knicks" whenever he stepped to the foul line on a night when his triple-double of 27 points, 19 rebounds and 10 assists was buttressed by his nine turnovers.
James did not speak to the specifics, whether pro or con, of playing in any of those cities -- or even the possibility of remaining in Cleveland.
What he said he'd do is go into the summer with the proper mindset, something I asked him to define in the final question he took in his postgame news conference.
"It's all about winning for me, and I think the Cavs are committed to doing that," he said. "But at the same time I've given myself options to this point, and like I said before, me and my team, we have a game plan that we're going to execute, and we'll see what we get."
James also was asked what he could say to the people in Cleveland, and it was noteworthy that he used the past tense in saying "We had a great time together."
Great, at least, until they booed him Tuesday night in the disappearing act that'll go down as the LeBacle.
Unlike a year ago when he stormed off the court and left the arena in Orlando without speaking publicly after his season-ending loss, James was the sportsman this time around as he stayed on the court to congratulate the Celtics. As good as his numbers were, he had only one spurt that seemed to put the Celtics on their heels, making a pair of 3-pointers early in the fourth quarter to get the Cavs' deficit down to four, 78-74.
Boston immediately called timeout after the second 3, coach Doc Rivers reminding his team what he told them pregame: We don't need any heroes in this game; we need to continue playing together as a team.
In the ensuing moments, that entailed a number of arms reaching in at James and forcing him to dribble the ball off his foot for a turnover that turned into a fast-break bucket by Rajon Rondo (21 points, 12 assists, five steals) at the other end. After Anderson Varejao missed from underneath off a pass from James, Paul Pierce drilled a 3-pointer, Antawn Jamison and James each missed a 3 and Rasheed Wallace knocked in a 3 from the corner to get the lead back to 12.
The coup de grace came on Boston's next possession, a 2-on-1 break (James was the 1) on which Garnett took a pass from Rondo and dunked to make it 88-74 and send the crowd into a frenzy.
Cleveland got no closer than seven the rest of the way, and James was ousted from the playoffs at the Garden in the second round for the second time in three years. Boston will begin the Eastern Conference finals at Orlando on Sunday afternoon.
"One thing we don't lack is confidence, and that was the case even when we were playing like crap and trying to get our chemistry problems together," Garnett said. "I think we hit our stride at the right time."
No one could have seen this drastic a turnaround after James came into this building six days earlier and scored 21 first-quarter points en route to a 29-point victory that gave Cleveland a 2-1 lead in the series.
But that ended up being Cleveland's final win, and the chances that it will end up being James' final win in a Cavs uniform now appear greater than ever.
James, Dwyane Wade and Chris Bosh have already acknowledged they plan to speak together and go over the options they will be presented with in the biggest free-agency period in NBA history, and James' acknowledgement that he has a "game plan" is an indication that things may be farther along than most people realize.
The latest talk making the rounds regarding Chicago is that the Bulls could be the best fit because they already have a top-tier point guard in Derrick Rose and an athletic big man in Joakim Noah, plus they have a coaching vacancy that could conceivably end up being filled by John Calipari, who is extremely close to both Rose and James confidante William Wesley. The Bulls did make a head-scratcher of a trade when they gave away John Salmons and their No. 1 pick to Milwaukee at the trading deadline, but the deal gave them the flexibility to have max money available this summer. Yes, James would have to play the next several years in the shadow of Michael Jordan, but the generation that is as old or younger than James (25) has more vivid memories of Jordan as a Wizard, or as owner of the Bobcats, than they do of him winning six titles for the Bulls.
Miami is intriguing (aside from the obvious climate reasons) because Pat Riley has been throwing around talk of building a dynasty, and he already has one dynastic building block in Wade, who has indicated that his heart is in Miami and he would prefer to stay there. If the Heat can clear more cap space by moving Michael Beasley and/or Daequan Cook and James Jones before the draft, or in a trade that would be finalized July 8, they could afford to have James, Wade and a third stud, presumably a big man from the available free-agent threesome of Bosh, Amare Stoudemire and Carlos Boozer.
The Knicks? Well, James is on record as saying New York is his favorite city, and Madison Square Garden is his favorite NBA arena to play in. If James is serious about becoming the world's first billionaire athlete, the opportunity to boost his earning potential on a global scale is greatest in the city that is home to Wall Street. Also, New York has cleared enough cap room to sign James, plus another max free agent, and still have a few million dollars left over.
You also can't completely discount the Nets, with Jay-Z (James' buddy) still a part-owner following the transfer of controlling ownership from Bruce Ratner to Mikhail Prokhorov. But that franchise is set to play the next two seasons in Newark, and it's hard to see the King serving time in purgatory before the Brooklyn arena is built.
So if it is truly a four-team race that includes the Cavs, we have to circle back to James' statement about a game plan.
He gave no clues to its details, but in acknowledging that it exists he sounded like a man with plans for bigger and better things than Cleveland has to offer. Remember, when he picked up his MVP trophy, he told the crowd he would always be loyal to Akron.
And on the night he may have played his last game for Cleveland, he certainly didn't sound like a man with a plan to be married to the Cavaliers forever. If that were part of the "game plan," he would have at least given Cavs fans a glimmer of hope.
"The world is his, whatever decision he's going to make," Garnett said.
But on this night, it was a world in which the city of Cleveland seemed like a very small point on a very big map.
As James said: "We had a great time together."
Had.
Past tense.
Spoken like a man for whom the good times ahead, if they ever occur, will happen elsewhere.
ESPN Insider Chris Sheridan is a regular contributor to the Daily Dime.
Dimes past: April 24 | 25 | 26 | 27 | 28 | 29 | 30 | May 1 | 2 | 3 | 4 | 5 | 6| 7 | 8 | 9 | 10 | 11
2. Cavaliers Give Away Game 6
By Dr. Jack Ramsay
ESPN Radio

Wallace
The Cavaliers played hard in Game 6 against the Celtics, but came out on the losing end because of their failure to protect the ball. LeBron James took it to the basket with greater frequency, but he still turned the ball over nine times. As a team, Cleveland turned the ball over 24 times leading to 27 points for Boston. By comparison, the Celtics turned the ball over just 13 times leading to 17 points for Cleveland. That is a difference of 10 points in what turned out to be a nine-point game. Sometimes it boils down to something as simple as that.
Something else that hurt the Cavs was Mo Williams running out of gas. He scored 20 points in the first half, but finished with just 22. I think he ran out of energy.
The Cavaliers needed a third scorer, and unfortunately for them Antawn Jamison came up empty. Also, their bench players didn't give them what they needed. LeBron didn't get enough help.
The Celtics had a good plan again and played another strong game. Kevin Garnett was very good from the beginning. Rajon Rondo controlled the tempo and got into the paint. Rasheed Wallace played well off the bench and Doc Rivers was excellent using his personnel.
Mike Brown was inconsistent in how he used his rotation. During the regular season, J.J. Hickson was terrific for Cleveland. Now he is the odd man out.
In the fourth quarter, after LeBron hit those two 3-pointers to cut the deficit to four, I thought Cleveland caught a couple of bad breaks. Anderson Varejao was fouled twice and the officials didn't call either one, allowing the Celtics to get fast-break opportunities instead of sending Varejao to the foul line. The Cavs never got back into it.
Dr. Jack Ramsay is a regular Daily Dime contributor.
3. LeBron To The Bulls?

James
Boston Celtics fans were chanting "New York Knicks" during Thursday's Game 6 every time LeBron James went to the foul line. Maybe they should have been chanting "Chicago Bulls."
Within minutes of the Cleveland Cavaliers' elimination at the hands of the Celtics, the speculation about LeBron James' next destination resumed in full force.
To read the entire blog, click here
4. Daily Dime Live Recap
ESPN.com writers and TrueHoop Network bloggers chatted with fans and gave their in-game opinions throughout Thursday's game -- all in Daily Dime Live.
---
By Maurice Brooks
ESPN.com
THURSDAY'S BEST

Garnett

Kevin Garnett, Celtics
Rajon Rondo was the MVP of the series, but Garnett set the tone in the finale, scoring 22 points, grabbing 12 rebounds and handing out three assists for the Celtics.

THURSDAY'S WORST

Jamison

Antawn Jamison, Cavs
I'm sure this is not the type of production the Cavs were hoping for when they brought Antawn to town to help them win a title. The forward made just two of 10 shots and finished with five points.

QUOTE OF THE NIGHT

"Just got a reply from somebody with the handle "LeBacle". Shoulda figured that one would go fast."

-- ESPN.com's John Hollinger on his Twitter account after the Cavs were eliminated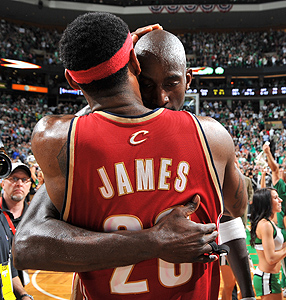 Brian Babineau/Getty Images
Everyone expected Kevin Garnett and LeBron James to exchange a series-ending hug, but the twist is that KG's Celtics, not LBJ's Cavaliers, are advancing to the Eastern Conference finals.
8.

There Is No 'I' In Team
By Peter May
Special to ESPNBoston.com

Let the gnashing of teeth over LeBron James and his future whereabouts begin. New York? Chicago? Miami? Los Angeles? Maybe LBJ should take the mid-level exception and join an intact, proven winner next season -- like the team that sent him and his Cavaliers packing Thursday night.
Somehow, despite James' nine turnovers in the Cavs' 94-85 season-ending loss, I think Danny Ainge might agree to accommodate him.
Yes, it is the Celtics, not the Cavs, who are advancing to the Eastern Conference finals. A postseason of improbables layered upon implausibles continues for Boston. In the space of six days, the Celtics went from the ultra-humiliating -- a 124-95 loss at home -- to the ultra-exhilarating: a rousing victory in Game 6 and a sweep of the last three games of this series.
The team won't -- and can't -- dwell on the significance of this achievement, not with the menacing Magic awaiting in less than 48 hours. But when it's all said and done, by eliminating the No. 1 team of the regular season, this might rank as the Celtics' greatest playoff upset since the 1969 NBA Finals. No one foresaw this; not the ESPN panel of experts, none of whom picked the Celtics. Vegas didn't like the Celtics' chances. You had to think the Cavaliers regarded the Celtics as a stepping-stone.
And now that the Celtics have pulled off the Big One, where does that rate in Paul Pierce's mind?
"I'm really not that proud," Pierce said. "Our goal is to win a championship. We didn't say we wanted to come in and beat the Cleveland Cavaliers in the playoffs. Our goal is to win a championship. We can be excited for one night, but we only get excited here when we put a banner up."
Well, there's still a lot of work remaining in that area. Starting on Sunday against a team that hasn't lost in the postseason and is playing as well as anyone. But this was a night when the Celtics showcased so much of the promise we had seen now and again, on occasion, over the course of the season. (OK, when we did see it, it probably was 2009.) This was a night that vindicated Ainge's February decision to keep the team intact and hope it got its you-know-what together in time.
For complete coverage on the Celtics, go to ESPNBoston.com
By John Hollinger
ESPN.com

For five games, Cleveland's inability to guard Boston was the primary problem, culminating in the 120-point thrashing they suffered in Game 5.
On Thursday, however, the Cavs actually defended well. Kevin Garnett and Rajon Rondo still broke loose, just as they have all series, despite the ineffectual maneuver of switching Shaquille O'Neal onto Garnett. However, Cleveland shut down the other Celtics to the tune of 94 points on 100 possessions. That's more than good enough to win the game; even the best defenses surrender slightly more than a point per possession. Granted, this was done partly with Boston's help -- the Celtics missed 12 foul shots and shot 5-of-17 on 3s -- but the game was theirs for the taking if the offense did its part.
Offensively, however, the Cavs were disastrous, especially in the second half. Cleveland got to the break in decent shape thanks to a 20-point first half from Mo Williams, but scored only 36 points after halftime. While there's a laser focus on LeBron James' performance, he and Williams were the only two scorers who did anything.
The other Cavaliers were 12-of-44 from the field, including 2-of-10 from Antawn Jamison -- acquired at midseason to be the final piece of Cleveland's keep-LeBron-at-all-costs puzzle as he enters his free-agent year.
And of course, there were the turnovers -- 24 of them, nearly a quarter of the Cavs' possessions. An average figure is barely half that. The Cavs struggled even when they kept the ball, as they misfired on 3s (5-of-17), missed 10 foul shots of their own and shot only 41.1 percent inside the arc. LeBron, of course, was a major contributor with nine turnovers, and he once again struggled from outside; over the final two games he was 3-of-19 from the field.
We should mention, of course, that the Cavs were not playing this game in a vacuum. Boston is one of the league's elite defensive teams, ranking fifth in Defensive Efficiency this year and pushing for the top spot for most of the year. The Celtics were probably due for a performance like this, even against one of the league's best offensive sides.
To read the entire blog entry, click here