1. Suns Have No Answer For Bryant
LOS ANGELES -- Since Kobe Bryant refuses to leave the past behind when it comes to the Suns, nor can he escape it, it's impossible not to frame Game 1 of these Western Conference finals in the context of where things stood the most recent time the Lakers faced the Suns in the playoffs, three years ago.
In 2007 Bryant felt trapped on an inferior squad, one that quickly bowed out to the Suns in the first round while he spent his final postgame interview issuing an icy demand that the front office do something. With Bryant gone, LeBron James turned the playoffs into his own "American Idol" moment, turning in that virtuoso performance in Game 5 of the Eastern Conference finals. Soon thereafter Bryant began his Radio Free Kobe tour of making trade demands over the airwaves.
Back to 2010 and the entire scenario is reversed. All the drama is surrounding LeBron -- the way he went out, and where he'll head next -- and Kobe is left as the singular star of the playoffs. LeBron still might generate the most talk (and unsubstantiated rumors) and trend higher on Twitter, but he won't score another point until next season. Steve Nash has never been about individual numbers. Dwight Howard is caught in a downward scoring trend as the playoffs advance. Rajon Rondo is the player who added the most wattage to his shine in these playoffs, but it would be out of character -- and probably detrimental to the Celtics' team-oriented approach -- if Rondo went for 40.
Kobe hits 40 by necessity, by habit, by sheer will, by the force of whatever it is that drives him. He does it with enough regularity that the only consolation Suns coach Alvin Gentry could find after Bryant did it to his team in a 128-107 Lakers Game 1 victory was "I'm pretty sure that we're not the first team that he scored 40 against."
It's happened 11 times in the playoffs during Bryant's career. He's gone for 30 or more in six straight games this postseason, stretching back to the end of the Thunder series, the sweep of the Jazz and now the conference finals opener.
Bryant turned this into his game -- and put his name at the top of the playoff storylines -- with a 21-point outburst in the third quarter. The Lakers stretched their lead to 19 points. Out of respect for the Suns' scoring ability, Phil Jackson eschewed his normal rest period for Bryant and left him in for the first three minutes of the fourth quarter, enough for him to get five more points and reach 40 in only 35½ minutes of playing time, needing only 23 field goal attempts to get there.
Since it's practically an NBA regulation that there has to be some intrigue surrounding Bryant at all times, the interminable break between series allowed speculation about the state of his right knee to build, culminating in a Los Angeles Times report that he had had fluid drained from it. Phil Jackson wouldn't confirm the date of the procedure, and Bryant dismissed it along with any problems that might have come from him not practicing.
"My legs benefited a lot," he said. "I was able to take some time off and just get stronger, get my legs stronger, body stronger."
For all the talk of the Suns' improved defense, their path to victory still follows the premise of volume scoring, which had to make it demoralizing when Bryant produced 12 more points than their starting backcourt of Nash and Jason Richardson.
That Kobe's 40 came in addition to the Lakers' 56-36 scoring advantage in the paint and Lamar Odom's 19 points and 19 rebounds and the Lakers' 58 percent shooting only adds to the workload the Suns have on their hands before Game 2 on Wednesday.
And since the Suns have no answer for their main disadvantage -- "They're probably going to continue to be taller than us as the series goes on," Nash said -- they might have no choice other than to double-team Bryant.
Gentry didn't want to in Game 1 because, he said, "You totally break down everything."
Bryant said, "They send two guys at me, I've done my job. We'll be ready if that happens."
But if you're Phoenix, wouldn't you rather see whether the Lakers can get another 14 points from Ron Artest, or challenge Shannon Brown and Jordan Farmar to duplicate the 7-for-12 shooting between them than to leave your fate in the hands of the most consistent scoring threat in the playoffs? The Suns should have listened to Odom's warning.
"You understand that he can go on those spurts," Odom said. "He's the best scorer in the league. Fadeaways, and of course gets out on the break and plays with his back to the basket, inside, outside."
This is a bad matchup for the Suns because they have to deal with a variety of problems from Bryant alone. And unlike the last time they faced him, he doesn't have an equal amount of animosity directed at his teammates and front office. It's all aimed at them.
He's been wearing all-black outfits, as if he's trying to put as much distance as possible between himself and that all-white photo shoot, but maybe because he's preparing himself for another team's funeral.
Bryant spent part of this game locked in a battle with Grant Hill, as if he were traveling back 10 years and trying to settle the argument of who was better.
"It's never personal with me," Bryant said, flashing a big grin that let you know if he had been hooked up to a lie detector it would have run out of ink.
He explained his scoring burst by saying, "Part of it was to show them that we're a different team than the one that they've faced."
He didn't specify whether he was talking about this season or previous playoff matchups, but knowing how much he's still doing battle with the past and the team that eliminated him in his first playoff forays without Shaquille O'Neal, it's probably a combination of both.
J.A. Adande is a regular contributor to the Daily Dime.
Dimes past: April 26 | 27 | 28 | 29 | 30 | May 1 | 2 | 3 | 4 | 5 | 6| 7 | 8 | 9 | 10 | 11 | 13 | 16
2. Odom's Big Effort Finishes Off Suns
By Dave McMenamin
ESPN Los Angeles

Odom
LOS ANGELES -- It was one of those games Lamar Odom seems to churn out once every spring for the Lakers, ensuring up to six more weeks of the postseason.
The groundhog might base his annual appearance around seeing his shadow, but Odom uses it to prove beyond a shadow of a doubt just how valuable he is to his team.
Game 1 of the Western Conference finals Monday belonged to Odom well before Kobe Bryant made it feel as if he were a spokesman for rejuvenation tonic in the third quarter, peddling his wares to the eager Staples Center crowd that was transformed into the spitting image of The Forum in the 1980s (if you ignored all the cell phones).
To read the entire column, click here
3. Robin Lopez Returns For Suns
By Kevin Arnovitz
TrueHoop Network

Lopez
LOS ANGELES -- The moments after a 128-107 loss aren't the time to celebrate smaller victories, which is why Phoenix Suns center Robin Lopez carefully couched his remarks about his return to action Monday night.
"Obviously I would've preferred to win, but my wind felt okay," Lopez said after his first game since March 26. "There was no pain or soreness out there when I was playing. I was surprised at how good I felt out there."
To read the entire blog entry, click here
4. Daily Dime Live Recap
ESPN.com writers and TrueHoop Network bloggers chatted with fans and gave their in-game opinions throughout Monday's game -- all in Daily Dime Live.
---
By Maurice Brooks
ESPN.com
MONDAY'S BEST

Bryant

Kobe Bryant, Lakers
Who needs practice? Despite not practicing since the conference semifinal round ended, Bryant was able to score 21 of his 40 points in the third quarter as the Lakers pulled away from the Suns.

MONDAY'S WORST

Frye

Channing Frye, Suns
In order for the Suns to keep up with the Lakers in this series they'll need a better shooting effort from Frye, who went 1-for-8 from the field, including 1-for-7 on 3-pointers.

QUOTE OF THE NIGHT

"Drives, fadeaways with his back to the basket, inside-outside, with his left hand."

-- The Lakers' Lamar Odom on the different ways that Kobe Bryant scored against the Suns
7.

Suns' Win Streak Snapped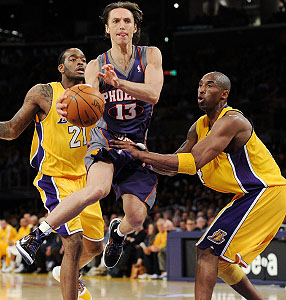 Harry How/Getty Images
Despite getting 13 points and 13 assists from point guard Steve Nash, the Suns had their six-game winning streak stopped -- their first loss since April 24.
8.

Jackson Protesters Are Wrong

This goes down as a first. Never before have I asked a question that led to a protest.
Phil Jackson has a variety of interests beyond basketball, so on May 4, at his pregame news conference before the Lakers played the Jazz, I wondered what he thought about the Phoenix Suns' decision to wear their "Los Suns" jerseys as a sign of support for Latinos who were outraged about Arizona's Senate Bill 1070.
First he asked what all the fuss was about for a bill that, in his opinion, merely enforced existing federal laws against illegal immigration. He's allowed to ask that question.
Then he said he disagreed with the Suns mixing politics with sports. That's his opinion.
But when activists decided to protest Jackson's opinions before Game 1 of the Western Conference finals, the whole thing had strayed too far from the original issue.
To read the entire blog, click here
9.

Suns Left Scrambling After Game 1

PHOENIX -- One more game with only one open eye might not have been so uncomfortable for Steve Nash.
This way?
Nash saw too much of the Los Angeles Lakers. Way more than he ever imagined, wanted or secretly feared.
It was Pau Gasol's ample wingspan greeting him as he turned corners on pick-and-rolls. It was Lamar Odom's length obstructing the sight lines to Nash's usual secondary targets on the wing. It was arms everywhere, basically, to compromise Nash's restored vision and complicate his passing angles.
It was also way, way worse for the Suns everywhere else they looked in a 128-107 pounding, starting with a team-wide defensive surrender that will promptly hush all the recent chatter about how much tougher and stingier these Suns are.
Nash's muted 13 points and 13 assists in 28 minutes would have to be classified as a bright spot for the Suns, measured against everything else they were subjected to in this humbling evisceration. As Nash later confirmed about his health, after his first game since closing out his longtime tormentors from San Antonio with his right eye swollen shut: "That was the least of my concerns tonight."
The Suns indeed slinked away from this Game 1 of the Western Conference finals with as many worries as 48 minutes can generate. They flatly failed to make an allegedly vulnerable Kobe Bryant work harder for his 40 points, struggled to hold L.A. below 60 percent from the field because they couldn't contain the hosts' penetration -- and couldn't even keep the game close enough to keep Bryant on the floor for more than three minutes of the fourth quarter.
To read the entire column, click here