1. Celtics Proving You Can Turn It On And Off
By John Hollinger
ESPN.com
ORLANDO, Fla. -- You can't just turn it on for the playoffs … um, right?
Maybe you can, after all; at least if you've done it before. The Boston Celtics, champions in 2008, limped through the final two-thirds of the regular season and were mostly counted out heading into the playoffs.
Magically, all that changed once the postseason started. Boston blew past Miami in five games, shocked Cleveland by winning the final three games -- including a 32-point rout in Game 5 -- and continued its stunning run by beating Orlando 95-92 on Tuesday to take a 2-0 series lead in their best-of-seven series. Game 3 is Saturday in Boston.
The Celtics have won five straight games against the East's two regular-season heavyweights -- Boston's first five-game winning streak in more than half a year -- and as a result has one foot in the NBA Finals and is six wins away from claiming a second championship in three years.
So … did they just turn it on for the playoffs?
"I know it's starting to look that way," said Paul Pierce, who scored a team-high 28 points and shook off a second-quarter chop to the face from Dwight Howard that resulted in a flagrant foul.
But he insisted that the Celtics' charge really began in the final 10 games of the regular season. The results weren't there yet -- they lost three times to lottery teams -- but the spirit was.
"We were seeing that we were turning the corner," Pierce said. "Even though some of the things didn't result in wins, I thought Coach really saw some things that we did in those last five or 10 games that were positive things that we really didn't do for most of the season. I think we saw it coming, [so] we stayed positive."
"I thought our intensity went up really well, and eventually when the playoffs started, it turned full circle for us."
The win continues an amazing transformation for the Celtics.
Less than 10 days ago, they were viewed as a spent force, an aging team that closed the season 27-27 and was trailing 2-1 to Cleveland after losing Game 3 at home by 29 points. No sane person thought they had a prayer of beating the Cavs, much less advancing to the NBA Finals.
"The things that were said were probably deserved," Pierce said. "We didn't play well; we didn't play consistent."
"We're the team that started the season," said Celtics coach Doc Rivers. That Boston squad got off to a 23-5 start, including an 86-77 win in Orlando on Christmas Day, but had scarcely been seen since.
On Tuesday, the Celtics continued their rejuvenation by overcoming a staple of their second-half malaise: a blown fourth-quarter lead. Boston led by 11 early in the fourth but the Magic rallied to regain the lead 90-89 on a Vince Carter jumper with 3:35 remaining. Kendrick Perkins had already fouled out, Orlando regained the ball after a Kevin Garnett miss and the Magic crowd was roaring. At that moment, it seemed Boston had squandered a golden opportunity to take a commanding 2-0 series lead.
From that point, however, the Celtics simply out-executed Orlando. The Celtics forced Vince Carter into a contested miss to get the ball back, and Garnett hit a tough fadeaway in the corner over Howard to regain the lead. Boston caught a break when a Garnett reach-in went uncalled and eventually led to a charge on J.J. Redick -- drawn by Glen Davis, who contributed a valuable 28-minute relief stint that included a rare dunk.
Boston took advantage when Rondo finished off a brilliant performance (25 points, eight assists, suffocating D on Jameer Nelson) by hitting a back-breaking 16-foot jumper over Howard at the end of the shot clock.
That shot put the Celtics up by three in the final minute, and with the help of two huge late mistakes by Orlando -- a pair of missed free throws by Carter that caused Nick Anderson flashbacks throughout Central Florida, followed by Redick's failure to immediately call timeout after a Boston miss with seven seconds left -- Boston had its landmark win.
Although it's a bit premature to prepare a eulogy for a Magic team that lost twice by a combined total of seven points, the Celtics now possess an overwhelming advantage: Teams that win the first two games on the road have won 22 of 25 times in best-of-seven series.
A hacker may have inadvertently provided Orlando some added motivation afterward -- Pierce's Twitter account said "Anybody got a BROOM?" but the timing of the post seemed to coincide with when he was answering my question on the podium.
"Pride comes before a fall, just know that," said Howard, after being informed of what were originally believed to be Pierce's comments.
Howard at least has some history on his side -- Orlando has won its past three meetings in Boston, including Game 7 of their second-round series last season.
That said, winning four of the next five -- including at least two on the road -- is a daunting task, given that Boston's playoff résumé suddenly looks incredibly impressive. Orlando and Cleveland won a combined 120 games, but the Celtics beat the two teams five times in a row -- three of them on the road. For the playoffs, the Celtics are 10-3 with a plus-60 scoring margin against what is by far the toughest schedule of any postseason team.
Ironically, the veteran Celtics now are the ones wishing the playoff schedule didn't include so many off days. Originally, most felt the three days off between games would favor Boston, particularly the gimpy knees of Perkins and Garnett. But after taking the first two on the road, Boston would probably rather go for the kill immediately.
"Unfortunately we have a month off before the next game," Rivers said, "so we have to keep it together. For four days we're going to hear how great we are."
For four months the Celtics heard the opposite. But whether it was intentional or not, they turned it on at just the right time.
John Hollinger is a regular contributor to the Daily Dime.
Dimes past: April 27 | 28 | 29 | 30 | May 1 | 2 | 3 | 4 | 5 | 6| 7 | 8 | 9 | 10 | 11 | 13 | 16 | 17
2. Wall Wants To Be A Wizard
By Andy Katz
ESPN.com

Wall
BEVERLY HILLS, Calif. -- John Wall played it cool, calm and collected through the first 11 announcements of the NBA lottery order Tuesday night.
Then the ESPN broadcast went to a commercial break and he exhaled. Surrounded on agent Dan Fegan's couch by a close circle of friends who are considered family, Brian and Dwon Clifton and Tyrone Williams, Wall started to get a bit fidgety.
All his anticipation about where he could be playing next season -- the buildup for two years of his likely destination after being anointed the top pick in the 2010 NBA draft as a high school senior -- was finally about to come to a close.
"I think it's going to be the Nets," the Kentucky freshman point guard said. "I've just got a feeling."
Fegan, who openly cheered when the Minnesota Timberwolves got the No. 4 pick because he represents Spanish point guard Ricky Rubio (selected by Minnesota last year but choosing to stay in Spain), was ecstatic at the final three teams -- New Jersey, Washington and Philadelphia -- telling the group they were all East Coast cities for the Raleigh, N.C., native, and all major media markets.
To read the entire column, click here
3. Did The Rockets Send The Wrong Guy?
By Henry Abbott
TrueHoop Network

Brooks
The Rockets sent point guard Aaron Brooks to the draft lottery. He didn't know why. "They just asked!" he said. "Maybe they think I'm lucky." But Brooks is hardly superstitious. He had no rabbit's foot or anything similar. The closest thing he had to a trinket were his fashion-statement eyeglasses, which do nothing to correct his vision.
The absence of lucky charms aside, it wouldn't be hard to imagine that Brooks might not want to win this thing. There would be pressure to pick Wall, who plays Brooks' position of point guard.
But before the lottery, Brooks assured he was hoping to win, saying the top pick "might be a point guard, or it might be, I don't know, compensation for LeBron. Who knows?"
In any case, it didn't work. The Rockets started the night -- and finished it -- with the 14th pick. Brooks smiled ever-so-mildly on television when he learned they had not moved up.
To read the entire blog entry, click here
4. Daily Dime Live Recap
ESPN.com writers and TrueHoop Network bloggers chatted with fans and gave their in-game opinions throughout Tuesday's game -- all in Daily Dime Live.
---
By Maurice Brooks
ESPN.com
TUESDAY'S BEST

Rondo

Rajon Rondo, Celtics
The new leader of the Celtics finished with 25 points, eight assists and five rebounds, but it was his key plays down the stretch, as Boston held off Orlando, that earned him this spot.

TUESDAY'S WORST

Lewis

Rashard Lewis, Magic
The former All-Star struggled for the second consecutive game, making just two of six shots from the field on the way to five points in 41 minutes of action.

QUOTE OF THE NIGHT

"I won't stop believing. And I won't let my teammates stop believing."

-- Orlando's Dwight Howard on the Magic's 2-0 series deficit to the Celtics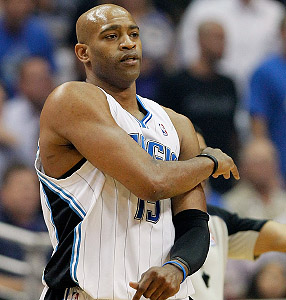 Kevin C. Cox/Getty Images
After sweeping their first two playoff opponents, Vince Carter and the Magic are in a 2-0 hole to the Celtics following a 95-92 loss at home.
8.

What This Means For Orlando
By Chris Forsberg
ESPN Boston

The Orlando Magic hadn't lost back-to-back home games since losing Games 4 and 5 of the NBA Finals. That spelled the end of their 2008-09 season and, unless they can return the favor as the series shifts to Boston, it might spell their demise now in 2009-10. Boston has now won five straight postseason games and is finding ways to hold on at the end of these nail-biters.
To read the entire blog, click here
9.

Magic Stumble Down The Stretch
By Nick Friedell
ESPN Chicago

ORLANDO, Fla. -- Stan Van Gundy looked like he was going to have a heart attack at about 37 different points Tuesday night.
The emotional coach always appears to be on the verge of a breakdown, but he seemed especially combustible throughout Game 2.
He had reason to be.
Once again, his team didn't look very sharp. At times they looked better than they had in Game 1, but they certainly didn't look like the team that had steamrolled through the first two rounds of the playoffs. Van Gundy's bunch looked flustered and rushed on offense and never seemed to get on track. It was a common theme that haunted the Magic all the way until the end of the game -- literally.
Trailing by three points with 34.7 seconds left, Van Gundy drew up a play that appeared to work perfectly. Vince Carter quickly drew a foul on Paul Pierce and went to the line with a chance to cut the lead to one. There was enough time left on the clock for the Magic to get the ball back and go for the winning shot with a defensive stop.
As it has all series so far for the Magic though, things did not go as planned.
Carter clanked both free throws, and the Celtics' lead stayed at three.
Van Gundy stood on the other side of the floor with his arms folded, shaking his head and staring at the scoreboard. He looked as if he couldn't believe what was going on -- but that would seem like nothing after the next series of events.
Needing a 3-pointer to send the game into overtime, Van Gundy pleaded with his team to call timeout if the Celtics missed a shot so he could draw up one more play to send the game into overtime.
Kevin Garnett missed the shot. J.J. Redick got the rebound. The Magic still had a chance, but the execution, or lack thereof, bit them one more time. Redick forgot to call the timeout, letting precious seconds tick off the clock. By the time he did, there were only 3.5 ticks left and the ball wasn't even at half court. Jameer Nelson had to fling up a prayer that didn't go down and the Magic had to come to the cold reality that they might have just played their last game at Amway Arena.
"When you're playing in a big game like this, it's the little things that get you wins," Magic center Dwight Howard said. "Boston, they did all the little things to get the win tonight."
Not only has the Celtics' physical style of play demolished any confidence the Magic had coming into this series, it has forced Howard and his teammates into mental lapses and miscues you wouldn't expect from a team hoping to make its second trip to the Finals in as many years.
"I made a mistake," Redick said of the final sequence. "I didn't hear the whistle initially. When I didn't hear it initially I kind of just went and then realized that we should have called a timeout, but that was my fault."
While Redick's miscue will draw plenty of criticism, it was only one of many that have put the Magic in a 2-0 hole.
How did a team that looked so good for almost two months fall so fast?
"The first two series were against Charlotte and Atlanta," Magic forward Rashard Lewis said. "Two good teams, but not a better team than the Boston Celtics. The Boston Celtics are a great defensive team They're well-coached. When you get to a point in the playoffs, the Eastern Conference finals and the Finals, everything counts. You're not playing against teams that can only get so far. You're playing against the best teams in the NBA."
Howard did his best to look on the bright side after the game. The All-Star belted out "A Change is Gonna Come" in the shower and reiterated that the series was "not over." If Howard and his teammates don't start playing better very quickly, though, and executing down the stretch, the only change will be that the Magic will be playing at a new arena down the street next season.