1. Lakers Making It Look Easy Against Suns
LOS ANGELES -- The Lakers have hit such a high level of efficiency against the Suns that the only downside is these Western Conference finals will do nothing to prepare them for what might lie ahead.
If the Lakers make the next round, they won't find themselves standing alone under the hoop with the ball, they won't be able to get easy put-back baskets solely by virtue of their long arms and they certainly won't be shooting 58 percent through two games, all of which have occurred at various points during this series with the Suns.
The "We want Boston" chants coming from the upper reaches of Staples Center were louder in Game 2 than they were in the Lakers' easy victory in Game 1. There was no chance of their being mistaken for the usual "We want tacos" chant tied into a fast-food giveaway when the Lakers win and hold the opponent below 100 points. (Besides, if your dining hopes depend on holding the Suns below 100 points you're better off heading straight to the soup kitchen).
The mini-rivalry with the Suns in the early post-Shaq years was a quaint storyline that Kobe Bryant tried to enhance before this series began, but it has nowhere near the history and passion of Lakers-Celtics. And it would undoubtedly contain something missing from this series: resistance.
The Lakers have scored 108 points in the paint while winning the first two games. They are giants wading through the shallow end of the pool. At this point the only thing to be gained from the rest of the series against the Suns is confidence in and from Pau Gasol, and lessons in pain tolerance for Andrew Bynum.
Gasol was the story in Game 2, going for 29 points in the Lakers' 124-112 victory. He capitalized on the Suns' attention to Bryant and sometimes was left all alone. He lulled Amare Stoudemire to sleep in anticipating screen-rolls, then broke unmolested to the hoop. Or he victimized Stoudemire with an Olajuwonian shake move and jumper. He scored 14 points in the final period to allow the Lakers to sprint away in a game that was tied after 36 minutes.
"I was being effective and just finishing plays," Gasol said. "We just continued to go to it because it was working pretty well for us."
Bynum wasn't in the game for the stretch run, but he had already recorded 13 points and seven rebounds in 18½ minutes. His playing time was restricted as both a cautionary measure for the torn cartilage in his knee and as a matchup issue with the Suns' small lineup that included Stoudemire, Grant Hill and Jared Dudley in the front line for much of the fourth.
He described his knee as "painful" and said it's getting a little worse, but is gradually accepting that it will be this way for the rest of the playoffs.
The question is how long the Lakers can continue their winning ways, with a streak that reached eight games Wednesday night.
The Lakers had so many things go right in Game 1 that the next day Suns coach Alvin Gentry rattled off four players that hurt his team and didn't even get to Gasol. There's no way the Lakers will win a game against the Celtics if Gasol is that far down the list. It's got to be Bryant, Gasol and Bynum making an impact for the Lakers if they're going to successfully defend their championship against the team that beat them in 2008 and is halfway toward getting back to the Finals, with a 2-0 lead against the Orlando Magic and two home games on deck.
The Lakers won three games in which they scored fewer than 100 points in the first round. They've won their past two by scoring at least 124.
"We're just extremely versatile," Bryant said.
He showed some versatility himself in dishing out 13 assists -- the most by a Laker in a playoff game since Magic Johnson's 13 in 1996 -- on the night his streak of 30-plus scoring games ended at six.
"We can play pretty much every style," Bryant said. "It doesn't mean we're better than the team we're playing against, but it holds us in stretches. We know what our strength is and we know how to play to that. It's getting the ball inside."
I asked Lamar Odom, who lucked his way into another double-double with 17 points and 11 rebounds, to summarize the Lakers' playoff opponents to date -- the Thunder, Jazz and Suns -- with one word each and, in order, he responded with "youth," "toughness" and "quickness."
The Celtics, who appear to be on a collision course with the Lakers, are about veterans, toughness and size.
First the Lakers need to finish off the Suns, which is looking increasingly like a formality. The Lakers have won five of six games against the Suns in the regular season and the playoffs.
Game 3 isn't until Sunday, the best scenario for Bynum and Bryant's ailing knees. And if they can finish off the Suns early there's the promise of even more rest before the NBA Finals begin in June.
"We're going [there] to win," Bynum said. "That's how we feel. We have to beat this team. And we're remembering my rookie and sophomore year when they were the team that knocked us out of the playoffs; we understand that we need to go in and win Game 3 and not let them come back."
And then they could start remembering the team that beat them two years ago, the last to do so in a playoff series.
J.A. Adande is a regular contributor to the Daily Dime.
Dimes past: April 28 | 29 | 30 | May 1 | 2 | 3 | 4 | 5 | 6| 7 | 8 | 9 | 10 | 11 | 13 | 16 | 17 | 18
2. Stoudemire Stubborn About Defense
By Ramona Shelburne
ESPNLosAngeles.com

Amare
LOS ANGELES -- The focus, the glare is all on him. Which he's embracing, not ducking. Maybe even enjoying a little bit after his unfortunate choice of a normally fortunate word to describe the contributions of Lakers forward Lamar Odom.
You see, in his seven years in the NBA, Amare Stoudemire has always been someone's running mate; never the lead dog. His name seems to be dangled as trade bait every February as a piece to be added to a contender, not a building block.
To read the entire column, click here
3. Prokhorov Has Big Plans For Nets
By Chris Sheridan
ESPN.com

Despite the abysmal season the Nets are coming off, new owner Mikhail Prokhorov said he expects the team to make the playoffs next season and win a championship within five years. "In Russia, five years is like an eternity," he said, explaining that his business philosophy has always been to never think more than five years ahead.
The brashest statement to come out of his mouth was: "We will turn Knicks fans into Nets fans," and Prokhorov provided some rare insight into himself, his history and his plans in a 90-minute sitdown with a group of 10 Nets beat writers and national writers before a formal news conference at which he actually said, jokingly, "If I tell you, I will have to kill you," when one reporter asked about the Nets' coaching plans.
The 44-year-old billionaire, ranked as the world's 39th richest man by Forbes, said he routinely works 15-hour days, spends two hours exercising and the rest sleeping. Once every three weeks, he said, he has a party with friends or goes to a discotheque.
He does not own a cell phone, you won't find him on Twitter, and he does not personally communicate by e-mail. "I am too old to learn to type," Prokhorov said, explaining that he has a secretary to answer his calls and read his e-mails, and if it is necessary to reply to an e-mail he can write out what he needs to say in longhand, as he does for his blog entries.
To read the entire column, click here
4. Daily Dime Live Recap
ESPN.com writers and TrueHoop Network bloggers chatted with fans and gave their in-game opinions throughout Wednesday's game -- all in Daily Dime Live.
---
By Maurice Brooks
ESPN.com
WEDNESDAY'S BEST

Gasol

Pau Gasol, Lakers
The Suns have to go back to the drawing board after their strategy to send two defenders at Kobe Bryant allowed Gasol to score 29 points (14 in the game-changing fourth quarter).

WEDNESDAY'S WORST

Stoudemire

Amare Stoudemire, Suns
He scored 18 points and grabbed six rebounds, which is a decent night's work, but he needs to do a better job on the defensive end of slowing down the Lakers' big men.

QUOTE OF THE NIGHT

"We want Boston!"

-- Lakers fans inside Staples Center during the final minutes of Game 2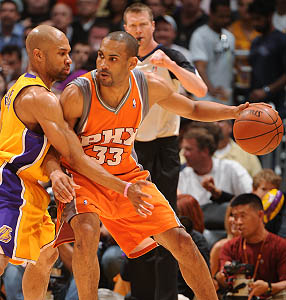 Andrew D. Bernstein/Getty Images
Veteran Grant Hill had the hot hand, shaking loose for 23 points (10-for-17 shooting), four rebounds and three assists, but it wasn't enough for Phoenix, which stumbled in the fourth quarter.
8.

Suns Open For Suggestions

LOS ANGELES -- Alvin Gentry was chuckling at himself as he stepped off the postgame dais, maybe because he instantly realized how much desperation and exasperation he was about to cram into one farewell line.
"I'm open for suggestions," Gentry said on his way out of the interview room late Wednesday night, fresh from watching his Phoenix Suns get absolutely shredded again.
"Even from the media."
Sooner than the Suns ever imagined after their vengeful sweep of San Antonio, they've been reduced to mock hopelessness and self-deprecating humor in the Western Conference finals. In a Game 2 that Gentry genuinely believed was steal-able after a series-opening rout, Phoenix managed to turn Kobe Bryant into a passer, dared Ron Artest to take those corner 3s that make Phil Jackson cringe, and somehow erased a double-digit deficit with Grant Hill playing power forward.
It still wasn't close to enough.
Not when the Lakers were zipping the ball around so crisply that they generated tangible offensive contributions from no fewer than six players not named Kobe.
Not when the Suns, so desperate for some sustained offensive flow against L.A.'s disruptive length, had to go ultra-small to rally from 14 points down, and thus played much of the second half with the defensively challenged Amare Stoudemire as their only big man.
Not when the Lakers could cap that supreme display of ball movement by letting Pau Gasol and Lamar Odom take turns pounding Phoenix down low in the fourth quarter, leading to a 124-112 triumph that staked the defending champs to a seemingly untouchable 2-0 series lead.
The pleas for help weren't just coming from Gentry after Phoenix tried fronting the Lakers' post players, double-teaming team, mixing in spells of zone D and flat-out leaving the likes of Artest and Jordan Farmar in its determination to limit L.A.'s big names.
To read the entire column, click here
9.

A Pair Of Struggling Stars
By Zach Harper
TrueHoop Network

While we've seen players like Dwight Howard, Ray Allen and Jameer Nelson alternate between good and bad scoring games through the first two contests in the Eastern Conference finals, we have yet to see Kevin Garnett or Rashard Lewis find anything resembling a scoring touch.
Through the first two games of the series, Garnett has scored just 18 points on 9-for-30 shooting, while Lewis has been even worse, with 11 total points on 4-for-16 shooting. Garnett has been mainly struggling from the field with his jumper, as he's only made seven of 22 jump shots. However, he's been playing exceptional defense and finding other ways to contribute.
Lewis, on the other hand, has been surprisingly passive and seems unable to find ways to get any rhythm on his shots. After making nearly 50 percent of his 3s against Atlanta in the second round, Lewis has had to deal with guys like Garnett and Kendrick Perkins challenging his shots on the perimeter.
This season, Lewis had a lot of success by being the spot-up shooter who had a lot of open looks on pick-and-roll plays. According to Synergy Sports, Lewis shot 45.9 percent on spot-up jumpers. In this series, he's made only one of his six spot-up attempts. For Orlando to get back into this series on Boston's home court, the Magic have to find a way to create open shots for their deadliest shooter. A lot of that starts with Nelson finding a way to get the pick-and-roll going against a very good pick-and-roll defense.
I'd expect Orlando to continue to run more plays starting at the wing and seeing if it can free Lewis around the top of the key and in the corners. It's the key to Orlando winning in Boston.
To read more from Harper, click here