1. Celtics Continue To Frustrate Magic
By John Hollinger
ESPN.com
BOSTON -- If there's one truth about Boston's unexpected playoff run this year, it's this: The Celtics have come at their opponents with so much effort that by the end, each opponent has been beaten emotionally as much as physically.
Saturday it was Orlando's turn to have its spirit broken, after Miami and Cleveland already submitted in the first two rounds. Yes, Boston won Game 3 going away, 94-71, to take a commanding 3-0 series lead in the best-of-seven Eastern Conference finals, but that barely scratches the surface of the real story: A frustrated Magic team had the fight taken out of it.
One play from the middle of the second quarter perhaps defines it best -- a play that Kevin Garnett aptly called a "pure, I-want-it-more-than-you type of play."
After a deflected pass rolled into the backcourt, Magic point guard Jason Williams trotted after it. Boston's Rajon Rondo trailed Williams, but he didn't trot, he flew. And when it appeared that wouldn't work, he launched into a full-out dive, snatching the ball from Williams' shoe tops while sprawling out on the floor.
"I wanted to make a play on the ball," Rondo said. "He had the angle on me, so I decided to dive for it."
"I didn't think he could get to it," Celtics coach Doc Rivers said. "I don't think Jason Williams thought he could get to it, honestly. I don't know how he got it."
Rondo completed the play by getting up and making a difficult layup over Williams, putting the Celtics up 36-17 and sending the sellout crowd of 18,624 into hysterics. Although party poopers will point out that Rondo blatantly traveled by getting up, it misses the larger significance of the play. In a game in which the Celtics routinely outhustled and outcompeted their opponent, this sequence was the defining example.
There were others, of course. So many others. There was Rondo challenging Orlando's Ryan Anderson for a rebound after a wayward heave by Ray Allen at the end of the shot clock, tapping the ball seemingly out of bounds until Glen Davis dived into the crowd to save it and pass it to Garnett. There was Davis fighting for a missed free throw, pushing Vince Carter into Dwight Howard and causing the Orlando big man to fumble the ball out of bounds. And early in the second half, there was Orlando's Matt Barnes getting so frustrated that he shoved Garnett in the back and took out his own coach.
"I just didn't think we stayed with the fight very well," Magic coach Stan Van Gundy said. "I thought there were several hustle plays like [Rondo's] in the first half that all went their way. I thought they worked harder than we did. I thought they outcompeted us."
The Celtics' defense suffocated the Magic with their superior effort and physicality. The league's second-leading offense during the regular season scored only 48 points in the first three quarters, while the Celtics built up a 27-point lead before the Magic added 23 points' worth of window dressing in an utterly meaningless fourth.
The Celtics, a No. 4 seed that won only 50 games during the regular season, are on the verge of topping the two teams (Orlando and Cleveland) that had the best regular-season records with what could be a combined six-game winning streak.
"Being an older group, it's probably easier for me to get their focus in the playoffs," Rivers said. "Our overall chemistry is phenomenal."
A good example of that chemistry came on a second-quarter possession when the Celtics' initial pick-and-roll play didn't work, but they swung the ball from one side … and then to the other … and then back up top … and then to Rondo down the lane … and finally, after eight passes and just one dribble, to Garnett for an open jumper.
"Their ball movement has been outstanding," Van Gundy said.
Of course, defense, chemistry and effort alone aren't enough. That's where the electric play of Rondo comes in. He's a different player compared with even one year ago, one who has tilted the balance from last season's seven-game Eastern Conference semifinals, which the Magic won. Although some may point to Garnett's presence, he's been a limited factor -- just 13-of-36 for the series with averages of 9.3 points and 8.7 rebounds.
Instead, the story is Rondo. He shot only 37.5 percent in the series against the Magic last year, including a 2-of-12, seven-turnover performance during Boston's Game 1 loss at home.
This time around, he's dominated at both ends. Rondo scored 25 points and added eight assists in Boston's pivotal Game 2 win (it's easy to forget after Saturday, but the first two games were nail-biters), then added 10 points, 12 assists and 4 steals in Game 3. His plays were impactful Saturday, too -- the assists high-quality looks producing layups, the points concentrated in the opening 18 minutes when Boston seized control of the game.
It was Rondo's impossible runner late in the first quarter, in fact, that first hinted the rout was won. He drove from the left wing to his right toward the rim, took a bump from J.J. Redick that forced him past the lane, then turned and lofted a soft bank shot over the charging Howard, the NBA Defensive Player of the Year, that caromed in off the rim. That shot put Boston up 27-11. Later, Rondo contributed a nifty dipsy doo when he faked a retreat to the 3-point line, then quickly turned along the left baseline, catching Williams a second time for a foul and-1.
Rondo also stepped up to the challenge of checking Orlando's Jameer Nelson, who had a dominating first two rounds but has done little of note against the Celtics.
Nelson is 17-of-44 from the floor and has 10 turnovers against just seven assists. A typical play -- and one that furthered Orlando's frustration -- came in the first quarter when Howard established deep post position with Nelson dribbling upcourt. Rondo's length and pressure made it impossible for the smaller Nelson to get Howard the ball in time, so Howard was whistled for a three-second violation and one of Orlando's 17 turnovers.
So now the Celtics are up 3-0, and no NBA team has ever come back from that deficit. Boston will go for the clincher before its home crowd Monday night against another opponent it has broken by the end of a series -- just as Cleveland was last round, and just as the Lakers were by the end of the 2008 NBA Finals.
Rivers couldn't quite go there, but he admitted his team had the advantage Saturday night.
"I don't see that," Rivers said. "I think [losing spirit] happens during games at times, and maybe for moments, but they're a competitive group."
About all Orlando can find solace in is this city's penchant for defying the laws of nature on 3-0 leads in best-of-seven series. In the past 30 years only two North American sports teams have come back from such deficits -- the 2004 Boston Red Sox against the New York Yankees and, just a week ago, the Philadelphia Flyers against the Boston Bruins.
Those Bruins played in this arena, TD Garden, but it's hard to imagine an encore performance for Boston's NBA club with the Celtics playing as energetically as they have since the playoffs started.
"We're not good enough to let up," Rivers said. But unlike the Magic, there's no indication this team will.
John Hollinger is a regular contributor to the Daily Dime.
Dimes past: April 29 | 30 | May 1 | 2 | 3 | 4 | 5 | 6| 7 | 8 | 9 | 10 | 11 | 13 | 16 | 17 | 18 | 19
2. Magic Fail To Put Up A Fight
By Chris Sheridan
ESPN.com

Lewis
BOSTON -- The Eastern Conference finals did not end Saturday night, but you'll be excused for extrapolating that they pretty much did. On the one hand we have an absolute machine of a team operating on all 12 cylinders (yes, we know that the most powerful engines are typically V-8s, but there are vehicles made by Rolls-Royce, Ferrari and others that ratchet it up another four cylinders), and on the other hand we have a team on the wrong end of a steamroller, having already been flattened into the pavement.
"They just riddled us," Magic coach Stan Van Gundy said, heaping the blame on himself for not having his team better prepared.
Where to begin?
To read the entire column, click here.
3. The Carter Brothers
By Mark Schwarz
ESPN

His gravity-defying high-wire act has bestowed upon Vince Carter a magical mystique and world-class nicknames.
He is "Half-Man, Half-Amazing." "Vinsanity." And he is the older brother of a drug addict.
Ask Vince Carter about his only sibling, Chris, and his electric smile gives way to pain. Pain and privacy.
"I think it's a sensitive situation for both of us," he says, eyes moistening a bit. "Me and my brother. It's an obvious effect that situation can have. You can just see the blow it can cause to any family."
To read the entire column, click here.
4. Daily Dime Live Recap
ESPN.com writers and TrueHoop Network bloggers chatted with fans and gave their in-game opinions throughout Sunday's game -- all in Daily Dime Live.
---
By Maurice Brooks
ESPN.com
SATURDAY'S BEST

Davis

Glen Davis, Celtics
Other than that little dance routine he did after drawing a foul and making a basket, Davis didn't do anything else wrong, scoring 17 points in 27 minutes.

SATURDAY'S WORST

Howard

Dwight Howard, Magic
There is a lot of finger-pointing going on in Orlando, and most of them should be aimed at Howard, who posted just seven points and seven rebounds in Orlando's biggest game of the season.

QUOTE OF THE NIGHT

"For those of you who care about these things, NBA just fined me 100k for comments regarding another team's players."

-- Mark Cuban on his Twitter account after getting fined for his comments about LeBron James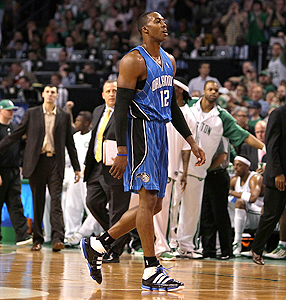 Jim Rogash/Getty Images
After sweeping through the first two rounds of the playoffs, Dwight Howard's Magic have fallen behind the Celtics 3-0 in the conference finals.
8.

Celtics Keep Their Focus
By Chris Forsberg
ESPN Boston

BOSTON -- The first hearty "Beat L.A.!" chant from the Boston faithful began at the start of the fourth quarter of Saturday's Game 3. It popped back up a couple of more times in what served as a 12-minute celebration for Celtics fans who watched their team dismantle and dishearten the Orlando Magic 94-71 at TD Garden.
Celtics forward Glen Davis admitted to hearing the chant but provided the company line after the game, stressing that there's work to do before anyone inside the Boston locker room starts even entertaining the idea of a Celtics-Lakers clash in this year's NBA Finals.
"I understand the fans, how much [they want L.A.]," Davis said. "Beat L.A. … We've got one more game to play, and [Orlando] is highly capable of winning [four] in a row. We've been playing great, but at the same time, this is not finished until we win the next game."
Out West, the Lakers, up 2-0 in their conference final series against the Phoenix Suns, had done a good job of avoiding similar chatter until Andrew Bynum got a little excited Saturday.
"Man, it's going to be amazing to play against those guys again, especially having lost [in 2008]," Bynum told our friends at ESPNLosAngeles.com when asked whether he has thought about his size being a factor should the Lakers advance past Phoenix, with "those guys" being the Celtics.
To read the entire blog, click here.
By Zach Harper
TrueHoop Network

Garnett
When the Magic and Celtics battled each other in the playoffs in May 2009, the absence of Kevin Garnett left a huge hole in Boston's defense. Garnett is the defensive leader for Boston, and his communication is key to helping the Celtics get into better position for stops. After looking at the numbers comparing last year's playoff series with this current Eastern Conference finals, the difference is staggering.
Last season, the Celtics had to make do with Glen Davis and Brian Scalabrine as their version of KG while the Magic and Rashard Lewis feasted on the lack of defensive intensity in front of them. Orlando's shooting was good with 45 percent from the field and 34.6 percent on 3-pointers in the seven-game series. It also had an offensive rating of 107.5 points per 100 possessions, which would be average for the NBA over the course of an entire season.
During this series, Garnett is helping to stifle Orlando's offense and shut down Lewis. During the first three games, Orlando is shooting 39.4 percent from the field and 28.6 percent from 3-point range. Its offensive rating is down to 95 points per 100 possessions. For reference, the 12-70 Nets were last in the NBA with 100.6 points per 100 possessions during the regular season.
KG keeps the Celtics' defenders in the right place and aware of what is coming on any given play. Garnett is able to help on Dwight Howard, close out on any shooter near him and keep the passing lanes closed off with his active hands, sometimes all on the same play. The question isn't how good Boston is with KG. Maybe the question is whether it would be working on a three-peat if he had been healthy last May.
To read more from Harper, click here.