1. Stoudemire Looms Large Over Game 3
PHOENIX -- Alvin Gentry sat down at his postgame press conference and quickly scanned the box score to see how his team had just knocked off the Lakers.
It's hard to believe his eyes didn't pop out of his head when he saw
Amare Stoudemire
's stat line. 42 points, 11 rebounds. It was the type of dominating performance the Suns had to have if they were going to climb back into this series -- a performance Gentry saw coming from the outset. "He started the game with a lot of energy," the Phoenix head coach said. "We always say in this offense, the ball will find energy. And I thought he just did a good job of being aggressive and taking the ball to the basket and getting to the foul line. That's keeping them from getting to the foul line." Stoudemire's renewed aggressiveness was the key to the game. After a lackluster showing during the first two contests in Los Angeles, he pushed the ball hard at the hoop every chance he got. He was 14-for-18 from the line and seemed determined to enforce his will on the Lakers. "Coach Alvin told me before the game that he was going to come to me," Stoudemire said. "Come to me a lot. And I was ready. I was totally ready. Being aggressive. I wanted to pretty much attack the bigs a little bit and we got them in a little bit of foul trouble which helped us. We were the aggressor right there, and it showed." Gentry never lost faith that his big man would deliver. "I knew that Amare would respond," Gentry said. "He's a competitor. He knows that he didn't play well in L.A. And as we said, when we got back here, the only thing that we were looking at -- we have to win one game. We had to win one game. And we did a good job tonight of doing that." Stoudemire's offensive explosion may have surprised some fans after the way he's played over the past week, but it certainly wasn't a shock to the Lakers. "What did you think was going to happen?" Lakers guard
Kobe Bryant
asked. "He's a great player. He's had a couple of tough games. I mean, he wasn't going to come out here and roll over. I saw this coming." So did Stoudemire's teammates. "He had a pretty sensational performance," Suns guard
Steve Nash
said. "I'm just proud of him. He made some incredible plays. But he was just aggressive. And I think once he got a few free throws early and a few buckets, I think he really felt like, 'Hey, I can keep attacking,' and all the frustration from the first two games where it was crowded in there a lot I think subsided." The only emotions Stoudemire had left Sunday night were joy and relief. Despite all the criticism he has endured recently, he never stopped believing that his team could turn the series back around and surprise the basketball world in the process. "We can never lose our confidence," he said. "We can never not think we can't win. We played so great this season. We've done a phenomenal job this year so far, so we know how good we can be. It's just a matter of us bringing that focus and playing great on both ends." As he walked triumphantly back into the Phoenix locker room at the end of the game, the rest of his revitalized team tried to put into perspective what they had just witnessed.
Jared Dudley
was still in awe. In the fourth quarter, he had taken a peek up at the scoreboard … now, almost an hour later, he still couldn't quite comprehend it all. "Once I saw and looked up that he had 40, I said, 'It's a man amongst boys out there,'" the young forward said. He was absolutely right.
Nick Friedell covers the Chicago Bulls and the NBA for ESPNChicago.com
Dimes past: May 1 | 2 | 3 | 4 | 5 | 6| 7 | 8 | 9 | 10 | 11 | 13 | 16 | 17 | 18 | 19 | 22
2. Suns Get In A Zone
By J.A. Adande
ESPN.com

Gentry
PHOENIX -- For a moment, as Alvin Gentry prepared to discuss the Suns' 118-109 victory over the Lakers in Game 3, he made a motion as if he were going to sit at the separate podium normally used by Phil Jackson for his news conferences. Gentry thought better of it, but if ever there were a night for him to try resting on Jackson's throne it would have been Sunday, when the coaching move of the game belonged to Gentry.
The Suns went to a zone defense in the second quarter and finally found a way to turn down the volume on a Lakers offense that had been buzzing at ear-pounding levels. Kobe Bryant, who looked ready to post a 30-8-8 stat line by halftime, stopped having his way with individual defenders.
The Lakers' attack suddenly turned into a lot of Ron Artest jumpers off the dribble and Lamar Odom 3-point attempts.
To read the entire column, click here.
3. Lopez Brings Screech Cred For Suns
By Ramona Shelburne
ESPNLosAngeles.com

Lopez
PHOENIX -- It's Screech Powers he likes, not Dustin Diamond. Let's be clear about that.
After the kind of game he had in Phoenix's 118-109 win over the Lakers in Game 3 of the Western Conference finals Sunday night, Robin Lopez is going to get plenty of headlines in the morning.
He doesn't need anything linking him with Diamond, a much-maligned actor who has become a punchline. But Lopez embraces the comparisons to Screech, the lovable nerd Diamond played in the 1990s hit "Saved by the Bell." Lopez's Twitter feed bio even says he's the "Screech Powers of the NBA."
"He's a clever guy," Lopez joked. "Everybody from my era loves Screech."
As conversations after an intense playoff game go, this has to rank up there as one of the strangest.
Oh sure, Lopez politely answered questions from wave after wave of reporters about his big 20-point night for 15 minutes or so, explaining how his back somehow felt good after he missed the past seven weeks with a bulging disk, and defending his near-fight with Lakers guard Derek Fisher as something that just happens in a "contact sport."
But he was clearly more at ease talking about Screech and anything else a little different. Comic books, Disney, dorm life at Stanford, his love of drawing and design, even his "friendship" with golfer Michelle Wie.
"We're friends," Lopez said, not at all uncomfortably. "We've been talking or texting all throughout the playoffs. Except she's an Orlando Magic fan. She likes Dwight Howard."
To read the entire Shelburne column, click here.
4. Daily Dime Live Recap
ESPN.com writers and TrueHoop Network bloggers chatted with fans and gave their in-game opinions throughout Sunday's game -- all in Daily Dime Live.
---
SUNDAY'S BEST

Stoudemire

Amare Stoudemire, Suns
He stood pretty tall and talented, scoring 42 points while pulling down 11 rebounds. Also stood lucky to have a coach smart enough to bust out the zone against the Lakers.

SUNDAY'S WORST

Frye

Channing Frye, Suns
Good thing Robin Lopez and STAT stepped up. Frye missed all seven of his shots, five of them 3s, and is shooting 1-for-20 in the series, 1-for-14 on 3s. He has missed 17 straight shots.

QUOTE OF THE NIGHT

"You can never question my determination, my focus, my dedication. That's one of the reasons I've persevered through injuries and continue to try to improve every summer. My dedication to the game is at an all-time high."

-- Amare Stoudemire after Game 3.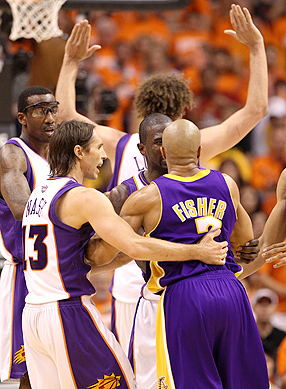 Christian Petersen/Getty Images
Steve Nash helps ensure that cooler heads prevail in the third quarter. In the fourth, Derek Fisher's head prevailed in a
collision with Nash's nose.
By Dave McMenamin
ESPN Los Angeles

PHOENIX -- The Lakers' length is the one dominant advantage they're supposed to have no matter which opponent they play. Kind of the way Usain Bolt's stride should allow him to beat anybody on the planet in a sprint.
But in Sunday's 118-109 loss to the Phoenix Suns in Game 3 of the Western Conference finals, that lessened the Lakers' lead to 2-1 in the series, there was significant shrinkage going on.
The big letdown ended up being an accumulation of a myriad of miscues.
"It was a bunch," Ron Artest said. "We had foul trouble, we had some turnovers, some missed shots, some missed layups, a bunch of little things."
The Suns used a 2-3 zone defense that completely neutralized the Lakers' size. L.A. averaged a 14-point lead in points in the paint and 6.5 more rebounds per game in the first two games to start the series, but dipped in both those categories in Game 3, outscoring the Suns by just four in the lane and grabbing just one more rebound.
To read the entire story, click here.
By ESPN Stats & Information, Elias Sports Bureau
• In the history of the NBA playoffs, no team has ever come back from a 3-0 deficit. Teams up 3-0 in best-of-seven series are 93-0 all-time.
• The Celtics have won six straight playoff games, tied for the second-longest single-postseason streak in Celtics history, and are now one win away from advancing to their second NBA Finals in the past three seasons.
• The Celtics are 11-0 when allowing fewer than 100 points this postseason and 0-3 when allowing more than 100 points this postseason.
• Boston is on the verge of becoming just the third 4-seed to reach the NBA Finals since the merger. Only three teams seeded lower than fourth have reached the Finals since the merger: the 1999 Knicks, '95 Rockets and '81 Rockets.