1. Nelson, Magic Send Series Back To Orlando
By Chris Sheridan
ESPN.com
BOSTON -- Jameer Nelson deserves to have his name at the start of this column, at the beginning of the conversation about why the Magic won, and at the forefront of the discussion of how Orlando might just have a chance to make this a competitive series again.
But we'll get back to him in a moment.
First, some harsh words for the team in green.
The Boston Celtics deserved to lose this game, deserved to be on the wrong end of the 96-92 final score because they played with the arrogance of a team that believed this series was already over, deserved it because they somehow decided the urgency that fueled their dominance over Cleveland and Orlando over the past six games could be prematurely bottled up and stashed away until Game 1 of the Finals.
We could harp on a dozen or more things they did worse than they had in Games 1, 2 and 3, but let's focus on the end of regulation, when the Celtics rebounded a Magic miss with the game tied and 11 seconds remaining and decided not to call a timeout despite the fact they had three of them left.
"It was a good move on Doc's part," Orlando Magic coach Stan Van Gundy said, doing a splendid job of disguising his sarcasm, if in fact he was being sarcastic. "But for us, it was going to be anybody but Paul [Pierce] at that point."
The Celtics did get the ball into Pierce's hands, but two defenders converged on him, he lost control of the ball when he tried to dribble between his legs, and he never even got a shot off because Nelson was there to poke the ball away the moment Pierce regained control, sending the game into overtime.
That poke by Nelson was one of the little things that did not show up in what was a nifty enough stat line -- 23 points, nine assists, five rebounds and three 3-pointers, one of which he banked in from an odd angle for the first basket of the extra period.
Other than Nelson using the glass, the strangest thing about that particular play (which put Orlando ahead for good 89-86) was that Vince Carter was standing all alone under the basket without a defender within five feet of him when Nelson let it fly.
It was indicative of the mental mindset Nelson brought to this win-or-go-home game, a determination to be his team's biggest gamer on a night when somebody needed to step up with some aggression and confidence to rescue a team on the brink.
The Magic certainly weren't getting that effort from Carter, who scored on a layup with 3:26 remaining in the first quarter and never put the ball in the bucket again in one of the more timid performances a so-called superstar has ever had in a game with such huge consequences.
Yes, the Magic got big numbers from Dwight Howard (32 points, 16 rebounds and four blocks), but the big fella missed five of six free throws in the fourth quarter and overtime, looking like a man under attack by butterflies.
The last of Howard's misses came during the one brief stretch when the Celtics looked like they were going to impose their will, getting back-to-back 3-pointers from Ray Allen as the clock ticked inside of two minutes in overtime. The first came when Rashard Lewis (whom you could generously say had a decent game, given what little he had done in the first three) inexplicably doubled down on Kendrick Perkins and left Allen wide open in the corner; the second cut Boston's deficit to 94-92.
But from there the Magic put the ball into Nelson's hands, and his drive into the lane drew three Boston defenders his way. Nelson's shot missed, but Howard took advantage of the lack of attention the Celtics were paying to him and put back the miss for a four-point lead.
From there, Kevin Garnett threw a pass into the fifth row, Pierce missed a pair of 3-pointers, and Rajon Rondo (this has to be a postseason column record for lowest first reference to Rondo) showed a mystifying utter lack of urgency in trying to get a shot off or even driving the ball inside after the Celtics inbounded with 9.6 seconds remaining, still trailing by four.
"I said this before the game, and it still holds true: At some point somebody is going to come back from a 3-0 deficit to win a series, but it has to start with winning Game 4," Van Gundy said. "When you go down 3-0, what you're fighting against is that human nature to just sort of let it go. Our guys didn't do that."
They didn't because Nelson changed his mindset and stopped focusing on swinging the ball, instead looking to drive into the paint and create. The Magic had discussed how the Celtics had controlled the first three games by being the aggressors right out of the starting blocks, and they were determined to reverse that trend over the first 12 minutes of this one and see how things went from there.
And for most of the night, the Magic played from ahead and never let Boston go on any kind of a sustained run.
Somehow, they affected Garnett to the point that after making his first five shots, he missed his final seven. They couldn't stop Pierce (32 points) for a majority of the night, but they did get the one crucial stop they needed at the end of regulation.
"Guys guarded the ball pretty well," Nelson said, "and when I saw the loose ball I tried to dive on it knowing that time was going to run out."
That it did, and when Nelson banked in that 3-pointer midway through overtime for the first bucket of the extra period, the Celtics were on their heels.
Not that they are worried going forward.
"There's definitely no need to panic. We like the position we're in," Allen said.
But as Van Gundy pointed out, the vibe in this building is going to be a whole lot different if the Magic can take Game 5 at home and send this series back to Boston for a Game 6.
In the 93 previous instances when an NBA team took a 3-0 lead in a best-of-seven series, those teams have gone 93-0 in terms of getting the job done. But as Van Gundy kept repeating, there will eventually come a first time.
And as folks in Boston have come to know, a 3-0 lead is a guarantee of nothing: The NHL Bruins had a 3-0 lead on the Philadelphia Flyers earlier this month, but lost the next three games and then blew a 3-0 lead in Game 7, ending their season. And then there was 2004, when the New York Yankees led the Red Sox 3-0 in the ALCS but lost the next four games, helping Boston end an 86-year championship drought.
"It can be done," Howard said, "one game at a time."
Chris Sheridan is a regular contributor to the Daily Dime.
Dimes past: April 30 | May 1 | 2 | 3 | 4 | 5 | 6| 7 | 8 | 9 | 10 | 11 | 13 | 16 | 17 | 18 | 19 | 23
2. Celtics show their flaws against Magic
By John Hollinger
ESPN.com

Wallace
BOSTON -- This game wasn't about what it means for the current series as much as what it means about the next one.
No team has ever lost a 3-0 lead in a best-of-seven series, and the Boston Celtics remain highly unlikely to become the first -- even after losing 96-92 in overtime to Orlando in Game 4 of the Eastern Conference finals.
Instead, the big takeaway is that the weaknesses exposed by this defeat could leave the Celtics vulnerable in the next round. Additionally, it's hard to write it off as a bad night when these are the same problems that plagued Boston in the regular season.
For starters, the Celtics' offense went into a funk late in the game, continuing a season-long pattern of fizzling down the stretch. Boston lost the fourth quarter to Orlando for the fourth straight game, scored only 39 points in the second half and produced only six in the five minutes of overtime.
To read the entire column, click here.
3. Cavaliers Let Mike Brown Go
By Brian Windhorst
Special to ESPN.com

CLEVELAND -- Dan Gilbert is a man who understands risk. He made his millions by starting from scratch in the mortgage business, and he's soon to own casinos after pulling off a daring and unlikely bid to get Ohio's state constitution changed.
So the Cavaliers owner has to understand what is at stake in his firing of coach Mike Brown, which he made official Monday after a 10-day grace period following the Cavs' disappointing ouster from the playoffs.
The Cavs already find themselves in the thick of an unprecedented situation because of the pending free agency of their 25-year-old two-time Most Valuable Player, LeBron James. Of all the teams chasing James, Gilbert's is in the most precarious position, because James is his to lose.
To read the entire column, click here.
4. Daily Dime Live Recap
ESPN.com writers and TrueHoop Network bloggers chatted with fans and gave their in-game opinions throughout Monday's game -- all in Daily Dime Live.
---
By Maurice Brooks
ESPN.com
MONDAY'S BEST

Howard

Dwight Howard, Magic
Facing elimination, Orlando's best player quieted the critics and came through in the clutch, scoring 32 points and pulling down 16 rebounds as the Magic stayed alive.

MONDAY'S WORST

Wallace

Rasheed Wallace, Celtics
It is never a good thing when you have almost as many technical fouls (one) as shots made (two). Wallace went 2-for-7 from the field, scoring just four points.

QUOTE OF THE NIGHT

"I found Vince Carter. He was on the milk carton in my refrigerator."

-- Kevin McHale on NBA TV talking about Carter's no-show performance against the Celtics
7.

What's The Problem, Vince?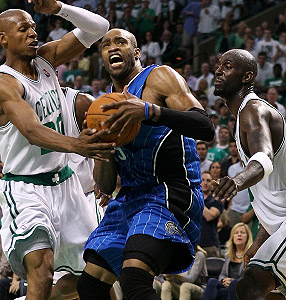 Elsa/Getty Images
How did the Magic win a game in which Vince Carter made just one of nine shots from the field and scored three points in 31 minutes of action?
By Chris Forsberg
ESPN Boston

Celtics point guard Rajon Rondo downplayed the muscle spasms that sent him to the locker room before the end of the first half Monday, simply chalking up his quiet night to a poor personal performance.
"I'm fine; I just didn't play well," he said.
Rondo, limited by three first-half fouls, registered only five points and four assists in 15:08 before the intermission and retreated to the locker room with strength and conditioning coach Bryan Doo with 1:16 remaining in the second quarter.
Rondo returned to action to start the third quarter, but finished with nine points, eight assists, three rebounds and three steals over 42:57, quiet for his lofty playoff standards. But both he and coach Doc Rivers suggested the injury had little to do with any lack of production.
"I didn't even know [about Rondo retreating to the locker room]," Rivers said after the game. "I knew early on he said he was fatigued. He told, I think [trainer] Eddie [Lacerte], and maybe when he went in, that was the spasms he was talking about. Honestly, I didn't check. When I came in at halftime, he said he was good. I don't really ask. If the trainer comes to you, then you know it's something serious. If he doesn't, you just let it go."
Rondo struggled running through staggered double screens in the defensive end, as the Magic abused him in the pick-and-roll. Both Rondo and Rivers admitted he has to do a better job of fighting through them.
To read the entire blog, click here.
9.

Howard Controls The Paint
By Zach Harper
TrueHoop Network

Howard
After being completely shut down in Game 3 as Orlando suffered its worst loss since early November, Dwight Howard needed to respond with a big Game 4 to avoid an embarrassing sweep. He's taken a lot of scrutiny throughout these playoffs for not providing enough dominant games or showing that he's a go-to/clutch performer when his team needs it the most. However, he showed a lot of improvement with the way he helped lead his team to victory.
Dwight didn't just get the majority of his 32 points from trips to the free throw line. He made only six of 14 attempts from the line and didn't do a good job of padding his totals with a lot of free points. He made only one free throw after halftime. Instead, he made strong moves in the paint during the final two quarters and the overtime period and came up with huge plays all over the court.
In the second half alone, Howard had 15 points, 11 rebounds and three blocks, but a lot of his stats came in big situations. After Glen Davis blocked a dunk attempt to potentially give Boston possession while down only three points, Howard grabbed the offensive board and scored. He scored again off an offensive rebound on the next possession to answer another Ray Allen 3-pointer. Howard also outrebounded the Celtics all by himself in overtime with a five-to-four advantage.
There are plenty of ways to assess how a player helps his team in the clutch, but contributions like offensive putbacks and defensive rebounds to end opponents' possessions are rarely given their due. With Howard, you are forced to consider an all-around game in judging clutch performances. In Game 4, Orlando avoided a sweep because he controlled the paint when it mattered.
To read more from Harper, click here.