1. Frye Heats Up At Just The Right Time
PHOENIX -- You might think these are metaphors, that this little story of Channing Frye's cold hands and his bottle of Rejuve are an allegory to explain how Frye regained his shooting ability and the Phoenix Suns' bench brigade led the way to a 115-106 victory over the Los Angeles Lakers that evened the Western Conference finals at 2-2.
Except when I say Frye had a cold hand, I'm not talking about his 1-for-20 shooting in the first three games of the series. I mean literally. As he walked out of US Airways Center, his 14 points adding a little bounce to his step, Frye placed his right palm on the back of my neck and it felt like an ice bag.
He doesn't know why, but his hands have always been cold, to the point that it affects his ability to feel a basketball. (Although it does give him an easy way to prank teammate Jason Richardson by sneaking up and putting one of his icy mitts on Richardson's head). Frye takes a homeopathic remedy called Rejuve, and in 15 minutes his hands feel warmer.
All the Rejuve in the world couldn't help his touch in the first three games, or even his first shot Tuesday night. He went from leading the team with 172 3-pointers during the regular season to making only one in 14 attempts in this series. But then, five minutes into the second quarter, Frye put up a 3-pointer from the right side. The crowd offered a hopeful crescendo of noise, trying to will the ball through the hoop. It dropped through the net. Frye was back in the series, and the Suns were too.
Frye added two more 3-point shots in the second quarter and then made a huge one in the fourth, just before the 24-second clock expired. That one really seemed to rally the Suns. Leandro Barbosa followed with a 3-pointer of his own, then Jared Dudley added one, and the Suns' lead zoomed from two points to nine in the span of 80 seconds. The reserves had bought themselves more time on the court and even earned their way into a rare all-bench postgame TV interview session right after the final buzzer sounded. They were the story this evening, outscoring their Laker counterparts 54-20, and outrebounding them 23-11. More importantly they outscored Kobe Bryant, who had 38 points and 10 assists and seemed intent on single-handedly snatching a victory for the Lakers before they stopped getting him the ball in the fourth quarter.
So Frye's four 3-pointers in eight attempts wound up being more significant than Kobe's six out of nine -- and more relevant going forward in this sudden best-of-three series because it increases the chances Frye will be a factor the rest of the way.
"He's someone that's all about confidence," Dudley said. "Once he sees the ball going in the basket, there's no telling what he can do."
My colleagues Henry Abbott and John Hollinger love to take down the theory of the hot hand. (Here is Henry's extensive TrueHoop take.) They'll cite extensive research that shows made shots are no more likely to lead to more made shots. But has anyone studied the opposite scenario: that missed shots can lead to a crisis in confidence -- and more missed shots? Because Frye sure was a case study in this series as the misses kept adding up.
In Game 3 he hesitated the first time he got the ball in shooting position, allowing a defender to close in on him and leading to Frye's rushing the shot -- and missing. He later got the ball in the post against the smaller Derek Fisher who was caught on a switch -- and Frye couldn't score on him.
On the day between Games 3 and 4, Frye said he heard from a barrage of friends offering their support and shooting advice. He even heard some tips during a stop at a Circle K store. Ultimately what worked for him was deciding he needed a new attitude.
"I came to a realization this is, for some players, a once-in-a lifetime opportunity," Frye said of playing in the Western Conference finals for the first time. "So why work so hard and why still be playing when it's almost June if you're not going to go out there and just relax, have fun and let it ride?"
The longer a series goes, the less it becomes about strategies and adjustments and the more it becomes a reflection of mentality. Although Phoenix's zone defense was the talk of the past two days, the Lakers had already found a way to score 37 points against it in the third quarter of Game 3 and made three quick shots after the Suns went to the zone with three minutes left in the first quarter of Game 4. Now it's about seeing who responds when the pressure becomes greater and the threat of elimination looms larger.
In that regard, part of the Phoenix bench's success in Game 4 was due to the psychological relief from having to overcome a deficit.
The scoring advantage belonged to the Lakers' bench in each of the first three games. That was in part because the Lakers led after the first quarter in all three games.
"The thing that kind of hurt us the most," said Suns coach Alvin Gentry, "is that they've been coming into the games where we're down nine, down 11, and they play pretty good, but it was an uphill battle for them."
The Suns managed an even first quarter with the Lakers, even though L.A. outshot them 50 percent to 39 percent. But the Suns grabbed six offensive rebounds and didn't commit a turnover in the quarter.
"As a player, you might be a little tighter when it comes to jump shots," Dudley said of playing from behind. "You saw the Lakers and their role players, when they play with the lead, it's different guys. For us, how we start the game is crucial for how we carry it out."
The unit of Frye, Dudley, Barbosa, Goran Dragic and Louis Amundson played the first seven minutes of the second quarter and turned a tie score into a 10-point lead, even with Bryant on the floor for the Lakers. It was part of a 41-point second quarter. And after the Lakers won the third quarter it was that same unit for the Suns that played deep into the fourth and won the game on a night when Amare Stoudemire scored only half of the 42 points he put up in Game 3 and Nash made only three of 11 shots.
The Suns finally benefited from two of their presumed advantages coming into the series: bench play and 3-point shooting. And they finally got production from Channing Frye even if, technically, he doesn't have a hot hand.
J.A. Adande is a regular contributor to the Daily Dime.
Dimes past: May 1 | 2 | 3 | 4 | 5 | 6| 7 | 8 | 9 | 10 | 11 | 13 | 16 | 17 | 18 | 19 | 23 | 24
2. Lakers Struggling Against Phoenix Zone
By Nick Friedell
ESPN Chicago

Fisher
PHOENIX -- Phil Jackson doesn't think he has a problem.
The Hall of Fame coach believes his players have adjusted just fine to the 2-3 zone the Suns threw at them over the past few days.
"We shot 49 percent, didn't we?" Jackson said after his team's most recent defeat Tuesday night. "That's pretty good. Nothing wrong with that. I wouldn't say we're struggling against the zone. I think we're struggling at the defensive end. That's where I see it."
Sure, the Lakers are struggling defensively, as evidenced by the 233 points they've given up over the past two contests, but Jackson is wrong if he believes the Phoenix zone hasn't thrown his team for a loop. His players are clearly having a hard time figuring out a defense that most haven't seen since high school.
"It's the zone," Lakers center Andrew Bynum admitted. "We're settling for outside jump shots. They were out there moving that ball, they were confident playing at home and they really just shot the ball well. They had everybody spaced out so everybody's running around."
To read the entire column, click here.
3. Knicks' Game Plan For Landing LeBron
By Chad Ford
ESPN.com

It's the question the NBA world has been debating since Donnie Walsh took over the New York Knicks in April 2008 and vowed to clear salary-cap space to lure free agents to the Big Apple: Do the Knicks have a realistic shot at landing LeBron James?
Twenty-five months later, we still don't know.
We know about the Cavaliers' built-in advantages when it comes to keeping James, even if he chooses to become a free agent this summer, as expected: He is a local hero for a winning team, and in Cleveland he can make a higher salary for more years than he could elsewhere.
We know the Bulls can make the case to LeBron that his future would be brightest in Chicago, given their young, athletic talent -- and that the Nets can say the same of New Jersey and Brooklyn, with a Russian billionaire and a hip-hop legend able to offer a unique combination of international appeal and street cred.
To read the entire column, click here.
4. Daily Dime Live Recap
ESPN.com writers and TrueHoop Network bloggers chatted with fans and gave their in-game opinions throughout Tuesday's game -- all in Daily Dime Live.
---
By Maurice Brooks
ESPN.com
TUESDAY'S BEST

Dragic

Goran Dragic, Suns
He only played 18 minutes, but that was all the time he needed to do his best Steve Nash impersonation, finishing with eight points and eight assists off the bench.

TUESDAY'S WORST

Brown

Shannon Brown, Lakers
The Lakers were minus-21 with the high-flying reserve guard on the court. He went 1-for-7 from the floor and finished with just two points in 14 minutes.

QUOTE OF THE NIGHT

"I've got to go with the Lakers again."

-- President Barack Obama giving his prediction on who will win the NBA Finals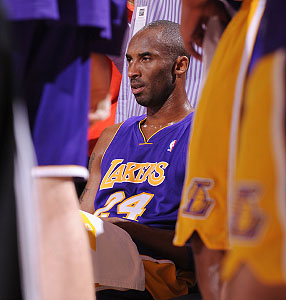 Andrew D. Bernstein/Getty Images
Kobe Bryant had an outstanding performance, shaking loose for 38 points, 10 assists and seven rebounds, but it wasn't enough to prevent the Lakers' nine-point loss to the Suns.
8.

Suns' Spare Parts Run Like New
By Ramona Shelburne
ESPN Los Angeles

PHOENIX -- There are a lot of executive-level chairs in the NBA that get very lonely and very warm every winter: all the well-thought-out plans from the offseason having unraveled as quickly as the weather turns; all the public cries for a flogging, if not a firing, growing louder by the loss.
Winter is about the only time of year in Phoenix when the weather cools off some, but for Suns general manager Steve Kerr, December 2008 was as hot and uncomfortable as any day in July.
"I was taking a complete beating," Kerr said. "It wasn't a whole lot of fun last year. First of all, the criticism was deserved. I didn't do a good job. But with that said, I also know circumstances dictate a lot in this league. We had a team that was probably on the way down when we made the [Shaquille O'Neal] deal, and we tried to salvage it and swing for the fences.
"Once we took that shot and failed, we had to fix it."
To read the entire column, click here
By Michael Schwartz
TrueHoop Network

Frye
PHOENIX -- Through three games of the Western Conference finals, Channing Frye was a bigger disappointment than Byung-Hyun Kim in the 2001 World Series.
Frye, the Suns' 3-point-shooting center, had misfired on 16 consecutive attempts since the first quarter of Game 1 and had knocked down just one of 20 shots in the series overall. Things were so bad Frye couldn't leave his house without eliciting tips on his jumper; even the man selling him a Slurpee at Circle K had an opinion to share.
But Alvin Gentry stuck with the Arizona product, and that faith was rewarded in Game 4 when Frye drilled four floor-spacing 3-pointers, including a crucial fourth-quarter trey at the shot-clock buzzer that was a big part of the 12-2 run that won the game for the Suns.
"I told you guys I'm just going to continue to shoot, and my teammates believed in me and I continued to just believe in myself," said Frye, who played a team-high 35 minutes. "Why work so hard and why still be playing when it's almost June if you're not going to go out there and just have fun and let it ride?"
Added Jared Dudley: "That's how he is. Once he sees the ball go in the basket, there's no telling what he might do."
As opposed to being the hesitant player he was the past few games, Frye did indeed let it ride, hitting a pair of 3s late in the first half during the Suns' second-quarter barrage from long range.
As for whether his confidence was shaken?
"Come on, man, you're asking the wrong dude. My confidence is great every day," Frye said. "I'll be honest, last game I was what, 0-for-7? If I shot another seven I thought I was going to go 7-for-14."
To read more from Schwartz, click here.