1. Kobe And The Drive For Five
PHOENIX -- The only thing Kobe Bryant hadn't done in what has been a masterful 2010 playoffs run was close out a game. And the only thing he hasn't accomplished in his 14 years in a Lakers uniform is beating the franchise's archrival, the Celtics, in the NBA Finals.
One down and another opportunity on deck after Bryant finished off the Phoenix Suns in Game 6 on Saturday, hitting shots that ranged from incredible to ridiculous in the Lakers' 111-103 victory. That sent the Lakers on to the Finals, where the Celtics and their institutional memories of Red Auerbach's cigar, Kevin McHale's clothesline and Paul Pierce's wheelchair await.
The Celtics also happen to be the last team to win a playoff series over the Lakers, humiliating them with a 131-92 drubbing in the final game of the 2008 Finals.
Now that Bryant has removed the primary "but he didn't …" from his career by winning a championship without Shaquille O'Neal, the range of mountains left to scale is shrinking. Beating the Celtics is something for his place in Lakers lore, a way to further endear himself to the local fans still bitter about all those defeats in the 1960s. If he wants to permanently knock Magic Johnson aside on the pedestal of beloved Lakers, it's an important step to take.
Bryant is thinking on a grander scale, though. He said beating the Celtics would be "icing on the cake" and sounded much more obsessed with numbers than names of the victims.
"A championship's a championship," Bryant said. "It'll be my fifth ring if I'm fortunate to get it."
That accomplishment would tie him with Johnson and Kareem Abdul-Jabbar, who have the most Lakers championships among the giant retired jerseys hanging in the Staples Center.
Bryant is compiling other impressive numbers in the playoffs. In the course of averaging 29 points (on 48 percent shooting), 6 assists and 5 rebounds per game, he already surpassed Jerry West as the Lakers' all-time leading playoff scorer and moved into fourth place on the league list. Saturday marked the 75th time that Bryant has scored 30 or more points in a playoff game, breaking a tie with West and tying him with Kareem Abdul-Jabbar (75) in second place behind Michael Jordan (109) on the list of 30-point playoff performers.
But the easiest numbers to count, the ones everyone can rattle off without opening a Web browser, are championship rings. Five would leave him one behind Jordan. He knows that some people won't speak of him on Jordanian terms until he reaches six. Jordan is his real rival, not the Celtics.
As for team rivalries, Bryant has just as much animosity for the Phoenix Suns, if not more. The Suns eliminated him from the playoffs in 2006 and 2007, the second time so frustrating that he took to the radio airwaves to demand a trade not long afterward. Questions about the pending Western Conference finals with the Suns after the Lakers swept the Utah Jazz in the second round this year brought more icy retorts from Bryant than what he had to say about the upcoming Celtics series, a topic he addressed with indifference.
"I didn't give a damn who we played [in the Finals]," Bryant said Saturday. "Didn't matter to me."
That doesn't mean he isn't fully cognizant of the added significance that a Lakers-Celtics Finals holds. He could hear the "We want Boston" chants when the Lakers blew out the Suns in the first two games of the series; he was prepared for the onslaught of Celtics-related questions that came before the coroner had a chance to even examine the Suns. "There's a lot of things that people can write about and talk about. It's a sexy matchup."
From a basketball entertainment standpoint, the Finals won't be as appealing as the series that just ended between the Lakers and Suns. Even though the Suns fought their way back into the series by switching to a zone defense in Game 3, the Western Conference finals were still an offensive showcase, with both teams scoring more than 100 points in every game. The Lakers were on their way to another stratospheric total and were on the verge of ending the game early with a 91-74 lead after three quarters Saturday.
Then they went cold, producing only four points in the first 7½ minutes of the fourth quarter, while the Suns and their quiet fans were re-energized by a Sasha Vujacic whack to Goran Dragic's jaw that was ruled a flagrant foul 1. Dragic cashed in the two free throws, then drove past Vujacic for a layup, and the Suns kicked off one last scoring outburst that brought them to within three points inside 2½ minutes.
And then Bryant did what he's known for.
He'd had the chance to be The Man in Game 6 of the first round and Game 5 of this series. Both times he missed the shot, only to have teammates Pau Gasol and Ron Artest get the game-winning putback scores. Artest was a candidate for the star of this game with 25 points.
But it was Bryant who made the shots the Lakers had to have down the stretch, made the jumpers that had no business finding the net considering how well as the Suns guarded him. In the final 4½ minutes he spun away from Jared Dudley and pulled up in front of Channing Frye to hit a jumper, pivoted away from Grant Hill and hit a fallaway over Frye long the baseline, then hit a pair of back-to-back jumpers in Hill's face, shots so good that Suns coach Alvin Gentry could only laugh.
Hill said he played even better defense than he did at the end of Game 5, when he forced Bryant to shoot an air ball that Artest snatched and put in off the backboard to win it at the buzzer.
The final one was right next to the Suns' bench with 35 seconds remaining.
"Great defense," Gentry told Hill.
"Not good enough," Bryant said to Gentry, adding a pat on the back for consolation.
That's the epitaph for the Suns, who exceeded expectations by reaching the conference finals and enjoyed a special camaraderie along the way. But ultimately they didn't show the championship pedigree that Amare Stoudemire says will be the deciding factor in where he signs in free agency, and they couldn't end Steve Nash's dubious mark of appearing in the most playoff games without reaching the NBA Finals.
They played their way back into the series and back into the game, but then Bryant ended it all for them.
"That [bleeping] guy," Gentry said with as much admiration as possible.
Now the Lakers play the franchise their fans call "that [bleeping] team" with no hint of love at all. But to Bryant they're just another obstacle on his quest to be The Man … no ifs, ands or bleeps.
J.A. Adande is a regular contributor to the Daily Dime.
Dimes past: May 5 | 6| 7 | 8 | 9 | 10 | 11 | 13 | 16 | 17 | 18 | 19 | 23 | 24 | 25 | 26 | 27 | 28
2. Suns' Offseason Hinges On Stoudemire
By Michael Schwartz
ValleyoftheSuns (TrueHoop Network)

Stoudemire
PHOENIX -- Steve Nash had just finished heaping effusive praise on his teammates, calling this as special a group as he'd ever played with, when he was asked whether he'd like the Suns to bring everybody back.
"It's pretty clear I'd like to keep the group together," Nash said. "It's phenomenal to come to work every day with the group of guys we had, everyone fighting for the same thing, proving when you commit to one another and to what we're trying to do, you know, you really can -- all the clichés really are true. You can maybe be greater than the sum of your parts."
Although Phoenix overachieved beyond any Suns fan's wildest expectations, coming two games short of eliminating the defending champion Lakers and reaching its first NBA Finals since the days of Charles Barkley, it won't be easy to bring back all of Nash's mates.
The first major domino will fall when Amare Stoudemire decides where he wants to play basketball next season. Stoudemire is widely expected to decline his $17.7 million player option for next season, which would put him on the market along with all the other big names in the much-ballyhooed class of 2010.
Minutes after the Suns were eliminated, Stoudemire reiterated that it's still a 50-50 proposition that he will return to Phoenix next season.
"I'm still not sure what the future holds," Stoudemire said. "I'm just going to take a couple days, enjoy the family and enjoy the rest, and start figuring out what the next move is."
Grant Hill, who plans on finishing his career in Phoenix, has a $3.3 million option he's expected to exercise, but Channing Frye has said he will decline the $2 million option he has outplayed this season. The Suns would like to bring Frye back because he's a perfect fit for their offense, but that will depend on the price.
The Suns' only other relevant free agent isLouis Amundson, who may have outplayed the kind of salary the Suns would be willing to offer.
Even if Stoudemire leaves, the Suns would not be far enough under the cap to be a major player in free agency, especially if they bring Frye back at a raise.
But maybe the lesson we should have learned from the 2009-10 Suns is that finding the right pieces is more important than making a big offseason splash.
"Everything fell into place for us," Jared Dudley said.
For more from Schwartz, click here.
3. Daily Dime Live Recap
ESPN.com writers and TrueHoop Network bloggers chatted with fans and gave their in-game opinions throughout Saturday's game -- all in Daily Dime Live.
---
SATURDAY'S BEST

Bryant

Kobe Bryant, Lakers
What's the best way to cap off a 37-point clutch closeout of the Suns? Threatening to finish Sasha Vujacic, whose venom toward Goran Dragic nearly revived a dormant Suns team.

SATURDAY'S WORST

Vujacic

Sasha Vujacic, Lakers
For his role in nearly snatching defeat out of the jaws of victory with a flagrant foul for an elbow to the face of his fellow Slovenian, this honor goes to The Machine.

QUOTE OF THE NIGHT

"Those aren't shooters' shots, they're scorers' shots. Those are best-player-in-the-game type shots."

-- Steve Nash on Kobe Bryant's nine points in the final two minutes of Game 6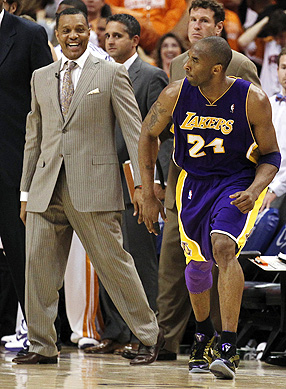 AP Photo/Chris Carlson
In the process of ending the Suns' season in Game 6, Kobe Bryant bantered with Suns coach Alvin Gentry.
By Andy Kamenetzky
ESPNLosAngeles.com
Phil Jackson noted after a recent practice how a series "can turn on a trifle." Trifle, as defined by Webster's dictionary, means "something of little value, substance, or importance." Jackson was pointing out how seemingly little things can add up to change the outcome of a basketball game, which often contains little margin for error to begin with. The roundball version of the butterfly effect, if you will.
Saturday night, however, we learned how events with absolutely zero subtlety also can change a game's direction. Like, say, an incredibly stupid and juvenile flagrant foul by Sasha Vujacic on Goran Dragic.
The fellow Slovenians are apparently feuding -- gotta love bad blood between Euro reserves -- and Dragic mouthed off after hitting a jumper over Vujacic at the start of the fourth quarter. The Machine reacted as any professional with a modicum of self-control would: He "accidentally" hit Dragic in the chin while "raising his arms in the air." Dragic predictably flopped, and the referees predictably bought it. Dragic canned his pair of freebies, then Phoenix's next shot as they retained possession.
For more from the Land O' Lakers blog, click here.
9.

When Last They Met ...
Rondo helped erase a 13-point Lakers lead in the blink of an eye with his at-will penetration. Rondo, who finished with 21 points, 12 assists, 5 rebounds and 2 steals, was covered primarily by Bryant rather than 35-year-old L.A. point guard Fisher, although Jackson made a point of blaming the whole team's defense for letting Rondo run wild.
Bryant wasn't around for the Feb. 18 rematch, but Rondo again had a major impact with 14 points, 11 assists, 5 rebounds and 5 steals. How the Lakers contend with Rondo could be the most important aspect of the Finals.
For more from ESPNBoston.com, click here.
Rad game. The 'ics took it to the streets, Fisher quietly blew the lid off, Kobe was dazzle. #2GreatTeamsless than a minute ago via OpenBeak
Mindy Kaling
mindykaling