1. Complete Turnaround By Celtics
By Chris Sheridan
ESPN.com
LOS ANGELES -- There was still a glimmer of hope for the Lakers with 40 seconds remaining as Kobe Bryant crossed the midcourt line with his team trailing by six, but that chance disappeared in an instant -- and Bryant never saw it coming.
Sprinting full speed just behind Bryant, Rajon Rondo reached in from behind a step or two past half court and poked the ball away.
A brilliant defensive play. A superb effort play.
Not exactly a game-saving moment, but a play that provided a perfect snapshot of how everything was so different for the Boston Celtics in Game 2 of the NBA Finals as they defeated the Los Angeles Lakers 103-94 to even the series at one game apiece.
That signature intensity that was so noticeably absent from the men in green in Game 1? It was everywhere Sunday night, from Ray Allen's NBA Finals record of eight made 3-pointers, to Rondo's triple-double (19 points, 12 rebounds and 10 assists) that only began to do justice to his overall body of work, to the Celtics' surviving significant foul trouble for all of their bigs and managing to still hold the Lakers to a mere 29 field goals (two fewer than the number of free throws Los Angeles made), to coach Doc Rivers sprinting onto the court to call a timeout with 1:26 remaining when the Celtics were one second away from an eight-second backcourt violation.
"I don't know if you can do that or not," Phil Jackson said. "It was like he was shot out of the starter's block or something."
This, too, was a victory of composure down the stretch, the Celtics making all the big plays in the final three minutes while the Lakers were missing shots and making mistakes.
Perhaps the most stunning aspect of the Celtics' victory was how they managed to pull it out despite getting very little from Paul Pierce (2-for-11) and Kevin Garnett (two buckets and four rebounds in 24 foul-plagued minutes) while also giving up so much to Pau Gasol (25 points, eight rebounds, six blocks) and Andrew Bynum (21 points, seven blocks and six boards).
"The top rebounder of the game was a point guard, and that tells you something," Gasol said. "And we had our mistakes and errors at the wrong time of the game."
So after two days of elation in L.A. following the Lakers' convincing Game 1 victory, the dynamic of this series is quite different heading into Game 3 in Boston on Tuesday night.
The series will stay in Massachusetts for a full week, during which time we'll learn whether the momentum shift that took place over the 48 minutes of Game 2 will have lasting significance. As Rondo noted afterward, one game can sometimes change the complexion of an entire series.
"It's a blow to us to lose the home court, but we anticipated this might happen and we have to bounce back," Jackson said. "We had a little lead right at the end, but we didn't do the job and they did."
A few stats to illustrate how different the Celtics were in Game 2:
On second-chance points, the Lakers outscored Boston 17-13 after winning that category 16-0 in Game 1.
On fast-break points, Boston had an 11-4 edge after losing that category 12-5 in Game 1.
On 3-point shots, Allen (who made his first seven attempts in the first half) led the Celtics' 11-for-16 marksmanship. In Game 1, they were 1-for-10.
On points in the paint, the Celtics had a 36-26 edge after being outscored in that category 48-30 three nights earlier.

"The key factor was turnovers," said Bryant, who gave a series of brief monotone answers in his postgame news conference. "It had nothing to do with scoring. Nothing. We gave them too many easy baskets and blew too many defensive assignments. That's it."

Bryant was one of several players from both teams who found themselves in foul trouble, picking up his fifth with 11:15 remaining in the fourth quarter and sitting for a two-minute stint midway through the period. Lamar Odom drew three fouls in just 2:38 of the first half; Garnett was limited to six first-half minutes as he was whistled for three fouls; and the Celtics found themselves with four bigs (Garnett, Kendrick Perkins, Rasheed Wallace and Glen Davis) each saddled with four fouls well before the third quarter was over.

But Garnett was the only Boston player to pick up a fifth foul, and the only player in the game to foul out was Ron Artest, who struggled throughout the night, missing nine of 10 shots and five of eight free throws.

And it was one of Artest's three turnovers that contributed to the Lakers' undoing over the final four minutes.

A jumper by Bryant on an isolation play put the Lakers ahead 90-87 with 5:20 left, but Rondo scored on a drive and a putback on two of Boston's next three possessions to put the Celtics in front for good.

With 2:59 remaining, Artest tried a difficult wraparound pass to Gasol on the extended low left block, and the ball was nowhere near being within Gasol's reach and scooted out of bounds. Garnett then scored inside against two defenders, Rondo blocked a shot by Derek Fisher from behind at the 3-point line, and Allen then missed Boston's next two shots -- although the ball bounced out of bounds off the Lakers each time.

That gave the Celtics what amounted to a third chance on a single possession, and Rondo capitalized by nailing a wide-open 20-foot jump shot to make it a five-point game with 1:50 left.

"I'm going to be given that shot the entire Finals," Rondo said.

Bryant missed a 25-footer and an 8-footer on the Lakers' next two possessions, but he got the deficit down to five on a 3-pointer with 53 seconds remaining. And after Rondo went to the line and made just one of two, there was still hope.

But that's when Rondo snuck up from behind, making his final huge defensive play on a night when the offensive numbers he posted in the box score overshadowed how huge he was at the other end. (He also led all players in defensive rebounds with eight.)

"It was big for us," Rondo said. "It would have been tough for us to go home and win three straight. It would be possible, but it would be very tough against the defending champs. We did what we needed to do, came out here and got a split."

And they did it the Celtics' way, with the characteristic intensity that earned them their rings in 2008 and got them past Dwyane Wade, LeBron James and Dwight Howard in the first three rounds of the playoffs.

Now it's a question of whether they can bring it with them to Boston, and whether the Lakers can overcome it. Unlike Thursday night, this one looked and felt like a Finals game. Come Tuesday, we'll see which team is ready to put the other on its heels.

Chris Sheridan is a regular contributor to the Daily Dime.

Dimes past: 13 | 16 | 17 | 18 | 19 | 23 | 24 | 25 | 26 | 27 | 28 | 29 | June 3 | 5 | 6
2. No Hollywood Ending For Lakers
By J.A. Adande
ESPN.com

Bryant
LOS ANGELES -- So does this mean Kobe Bryant will set an NBA Finals record for most 3-pointers in a game on Tuesday in Boston?
Bryant was forced to watch an uncomfortable 14 minutes of Game 2 from the bench, much like a foul-plagued Ray Allen had to sit for extended time in Game 1. Allen channeled his frustration into eight 3-pointers in Game 2, which along with Rajon Rondo's triple-double helped the Celtics even the series at one game apiece before they returned home for the next three games.
Game 2 was the kind of game that begged for a Bryant bailout, after the Lakers' excellent ball movement in the early going (seven assists in the first eight minutes) dried up and Allen got hot. Except Bryant picked up his third foul with 3:20 left in the first half on a bump with Allen that had far less contact than a rush-hour subway. And he was called for foul No. 5 when Rondo fell down after knocking the ball away from Bryant and chasing it out of bounds a minute into the fourth quarter.
Lakers coach Phil Jackson said, "I wasn't happy with those foul calls. Those were unusual calls. It really changed the [complexion] of this ballgame."
To read the entire column, click here
3. Are The Lakers In Trouble?
By Rick Fox
Special to ESPNLosAngeles.com

Odom
Editor's note: Rick Fox offers a unique view of the latest NBA Finals showdown between the Los Angeles Lakers and Boston Celtics, having worn the uniforms of both teams. He was a Celtic from 1991 to '97 and a Laker from 1998 to 2004, winning three championships in purple and gold.
Heading into Game 2 of the NBA Finals, could the Lakers maintain the dominance in the paint against the Celtics they had established in Game 1? Would Pau Gasol continue to bury the image of his ineffectiveness left over from the 2008 NBA Finals? Would Kevin Garnett continue to struggle as he had in Game 1?
A look at the box score of Game 2 would certainly seem to indicate each of those questions is answered by a resounding yes.
One category in particular, blocked shots, highlights that Lakers dominance. They had 14 blocks, tying the all-time franchise playoff record. Gasol (six blocks) and Andrew Bynum (seven) had personal playoff highs.
Gasol had 25 points and eight rebounds, Garnett only six points and four rebounds.
Yet the outcome was much different, with Boston winning 103-94.
To read the entire column, click here
4. Daily Dime Live Recap
ESPN.com writers and TrueHoop Network bloggers chatted with fans and gave their in-game opinions throughout Sunday's game -- all in Daily Dime Live.
---
By Maurice Brooks
ESPN.com
SUNDAY'S BEST

Allen

Ray Allen, Celtics
I was leaning toward putting Rajon Rondo here after he had a triple-double of 19 points, 12 rebounds and 10 assists, but anytime you set a Finals record by making eight triples in a game (11 attempts), this spot is reserved for you.

SUNDAY'S WORST

Artest

Ron Artest, Lakers
He gets big-time props for his defense on Paul Pierce, but his offensive performance hurt the Lakers. He went 1-for-10 from the field, missing 5-of-6 from deep, before fouling out.

QUOTE OF THE NIGHT

"Maybe I shouldn't play defense."

-- Lakers foward Lamar Odom, who has been limited in the first two games of the series because of foul trouble
7.

Pointed In The Right Direction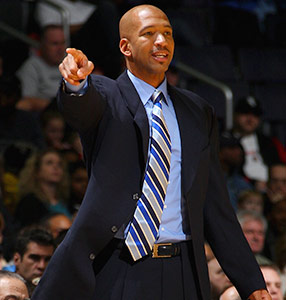 Christian Petersen/NBAE/Getty Images
Monty Williams has agreed in principle to become the head coach of the New Orleans Hornets. Williams, who was an assistant with the Blazers, takes over a Hornets team that finished last season with a record of 37-45.
8.

Quick Thinking By Rivers
By John Hollinger
ESPN.com
LOS ANGELES -- It was one second out of a 48-minute game, but it might have been the most important second of the Celtics' season thus far. Leading the Lakers 95-90 with 1:25 to go, the Celtics were trapped in their own backcourt and called timeout with just 17 seconds left on the shot clock -- meaning they had less than a second to get the ball into the frontcourt before committing an eight-second violation.
The only reason that second still remained is because Doc Rivers made his most athletic move since his playing days ended in 1996, lunging across the 3-point line to get the officials' attention while calling a timeout.
"I'm glad they saw me," said Rivers. "I don't think they had a choice but to see me. I was past them."
"It's like he was shot out of a starter's block," said Lakers coach Phil Jackson, who pointed out that it was technically illegal since Rivers left the coaching box -- one of several comments that are likely to leave Jackson's wallet $25,000 lighter once the league office hears them.
Rivers' race to call timeout may have inadvertently helped the team in another way, however. The players were so amused by his charge onto the court that it added a moment of levity to loosen them up in a tight game.
"As big as that little moment was," said Rivers, "I thought the bigger moment was all the players were laughing at me and it allowed them to breathe a little bit."
"He claimed that he's in shape," said Ray Allen, "and we told him he looked like he wasn't in shape. You [reporters] have to give him a hard time about that."
Out of that timeout, the Celtics' and Lakers' execution were polar opposites. Boston had Rajon Rondo inbounding the ball near the Lakers' 3-point line, with everyone else on the other side of midcourt. Using a screen from Kevin Garnett, Allen popped up to the midcourt line at the far side while his teammates were opposite.
"I screened Kevin's man," said Allen, "and when he flashed to the ball they tried to switch. Then I came up."
Rondo hit him with a baseball pass, Allen tiptoed the line and the Lakers, instead of retreating and playing sound defense, sent two players at Allen. When Allen flipped the ball over both of them to Garnett near the foul line, suddenly what had become a precarious situation morphed into a 2-on-1 for the Celtics. Garnett flipped the ball to Kendrick Perkins for a reverse layup, the Celtics were up by seven with barely a minute left, and from there it was academic.
"The execution out of that was terrific," said Rivers. "We spread the floor and we told the guys, move, they'll double, and if we keep moving we may find a layup, and we got one."
"We were scrambling like it was the last possession of the game," said Pau Gasol. "They got the ball on the court, now we've just got to play them and stop them and don't lose our poise. They got an easy score and that was a little bit deflating."
Interestingly, the Celtics opted not to take the easy way out. They could have called a second timeout and advanced the ball to the frontcourt, eliminating the need to throw a half-length of the court pass to avoid the eight-second call.
But with only a full and a 20 left and so much time remaining on the clock, the Celtics opted for Plan A and saved the timeout for Plan B.
"We were going to count to four," said Doc Rivers, "and if Rondo didn't think he could get it in, we were going to call timeout and advance the ball. But I wanted to see if we could it get it in first so I could save the timeout. I thought we might need it."
Thanks to that basket, it turns out they didn't need the timeout. The Celtics were home free with a 103-94 win and heading home with the series tied, thanks in large part to that one crucial second.
9.

Hot Shooter Or Just Good?

Was Ray Allen's performance in the first half of Game 2 evidence that a player can get hot?
Even though it's entirely celebrated as a reality of hoops at all levels, serious research has cast doubt on the very existence of "the hot hand."
Does Ray Allen's hitting seven straight 3-pointers blow all that research to smithereens?
Allen has shot close to 7,000 3s in his career, and has made about 40 percent of them. (Going into the game, he was 2,685-of-6,768, regular season and playoffs combined.)
Given that -- how lucky is seven in a row? Is this a case of a guy who has something special and strange and almost religious going on? Is the zone holy ground?
To read the entire column, click here