4.

NBA Finals Schedule: June 10


Game 4: Lakers at Celtics,
live on ABC at 9 p.m. ET
Preview | Series | City Brawl
More live coverage: Bill Simmons Live
• Tuesday's Celtics-Lakers game is also available on ESPN Radio and ESPNRadio.com.
6.

No Bulletin-Board Material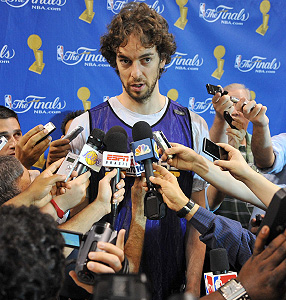 David Dow/NBAE/Getty Images
Pau Gasol had nothing but good things to say about Kevin Garnett after Game 3. "He was aggressive, effective, made some tough shots. I have to try to do a better job on him. I have to play him tougher and see if he can put up another good game."
7.

Is The Lakers' Fisher Flopping?
By Dave McMenamin
ESPN Los Angeles

Fisher
BOSTON -- Count Celtics coach Doc Rivers as one person who won't be marching in the Derek Fisher appreciation parade that commenced Tuesday after the 14-year veteran scored 11 of his 16 points in the fourth quarter to lead the Lakers to a 91-84 Game 3 victory in the Finals.
When asked how Fisher was able to be so successful drawing fouls while being screened, Rivers replied: "What? Besides flopping? He doesn't do a lot extra."
To read the entire column, click here
8.

Must-Win Situation For Celtics
By Chris Sheridan
ESPN.com

BOSTON -- Drop by drop, ever so slowly, blood dripped down from Tony Allen's fat upper lip -- so fat it looked like he'd had an acorn surgically implanted right smack in the middle of it.
The wound was the result of an elbow to the mouth that the Celtics guard had taken from someone -- he wasn't sure who, but he suspected the offending sharp appendage belonged to teammate Kevin Garnett.
Standing in front of his locker in the wee hours of Wednesday morning, some 30-40 minutes after the Boston Celtics had dropped a 91-84 decision to the Los Angeles Lakers in Game 3 of the NBA Finals, Allen was the bloodied but unbowed face of defiance for Boston on a night of squandered opportunity.
To read the entire column, click here
9.

Will Allen Bounce Back?

Allen
Kenny Smith (in the course of -- no joke -- promoting two-dollar bills) remembers how it is that he came to follow up his memorable Game 1 with something forgettable: "I couldn't get in the game!" Smith was splitting time with then-youngster Sam Cassell, and once Cassell got rolling in Game 2, Smith was something of an afterthought.
And as for Allen, Smith says he thought the Celtics guard "became very conscious of the defenders. He had been unconscious. But they invaded his space, he passed up a couple of shots, and then he was playing double Dutch, trying to jump back into the game."
To read the blog entry, click here