1. Rivers Sticks With Bench To Tie Finals
By Chris Sheridan
ESPN.com
BOSTON -- Three of his starters were all kneeling there at the scorer's table with just over four minutes left, their cheering duties apparently finished for the night as Doc Rivers prepared to put Rajon Rondo, Paul Pierce and Kevin Garnett back into the game.
And then ...
Like a master waving to a well-trained pet, or like Joey Crawford waving in a sub, Rivers yelled to the three and motioned with his arm cocked at the elbow: Get back here!
The debate over whether it was a gutsy move or a brainy move would come later, but it was an instinctual move that demonstrated how much faith the coach of the Boston Celtics had in the reserves who were getting the job done.
Those bench players, Glen Davis, Nate Robinson, Tony Allen and Rasheed Wallace, had scored on every single one of Boston's first nine possessions of the fourth quarter, and Rivers had just made a snap decision that he was going to ride them some more.
"Hell, Rondo and all of them were begging me to keep guys in. 'Don't take them out. Don't take them out,'" was what Rivers recalled hearing from the fellows wearing their warm-ups. "It was great. That was the loudest I've seen our bench, and it was our starters cheering from the bench. I thought it was terrific."
I thought it more than that, a brazen bold move from a coach who had enough belief in his gut to override what his brain had to have been telling him to do.
Think about it: The Celtics, who were ahead 83-74 at the time, were far from finishing off the Lakers on a night when Kobe Bryant was feeling it more than he had in any of the previous three games, and it would have been the most second-guessed hand gesture in Celtics lore had it failed.
But Rivers left his exhausted reserves out there for an extra minute and a half against the Lakers' exhausted starters, and Boston was not seriously threatened the rest of the way in a 96-89 victory Thursday night that evened the NBA Finals at two games apiece.
"Yeah, I took them out of there, told them to sit down. It was a scoring matter for me. All I was doing was looking at the score and if it became a two-possession game -- so six points was my number," Rivers explained. "So we waited and waited, and then once they got it to seven [actually it was six], we got Paul in and he made a big shot for us. That's what that was about."
Garnett, Pierce and Rondo did not return until 2:51 remained, and the shot Rivers referenced was a step-back 12-footer by Pierce with 2:18 left that put Boston ahead 87-79. Pierce also hit what was more or less the clincher, a layup with 1:18 remaining, and the Celtics thereby ensured that this series will be going back to Los Angeles with one of these teams playing for the title next Tuesday night.
The question now: Will that 3-2 edge belong to the Celtics, whose 36-18 edge in bench scoring showed just how much of a depth advantage they possess? Or will it be the Lakers, who are now basically down to five healthy players that coach Phil Jackson fully trusts.
Jackson got only 12 minutes of playing time out of the sore-kneed Andrew Bynum, and it was Bynum's absence down deep that allowed Glen "Big Baby" Davis to be so effective during a span of 6 minutes, 55 seconds in which the Celtics went from a two-point deficit to an 11-point lead.
Davis usually mixes up his offensive game, some rough-and-tumble stuff on the inside combined with a decent shooting touch from 15 feet out, but Davis scored all three of his fourth-quarter buckets from underneath and went 3-for-3 from the line for his nine fourth-quarter points.
Nate Robinson scored six points in the fourth and Rasheed Wallace and Tony Allen each scored three, adding up to a 21-6 edge in final-period bench points (and those six Lakers points came from Lamar Odom, who will basically have to play starter's minutes the rest of the series).
"What I liked the most about it was for the most part it was against their starters, and that's what was impressive about it," Rivers said.
This was not the first time that Rivers rode his bench players longer than most other coaches would (the Celtics' final victory of last season pops to mind, when Stephon Marbury came to the rescue in Game 5 of the second round against Orlando), but it still was truly an extraordinary leap of faith with the stakes as high as they were on this rainy, chilly night when a palpable air of tension hung in the building.
"Did Doc coach with his guts or his brains? Well, first of all I think Doc is the best coach in the world, but I don't know about coaching-type stuff," said Tony Allen, who hastened Rivers' decision to put those starters back in when he launched an ill-advised 3-point attempt off an offensive rebound with just over three minutes remaining. "That ain't left up to me. I just know about playing. So to answer your question, I would have to say he was thinking with his brain."
That would be the same coaching brain that came up with the "No technical fouls in the fourth quarter" rule, something that Rivers joked was "blown out of the water" on Thursday when both Wallace and Robinson were hit with fourth-quarter techs. Wallace got his for being too demonstrative after he was whistled for a clearly legitimate foul, putting him (like Kendrick Perkins) within one technical of drawing an automatic one-game suspension.
Robinson's tech was for popping up after he was fouled, turning and yapping in the face of Lamar Odom -- the type of brain cramp moment that happened so often and drove the New York Knicks so nuts that they decided back in February they had no more use for Robinson.
"Unfortunately, it's probably our most emotional group when you have Nate, Tony and Rasheed on the floor at the same time, so the techs happen. That's the only thing we didn't like," Rivers said. "But other than that our energy was absolutely terrific."
Yes it was, and it came from a place where the Lakers only wish they could summon the same strength.
Because if there comes a time in this series when the Lakers' starters are cheering on the reserves and begging not to go back into the game, it'll be garbage time in a game in which time is ticking down and Los Angeles will already have the title sewn up.
But the Lakers are still two victories away from such a thing, as are the Celtics.
The question now is whether the superior depth that Boston clearly possesses -- and which Rivers rode so hard -- will be the X factor that puts the Celtics within one victory of banner No. 18 when this series heads back to California after Game 5 Sunday night.
Chris Sheridan is a regular contributor to the Daily Dime.
Dimes past: May 19 | 23 | 24 | 25 | 26 | 27 | 28 | 29 | June 3 | 5 | 6 | 7 | 8 | 9 | 10
2. Lakers Struggle Without Bynum In The Middle
By J.A. Adande
ESPN.com

Bynum
BOSTON -- With Andrew Bynum limited to only 12 minutes of action in Game 4 because of his increasingly problematic right knee, the Lakers immediately became a smaller team. But they never responded with what should have been the corresponding adjectives: hungrier and scrappier.
Those were the attributes that applied to the Celtics, not the Lakers.
As Kobe Bryant said, "They got all the energy points, the hustle points, the second-chance points ... " Or as they're known in these parts, "Tommy points" thanks to a certain gravelly voiced announcer.
" ... points in the paint, beat us to the loose balls," Bryant continued. "I mean, that's how the game turned around."
To read the entire column, click here
3. Boston's Style Of Play Earns Game 4 Win
By John Hollinger
ESPN.com

Wallace
BOSTON -- Kevin Garnett clapped his hands and barked and screamed at Lamar Odom ... while defending him off the dribble. Nate Robinson hollered in Odom's face after a hard foul. Glen Davis showboated after baskets, making faces previously seen only on Maori warriors dancing the Haka and spewing enough drool to warp the court.
It wasn't always pretty, but it was as raw a display of emotion as you'll see on a basketball court, by a club that was in desperation mode heading into Game 4. Boston rode that emotional wave in front of a raucous home crowd to beat the Lakers 96-89, evening the Finals at two games apiece.
To read the entire column, click here
4. Daily Dime Live Recap
ESPN.com writers and TrueHoop Network bloggers chatted with fans and gave their in-game opinions throughout Thursday's game -- all in Daily Dime Live.
By Maurice Brooks
ESPN.com
THURSDAY'S BEST

Davis

Glen Davis, Celtics
The Celtics had a 36-18 advantage in bench scoring thanks to Davis, who dropped in 18 points on 7-for-10 shooting from the field in just 22 minutes of action. He also grabbed four offensive rebounds.

THURSDAY'S WORST

Brown

Shannon Brown, Lakers
Brown and the rest of the L.A. bench got completely outplayed. The Lakers were minus-9 with Brown, who went 2-for-5 from the floor for five points, in the game.

QUOTE OF THE NIGHT

"We're like Shrek and Donkey. You can't separate us."

-- Celtics guard Nate Robinson on his relationship with teammate Glen Davis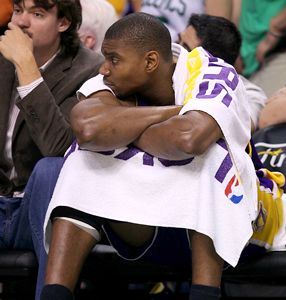 Elsa/NBAE/Getty Images
Lakers center Andrew Bynum was limited to 12 minutes -- all in the first half -- while struggling with a knee injury. The big man finished with just two points and three rebounds.
8.

Pierce Comes Through In Clutch

Pierce
Welcome back, Paul. The Celtics are glad you're back. Oh, and by the way, you are going back to Los Angeles. That's a good thing, right?
Paul Pierce, the Celtics' captain, ruffled a few L.A. boas with his boast after Game 2 that the Celtics would not be coming back to the Staples Center, the clear inference being that Boston would sweep Games 3-5 at home and win the NBA championship in five games.
Oh well.
Entering the fourth quarter in Game 4, it did look as though the Celtics actually might not get back to Los Angeles, as they trailed 62-60 after having dropped Game 3.
Staring a 3-1 deficit in the eyes, the Celtics' bench rescued the team. And when the starters did come in to finish the job in the final three minutes, they turned to a familiar fellow, No. 34. He delivered.
With the Celtics holding a 95-89 lead, Pierce coolly drained an 11-foot, second-chance step-backer. Then, following the obligatory Kobe Bryant hoop, Pierce drove for a layup, drew a foul on Bryant, and pretty much settled things with his three-point play with 77 seconds left, giving Boston an insurmountable 90-81 lead.
The series is tied, 2-2, after Boston's 96-89 victory. And for the first time in three games, Pierce can lay claim to having played a major role in the outcome. (Unless, of course, he also played a major role in Game 3 by not playing due to foul trouble.) This was the same Paul Pierce who, his coach claimed, was taken out of Game 3 by the referees and not allowed to play.
Not so in Game 4. Pierce finished with a team-high 19 points on a Prius-like economical and efficient shooting night (7-of-12, after being 13-of-36 in the first three games). He had six rebounds, a team-high five assists and got the Celtics going both early and late. This performance came after his underwhelming submission from Game 2 (2-of-11) and his foul-plagued, quasi-effort in Game 3.
To read the entire column, click here
9.

Celtics Stick To The Script

The Celtics won Game 4 of the NBA Finals without a player scoring 20 points -- Paul Pierce led the team with 19. Over the past 25 years only three other teams have won an NBA Finals game without a 20-point scorer: the Spurs against the Cavaliers in 2007 (Game 3), the Pistons against the Spurs in 2005 (Game 4) and the Knicks against the Rockets in 1994 (Game 2).
But that's been the Celtics' style over the last few seasons: Over the last three regular seasons Boston has won 30 games in which its leading scorer had fewer than 20 points, the highest total for any team in the league.
The Lakers lost on Thursday after having a two-point lead in the fourth quarter. It's only the second time that a team with Phil Jackson as head coach has lost twice after leading in the fourth quarter in one NBA Finals. Chicago lost two games in which it had a fourth-quarter lead against Portland in 1992.