By Brian Kamenetzky
ESPNLosAngeles.com

Bynum
In making my Finals prediction in 2008 I focused too much on momentum and L.A.'s seemingly overwhelming offensive machine, but three games into the series it became clear the Lakers had a problem on their hands. The matchups didn't set up well.
Three games into this year's Finals, I thought the opposite. This time around, the matchups favored the purple and gold, thanks to the presence of Ron Artest and Andrew Bynum, an improved Pau Gasol, and a Celtics squad not quite as potent as it was in 2008. As it was then, Boston was certainly capable of winning, but it would have to do so from a position of disadvantage. The Celtics had to work so much harder to generate the same output as the Lakers.
But as was the case in 2008, neither team this year is so much better than the other that a shift in circumstances, intense swelling of a certain 7-footer's right knee for example, couldn't turn everything on its head.
Should Bynum's knee limit his presence over the remaining games, the Lakers will certainly feel the pain. It's not necessarily a question of losing his statistical output (though that doesn't help) but just as it was in Game 2, when Lamar Odom may as well have been in street clothes thanks to persistent foul trouble, Bynum's absence has a ripple effect, about as unpleasant for Lakers fans as your average Ashton Kutcher movie exploring similar topics.
To read the entire blog post, click here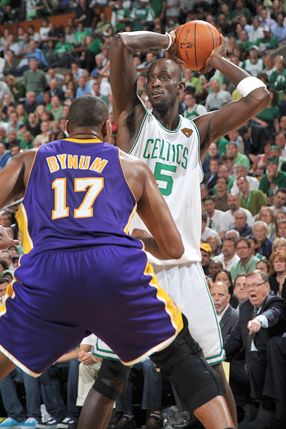 Brian Babineau/NBAE via Getty Images
Kevin Garnett and the Celtics did not have Andrew Bynum in their path as much in Game 4. L.A. hopes Bynum's knee-draining procedure Friday will help him be strong for Game 5.

T. Allen
Tony Allen has done a great job slowing Kobe Bryant, particularly with defense against Bryant off the ball. Allen has limited Bryant's touches, and when Bryant has gotten shots off, Allen has gotten a hand in his face, contesting all 19 shots attempted against him. Bryant is 5-of-19 from the field against Allen in the series.
Kobe Bryant By Primary Defender, NBA Finals
| Category | v. T Allen | vs Others |
| --- | --- | --- |
| Possessions | 73 | 234 |
| Pct poss. w/ touch | 79.5 | 88.0 |
| Points | 20 | 93 |

Sheridan
ESPN.com's Chris Sheridan talks NBA Finals with 1050ESPN New York's Bill Daughtry and the great Game 5 swing games of recent NBA Finals. The momentum has swung Boston's way with Andrew Bynum's knee problems, and Sheridan proposes seldom-used Laker D.J. Mbenga stepping in.
Listen to the podcast

Jeff Van Gundy reacts to Game 4 of the NBA Finals, talks about watching Glen Davis go crazy on Thursday night and explains why the Lakers need to get something out of Andrew Bynum in order to win the title.
Listen to the podcast