1. Artest Has Chance To Change His Status
LOS ANGELES -- This time, there was an embellishment to Phil Jackson's traditional victory countdown to the championship. After the Lakers' 89-67 victory over the Celtics to force the NBA Finals to Game 7, Jackson added an artistic flourish on the dry-erase board in the Lakers' locker room, scribbling "1 to" followed by a drawing of a ring.
This must have had an added meaning for Ron Artest. He's the only person in the Lakers' locker room without a championship ring. He's the only empty-handed player among the top seven players on both Finals teams, for that matter. So perhaps Jackson felt the need to illustrate for Artest's sake.
After all, "We tried to simplify some things for him tonight," Jackson said.
He was talking about the Lakers' offense, but now the entire premise is as basic as it gets. One game left in the season, and the team that wins will hoist a banner and hand out rings in the first home game next season.
"We're the last two teams left in a Game 7," Artest said. "It's amazing."
It's the first seventh game in the NBA Finals since the San Antonio Spurs beat the Detroit Pistons in 2005.
"Really?" Artest said. "Seven? The Pistons? To Game 7? That was probably pretty intense.
"Was it in San Antonio?"
Yes, just as this Game 7 will be in Los Angeles. The home team has won 13 of the previous 16 Game 7s, including the four most recent ones. That bodes well for the Lakers, given that the return to Staples Center after a week in Boston brought back an effort more reminiscent of their Finals-opening victory than of their losses in Games 4 and 5 that pushed them to a series deficit for the first time in these playoffs.
"If somebody's breaking into your house and trying to hurt your family, you've got to switch your mindset, right?" said Lamar Odom, who grabbed 10 rebounds to go with his eight points.
The Lakers dominated the glass, outrebounding the Celtics 52-39, and took the suspense out of this game by halftime. They held the Celtics to their lowest point total in Boston's extensive NBA Finals history. They survived more swelling in Andrew Bynum's knee that forced yet another second-half shutdown, but that's a mild problem compared with Boston center Kendrick Perkins' apparently severe right knee sprain that jeopardized his availability for Game 7.
Shannon Brown's high-flying dunks wowed the crowd; Jordan Farmar's ground-level dives won the game. Not literally, as in a 1987-Finals-James-Worthy-tide-turning-play kind of way, but they were indicative of how the Lakers outhustled the Celtics in Game 6.
"I have a couple floor burns, I have a blister on my hand, I've got a few pains," Farmar said. "That's how it's supposed to feel in an NBA Finals game."
And those are the stats that matter just as much as Kobe Bryant's 26 points and 11 rebounds or Pau Gasol's approaching the Lakers' first playoff triple-double since 1991 with 17 points, 13 rebounds and 9 assists.
And there was Artest, with 15 points and six assists.
He helped the Lakers get off to their good start by hitting his first shot, a 3-pointer. In one stretch, he attempted shots on four consecutive Lakers possessions, apparently with the blessing of his coaches.
Jackson said they tweaked the offense to give Artest "some stuff just to give him some confidence that he could have a shot and be comfortable taking one, and didn't always have to come out of the offense with a read and he had to do things."
In other words, clear it for him, let him get it and go.
"They called a play for me," Artest said. "I was ready, but I was a little bit surprised. I was like, 'Cool, I've got some plays.' It was pretty cool. I had an [isolation]. It'd been a long time since I had a play."
He looked like a kid who had just been handed a wrapped toy. It was a far cry from his countenance after Game 5, when he missed two critical free throws in the final minute and his defensive assignment, Paul Pierce, went for 27 points. If you've ever come home to find your dog has chewed up a piece of furniture and proceeded to scold him, you've seen the look on Artest's face after Game 5. He knew he had done something wrong, he just wasn't sure what it was.
It prompted the latest round of "Why did they let Trevor Ariza go and sign this guy?" complaints from Lakers fans. And it put Artest on the spot, as if the one guy who didn't have a ring would be the main reason this team didn't get one.
Artest didn't blame himself.
"Even when I don't score the ball well, I play hard, I'm banging, doing some things that guys that are not physical are not doing," he said. "I think that's a real important part of the game. People don't see that part of the game. I'm always feeling good about myself, regardless of what the stats say."
Give Jackson credit for finding a way to keep Artest connected and eliciting a bounce-back from him in Game 6. Whenever doubts about Jackson's value creep in, he comes up with little touches such as this. How many others could count on Artest to bring a team to the brink of a championship?
It was also a bounce-back game for Odom, who was much more assertive and had 10 rebounds and nine assists. He's defensive when it comes to Artest, his longtime buddy from Queens, because he feels partly responsible for this situation.
"I told Ron to come here for this, to be able to play on this stage, because he deserves it," Odom said. "It's too bad that sometimes we have times in our lives where we just get remembered for one thing. Ron is a heck of a person and a hell of a basketball player. He's loyal as hell. I told him that he deserves, the work that he put in, what he had to persevere through, he deserves to play basketball at this level, on this stage."
Odom was hinting at the infamous brawl in the Palace of Auburn Hills in 2004, although that's something that hasn't even been part of the Artest discussion lately, as well as he has behaved as a Laker. Now he's on the brink of giving us another way to define him.
Of all the principals involved in this storyline, he's the only person whose status changes completely. The rest of them are already in the club, it's simply a matter of determining which color wristband (and the corresponding access) they get.
Artest is on the outside. But as the Lakers showed in these past two games, even the place we accord Bryant and Jackson, two men who walk among the greatest names in the game's history, will be determined by the performance of the Artests and Farmars.
"I don't make history," Artest said, insisting that's the duty of the media and the fans. "It's not something that I need to worry about. Unless Twitter starts making history. Then I can use my Twitter."
J.A. Adande is a regular contributor to the Daily Dime.
Dimes past: May 26 | 27 | 28 | 29 | June 3 | 5 | 6 | 7 | 8 | 9 | 10 | 11 | 12 | 13 | 14
2. Who Replaces Perkins For Celtics?
By Chris Sheridan
ESPN.com

Perkins
LOS ANGELES -- The official word on Kendrick Perkins came from Doc Rivers, who said it "doesn't look great" for the Celtics to have their starting center available for Game 7.
The unofficial word came from a well-placed Celtics mole, someone in the know who was a heckuva lot more definitive: "He's done."
On a night when Bill Russell walked out in disgust early in the fourth quarter, unable to watch his old team take such a brutal beating, another important big man in green was a goner much, much earlier.
Perkins' knee buckled as Andrew Bynum came over his back going for a rebound midway through the first quarter, and the NBA Finals suddenly took a sharp turn for the worse for the Boston Celtics in an 89-67 loss Tuesday to the Los Angeles Lakers that forced a Game 7 on Thursday night.
"We'll see what's up tomorrow," Perkins said as he hobbled to the team bus, acknowledging that he felt and heard a pop in his knee when it buckled under the weight of Bynum's 285 pounds.
Officially, the injury was deemed a sprain. Further word on the exact extent of the damage will come Wednesday after Perkins likely undergoes an MRI, but a clue to the severity became apparent to the Celtics players when they arrived in their locker room at halftime, trailing by 20, and saw that Perkins had been escorted to a back room in a vain attempt by the Celtics' staff to keep him and his injury from being the type of downer that would affect the team in the second half.
As it turned out, the Celtics were already so down -- from both a basketball and an emotional standpoint, having been outrebounded by an astounding 30-13 in the first half -- that there would never even be a hint of a comeback in the final 24 minutes.
"You know, we've done that this year, we've lost games," Rivers said. "We've been blown out in some of those games, and if you do that against a team like the Lakers who are ready to play, and play desperate, you're going to lose."
To read the entire column, click here
3. Past Celtics-Lakers Game 7 Results
By ESPN Research
Celtics-Lakers NBA Finals Game 7s All Time
| Year | Site | Result |
| --- | --- | --- |
| 1984 | at Boston | Celtics, 111-102 |
| 1969 | at Los Angeles | Celtics, 108-106 |
| 1966 | at Boston | Celtics, 95-93 |
| 1962 | at Boston | Celtics, 110-107 |
4. Daily Dime Live Recap
ESPN.com writers and TrueHoop Network bloggers chatted with fans and gave their in-game opinions throughout Tuesday's game -- all in Daily Dime Live.
By Maurice Brooks
ESPN.com
TUESDAY'S BEST

Bryant

Kobe Bryant, Lakers
He set the tone early, scoring 11 points as the Lakers jumped out to a double-digit lead in the first quarter and never looked back. Bryant finished with 26 points and 11 rebounds.

TUESDAY'S WORST

Wallace

Rasheed Wallace, Celtics
His performance sums up the night for the Celtics. The big man missed all seven of his attempts from the floor, including going 0-for-6 on 3-pointers, and finished scoreless.

QUOTE OF THE NIGHT

"That was one of the key factors, 100 percent true. That was not the only factor. Was it a big factor? Sure."

-- Tom Izzo pointing out that the fact he was unable to talk to LeBron James played a part in his decision to stay at Michigan State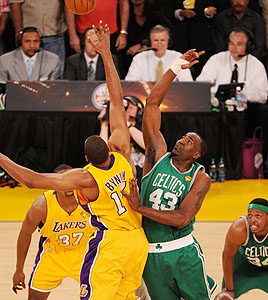 Jon Soohoo/NBAE/Getty Images
Celtics center Kendrick Perkins left the game in the first quarter with a sprained right knee, and Lakers center Andrew Bynum asked to be taken out after feeling tightness in his leg.
8.

Lakers' Bench Provides Support
By John Hollinger
ESPN.com

Farmar
LOS ANGELES -- It was just one play in a 22-point blowout, so let's not get carried away about its significance. Nonetheless, it symbolized the two meta-trends that enabled the Lakers' 89-67 waxing of Boston in Game 6, and in that sense it was a defining moment.
The play came when Jordan Farmar dove past the Celtics' Rajon Rondo to come up with a loose ball after the Lakers deflected a Rondo pass into the backcourt. From a prone position near the 3-point line, Farmar skidded the rock along the floor to Kobe Bryant, who drove the lane and drew a shooting foul. The two free throws began an 11-2 run that put L.A. up by 20 midway through the second quarter, and from there the rout was on.
The symbolism? First, Farmar's hustle play was the most glaring example of the superior, backs-against-the-wall effort exhibited by L.A. throughout Game 6. Between the urgency of facing elimination, the spirit of a raucous home crowd and, perhaps, fresher legs from sleeping in their own beds after a cross-country flight, the Lakers were quicker to every loose ball, rebound and rotation.
Second, Farmar's excellence was emblematic of the total domination by L.A.'s bench over Boston's. The Celtics' reserves had made a surprisingly strong impact on the series in the first five games, but L.A.'s subs did little of note in the three games in Beantown.
That all completely changed Tuesday. Through three quarters, the Lakers' reserves had outscored Boston's 24-0; the C's subs closed the gap in the fourth to 25-13, but by that time their team was down by 25 points.
"I just thought the Lakers played harder," Celtics coach Doc Rivers said. "Their bench gave unbelievable energy."
As for the play, Farmar said he had no choice.
"The ball was on the floor," Farmar said. "It's the NBA Finals in an all-or-nothing situation, so you've got to get to it. I saw Kobe out the corner of my eye, so I dove and got it over to him."
The bench differential was a reversal from Game 4 in particular, when Boston's Glen Davis and Nate Robinson dominated the second half. Farmar's play provided a coincidental reminder. In that contest, Farmar went to the floor for a loose ball, but his attempt to get it to a teammate ended instead with the now-famous basket-and-foul by Davis that unleashed a torrent of slobber on an unsuspecting TV audience.
Farmar's dive kicked off the Lakers' run, but he wasn't done. He finished off a breakaway with a dunk on Kevin Garnett at the end of the run that had him giddy enough to talk trash to the Celtics' vocal Vesuvius, and he added a driving layup in that stretch.
"I was just into the game," Farmar said. "That's when I'm at my best, not thinking, just letting it all hang out."
He wasn't alone, either; L.A.'s other reserves stepped up, too. Shannon Brown returned to service after playing only 19 seconds in Game 5, adding back-to-back dunks in the third quarter. The first was a spectacular alley-oop slam off a lob from Pau Gasol -- one he compared to his soaring slam in Game 5 of the conference finals against Denver a year ago. Although that earlier one changed the entire momentum of the series, this one was more of an exclamation point that put the Lakers up by 20 midway through the third quarter.
"Today, my number was called and I tried to make the most of my minutes," Brown said. "I had a lot of pent-up energy."
Sasha Vujacic added a strong contribution, as well, rediscovering his shooting stroke to score eight points, including two 3-pointers, and, like his cohorts, contributed to the energetic D that helped hold Boston to just 67 points.
And Lamar Odom, who got most of the votes for "LVP" in our informal writers' poll before Game 6, contributed eight points and 10 boards while playing 28 minutes in place of an ailing Andrew Bynum.
In an elimination game, the timing couldn't possibly have been better. The bench ably navigated the fine line of bringing energy without getting too pumped up.
"Historically, benches are much more comfortable on their home floor," said Lakers coach Phil Jackson (though not his bench players, based on their season splits). "But the energy and the direction they had was what I was pleased with. I felt they were directed and they had an idea what they wanted to get accomplished out there on the floor. That was important."
"We didn't get out of our character," Brown said. "We stayed within ourselves and just turned it up a couple notches."
It seemed as though they pulled a Spinal Tap, in fact, and turned it up to 11 -- too high for the Celtics to match a day after a cross-country flight.
As a result, we're down to a rubber match on Thursday for the championship. And if L.A.'s reserves provide anywhere near the impact they did in Game 6, it should put the Lakers a long way toward claiming a second consecutive championship.
9.

Celtics Fail To Clinch

The Celtics blew a chance to win the NBA title with a 22-point loss to the Lakers in Game 6 of the NBA Finals on Tuesday night. That ties the fourth-largest margin of defeat for a team that was one win from winning the NBA championship. The record for the largest margin of defeat in that situation is 35 by Seattle against Washington in 1978, followed by 33-point losses by the Lakers against Philadelphia in 1982 and against Indiana in 2000. The Knicks also lost by 22 points to the Lakers in a game in which they had a chance to wrap up the 1970 Finals. The good news for the Celtics -- three of those teams went on to win the title anyway (Seattle was the only team that didn't).