1. Washington's New Vocal Leader
By Kyle Weidie
TrueHoop Network
It started from the second the ball was thrown in the air. Actually, those familiar with John Wall's leadership and communication know it started much before that, even before he was the freshman leader of a talented Kentucky team. Wall is a natural-born leader.
He wasn't just vocal on both ends of the floor in his summer league debut, an 84-79 Wizards win over the Warriors; he was loud. If his teammates don't hear his instruction, it's not his fault. They aren't paying attention. And he doesn't only use his vocal cords; pointing to talk is just as much a part of Wall's game as that extra gear he has over all others on the court.
Want more talking and leadership? When out of the game, Wall placed himself toward the front of the bench, talking with assistant coach Ryan Saunders, talking to his teammates, yelling out instructions toward the floor. Over the course of the game, you're looking at 30 minutes if you total the amount of time Wall spent talking with Sam Cassell, who is heading the summer league coaching staff for the Wizards. OK, that might be an exaggeration, but you get the point, Sam I Am is always in Wall's ear, and Wall is always listening.
"Just listening to him is going to be a great experience because he's been in this league a long time and he's a vet," Wall said after the game.
And Wizards fans, if you're looking for a points leader to keep the uber-talented yet in need of direction JaVale McGee in check, Wall is your man. Late in the game, when Frenchman Kim Tillie outpositioned McGee for an offensive rebound, Wall got on his older (by about two years and seven months) teammate to not lose focus on the defensive boards, an area Flip Saunders has been preaching at McGee to improve upon.
"It's not me trying to be bossy and say I'm bigger than anybody," Wall said. "It's just the point guard and my role to tell [my teammates] where to be and help my team get the best chance to win."
Wall reinforced the need for McGee to get tough on the glass a second time as the players lined up for Tillie to shoot a free throw. But he also rewarded McGee multiple times, connecting with him for alley-oop after alley-oop. That combo needs a nickname, fast -- "SportsCenter" just might get tired of showing them (but likely not).
"He's a leader," Cassell said. "That's what we're searching for, leadership, and he's our guy."
A lot of Wizards fans are smiling right now because Wall is "their" guy too.
Kyle Weidie is a regular contributor to the Daily Dime.
2. Thoughts On John Wall's Pro Debut
By Kevin Arnovitz
ESPN.com
John Wall's professional debut began with a little throat-clearing, but once the Washington Wizards point guard got into the flow of the game, he commandeered the court. We asked some of those in attendance for their impressions of Wall's 24-point, 8-assist, 8-turnover performance:
Daniele Baiesi, former general manager Angelico Biella
When he picks up speed on the floor, he's unstoppable. He's a freak of nature for being 19 years old. Today there were a lot of expectations. The gym was packed, so everyone wanted to see the show. Whatever you see on the floor today won't be the exact truth. But whenever you see the kind of leadership skills he showed in his college year, you can expect him to lead an NBA franchise with no problem. He makes his teammates better because he puts them into a rhythm. He's a completely different kind of player. He also makes a huge defensive impact with his wingspan and athleticism.
David Blatt, Maccabi Tel Aviv and Russian national team head coach
Any player coming from college is going to have an adjustment period. Guys as talented as him will go through a shorter learning curve, even at his young age. I thought he did a pretty good job out here tonight, better than some of the first picks I've seen in the past. His future is very, very bright. For me as a coach, I like that he plays with his head up. He has a calm about him. He doesn't rush things. He makes mistakes but he doesn't allow the last play to bother the next play. I think that's very important, particularly for a player at his position. He has star quality. I think he's going to be a top-level player. It might take him longer than people think, but his talent is obvious.
Rick Carlisle, Dallas Mavericks head coach
He has fantastic ability and tremendous upside. He's a different version of Derrick Rose, a little different kind of player, a little different body type and a little different style of play. They both have a great ability to defend. As they learn more, they'll both get better and better. Wall is a little longer athletically and maybe a little more of a scorer.
DeMar DeRozan, Toronto Raptors swingman
On the fast break, he's very effective. You see his speed, but you also see how strong he is. Once he gets more comfortable running an NBA team, I think he's going to be good. On defense, we haven't seen him guard anyone like Steve Nash or Chris Paul, so he's really going to get tested when the season starts.
Jimmy Goldstein, NBA superfan
It's pretty obvious he has such phenomenal speed. It's really exciting to see him dribble the ball down the court. His jump shot has a long way to go -- it's suspect at this point -- but he's such a phenomenal athlete, and I'm very excited about the prospect of watching him play.
Sam Hinkie, Houston Rockets vice president of basketball operations
So far, so good. You see the same kind of speed you saw in college. The advantage of that speed is only going to be amplified in the NBA with its spacing and his ability to get out in the open floor with even better finishers. Like any young player, there's a lot to work on, but you don't have to watch him very long to see how special he is for that position. Defensively, like most young players, he's better on the ball than off. There's no reason to believe he shouldn't be fine, and there's every reason to believe he should be very good.
To read the entire column, click here
3. Lawson Still Working On His Game
By John Krolik
TrueHoop Network
Most summer league players are either trying to prove that their skills will translate to the NBA or simply fighting for a roster spot, which makes Denver Nuggets point guard Ty Lawson somewhat of an outlier among summer league players. The North Carolina product knows he has a roster spot waiting for him on the Nuggets after his extremely promising rookie campaign, and doesn't have to prove that he can be effective against NBA players.
All the same, Lawson is back at summer league, and he has looked like a man among boys through three games. Nobody in Las Vegas can stay in front of him, and he's been able to get into the lane at will. Lawson has dominated the summer league games he's played in, and his numbers could be a lot better if he weren't so dead set on helping his teammates out. After the game, Lawson didn't apologize for his pass-first mentality, saying "I'm already on, so I'm trying to get my teammates on. Coaches are yelling at me to take the layup, but I'm trying to be unselfish."
Becoming more of an on-floor leader is one of Lawson's major Vegas goals -- the other one is working on his 3-point shot. Most players who shot 41 percent from beyond the arc as a rookie wouldn't feel the need to change their shooting stroke, but Lawson is different. He has worked with a shooting coach to raise the release point on his jump shot and extend his follow-through, and his hard work has paid dividends. He has gone 5-for-10 from beyond the arc over the course of his first summer league games, which is impressive for a player who's changing his shooting mechanics.
Lawson doesn't need to fight for a spot on the Nuggets' roster or rotation, but he's in Vegas trying to improve his game nonetheless. His summer league performance hasn't just been a display of the skills that made him one of the biggest steals of last year's draft; it's been a window into Lawson's desire to improve his game even more and make himself one of the best point guards in this league.
John Krolik is a regular contributor to the Daily Dime.
4. Wall, Cassell And Saunders After Game 1
5. Daily Dime Live Recap
ESPN.com writers and TrueHoop Network bloggers chatted with fans and gave their in-game opinions throughout Sunday's games -- all in Daily Dime Live.
---
By Maurice Brooks
ESPN.com
SUNDAY'S BEST

Wall

John Wall, Wizards: With all eyes on him, the No. 1 pick didn't disappoint against the Warriors, putting up 24 points and eight assists to lead the Wizards to a win in Las Vegas summer league play.

SUNDAY'S WORST

Pondexter

Quincy Pondexter, Hornets: In 27 minutes of action, he missed nine of 12 shots from the floor and committed seven fouls as the Hornets fell short against the Heat.

QUOTE OF THE NIGHT

"Maybe [Wall is] the best all-around point guard at both ends, both offensively and defensively."

-- Wizards coach Flip Saunders on his star rookie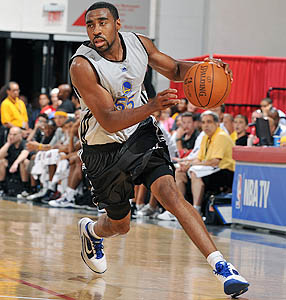 (Garrett Ellwood /NBAE/Getty)
On a day when everyone was focusing on John Wall, Golden State's Reggie Williams did his best to steal the top pick's thunder, scoring a game-high 34 points in a loss to the Wizards.
8.

Former Wildcats Reunited
By Michael Schwartz
TrueHoop Network

Hill
LAS VEGAS -- When Jordan Hill was dealt to the Houston Rockets at the trade deadline less than four months into his NBA career, the transaction was tough for him to wrap his mind around.
"It was challenging being traded already," Hill said. "I didn't know how to take it."
But by landing in Houston he found himself playing with a familiar rookie: Chase Budinger, his classmate for three years at the University of Arizona. Budinger and Hill went through more drama than "Jersey Shore" as Wildcats, sticking together through Lute Olson's final season, the strange saga of Olson's leave of absence that left them playing for taskmaster Kevin O'Neill (not what they signed up for), and then Olson's abrupt retirement at the start of their junior seasons.
Through it all, Budinger and Hill extended Arizona's streak of consecutive NCAA tournament appearances to 25 and developed the kind of bond that made Hill's adjustment to Houston a little easier.
"It's nice having him around," Budinger said. "I mean, I know him so well. I know where he likes the ball, and I know where he's going to be at all times. I helped him out getting to know the city, and he had a friendly face on the team."
Added Hill, "It was nice having somebody I knew and played with on the same team."
Budinger and Hill face differing stakes while playing for the Rockets' summer league team this year.
Last summer Budinger, a second-round pick, showed off his sweet shooting stroke in averaging 17.8 points on 68.1 percent shooting, the best shooting percentage of the top 100 scorers in summer league.
He had something to prove and he did just that, parlaying his performance into a nice rookie season in which he averaged 8.9 points in 20.1 minutes per game as a rotation player for the Rockets.
Budinger still uses his second-round status as motivation, but this summer, with a roster spot locked up, he's working on his pick-and-roll game and getting to the rim to draw fouls.
While Budinger looks like a second-round find, it's now Hill who has to prove himself after a lackluster rookie campaign in which he averaged 5.2 points and 3.7 boards per game, not exactly numbers expected out of the No. 8 overall pick in the draft.
But there is precedent for Rockets fans to get excited about. Hill struggled as a freshman on the outskirts of Arizona's rotation until the very end of the season, averaging 4.7 and 4.1
He came back as a sophomore with a jumper (which he lacked altogether as a freshman) and a refined post game and went out and averaged 13.2 and 7.9. As a junior he dominated the Pac-10 to the tune of 18.3 and 11.0.
Hill said he's working on "everything" this summer, and if his college career is any indication, the Rockets could have a pair of contributing Wildcats in their rotation next season.
Michael Schwartz is a regular contributor to the Daily Dime.
By Rob Mahoney
TrueHoop Network

Douglas
Toney Douglas is a summer league giant. Those who have towered over the Vegas skyline before him have ranged from NBA flameouts (Marcus Banks has a one-game summer league average of 42 points per game) to all strains of the league regular, but Douglas seems much more the latter than the former. In a way, Toney is a more sensible version of former Vegas standout Nate Robinson. He may lack Nate's off-the-charts athleticism and general shtick, but he's a far more successful defender and an explosive scorer.
Summer league is a bit funny in that it can turn NBA role players into main attractions. Douglas fits that bill because, skilled though he may be, he's not exactly glowing from within. He's simply an intelligent and effective defender with a knack for scoring and, while he's here in Vegas, putting up a lot of shots. In this setting, it's Douglas that plays the role of creator, whether it's executing a nice drive-and-kick to one of the Knicks' perimeter shooters or launching an ill-advised 3 off the bounce.
It's that offensive liberty that allowed Douglas to put up 20 shots in 34 minutes, a mark he didn't hit once last season with the far faster and far more talented big league Knicks. The game is just different when Douglas is asked to carry it, and you know what? It's glorious. A Douglas pick-and-roll may never be depicted on the ceiling of the Sistine Chapel, but that doesn't mean it isn't good enough for a box of Wheaties. OK, maybe off-brand Wheaties.
Douglas has a natural feel for scoring, and while that's not always the most attractive skill for an NBA point guard, it clearly works to his advantage. He dropped 27 points on the Nuggets in his 2010 summer league debut, while also using the mere threat of his offense to generate five assists. Douglas might not be a cookie-cutter point guard, but the fully baked product is just as delicious.
Rob Mahoney is a regular contributor to the Daily Dime.