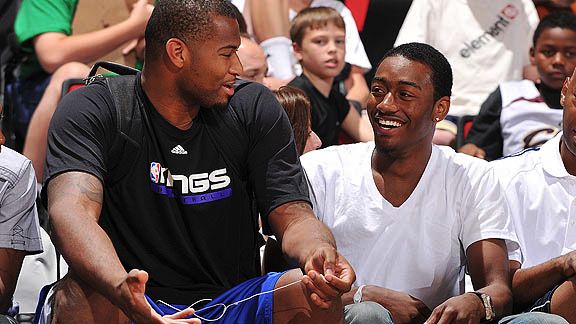 NBAE/Getty Images DeMarcus Cousins and John Wall have been two of the top performers at Vegas Summer League.
1. Budinger Putting It All Together
Chase Budinger is no stranger to being the most athletic guy in the gym. As a top-rated basketball and volleyball prospect in high school, Budinger was loathed by opponents (including your narrator) for being graced with otherworldly athletic ability. The way he could run the floor and soar through the air effortlessly seemed downright unfair, especially from a ground-level perspective.
The playing field in the NBA, of course, is a little more even. Summer league has its quirks, but there are plenty of ridiculously athletic prospects who can jump out of the gym and knock down an open 3 floating around the peripherals of the league. Budinger fits that billing, but he also has a firm grasp on what it will take for him to rise above the pack. Essentially, Budinger knows he needs to start playing chess instead of checkers.
"You always have to be thinking on the court," Budinger said. "That was probably one of the biggest things I learned right when I got to the NBA. On the defensive end, you have to be in the right spot at the right time, because if you're not there then it's going to be tough."
Long gone are the days of players getting by solely on their athletic ability. After a solid yet unspectacular rookie campaign with the Rockets, Budinger went to Vegas, to loosely quote Jackie Chan, more focused on his focus.
"There were games last year where I should have been more aggressive," Budinger said. "In summer league, I had to be more aggressive."
That level of assertiveness often unseen in his rookie season came out in spades Wednesday as Budinger led all scorers with 24 points on 9-for-14 shooting. The telltale play for Budinger came late in the fourth quarter when for a brief moment he seemed to piece it all together.
It started with an impressive display of leaping ability when Budinger jumped over a crowd of defenders to snatch a defensive rebound. Then came the aggressiveness when he immediately pushed the ball up the middle of the floor. Lastly came a wonderful show of confidence that manifested itself in a fancy around-the-back dribble and gorgeous no-look pass to a streaking Jermaine Taylor for the flush.
You could almost see the light bulb pop over Budinger's bushy head of hair as he ran back up the court. It was the perfect blending of ability and confidence and of body and mind that the Rockets can only hope Budinger can retain going forward.
D.J. Foster is a regular contributor to the Daily Dime.
2. Slow Learning Curve For Pair Of Clippers
By Kevin Arnovitz
ESPN.com

Bledsoe
Long before the draft lottery, the Los Angeles Clippers had been bullish on Kentucky point guard Eric Bledsoe, so much so that the team considered nabbing him with the No. 8 overall pick, even though he was projected as a mid-first-rounder. On draft night, the Clippers managed to swing a deal with Oklahoma City for the 21st pick to secure Bledsoe and still land lanky forward Al-Farouq Aminu at the eighth slot. The pair of 19-year-olds join Blake Griffin and Eric Gordon to compose the Clippers' solid young core -- a phrase so familiar the Clippers might engrave it on their letterhead.
Summer league can be a tough place to evaluate prospects, and that's particularly true for the Clippers, who assembled their coaching staff on the fly hours before their first practice. But Bledsoe and Aminu have had a rough go of it in the Clippers' two blowout losses -- although each has shown flashes of strength.
The sinewy Bledsoe burned up the floor in his debut Monday, skidding into the paint at will and draining floaters over the Wizards' big defenders en route to 17 points on 6-for-15 shooting from the field. On Wednesday, in his second outing, Bledsoe was considerably more cautious, more intent on running the offense and getting shots for others.
There was one consistency to the two performances.
"Turnovers," Bledsoe said. "Since the first day I stepped foot on the court [in Las Vegas], it's been bad. It's something I have to get better at."
Bledsoe has racked up 17 turnovers in two games. The problem? He tends to go into a possession with a preprogrammed velocity, be it Monday's sprint or Wednesday's more controlled gait. If Bledsoe can modulate that speed moment to moment, reacting to the defense and the movement of his teammates, he should enjoy some success -- but right now, it's an exercise in frustration for the young point guard.
"It's hard when I'm not making any shots and I'm trying to get my teammates involved," Bledsoe said. "It's tough, but I'll work on it."
Aminu's assignment is even more daunting. After playing power forward for most of his two seasons at Wake Forest, Aminu must conform to playing small forward for the Clippers, an adjustment that will situate him much farther away from the basket in the half court than he's accustomed to being.
"It's just different," Aminu said. "It's going to take some learning to know where I can go and where I can't go. That's probably the hardest part."
In the Clippers' "horns" formation, Aminu spent much of his time set up in the right corner. He took the vast majority of his 15 shots from outside the paint, draining only three of them. He finished with 13 points. When Aminu put the ball on the deck, either coming off screens or in isolation, he was able to use his enormous first step to get inside and draw contact. He attempted a game-high 10 free throw attempts.
For Aminu to succeed on the perimeter, he'll have to develop a more consistent release for his jumper and amp up his energy level. In ACC competition, Aminu zipped around the floor. Here in Las Vegas, he's looked wide eyed and occasionally sluggish (except when he's in possession of the ball). A dominant rebounder in college, Aminu has performed serviceable work on the glass. He's missed a box-out assignment here and there but grabbed 16 boards over the two games.
There are tempered expectations for the Clippers' youth movement, which is a good thing because Bledsoe and Aminu need to learn the rhythms and demands of the NBA game. After the loss Wednesday night, both rookies went to class. While Aminu chatted with the Clippers' coaching staff, Bledsoe took a seat courtside next to his confidante, Kentucky teammate -- and teacher -- John Wall.
Kevin Arnovitz is a regular contributor to the Daily Dime.
3. Fields Hoping To Make Sweet Music
By Jeremy Schmidt
TrueHoop Network

With the 39th pick in the draft, New York Knicks fans wanted to see a player they thought had upside. They were hoping for a freshman like Lance Stephenson or a project at center like Solomon Alabi.
Instead the Knicks went with Landry Fields, a four-year player from Stanford. The boos that rained down from the fans in Madison Square Garden were unsurprising.
"I probably would have booed, too," Fields said after Wednesday's game. "I wasn't that highly touted coming out and I wasn't on TV that much. You have to earn the respect of Knicks fans, and I can respect that."
But Fields has done his best through three summer league games to get those boos changed to cheers by the time the regular season rolls around. After a 19-point, four-rebound effort against the Raptors, Fields now is averaging 16.3 points and 4.7 rebounds this week in Vegas.
The "senior" in Fields' game is evident. He plays a very patient game, attacking when there are openings and deferring when nothing is there. On defense, Fields is often swiping at opponents, but with complete control of himself. For his part, Fields has been satisfied with his performance so far in summer league and feels like his extended college stay has helped him.
"The more experience I had in college is definitely helping out here," Fields said. "It's good so far; obviously we'd like to get some more wins. I'm learning the system, and it's going well."
Two signs that Fields is smart? He is teaching himself to play the piano, and on his worst shooting night in summer league, he found a way to get to the free throw line 13 times. But Fields would admit this whole basketball thing is going better than his new musical hobby, with which he has an interesting strategy.
"You just remember songs," Fields said. "I don't know any music. I need to get on that."
At any rate, the soon-to-be piano-playing Knicks forward is looking like he'll be giving Knicks fans good reason to respect him come October.
Jeremy Schmidt is a regular contributor to the Daily Dime.
4. A Day With Omar Samhan
By Rob Mahoney
TrueHoop Network
5. Daily Dime Live Recap
ESPN.com writers and TrueHoop Network bloggers chatted with fans and gave their in-game opinions throughout Wednesday's games -- all in Daily Dime Live.