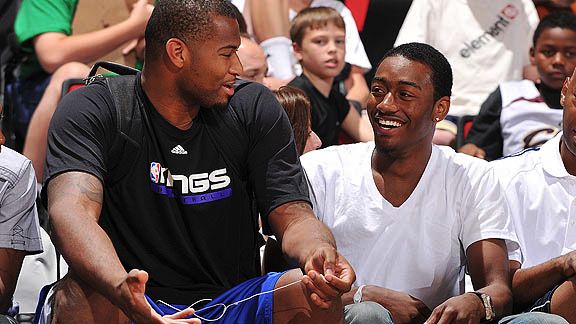 NBAE/Getty Images DeMarcus Cousins and John Wall have been two of the top performers at Vegas Summer League.
1. Budinger Putting It All Together
Chase Budinger is no stranger to being the most athletic guy in the gym. As a top-rated basketball and volleyball prospect in high school, Budinger was loathed by opponents (including your narrator) for being graced with otherworldly athletic ability. The way he could run the floor and soar through the air effortlessly seemed downright unfair, especially from a ground-level perspective.
The playing field in the NBA, of course, is a little more even. Summer league has its quirks, but there are plenty of ridiculously athletic prospects who can jump out of the gym and knock down an open 3 floating around the peripherals of the league. Budinger fits that billing, but he also has a firm grasp on what it will take for him to rise above the pack. Essentially, Budinger knows he needs to start playing chess instead of checkers.
"You always have to be thinking on the court," Budinger said. "That was probably one of the biggest things I learned right when I got to the NBA. On the defensive end, you have to be in the right spot at the right time, because if you're not there then it's going to be tough."
Long gone are the days of players getting by solely on their athletic ability. After a solid yet unspectacular rookie campaign with the Rockets, Budinger went to Vegas, to loosely quote Jackie Chan, more focused on his focus.
"There were games last year where I should have been more aggressive," Budinger said. "In summer league, I had to be more aggressive."
That level of assertiveness often unseen in his rookie season came out in spades Wednesday as Budinger led all scorers with 24 points on 9-for-14 shooting. The telltale play for Budinger came late in the fourth quarter when for a brief moment he seemed to piece it all together.
It started with an impressive display of leaping ability when Budinger jumped over a crowd of defenders to snatch a defensive rebound. Then came the aggressiveness when he immediately pushed the ball up the middle of the floor. Lastly came a wonderful show of confidence that manifested itself in a fancy around-the-back dribble and gorgeous no-look pass to a streaking Jermaine Taylor for the flush.
You could almost see the light bulb pop over Budinger's bushy head of hair as he ran back up the court. It was the perfect blending of ability and confidence and of body and mind that the Rockets can only hope Budinger can retain going forward.
D.J. Foster is a regular contributor to the Daily Dime.
2. Slow Learning Curve For Pair Of Clippers
By Kevin Arnovitz
ESPN.com

Bledsoe
Long before the draft lottery, the Los Angeles Clippers had been bullish on Kentucky point guard Eric Bledsoe, so much so that the team considered nabbing him with the No. 8 overall pick, even though he was projected as a mid-first-rounder. On draft night, the Clippers managed to swing a deal with Oklahoma City for the 21st pick to secure Bledsoe and still land lanky forward Al-Farouq Aminu at the eighth slot. The pair of 19-year-olds join Blake Griffin and Eric Gordon to compose the Clippers' solid young core -- a phrase so familiar the Clippers might engrave it on their letterhead.
Summer league can be a tough place to evaluate prospects, and that's particularly true for the Clippers, who assembled their coaching staff on the fly hours before their first practice. But Bledsoe and Aminu have had a rough go of it in the Clippers' two blowout losses -- although each has shown flashes of strength.
The sinewy Bledsoe burned up the floor in his debut Monday, skidding into the paint at will and draining floaters over the Wizards' big defenders en route to 17 points on 6-for-15 shooting from the field. On Wednesday, in his second outing, Bledsoe was considerably more cautious, more intent on running the offense and getting shots for others.
There was one consistency to the two performances.
"Turnovers," Bledsoe said. "Since the first day I stepped foot on the court [in Las Vegas], it's been bad. It's something I have to get better at."
Bledsoe has racked up 17 turnovers in two games. The problem? He tends to go into a possession with a preprogrammed velocity, be it Monday's sprint or Wednesday's more controlled gait. If Bledsoe can modulate that speed moment to moment, reacting to the defense and the movement of his teammates, he should enjoy some success -- but right now, it's an exercise in frustration for the young point guard.
"It's hard when I'm not making any shots and I'm trying to get my teammates involved," Bledsoe said. "It's tough, but I'll work on it."
Aminu's assignment is even more daunting. After playing power forward for most of his two seasons at Wake Forest, Aminu must conform to playing small forward for the Clippers, an adjustment that will situate him much farther away from the basket in the half court than he's accustomed to being.
"It's just different," Aminu said. "It's going to take some learning to know where I can go and where I can't go. That's probably the hardest part."
In the Clippers' "horns" formation, Aminu spent much of his time set up in the right corner. He took the vast majority of his 15 shots from outside the paint, draining only three of them. He finished with 13 points. When Aminu put the ball on the deck, either coming off screens or in isolation, he was able to use his enormous first step to get inside and draw contact. He attempted a game-high 10 free throw attempts.
For Aminu to succeed on the perimeter, he'll have to develop a more consistent release for his jumper and amp up his energy level. In ACC competition, Aminu zipped around the floor. Here in Las Vegas, he's looked wide eyed and occasionally sluggish (except when he's in possession of the ball). A dominant rebounder in college, Aminu has performed serviceable work on the glass. He's missed a box-out assignment here and there but grabbed 16 boards over the two games.
There are tempered expectations for the Clippers' youth movement, which is a good thing because Bledsoe and Aminu need to learn the rhythms and demands of the NBA game. After the loss Wednesday night, both rookies went to class. While Aminu chatted with the Clippers' coaching staff, Bledsoe took a seat courtside next to his confidante, Kentucky teammate -- and teacher -- John Wall.
Kevin Arnovitz is a regular contributor to the Daily Dime.
3. Fields Hoping To Make Sweet Music
By Jeremy Schmidt
TrueHoop Network

With the 39th pick in the draft, New York Knicks fans wanted to see a player they thought had upside. They were hoping for a freshman like Lance Stephenson or a project at center like Solomon Alabi.
Instead the Knicks went with Landry Fields, a four-year player from Stanford. The boos that rained down from the fans in Madison Square Garden were unsurprising.
"I probably would have booed, too," Fields said after Wednesday's game. "I wasn't that highly touted coming out and I wasn't on TV that much. You have to earn the respect of Knicks fans, and I can respect that."
But Fields has done his best through three summer league games to get those boos changed to cheers by the time the regular season rolls around. After a 19-point, four-rebound effort against the Raptors, Fields now is averaging 16.3 points and 4.7 rebounds this week in Vegas.
The "senior" in Fields' game is evident. He plays a very patient game, attacking when there are openings and deferring when nothing is there. On defense, Fields is often swiping at opponents, but with complete control of himself. For his part, Fields has been satisfied with his performance so far in summer league and feels like his extended college stay has helped him.
"The more experience I had in college is definitely helping out here," Fields said. "It's good so far; obviously we'd like to get some more wins. I'm learning the system, and it's going well."
Two signs that Fields is smart? He is teaching himself to play the piano, and on his worst shooting night in summer league, he found a way to get to the free throw line 13 times. But Fields would admit this whole basketball thing is going better than his new musical hobby, with which he has an interesting strategy.
"You just remember songs," Fields said. "I don't know any music. I need to get on that."
At any rate, the soon-to-be piano-playing Knicks forward is looking like he'll be giving Knicks fans good reason to respect him come October.
Jeremy Schmidt is a regular contributor to the Daily Dime.
4. A Day With Omar Samhan
By Rob Mahoney
TrueHoop Network
5. Daily Dime Live Recap
ESPN.com writers and TrueHoop Network bloggers chatted with fans and gave their in-game opinions throughout Wednesday's games -- all in Daily Dime Live.
---
6.

Not Only Seen, But Heard
By John Krolik
TrueHoop Network

Jerrells
In the relative quiet of a summer league arena, it's almost easier to find Curtis Jerrells by sound than it is to try to track him down by sight. The Spurs guard never stops talking to his teammates, whether he's finding out where they are on defense or telling them where they need to be on offense. Jerrells doesn't talk just because he loves the sound of his own voice; Jerrells sees facilitating a constant stream of information as an important part of his on-court responsibilities.
"At the point guard position, you have to be the quarterback," he said. "We have to be the head of the snake. Everybody's gotta hear us. Defensively, offensively, everyone's gotta know where they need to be. And that's one thing I've really been working on, is being vocal."
Early in Wednesday's game, it became apparent how using your mouth and ears on defense can be just as important as using your hands and feet. When Jerrells was defending the ultra-quick Jeff Teague out on the perimeter, he talked nonstop to the players behind him to figure out where his help defenders were. When Teague made his move and drove to the paint, he found himself trapped between two Spurs defenders with nowhere to move the ball and promptly committed one of his eight first-half turnovers.
By using a combination of preparation, intensity and echolocation, Jerrells held Teague to 2-for-5 shooting from the field, one assist and nine turnovers. When asked after the game whether he took the assignment of guarding the 2009 first-round pick as a challenge, Jerrells had this to say:
"Most definitely. It's not a mistake. Studied him a little bit. It's competition, man. Whether it's Jeff Teague or somebody trying to come in and get a spot. Everybody's hungry, and everybody's trying to come in with that intensity."
Jerrells thinks his greatest asset is his intensity, mainly on the defensive end, but he's far from unskilled. He is an extremely confident offensive player; he reads the pick-and-roll beautifully, has a very good first step and has a smooth lefty jumper that he can get off in the blink of an eye. Even though Jerrells' defense on Teague was the most impressive thing about his day, he did find the time to score 20 points on 7-for-12 shooting from the field while tallying four assists.
Jerrells might be intense on the court, but he's a joy off it. According to David Thorpe of ESPN.com's Scouts Inc., who has worked with Jerrells, the Baylor product "never stops smiling," and "everyone wants to be around him, which is what you want from your point guard."
Intensity and hustle. A love for playing defense. Communication with teammates at all times. Being the kind of player coaches and teammates enjoy being around. They're the little things that separate Curtis Jerrells from most summer league guards, and the Spurs' recognition of what players like Jerrells can bring to a team is what separates them from most franchises.
John Krolik is a regular contributor to the Dime.
7.

Cousins Continues To Dominate
By Zach Harper
TrueHoop Network

DeMarcus Cousins is quickly establishing himself as one of the biggest mistakes in the draft.
Unfortunately for teams like Philadelphia, New Jersey and Minnesota, they share that mistake. Cousins is putting together quite the summer league résumé with performances like Wednesday's against the Wolves. The fifth pick in the draft posted another double-double on a night in which he demanded the ball and buried a 10-foot hook shot with 2.8 seconds to win the game.
"DeMarcus came to me on the bench and said, 'Coach, I want to make plays; give me the ball,'" Mario Elie said after the Kings pulled out a 79-78 victory. "And I got to listen to the big fellow."
Cousins put up a monster stat line with 22 points, 12 rebounds, five assists and four steals, but it was the way he put up those numbers that shows why passing on this guy was such a mistake. Cousins almost exclusively passed the ball when the game started as he tried to get his teammates involved. He showed an affinity for wanting to make his teammates successful on the court. This type of mentality for the Kings' latest big man prospect is both a gift and a curse. The coaching staff has to plead him to take more shots and not be so unselfish.
"We have to tell him to shoot," Elie added. "He's a willing passer. He wants to pass. He wants to make plays."
And he made the biggest play of the night. In the final possession for the Kings, Cousins took the ball on the left side of the floor, spun to his left and put up a right hook from about 10 feet. It capped a small comeback by the Kings and allowed him to let out his emotion that he's so famous for.
Earlier in the game, Cousins and Greg Stiemsma exchanged body blows and elbows throughout much of the first half. As they left for their respective locker rooms at halftime, they exchanged words, too. Based on reputation, many would assume he'd come out in the third quarter and lose his temper in a way detrimental to the Kings team. Instead, he expressed himself by dominating the majority of the second half and leading the team to a win.
Cousins has played significant minutes through the first three games of summer league. On Thursday, the Kings will enjoy a day off before they face the undefeated Raptors on Friday. Cousins now gets to rest and prepare his body for a shot at putting up a fourth straight double-double. Something that won't rest with the teams that passed on him in the draft will be the lingering notion of regret for not believing he should be a part of their teams.
"He's a fierce competitor," Elie said after the Kings improved to 3-0. "And I know Minnesota probably regrets not taking him before. We're glad to have that big boy. He's amazing."
Zach Harper is a regular contributor to the Dime.
By David Thorpe
Scouts Inc.

Wall
David Thorpe is covering the NBA summer league for ESPN Insider. Below are his observations from early play in Las Vegas.
John Wall, Wizards: Forget about the turnovers and the ugly shooting mechanics. Wall showed everyone why he's on track to be a star in this league. He combines a real comfort with being the best player on the floor while always thinking about his teammates. He's going to impact the game immediately on both ends and is a strong candidate for rookie of the year because he'll have the ball in his hands all the time.
To read the entire blog, click here.
9.

Teague Brings Speed To Hawks
By Bret LaGree
TrueHoop Network

Despite being an organization that prizes continuity, the Atlanta Hawks are set to introduce a new element in their attempt to improve their record for a sixth consecutive season. That element: Jeff Teague's speed. While it's unlikely new coach Larry Drew shares Mike Woodson's aversion to young guards, Teague's larger role has more to do with Drew inheriting the same problems Woodson faced with the backcourt. Mike Bibby is aging, Joe Johnson and Jamal Crawford both need the ball a lot, and none of the three can effectively guard opposing point guards.
Recognizing his necessity to the coming season, the Hawks built their summer league team around Teague to the extent they didn't bring a backup point guard. His performance in carrying a load both heavier and different than he'll have in the regular season has been mixed.
On Monday night, Jeff Teague more than held his own against O.J. Mayo, simultaneously exhibiting aggression and sound decision-making while scoring 16 points and earning three assists (several potential assists failed to materialize when his teammates missed open shots). On Wednesday afternoon, Teague failed to exhibit the same control and was outplayed by D-Leaguer (granted, Spurs-affiliated D-Leaguer) Curtis Jerrells. He repeatedly forced things when he got in the lane, and although that got him to the line 12 times, it also led to nine turnovers, slightly offset by three assists, this time a fair representation of his playmaking.
Teague wasn't pleased with his play Wednesday. "I didn't have a good showing tonight. I'm glad we've got three more games. If this was our last game, I'd go home frustrated," he said. That Teague was looking forward to his next opportunity soon after a disappointing performance has to encourage the Hawks who, as Teague put it, "want me to go hard every day and work hard and get better."
Less encouraging might be that, through two games, Teague has scored 16 of his 31 points at the free throw line. With no one yet able to stay in front of him in Las Vegas, he's had little opportunity or reason to the hone the jump shot that figures to feature far more prominently in his game during the regular season. Teague's speed could be a solution to part of the team's perimeter defense problem, but it might also keep him from thriving alongside either Johnson or Crawford if he too is most effective with the ball in his hands. No matter how Larry Drew's half-court offense differs from Woodson's isolation-heavy, it's unlikely to be centered around Teague and he'll have to find other ways to score.
Bret LaGree is a regular contributor to the Dime.