1. Kings Looking To Better Future
By Zach Harper
TrueHoop Network
LAS VEGAS -- Contrary to popular belief, there isn't always a blueprint to rebuild an NBA team.
Once the Sacramento Kings decided to go into a full rebuilding mode a couple of years ago, they went with the simple strategy of grabbing the best player available instead of trying to color within the lines of some "How To Rebuild Your NBA Franchise" book. This can be a risky strategy when you're a team moving sideways instead of forward in the rehabilitation process. Trying to put a Band-Aid over a cut that needs stitches has been a flaw of many teams that don't adhere to a set style of rebuilding.
The Kings are retooling their team by capitalizing on the errors of other organizations. Instead of grabbing a relatively local name in University of Memphis star freshman Tyreke Evans, the Grizzlies opted for Hasheem Thabeet. Instead of selecting DeMarcus Cousins to be their wrecking force in the middle, the Philadelphia 76ers, New Jersey Nets and Minnesota Timberwolves played it safe with their selections. The Kings gladly took both of these players and are using them to get back into the conversation of playoff contention.
It's easy to say the Kings have been fortunate to have such potentially transcendent building blocks fall to them even though they've received some of the worst lottery luck in recent memory. But their strategy of taking the biggest, toughest player available in back-to-back lotteries needs to be regarded as more genius than luck. The Kings are in the process of putting a big, young team together. They have one of the deepest frontcourts in the NBA with Cousins, Carl Landry, Jason Thompson, Samuel Dalembert, Jon Brockman and Hassan Whiteside. They have young prospects on the perimeter with Evans, Donté Greene and Omri Casspi. And they have the financial flexibility and pragmatism to either let this roster grow together or move pieces to acquire a capable veteran.
The thing the Kings don't have is the stubbornness to not admit when something isn't working. They traded Kevin Martin to the Rockets despite the fact he's theoretically a very good piece to put alongside Evans. They traded Spencer Hawes just three years after drafting the skilled big man following his freshman year at Washington in order to make room for Cousins.
In an offseason in which they had carved out more than $15 million in cap space, they've managed to remain patient and responsible when other owners are constricting any sense of cap flexibility with overambitious signings. The Kings aren't spending freely just because they have the money. When you're not building with regard to a system, you have the capacity to wait for the right guy to come along.
The Kings are willing to bet on their recent drafts. They look at their two new big men and the success they're both having in this summer league as a harbinger for success. They're not making moves just to make moves.
And that's the best blueprint for progress.
Zach Harper is a regular contributor to the Daily Dime.
Summer League Dimes Past:
July 12
|
13
|
14
|
15
|
16
2. Monroe Adjusting As Week Progresses
By Kevin Arnovitz
ESPN.com

Monroe
LAS VEGAS -- Summer league action can be a tough place for a skill-to-size big man to brandish the full breadth of his game. Much of the action consists of speedy guards buzzing through traffic or one-on-one isolations on the block for post players who need their reps. For a player like Detroit first-round pick Greg Monroe, whose finest moments often occur in the high post as a facilitator, the experience is like being a tenor in a death metal band.
True to form, Monroe had a shaky start in Las Vegas. In his first three summer league games, he converted only 11 of his 26 shots from the field. Many of those smart passes that were Monroe's hallmark at Georgetown were flubbed by unfamiliar teammates, which, in turn, made Monroe a more tentative, less decisive player.
Monroe got on track in his fourth game against Miami on Wednesday. Rather than try to conform his deferential style to the ragtag play of summer league, he looked to score, and did so efficiently -- 20 points on 6-for-12 shooting from the field and 8-for-10 from the stripe.
On Friday against New York, Monroe unfurled his complete range of skills for his most complete performance of the week. He finished with 27 points (8-for-10 from the field) and 14 rebounds. Monroe was both playmaker and scorer, facilitator and dominator. He showcased some strong post-and-seal sequences, unleashed a nifty soft hook and threw an outlet pass the length of the floor to Marquez Hayes for an easy transition finish.
"As the week progressed, I got a lot more comfortable," Monroe said. "I got into a groove today."
No big man in the 2010 draft class has a more aesthetically pleasing offensive repertoire, something that was captured on a single play in the first half when he delivered a no-look interior pass in the paint, through traffic, to his baseline cutter. When the ball clanked out, Monroe -- a prolific college rebounder -- grabbed it, then muscled his way to the rim through a scrum of Knicks defenders for a basket-and-one. It was an assertive possession for a guy sometimes unfairly tagged with the "soft" label.
For young, versatile bigs, balancing the instincts to create opportunities for others with a need to establish yourself as a scorer can be an enormous burden. With the ball in your hands, it's often paralyzing to weigh all those choices as the defense swarms toward you. Encountering NBA double-teams is one of the hardest lessons for centers and power forwards, which makes Monroe's capacity to deal with defensive pressure vital to his success. On several occasions, Monroe eluded traps along the sideline by merely putting the ball on the deck, dribbling out of trouble, then making a sharp pass to a teammate up top to ignite a ball reversal.
"It's about accepting the double-team but also attacking it," Monroe said. "I was very comfortable when they came with double-teams trying to make plays."
Monroe reads defenses inordinately well. Unlike so many young centers and power forwards, he's able to keep the ball moving. For a Detroit team that finished 21st in offensive efficiency and 23rd in assist rate, those gifts will help unclog the morass in the Pistons' half court.
3. Triumphs And Travails Of JaVale McGee
By Kyle Weidie
TrueHoop Network

McGee
LAS VEGAS -- Most of Wizards summer league coach Sam Cassell's yelling voice was spent getting on JaVale McGee during Friday's 90-89 Summer League win over the Hornets, on a buzzer-beater by Lester Hudson no less.
"Run, JaVale!" Cassell would bellow. "Two hands, JaVale!"
He was on him the whole game. It paid off, because McGee stole the show with an array of offensive moves, including an insane dunk on New Orleans' Kyle Hines with just under four minutes left in the fourth quarter, bringing the Wizards within one at 77-76.
"I surprised myself to tell you the truth. I thought I was going to dunk it, but I ain't think … I felt like the rim was at my waist," McGee said.
He was so amped that he missed the free-throw that would've tied the score. McGee finished with 29 points on 13-of-16 shooting and eight rebounds.
Wizards coach Flip Saunders, who watched the game courtside while Cassell coached, wasn't as impressed with the dunk.
"The best play he had all night was that jump hook, because that was a big time play where he had to score over somebody and make some type of a move," Saunders said, referring to McGee's bucket that tied the game at 72 with six minutes left in the fourth.
McGee also took a bunch of shots that make a coach cringe, then they would go in. Going behind the back on a drive to the hoop that left John Wall laughing and shaking his head, immediately firing a shot off an offensive rebound with 21 seconds still left in a quarter, hitting a long jumper with 17 seconds in the game to put the Wizards up 88-86 … McGee tried just about everything and succeeded.
"JaVale McGee is an interesting kind of guy," Cassell said after the game. "He's a guy who makes you say, like you said, 'No, no, no, no!' but he finds a way to make plays like that. Not normal, not typical for centers at 7-1 to do the things he does. But hey, it works."
Saunders seems to believe McGee has made progression on offense since his impatient days last season.
"If JaVale does straight line drives he's OK," Saunders said. "It's when he starts doing thing sideways. Even on those drives, he was pretty much under control. It wasn't like sometimes during the regular season where he was just frantically going to the basket."
If McGee plays more patiently, more within himself (which seems rather limitless), the Wizards will have no problem with him doing whatever he wants on offense every now and then. It's pretty easy to sit back and be amazed by his skills.
Kyle Weidie is a regular contributor to the Daily Dime.
4. Daily Dime Live Recap
ESPN.com writers and TrueHoop Network bloggers chatted with fans and gave their in-game opinions throughout Friday's action -- all on Daily Dime Live.
---
By John Krolik
TrueHoop Network

McCants
LAS VEGAS -- Rashad McCants was all set to reintroduce himself to NBA fans and scouts by playing for the Cleveland Cavaliers' Las Vegas summer league squad this week, but life got in the way. After being put on the Cavaliers' summer league roster, McCants was a no-show in Vegas. According to his agent, McCants has been tending to the family of his mother, who has serious health issues.
His agent said McCants would come to Vegas ready to perform Sunday and attend Tim Grgurich's camp the following Monday, but not everyone is on board with that plan. If McCants does play Sunday, it won't be with the Cavaliers.
"He's missed the whole time, so we're not going to bring him in here for one game, to play in that game, instead of the people who have been here for day one. No, we wouldn't play him," Cavaliers coach Byron Scott said.
Scott went on to explain why he gave the former UNC standout a camp invite in the first place:
"He's a guy that's been in the league, that understands how to score. He's a true 2-guard; he has some skills. So we thought inviting him to play with the team, inviting him out to Cleveland could have been beneficial to him -- not only for us, but it would have given some other teams a chance to look at him."
John Krolik is a regular contributor to the Dime.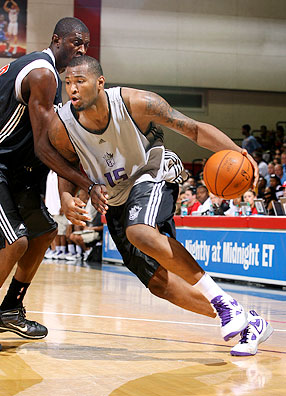 (Photo by Jack Arent/Getty Images)
Kings rookie DeMarcus Cousins had a double-double and 10 fouls during Friday's game with Toronto.
8.

Pondexter Impresses With D
By Joe Gerrity
TrueHoop Network

Pondexter
LAS VEGAS -- The New Orleans Hornets might have landed another young star in former University of Washington forward Quincy Pondexter. Despite shooting only 4-for-11 from the floor, the 26th pick was his usually efficient self in the 90-89 loss to the Wizards here Friday. He aggressively attacked the rim whenever possible. As a result, he drew enough fouls to finish with a respectable 16 points. His seven turnovers are a concern, but with Chris Paul or Darren Collison running the point, he won't be handling the ball anywhere near as much in the regular season as he has in Vegas.
His offense, though, was only a side note to the defensive showcase he put on in the fourth quarter against the Wizards -- and John Wall in particular. Through three quarters of play, Wall had dropped 29 points on an otherwise-porous New Orleans defense. That's when the Hornets switched the 6-foot-6 Pondexter onto the 6-4 Wall. The rest of the way, Wall scored only two points and was noticeably less effective. Pondexter was able to keep Wall from using his crossover by utilizing his length advantage to shut down Wall down the stretch.
First-year Hornets coach Monty Williams was thrilled with Pondexter's effort and admired the young swingman's ability to guard all three perimeter positions. Pondexter's potential aside, he'll have to fight for minutes as a rookie.
"He's not going to be given anything," Williams said. "He's a rookie. I'm a rookie. We're both going to have to work hard."
Fortunately for Pondexter, the Hornets don't have many other options at the small forward position. His main competition for time, Julian Wright, was not at summer league, and Williams was noticeably displeased by his absence.
"It is what it is," Williams said.
Joe Gerrity is a regular contributor to the Dime.
9.

Lin's Climbing Out Of Ivy
By Jeff Caplan
ESPN Dallas

LAS VEGAS -- That nice little story about Ivy Leaguer Jeremy Lin getting a shot with the Dallas Mavericks' summer league team is about to get serious.
Lin is on the verge of signing an NBA contract, and it could be with the Mavericks, who view him as an intriguing developmental point guard and a strong candidate to run the club's new D-League affiliate that begins play this fall in Frisco, Texas.
"We're in discussions as we speak," Mavs president of basketball operations Donnie Nelson said Friday afternoon. "We are extremely interested in him as a young player."
Suddenly, the player deemed too flawed in most major areas to survive in the NBA is in contract discussions with three teams, according to league sources. The Los Angeles Lakers are believed to be another, and an Eastern Conference team the third.
See the full Caplan column
10.

Jeter Driven To Succeed
By John Krolik
TrueHoop Network
LAS VEGAS -- Summer league games don't technically count for anything, but nobody seems to have informed Pooh Jeter. The 26-year-old Cavalier is three games into his fifth summer league appearance, and he's played all three of those games like a championship was on the line.
Even though the Cavaliers' summer league roster includes J.J. Hickson, Danny Green and former first-round pick Christian Eyenga, Jeter has been one of the Cavaliers' most demonstrative on-floor leaders. Jeter might be searching for a contract, but he plays the game with an unmistakable faith in himself and his ability to lead any team, a faith given to him by his father.
"That's what my father taught me," Jeter said. "Ever since I was a little kid, he taught me to be a leader in whatever you do. Really, I'm just happy that the organization and coach [Byron] Scott gave me the opportunity to showcase my leadership with my teammates. I've been through summer league, I know what it is, I know the process, so my main goal is to be the coach on the floor. The coach and the teach."
It's not uncommon to see a guard with international and/or D-League experience put on a summer league team. Normally, the more experienced guards get the ball to the prized prospects, keep the game under control and end up going back to Europe or the D-League when the games are done. As a veteran of five summer leagues, Jeter is as familiar with this process as anybody.
However, things might be different for Jeter this time around. His play has simply been too good to ignore. He put up 20 points and seven assists Friday, making the win over the Bulls his third consecutive strong individual performance. More important, new coach Scott wants the Cavaliers to become an up-tempo team next season, and Jeter is an open-court guard. When asked about how comfortable he is trying to push the pace of the game, Jeter's eyes lit up.
"That's my style," Jeter said. "That up-tempo, that's my style. I just want to show the organization that if they want up-tempo, I can be that person. I just want them to give me that chance, so I can show 'em. And I'm glad I'm showin' em now."
Late in the fourth quarter of a close game, Jeter put the ball on the floor, made a strong move to the basket and got whistled for a controversial offensive foul. Most summer league players would have shrugged it off and ran back down the court, but Jeter was absolutely incensed. He was determined to make up for his mistake, and that's exactly what he did. After the Bulls converted only one of two free throws to put themselves up two points with fewer than 24 seconds to play, the Cavs had one possession to keep their undefeated summer alive. Naturally, the ball went to Jeter, who hit the game-winning 3 with 6.9 seconds on the clock.
Jeter knows he can make the shot. Now he just needs to convince a team to give him one.