1. Wall's Vegas Week A Promising Campaign
By Kyle Weidie
TrueHoop Network
LAS VEGAS -- The hype surrounding John Wall has been akin to a well-crafted campaign by Don Draper of "Mad Men," as good as advertised. His product, basketball-speaking, was flying off the shelves during a four-game stint at the 2010 NBA Las Vegas Summer League, but he performed better than expected in areas that don't require physical talents, such as leadership and communication.
Wall sat out of the Wizards' fifth and final game on Saturday, a 109-107 overtime loss to the New York Knicks, Washington's only defeat of the summer. Afterward, Wall cited tendinitis in both knees as the need to rest, something the 19-year-old said he's always dealt with.
But Wall's fans need not worry. He will be healthy, and he will be more than relevant on the NBA scene. Cast aside notions of "it's just summer league"; this kid has proved he has the mental capacity to succeed.
In his first game action since the NCAA tournament, Wall averaged 23.5 points, 7.8 assists, 4.0 rebounds and 2.5 steals in four contests.
His quickness was the most surprising aspect he brought to the court. "The way he moves with the ball, it's like the ball sometimes isn't even there," NBA referee hopeful Gerald Williams told ESPN TrueHoop's Kevin Arnovitz. "He's just moving with it, and the ball just follows him. It's an amazing talent." Williams worked the Wizards-Hornets game in which Wall scored 18 points in the third quarter, bringing his team from down 13 at the half to up six by the end of the quarter and ultimately securing the win.
Once past the defender, usually with ease in the half court and even more so in transition, Wall showed the ability to absorb contact and finish at the rim or get to the free throw line. In total, he shot 41-for-47 (87.2 percent) from the charity stripe -- 13.1 free throw attempts per 36 minutes.
Kevin Durant led the NBA with 840 free throw attempts last season but averaged only 9.3 attempts per 36 minutes. This comparison comes with the caveat that summer league is vastly different from the regular season. Still, complaints that Wall already gets superstar calls have begun to surface.
Wall most impressed upon his teammates an air of unselfishness, which just might be contagious to the likes of JaVale McGee. Wall loves to get assists and is not afraid to display a Magic Johnson-esque gratification from rewarding teammates with dimes, even though he hesitates to compare himself to Magic. "It's good to be compared to somebody, but it doesn't mean nothing until you prove it on the basketball court," Wall said.
But he's clearly not without faults. Wall shot 37.7 percent from the field and made just 1 of 8 3-point attempts. After his final game on Friday, he readily admitted that he was trying to fade too much on his jumper and that he wasn't holding his follow-through.
Wall is well aware that he needs to improve from midrange and beyond, citing how Derrick Rose improved his jump shot between his rookie and sophomore years. He also understands that teams will guard him like Rajon Rondo (he mentioned the Celtics guard specifically on Saturday), and that he'll need to prove his ability to be a floor-spacing threat in addition to an attacker.
Turnovers also have been an issue. Wall surely doesn't want to be like his childhood idol, Allen Iverson, and give the ball away at a rate of 4.4 times per game during his rookie season. Turnovers came up when Wall was asked to grade himself. "Probably a 'B' average," Wall said. "The last two games I really turned my turnovers down, and that was the biggest plus for me."
Wall averaged 9.4 turnovers per 36 minutes during the first two games and 2.6 per 36 in the last two. Once Wall adjusts his speed to the pace of the NBA game, he should be able to reduce his mistakes and improve his decision-making. Getting better accustomed to the more physical defenders he will see in the league is also a must.
Displays of coachability is what has largely instilled confidence that Wall can quell his glaring inefficiencies. He's getting heavy doses of tutelage from Wizards assistant coach Sam Cassell and is ever-vocal with his teammates. Even on Saturday, while in street clothes, Wall planted himself toward the front of the bench, making sure he was always the first to stand up and support those playing. He also served as a de facto player-coach by yelling out defensive assignments and by making sure to alert bench players when they were being summoned by Cassell to check into the game.
Want an example of the bond built between Wall and Wizards coach Flip Saunders? Just observe when Wall jokingly flicked the ear of his coach after Saturday's game. Or take a look at this photo, which depicts the hands-on approach the two have developed with each other. A love of a simple game clearly has brought them closer together.
"He still has a lot to learn, but he's a sponge," said Wizards team president Ernie Grunfeld. "He's a very approachable guy, he's a very willing learner and a very hard worker."
One person with knowledge of the Wizards' scouting and player-development department simply wrote "IT" in all caps on his notepad and circled it (twice) when asked about Wall, indicating that those in the front office knew what their draft target brought to the court. However, they were surprised by the grace with which he has handled the heightened attention.
"I was just expecting to just come out here and play basketball," Wall said. "I know a lot of people wanted to see me play and see if I was going to live up to the hype. But I just wanted to come out here and play basketball."
From "Go All In," to "Ready To Rule," to "Character, Commitment, Connection," the Wizards haven't had a ton of success with their players backing the team's marketing campaign slogans. Now, "Game Changer," seems to work on so many levels. The folks of Madison Avenue would call it a drop in the bucket, something Wall hopes to create in abundance next season.
Kyle Weidie is a regular contributor to the Daily Dime.
Summer league Dimes past:
July 12
|
13
|
14
|
15
|
16
|
17
2. Raptors, Davis Appear Made For Each Other
By Kevin Arnovitz
ESPN.com

Davis
LAS VEGAS -- Drafting for need versus talent remains one of the more polarizing debates in late spring among basketball fans and insiders. Do you take the best player on the board or opt to fill a positional need? Fortunately for the Toronto Raptors, their desperation for an interior player with defensive chops and the potential to flourish in the low post matched Ed Davis' profile. Nabbing the North Carolina big man with the No. 13 overall pick made a whole lot of sense for the Raptors.
Things were progressing well enough for Davis during his sophomore season at North Carolina. Although he hadn't put up the gaudiest numbers during the first twelve weeks of the season, he was quickly establishing himself as one of the ACC's tougher inside defenders and toughest rebounders. His offensive game still needed some seasoning, but Davis was a highly coordinated big with a soft touch. After Jan. 1, he began to stake out his territory on the right block more aggressively, something that didn't come naturally to him in his freshman season. Then, in February, Davis broke the lunate bone in his left wrist, an injury that kept him out of action until a couple of weeks ago.
"Basically until I got to Toronto for that minicamp, that was the first time I really played five-on-five since," Davis said. "It was rough at first trying to get back into the feel of things. But I think it's all starting to come back together now."
Davis completed his first stretch of competitive basketball since his injury on Saturday, when the Raptors wrapped up their summer league schedule with a win over New Orleans. In scoring 14 points and collecting six rebounds in 18 minutes, Davis continued his consistent, efficient week in Las Vegas. He's far from a finished product -- and still not much of a threat beyond 12 feet -- but there's a level of ease with which Davis operates down low. Take a possession in the second quarter when Davis went to work against fellow first-round draft pick Craig Brackins. Davis got the ball off the left block, then patiently backed Brackins inside before unfurling a quick baseline pivot with his right foot. After spinning off Brackins' frame, Davis gathered the ball, re-established his balance, then drew contact as he flicked the ball gently off the glass. Count the basket and the foul.
3. Mills, Johnson Dueling For Spot With Blazers
By Nathan Begley
True Hoop Network

LAS VEGAS -- Patty Mills has received a lot of attention from fans lately, and it's warranted. Mills has demonstrated that he hasn't lost an ounce of the speed that made him so effective in the 2008 Summer Olympic Games in Beijing, and he's become a fine shooter to boot. However, if Mills isn't careful, he could lose his roster spot to his teammate, Armon Johnson. Mills is fast, but Johnson is strong. Johnson is physically imposing for a point guard, putting up the sixth-best bench-press totals among drafted NBA players. That strength allows Johnson to defend with physicality on defense while absorbing contact and still finishing plays on offense.
Johnson makes strong decisions with the ball, rarely hesitating or getting stuck. He has demonstrated a knack for getting to the rim and drawing fouls. His jumper is a work in progress, but rarely does he take an ill-advised shot.
On defense, Johnson demonstrates a high level of awareness, pressing his man and making even routine inbounds more difficult for the opponent but rarely fouling. Johnson is not flashy; he's solid. Johnson's calm, poised approach sets a soothing tone in a disjointed summer league setting. In Nate McMillan's turnover-phobic offense, steady, mistake-free basketball is highly valued. In contrast, Mills' terrific speed in transition would not be optimally used in Portland's glacially paced half-court offense.
Right now, according to Blazers director of scouting Mike Born, the team plans to bring both Mills and Johnson into training camp and let them duel it out. Born made it clear that the Trail Blazers are not opposed to keeping both players because Johnson is comfortable as a scorer and his 6-foot-8 wingspan and terrific athleticism give him the ability to defend bigger shooting guards.
Trades, injuries and other roster machinations still could impact who will earn Portland's final roster spot, but Johnson is doing his best to tilt the scales in his favor. Portland's shooting coach, John Townsend, is working closely with Johnson to improve his hand placement and correct the lateral movement of his shooting hand during his shot release. If Johnson can develop a reliable outside jumper, Mills should start looking over his shoulder.
4. Daily Dime Live Recap
ESPN.com writers and TrueHoop Network bloggers chatted with fans and gave their in-game opinions throughout Saturday's action -- all on Daily Dime Live.
---
By John Krolik
TrueHoop Network

John Krolik:
You had a crazy year last year. You started out as a rotation player, became a starter, then you went back to being a rotation player, then you became more of a situational player in the playoffs. Can you talk about what you learned while switching between all those roles?
J.J. Hickson: You know, we all professionals, so I -- I'm not gonna sit here and lie, I wasn't too happy about it. At the same time, I respect the coach's decision, you know, I was a pro about the situation with the coaches and my teammates, and when it was time to play, I played.
Krolik: Being a starter -- what kind of a learning experience was that?
Hickson: Most of the stuff I learned, I can't even explain. As far as the mental aspect goes, I think confidence is the cure for anything. For any situation. So I think, you know, when you start or not start, I think it kind of messed my confidence a little bit. As we stand in the Summer League, I think my confidence is at an all-time high right now.
Krolik: There's been a lot of talk about Byron Scott's system. Can you talk about the old system a little bit? How did it work, and what was your role in it?
Hickson: You know, we had the big fella in the middle. That's not all the reason about why, you know, we didn't run as much, but we kinda had to wait on him. It's expected. You know, that's not his game. His game is not to get up and down the court, so you know. With B. Scott right now, he wants to push the ball, he's been running us a lot, so we got a lot of looks once we go to training camp.
• See the full Krolik blog entry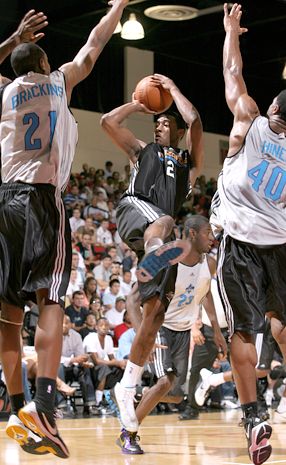 (Photo by Jack Arent/Getty Images)
John Wall of the Washington Wizards impressed at summer league but shot just 37.7 percent from the field and made just 1 of 8 3-point attempts.
8.

Cousins Faces Adversity
By Zach Harper
TrueHoop Network

Cousins
LAS VEGAS -- The basketball gods giveth and the basketball gods taketh away.
When the Kings started their summer league session with a 3-0 record, DeMarcus Cousins was all the rage. He was passing with fervor, grabbing impressive rebounding numbers and scoring powerful baskets against physically inferior defenders.
But during the past two games, Cousins has found some manifestation of a summer league rookie wall. Call it fatigue, call it wear and tear, call it defensive adjustments, but Cousins has found himself both physically and mentally frustrated. One bad game in summer league is just one of those things -- especially for a rookie. But his struggles Saturday seemed to reflect a continuation of emotional frustrations from Friday's loss to the Raptors.
Maybe this will serve as a good learning experience for Cousins in learning to deal with adversity at the pro level. But for those in the Kings organization with reservations about Cousins' maturity, Saturday set off the fire alarms. He appeared exhausted on the basketball court as he lumbered up the floor and struggled to fight for position. Against the Bulls' big summer league front line of Samardo Samuels and Chris Richard, this new sensation grew irritable with each call that didn't go his way.
This is where the worry about Cousins' conditioning and ability to deal with things outside of his control get put on display. He shot just 3-for-15 from the field while settling for many long jumpers that didn't connect. He had the worst plus/minus on the team with a minus-16. And he wasn't able to swing the ball enough to get his teammates quality scoring opportunities on a consistent basis. He complained to officials, failed to get good shots off inside and allowed Richard and Samuels to attack the rim without much resistance.
Now the Kings will have one more game on Sunday to see how he responds to the drama he's faced in the summer league -- if they decide to play him.
Zach Harper is a regular contributor to the Dime.

Andy and Brian Kamenetzky make room for ESPNLA.com's Arash Markazi and Dave McMenamin in studio. We talk Raja Bell, Kobe Bryant, Tracy McGrady and free agency, and judge which teams are set to challenge the Lakers. Plus, Andy rails against space travel.
10.

Chasing Pinstriped Dream
By Kevin Arnovitz
ESPN.com
LAS VEGAS -- The parallels that run through Cox Pavilion during the Las Vegas summer league have a profound symmetry. Aspiration can be found in every corner of the building. In a venue no larger than a high school gym, you'll meet undrafted ballplayers competing for coveted invitations to an NBA training camp, eager young agents trying to establish a foothold in the business, scouts who see themselves coaching one day, talented bloggers who want to write about the game on a full-time basis … and a small group of referees who have a career-making opportunity during summer league to reach the next level.
Gerald Williams, 31, is one of those game officials looking for his big break. After playing college basketball at Houston Baptist University, Williams came to two conclusions. First, he realized didn't have the sufficient talent to play basketball at the professional level. Second, he wanted to stay close to the game he loved -- if not as a player, then in some other capacity.
"I tried to coach, but I was absolutely horrible at it," Williams said. "I couldn't translate the passion I had for the game, so I said, 'Let me try refereeing.'"
As a former point guard, the court vision essential to officiating a good game came naturally to Williams. He started working junior high games in the Dallas-Fort Worth area and loved it. Pretty soon, Williams' ambition led him to a local high school chapter of referees. His contact there suggested he attend a weekend clinic, which would put him on track to officiating on the high school and AAU circuit.