1. Celtics Ruin The Heat's Season Opener
By Michael Wallace
ESPN.com
BOSTON -- Lying on his back in the lane, arms outstretched and his eyes gazing at the ceiling of TD Garden Tuesday night, Boston Celtics forward Paul Pierce was in too much pain to enjoy the defining moment of Boston's 88-80 season-opening victory over the Miami Heat.
"Actually, when he hit the floor, you could see he hit it pretty hard," Celtics coach Doc Rivers said. "I thought he was out."
Pierce wasn't. Far from it, actually.
Pierce had just been smashed by a freight train disguised as LeBron James.
After dominating the Heat early and then watching nearly all of his team's 19-point lead slip away, Pierce sprinted back on defense, planted his feet and then absorbed the full brunt of James barreling all of his 6-foot-8 inch, 260-pound frame into the lane while going in for a layup.
The collision sent Pierce tumbling. By the time he came to his senses, he was in the locker room being treated for a bruised back. Pierce, who would return to finish off the Heat, has a reputation for milking these dramatic moments. But this one was legit. The pain was real. The sacrifice was bold.
Never mind that he was called for a blocking foul. Nothing else his team did Tuesday was more symbolic of how uniquely proud, insanely stubborn and breathtakingly defiant the Celtics were on Tuesday. Brick walls don't even have the audacity to stand in front of James when he's got a full head of steam.
The message that possession sent throughout the building, and likely the league, was that the defending Eastern Conference champions won't be backing down and handing anything over to the Heat.
Team trumped dynamic talent Tuesday night. The roster that remained largely intact in the offseason displayed far more chemistry and cohesion than the best squad money could buy last summer. James, Dwyane Wade and Chris Bosh will eventually be extraordinary this season. But they were reduced to ordinary by Boston. Miami's debut was mostly a dud.
The Heat were humbled. It was as simple as that. And the reality of an 82-game regular season dictates that there will occasionally be nights like this. The best thing the Heat took away from one of the most hyped season openers in NBA history was their chartered flight to Philadelphia for Wednesday's game against the 76ers. Well, there was also this dose of reality from Wade.
"Sorry if everyone thought we were going 82-0," Wade said. "It wasn't going to happen."
Boston played like a team that's ready to make a repeat run to the NBA Finals. The Heat played like a team that could use another week of training camp to get its act together. It wasn't hard to see this coming. Wade, James and Bosh played all of 3 minutes, 17 seconds together in the preseason because of injuries. That lack of chemistry was obvious from that moment in the first quarter when Wade cut toward the basket looking for the ball and James threw a pass toward the perimeter.
Turnover. It was one of 14 that Wade and James combined for against the Celtics. That equates to one for every shot Wade and James combined to make Tuesday night. And despite all of that, the Heat overcame adversity well enough to pull to within three points late in the fourth quarter.
So there is potential. But right now, there's a collective call for patience.
"It's a feel-out process," James said of the lack of rhythm Miami showed most of the night. "It was almost as if we were trying to be too unselfish. We still have to play our game."
James accounted for 31 points to set a franchise record for the highest-scoring game in a Heat debut. But none of the points he contributed were bigger than the ones he made after the game. What the Heat have been behind closed doors on the practice court wasn't what they revealed in Boston.
Sure, the Celtics had plenty to do with that. But this was a sloppy Heat team. They looked one-dimensional on offense and settled for far too many jump shots. This is a team that takes pride in its defense, but one that couldn't close out fast enough to open shooters in the final minutes.
In some ways, Heat coach Erik Spoelstra saw a team he didn't recognize.
"In practice, it looked a lot different than this," Spoelstra said. "There is going to be a process with this. There's a lot of expectations and a lot of pressure out there, but we have our own timetable, and we knew this wasn't going to be easy."
That's typically the case when you're a work in progress. As a result, the Heat were worked over.
Wade and James saw their 2010-11 season start the same way their previous one ended individually last season -- with a loss in Boston.
New Heat. Same Celtics. And Boston is still stubborn enough to stand in the way.
Michael Wallace is a regular contributor to the Daily Dime
2. Blazers Prevail Behind Lineup Change
By John Hollinger
ESPN.com

Batum
PORTLAND -- The story of the Portland Trail Blazers' 106-92 opening win over the Phoenix Suns might be a recurring one all season: They're a lot tougher to guard when they have an extra shooter on the court instead of their starting five.
Trailing the Suns by two with less than six minutes left, the Blazers removed Marcus Camby and slid Nicolas Batum up the 4 spot, rendering Phoenix's strategy of immediately double-teaming post-ups far more problematic. Batum promptly started raining jumpers, scoring 11 points in the final five minutes, as the Blazers used an 18-1 game-ending run to avenge last season's playoff defeat to the Suns.
The larger implications here are the same ones Blazers fans have fretted about all season: Namely, that Portland's starting five doesn't mesh together nearly as well as some other combinations. With starters Andre Miller and Marcus Camby both non-shooters, Phoenix could double-team LaMarcus Aldridge with impunity.
For three-and-a-half quarters, that's just what they did. Aldridge took only nine shots despite being covered by the likes of Hedo Turkoglu and Hakim Warrick, as the Suns happily forced the ball out of his hands and into those of Miller or Camby on the perimeter.
As a result, Portland's offense looked stuck in the mud despite playing at home against one of the league's weakest defensive squads. The only thing that saved the Blazers was a massive offensive rebound disparity, with Batum -- who was guarded by Steve Nash much of the game -- plucking five of the Blazers' 18 offensive caroms.
To read the entire Hollinger story, click here.
3. Daily Dime Live Recap
ESPN.com writers and TrueHoop Network bloggers chatted with fans and gave their in-game opinions throughout Tuesday's games -- all in Daily Dime Live.
By Maurice Brooks
ESPN.com
TUESDAY'S BEST

Rondo

Rajon Rondo, Celtics: In a game featuring two sets of "big threes," it was a player on the cusp of becoming a superstar that stole the show. Rondo handed out 17 assists -- one short of his career high and the third-most helpers in a season opener in NBA history -- to power the Celtics to an eight-point win.

TUESDAY'S WORST

Wade

Chris Bosh and Dwyane Wade, Heat: Obviously, it is going to take a little bit of time for the Heat to get used to playing with one another. The two All-Stars combined to shoot 7-for-27 from the field in the road loss.

QUOTE OF THE NIGHT

"Sorry if everyone thought we were going to go 82-0. It just ain't happening."

-- Guard Dwyane Wade after Miami's season-opening defeat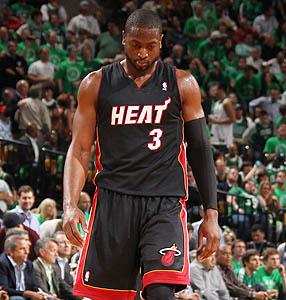 (NBAE/Getty)
When Chris Bosh and LeBron James joined Dwyane Wade in South Beach, a lot of so-called experts crowned them the team to beat in the East. ESPN.com's Brian Windhorst has reactions after Miami's loss to Boston.
Story
.
7.

Lakers Receive Their Rings

Bryant
LOS ANGELES - That other team, you know, the two-time champions, started the season as well, Tuesday night, with a low-key ring ceremony consisting of one teammate introducing the next, followed by a victory produced by some low-wattage players.
The first step of the Lakers' title defense, a 112-110 victory over the Rockets, belonged in part to Steve Blake, one of the less spectacular (albeit fully logical) signings of the summer. Blake hit back-to-back three-pointers that pulled the Lakers from 11 points down to within five in the final minute of the third quarter.
Then Blake delivered the two biggest moments of the game, hitting a go-ahead three-pointer with 18 seconds remaining and deterring Aaron Brooks' game-tying reverse layup attempt on the final play.
The night also belonged to Shannon Brown, one of the free agents for whom the cash register did not toll this summer, whose steals and jump shots of his own allowed the Lakers to take the lead in the fourth quarter. He had four steals and 16 points and made four of his five three-point attempts, the by-product of a summer spent working on his game. Brown re-signed with the Lakers for a two-year contract that will pay him $2.2 million this season, less than he expected for a player coming off two championships.
"It's a business, man," Brown said. "I definitely had to realize that.
To read the entire story, click here
8.

Great Debut: Heat Reaction Page

Ilgauskas
Big Z's numbers don't look all that good -- just one point and three rebounds. But during the third quarter he made a series of hustle plays that helped the Heat make a run. Ilgauskas also did a decent job defending the rim. The Heat outscored the Celtics by 17 points with him on the floor.
To read the Heat Reaction, click here
9.

Stern And The Contract Distraction
LOS ANGELES - Yes, it's a negotiating tactic and, no, I don't believe the NBA will actually contract, but it's sure interesting how persistently David Stern keeps the concept alive.
CBSSports.com first reported it, and rather than shooting it down once the mission (establishing another threat the players' union will have to deal with) was accomplished Stern keeps floating it out there.
He did it again Tuesday night in Los Angeles while speaking to reporters before he handed the Lakers their championship rings. Notice how he worked contraction in while presenting the concept of parallel yet co-dependent negotiations among the owners and with the players:
"Everyone knows that there's going to be a deal eventually, and it's very likely to look a little bit different than the current deal," Stern said. "There are issues within the union about the superstars versus the regular guys, there are different views amongst the owners with respect to how much you need and how long you're prepared to take to get there. And then when you get on top of that, with revenue sharing, which is a subject that's going to be very much at the fore and keeping it there, that's what leads to the discussions about if we're going to give a cut of TV money, if we're going to give revenue sharing, do we need so many teams?"