1. Defense The Key For New-Look Heat
By Brian Windhorst
ESPN.com
PHILADELPHIA -- A perturbed Erik Spoelstra called two timeouts during the fourth quarter of the Miami Heat's first victory of the season -- once when his team was up 17 points on the Philadelphia 76ers and another when it was up 15.
There's so much focus on the offensive chemistry and scoring balance of the Heat's juggernaut trio and with good reason. For many observers, Miami's success is an inevitability if the central cast can figure out how to share the spotlight and the ball.
The first two games, a loss in Boston on opening night and a 97-87 win over Philly on Wednesday, saw a nice illustration of this potential: LeBron James scored 31 points in the opener. Dwyane Wade then came back with a smooth and impressive 30-point performance in Philly while James struggled with turnovers.
But the reason Spoelstra called those timeouts is the Heat's central focus at the moment, even if it isn't as interesting to the standard fan. Spoelstra was frustrated with some breakdowns he saw on defense and bolted into the huddles twice to let his team know about them.
That has been the Heat coach's mandate since Day 1 of training camp and he's not wavering on it. There's no hiding from the fact that Spolestra is under a significant amount of pressure to make the talent he's been given work as a unit. But his base principle is to get them functioning at the defensive end, knowing that the offense will eventually come together on its own.
"We've spent a majority of our time on defense and that's by design," Spoelstra said. "We want to have a [defensive] disposition."
So far the Heat are merely 1-1, with the victory coming against an overwhelmed 76ers outfit that saw its starters combine for just 30 points. But the Miami defense, that central tenant, already seems to be following the path Spoelstra wants it on all season.
Save for that unsettling fourth quarter when the Heat got a little lazy after getting up 28 points and allowed the 76ers to score 33, the Heat are off to a strong start.
They allowed only 88 points to the Celtics, though Boston's 46 percent shooting was higher than desired. It was because the Heat were able to deny the Celtics and create turnovers that they were still in the game in the fourth quarter.
Wednesday night, the 76ers managed those 87 points on 43 percent shooting, which was closer to ideal. Through three quarters, Philly had only 54 points and was hitting at a 36 percent clip from the floor.
Miami has forced 39 turnovers, creating 46 points in their two games. The Heat have allowed an average of 39 points in the paint as well.
Indeed, Miami's interior defense has the potential to be a weakness during the season. But any team would like to post those types of averages for the long haul. It certainly would give them a chance to win most games against the strong inside games of the Los Angeles Lakers, Boston Celtics, Orlando Magic and Chicago Bulls.
"We will be one of the best defensive teams in the league," Wade said. "Our defense will be above our offense."
That is exactly what the Heat coaching staff wants Wade to say, and they'll be more impressed if he and his teammates stick to that agenda. Spoelstra's been drilling it into them since long before Hurlburt Field and training camp with the hope that it becomes an emphasis on a nightly basis. And that's why he called the two timeouts, to let them know he means it even in potential garbage time.
Spoelstra teaches what is known as a "shrink the floor" style of defense. It is a common approach and more teams have been using it since the San Antonio Spurs made it a key part of their four titles.
Protecting the paint is the main strategic imperative. When the ball does get in the middle, all the defenders collapse to help defend or "shrink" the defensive footprint. As a result, the ball will often get kicked to the outside, where the Heat are encouraged to close out to jump shooters. The defense is willing to give up jumpers -- hopefully contested -- instead of one-on-one matchups inside.
With highly athletic and long players such as James, Wade and eventually Mike Miller, Miami has the personnel to make it effective. And if they're successful, the Heat should be able to give their challenged big men as much help as possible during the season.
So far it has been working. The Heat have created numerous deflections and steals (Wade has six in the two games) as they use their athleticism to get in passing lanes. The plan is for that to become the norm.
"It is going to be our backbone and it is going to help us win a lot of close games," Chris Bosh said. "After all the hard work we've put in to it, we need to see those results."
Brian Windhorst is a regular contributor to the Daily Dime
2. Stoudemire Powers Knicks To Win No. 1
By Chris Sheridan
ESPN New York

Stoudemire
TORONTO -- Coach Mike D'Antoni called Amare Stoudemire's performance a near "cripple-double," which it's fair to say qualifies as humorous.
And this is important, you ask, because ... ?
Well, it goes back to what transpired after the morning shootaround on the day of the New York Knicks' season opener against the Toronto Raptors, when a Canadian TV reporter threw D'Antoni for a loop by asking why he had a reputation for being humorless.
D'Antoni might be a lot of things, but humorless is not one of them.
And so it was with great pride that he accepted congratulations on the use of the term cripple-double to describe Stoudemire's 19-point, 10-rebound, nine-turnover performance Wednesday night as New York opened the 2010-11 season with a 98-93 victory over the Raptors.
"I'm trying to get back my reputation on that," D'Antoni said. "I don't know what happened with that. I'm normally funny when we win."
To read the entire Sheridan column, click here.
3. Daily Dime Live Recap
ESPN.com writers and TrueHoop Network bloggers chatted with fans and gave their in-game opinions throughout Wednesday's games -- all in Daily Dime Live.
By Maurice Brooks
ESPN.com
WEDNESDAY'S BEST

Ellis

Monta Ellis, Warriors: Stephen Curry had 25 points and 11 assists and David Lee scored 17 and grabbed 15 rebounds, but both of their efforts were topped by Ellis' 46-point outburst. Ellis knocked down 18 of 24 shots.

WEDNESDAY'S WORST

Hamilton

Detroit Pistons: A seven-point lead with just 1:40 remaining against a team that won 12 games a season ago seems pretty safe, right? Not if you are the Pistons, who failed to protect their advantage in a road loss.

QUOTE OF THE NIGHT

"We took them a little bit too lightly."

-- Celtics center Shaquille O'Neal after Boston fell to the Cavaliers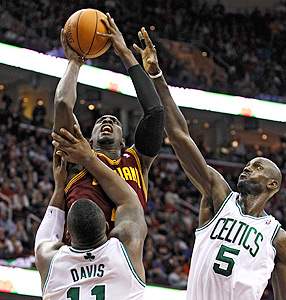 (NBAE/Getty)
J.J. Hickson scored a team-high 21 points to lead the Cavaliers -- who were playing their first game in seven seasons without LeBron James -- past the visiting Celtics, 95-87.
7.

Griffin Makes His NBA Debut

Griffin
LOS ANGELES -- Give me The Blake Show over The Lake Show.
With Blake Griffin finally on the court the Clippers are the most interesting team in Los Angeles right now. Not the best, not the one with the most potential, just the most intriguing during the interminable regular season.
The Lakers' story will be told in the spring. Kobe Bryant already sounds bored by the tedious process. If you saw a graphic equalizer for his media interviews over the past week it would look like this: ----------------.
The Clippers, thanks to Griffin, figure to be a nightly discovery throughout the winter. And if the coming months are anything like his coming out party Wednesday night, you'd better get ready to pop every last kernel of Terrell Owens' popcorn.
The injury-delayed debut of the No. 1 pick in the 2009 draft carried a bit of mystery.
Before the game Clippers coach Vinny Del Negro wondered, "What's his NBA game right now? Well, we're about to find out."
Turns out it consists of this: Go to rim. Get ball. Dunk ball.
To read the entire column, click here
8.

Are We In For Some Surprises?
By John Hollinger
ESPN.com

Randolph
Or to put it another way, are the Memphis Grizzlies any good? As our Tom Haberstroh noted recently, teams that roll through the preseason tend to keep up the happy mojo once the real games start. All but one of the past 17 teams to finish exhibition play with one loss or fewer went on to make the playoffs.
This season three teams -- Memphis, Utah and Orlando -- fit that profile, with all three running the table in the preseason. That the Utah Jazz and Orlando Magic might be playoff-caliber teams isn't exactly breaking news, but the Grizzlies staying at that level would be. I projected them to win 36 games, and only one of our prognosticators, the intrepid Chris Sheridan, pegged Memphis as a playoff team.
To read the PER Diem, click here
9.

Bulls Need Some Help For Rose
By Nick Friedell
ESPN Chicago

Rose
OKLAHOMA CITY -- Derrick Rose looked like a mummy in the subdued postgame locker room Wednesday night after the Chicago Bulls' 106-95 season-opening loss to the Oklahoma City Thunder. His body was covered in ice bags. He had one on each knee, one on each hand, and he was soaking his feet in a huge tub of freezing cold slush.
In many ways, the sight of a dejected Rose sitting in front of his locker signified the way the Bulls' night unraveled at the end. After playing so well for three quarters, and hanging tough in a rowdy environment, Rose & Co could barely do anything right in the fourth. They were frozen in their tracks, much like the 22-year-old point guard was after the game.
"We were blowing sets, all of us," Rose said, with a white towel draped over his head.
To read the entire story, click here