1. Don't Forget About The Magic
By Michael Wallace
ESPN.com
ORLANDO -- Despite destroying opponents throughout the preseason and thoroughly dominating the Washington Wizards to open their new $400 million arena Thursday night, the Orlando Magic find themselves in a familiar spot: Overlooked in Orlando.
But this season, the Magic insists they aren't worried about public perception or lobbying for more recognition throughout the league. Their logic is simple. Those things will all take care of themselves along their pursuit of an NBA championship.
After beating their preseason opponents by an average of 25 points and holding them to 36 percent shooting, the Magic didn't skip a beat in Thursday's 112-83 dismantling of the Wizards.
So go ahead and let the new-look Miami Heat garner all of the hype, the two-time defending champion Los Angeles Lakers get the national headlines and the Boston Celtics claim the perch atop the Eastern Conference for now. The Magic continue to fly under the national radar of public perception. But this time, they've learned to embrace the cruising altitude.
"We've always been the team that's always been overlooked," Howard said after collecting 23 points, 10 rebounds and three blocks in 30 minutes to start his seventh season. "That doesn't bother us. We put in the work every day. Our goal is a championship. And nobody can take away wins. Our focus is not to get all of the media attention and all of the hype. We don't need that."
In the past, the Magic may have sought validation and vindication.
But things are different in Orlando now. There's a more serious tone to the team's temperament. Aside from cracking a few jokes in the locker room about Howard doing 10 pushups near the bench for missing 10 free throws in the game, the Magic were mostly in a business-like mood. Players left the locker room and headed to the team's flight to Miami for Friday's game against the Heat as if they were punching time cards after a routine night of work.
"I'm not sure what we've improved on the most just yet," coach Stan Van Gundy said when asked about the biggest adjustment his team has made since last season. "I just know our focus and intensity has been great, and I think that we've been a little more serious than we have been in the past. I think we want to change some of the things that have been problems in the past, and I've been really happy with them as a group."
But to know Van Gundy is to understand that Stan is a man who is never satisfied. Late in the first quarter, with the Magic already ahead by 18 points, Van Gundy shouted at his starters for slacking off on a defensive possession that led to a Wizards score. Point guard Jameer Nelson fired back at his coach, and the two exchanged glares and choice words for several seconds. Then the lead grew to 24.
No letdown. No mercy. That's essentially the Magic's mantra this season. After losing to the Los Angeles Lakers in the NBA Finals two seasons ago and falling to Boston in the Eastern Conference finals last season, the Magic are trying to break free of what has seemed like a restraining order with the Larry O'Brien trophy. The competition in the East has only gotten tougher, with Boston, Miami and Chicago having retooled their rosters to make championship chases of their own.
But the Magic are running out of excuses. Their core of Howard, Nelson and Rashard Lewis have been intact for four seasons, the team has moved into a state-of-the-art building and owner Rich DeVos has authorized team executives to spend more than $20 million toward the league luxury tax to put the final roster pieces in place needed to win a title.
"It's all about the ending result for us now," guard Vince Carter said. "But at the end of the day, this is a great situation for us. There's no pressure on us. You don't really hear about the Magic when all the so-called experts talk about teams that are supposed to do big things. So when we go out there and do it, we're like, 'Hey, we knew we could do this. That's all that matters. We have to go earn it."
Orlando is quietly making the necessary changes to crash what is widely expected to be a Lakers-Heat showdown in the NBA Finals.
There's more depth, where the second unit of Chris Duhon, J.J. Redick, Mickael Pietrus, Ryan Anderson and Marcin Gortat might be better than a third of the league's starting units.
There's more versatility, with coach Stan Van Gundy mixing and matching lineups that range from shifting Rashard Lewis from power forward to small forward.
Ultimately, there appears to be more to Howard's game. The big fella showed the level of agility around the basket that's been a byproduct of offseason work with Hall of Fame center Hakeem Olajuwon and in-season grooming from Magic assistant coach Patrick Ewing.
"We want to be the best defensive team in the league," Howard said. "And in order to do that, we have to do it every night, no matter if it's the Lakers, Miami, Boston or a team like Washington."
Michael Wallace is a regular contributor to the Daily Dime
Dimes past: October 27 | 28
2. Wall Learns His First Lesson
By Michael Wallace
ESPN.com

Wall
ORLANDO -- Rookie point guard John Wall, the top pick in last June's draft, learned a valuable lesson in his NBA regular-season debut: stay away from Dwight Howard.
And he learned it the hard way. Wall scored the first points of his career when Howard pounded his driving layup off the backboard on a goaltending call. The next time Wall challenged Howard in the paint, he ended up on his backside after a legitimate block by the Orlando Magic center.
Welcome to the league, kid.
"It was tough," Wall said after he finished with 14 points and nine assists, but missed 13 of 19 shots from the field in the Washington Wizards' 29-point loss to the Magic on Thursday. "It really taught me what I need to work on. For my first game to be a road game against one of the top teams [that] made it to the NBA Finals a few years ago, it was pretty tough."
The night ended much worst than it began for Wall, 20, who approached the game with a level of maturity well beyond his years. The former University of Kentucky star even ditched a couple of his pregame routines heading into Thursday's game.
Instead of eating a cheeseburger, his typical meal of choice before each game, he instead upgraded to a steak before facing the Magic. And instead of texting several of his friends who are established stars in the league, such as LeBron James, Wall turned his cell phone off and spoke with only close relatives in the hours leading up to the game.
Wizards coach Flip Saunders was impressed with Wall's approach, and said he carries himself with a savvy and swagger similar to some of the other marquee point guards he's coached. Saunders was in Minnesota when the Timberwolves drafted Stephon Marbury after one season at Georgia Tech. Saunders was also in Detroit when Chauncey Billups annually led the Pistons to the conference finals.
"He's even more advanced than most of those guys, just from the standpoint of his natural leadership ability," Saunders said. "Just how he deals, he's kind of a combination of all of those guys."
There was no shortage of advice for Wall, even from Orlando's players. He spoke at length during the halftime break with Howard. Vince Carter also had words of encouragement after the game.
"I told him I was going to give him two points tonight," Howard said, making light of the goaltending call. "He's going to have a great career. He's so fast. He wants to play at that one speed. I told him to slow down a bit. He's going to learn a lot. I'm 24, and I'm still learning in this league."
3. Daily Dime Live Recap
ESPN.com writers and TrueHoop Network bloggers chatted with fans and gave their in-game opinions throughout Thursday's games -- all in Daily Dime Live.
4. Wall's Tough Shooting Night
Elias Sports Bureau

Wall
John Wall made 6-of-19 shots from the floor for the Washington Wizards in his NBA debut. Since the modern draft was instituted in 1966, only three other No. 1 selections missed as many as 13 field-goal attempts in their debuts. Kareem Abdul-Jabbar (then Lew Alcindor) went 12-for-27 in his first game for the Milwaukee Bucks in 1969, Mark Aguirre was 7-for-21 from the floor in his debut for the Dallas Mavericks in 1981 and Patrick Ewing was 8-for-21 in his NBA debut for the New York Knicks in 1985.
By Maurice Brooks
ESPN.com
THURSDAY'S BEST

Warrick

Hakim Warrick, Suns: With Amare Stoudemire doing his damage in New York now, the Suns were looking for someone to fill his void in the lane. For one night, Warrick was the answer, tallying 18 points and 11 grabbing rebounds against the Jazz.

THURSDAY'S WORST

Williams

Deron Williams, Jazz: Two games, two double-digit defeats for Utah. Sure the Jazz are trying to work some new pieces into the puzzle, but Williams, who is the face of the franchise, has to start playing better (6-for-22 shooting from the field).

QUOTE OF THE NIGHT

"For me, I feel it's a time for change."

-- Forward Carmelo Anthony hinting it may be time for him and the Nuggets to go their separate ways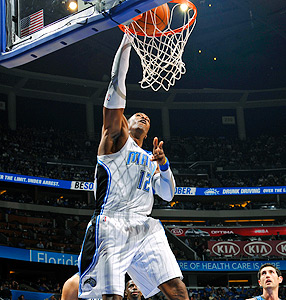 (NBAE/Getty)
Of course it is too early to start thinking about the most valuable player award, but that didn't stop Magic fans from chanting "MVP" at Howard midway through his 23-point, 10-rebound night.
8.

Warrick's Slam Punctuates Night
By Michael Schwartz
TrueHoop Network

Warrick
It took just a single dive.
One vicious foray to the hoop punctuated by a rim-rattling slam, and Hakim Warrick announced himself as the heir to Amare Stoudemire's roll man throne with the Phoenix Suns.
That's not to say Warrick will exactly be Stoudemire. It's not that easy to replace a five-time All-Star who scores at least 20 points pretty much every time he laces them up.
But for a Suns team craving a big man who can roll hard to the rim to draw the defense and finish Nash's beautiful dishes, Warrick showed he can be that guy.
His nasty slam may have made Warrick a trending topic on Twitter and earned him an appearance on "SportsCenter," but really it was just the cherry on top of an 18-point, 11-rebound masterpiece in a mere 24 minutes in which he was a plus-12.
For a Suns team so deficient of rebounders, his prowess on the glass was just as important as the way he sucked in the defense during the plays following his big dunk to open up the perimeter for his teammates.
Warrick did his damage both with the first unit and the bench, but he seems to be a perfect fit playing with the starters. As we learned, he can be that ferocious roll man to pair with Nash, the biggest way the Suns miss Amare.
Robin Lopez just doesn't possess the explosiveness toward the rim to collapse the defense, Hedo Turkoglu is more accustomed to handling the ball in a pick-and-roll situation and Channing Frye is more of a pick-and-pop kind of screener.
Warrick won't ever be Amare, but he can be Amare Light.
And for one play at least when he took a Nash pass off a pick-and-roll and put Paul Millsap on a poster, he looked an awful lot like the man known as STAT.
Michael Schwartz covers the Suns for the TrueHoop Network.
9.

What's Wrong With The Jazz?
By Spencer Hall
TrueHoop Network

Miles
An 8-0 preseason with all kinds of great chemistry seems like a distant memory for the 0-2 Jazz. Just last week all the talk centered around a new kind of leadership from a revitalized Deron Williams. The players were taking each other to lunch and making plans to start a multi-year dynasty together.
The pendulum swings both ways. The goodwill and camaraderie have been replaced with frustration, confusion, and lack of effort. It all boiled over in the fourth quarter when Williams fired a bullet baseball pass to rookie Gordon Hayward, who was standing only a few feet away. The angry gesture from the newly named team captain seemed to shock the crowd and fueled the boo birds.
Hayward put on a good face after the game, but had to cover for his captain when asked about the incident. "With time it will all be fine. I just need to learn what he wants me to do. Next time I'll be in the right place. Once I stop rushing and just slow down it will all be fine. I keep telling myself to slow down.
"You know, in warmups I can't miss, and then I get out there and the shots won't fall. I just need to shoot. I've been a shooter my whole life. It starts on defense though. If we can get some stops, we'll be fine. We'll be fine; I have confidence in us."
The players tried to say the right things, but after the game, the tension was palpable in the locker room. A frustrated C.J. Miles tossed a crumpled roll of athletic tape and missed the trashcan by a few feet, proving that too much pressure doesn't help with crisp play. So what happened between the end of the preseason and the start of the 82-game grind? Williams talked about players not knowing the offense. Miles thought the team got caught up in the euphoria of being the preseason champs.
"The Lakers started the regular season with a ring ceremony," Miles said, "and I guarantee you they didn't go 8-0 in the preseason."
The Suns are another team that didn't go undefeated in the preseason. The powerful display by the aging trio of Steve Nash, Grant Hill and Jason Richardson as well as eye-opening play from Hakim Warrick and Goran Dragic bode well for the Phoenix squad that looked completely overmatched several times in the preseason. It should be noted that Warrick threw down one of the most ferocious dunks in the history of the world in the third quarter.
Somehow the Jazz need to get their hands on whatever alchemy the Suns medical staff is performing. They've not only rejuvenated 90-year old Hill, they've also created a Slovenian clone of Steve Nash in Dragic.
Jazz fans will have to wait until Sunday to see if a matchup against Kevin Durant and the Thunder in Oklahoma City reveals a new demeanor. The pendulum has to swing sometime.
Spencer Hall covers the Jazz for the TrueHoop Network.