1. LeBron James: The Reluctant Point Guard
By Brian Windhorst
ESPN.com
MIAMI -- LeBron James has an odd relationship with the label "point guard." In short, he wants no part of it.
Compare him to Magic Johnson -- just don't call him Magic Johnson. Watch him bring the ball up and get his team into the offense for at least half the game's possessions, just list him at forward on the All-Star ballot.
The Miami Heat public relations staff is fully on board. Tuesday night they announced James' 12 assists in the team's latest blowout victory (129-97 over the Minnesota Timberwolves) was the highest in franchise history by a forward.
Lamar Odom, who had the mark dating to 2004 with 11, might consider filing a protest.
James is playing point guard for the Heat and a lot of it. He is playing the Magic role that team president Pat Riley sold to him during free agency. The offense is running though him and he's taking turns feeding Dwyane Wade, Chris Bosh and even James Jones, who had 17 points.
Not that James is willing to call himself a point guard.
"I know I'm going to do a lot of ball handling for this team," said James, who was bothered by a sore leg and had 20 points but no rebounds. "Do I want to be called a point guard? I don't know."
Actually he does know. This from a minute later in the conversation: "I don't want to be called a point guard, but I can't stop it."
Whatever helps James sleep at night.
In his 33 minutes against the Wolves, James was the primary ball handler for nearly the entire time. Carlos Arroyo started at "point guard," and he and Wade handled some of the duties. But basically James has become the Heat's de facto lead guard when he's in the game. When the Heat are in transition off a turnover or running upcourt after a defensive rebound, James' handling rate creeps toward 100 percent as he actively looks to receive the ball.
Heat coach Erik Spoelstra doesn't have another "point guard" in his rotation besides Arroyo, though even that may be some window dressing. His plan going into the season was to have James play the point as much as possible. Right now Spoelstra is getting away with calling James a "backup" point guard.
Many of Spoelstra's half-court sets are designed to start with the ball going to Bosh in the post. With Wade as one of the most dynamic wing players in the game, placing James at the point makes a lot of sense strategically. His presence at the top of the floor offers balance and draws the defense.
Arroyo does bring the ball up the court after some made baskets and out-of-bounds plays ... when James doesn't meet him at half court to take it from him.
Arroyo's central job is to defend the opposing point guard and he's quite clear about it.
"[James] is a point-forward-shooting-everything," Arroyo said. "He understands the game, and that's why we put him in situations so he can make plays for us."
Spoelstra had a two-page list of rules and guidelines coming into training camp to determine how minutes would be distributed between James, Wade and whoever the nominal point guard was.
"When I got out to the first practice I scrapped it all; it was ridiculous," Spoelstra said. "I want it to be a flow and that would be the opposite of that. I want to take advantage of their ability. I don't want handcuffs on them. I don't want these guys playing like robots. Their greatness is their ability to make plays on instincts."
Thus far, James is averaging 7.2 assists in just 34 minutes per game, many of them as the team's dominant ball handler. One of the reasons James is averaging five turnovers a game is because he's handling the ball so much.
James has always been a high assist player -- he averaged a career-best 8.6 with the Cavs last season -- but hasn't always enjoyed initiating the offense. For his entire career he's run with the ball after getting defensive rebounds. But in half-court sets, James has generally preferred waiting for the ball to be delivered to him on the wing.
Last season when the Cavs lost point guards Mo Williams and Delonte West to injury in February, James was forced into service. The Cavs subsequently went on a 10-game winning streak and James averaged nearly 11 assists as the sub.
While enjoying the victories, he lamented his new duties, counting down the days until he could give up the role. At the time, James said he was glad he didn't do it full time.
"I like to get out and get up the court, using my speed and aggressiveness toward the hoop," James said. "When I'm the point guard I have to run with the ball."
Again, this doesn't seem all that logical from a player who is also one of the fastest in the league with the ball in his hands. But James seems pretty determined to avoid the title, which is probably fine with his teammates.
"I think because of my size and the ability to pass the ball -- Magic was unbelievable, his passing game was unbelievable and he was a 6-9 point guard -- we get compared that way," James said. "To get compared to Magic is humbling. But I'm not really a point guard."
Brian Windhorst covers the Miami Heat for ESPN.com.
Dimes past: October 27 | 28 | 29 | November 1 | 2
2. Fewer Minutes For Kobe A Good Thing
By Dave McMenamin
ESPN Los Angeles

Bryant
LOS ANGELES -- We saw shades of Kobe Bryant looking like Michael Jordan on Tuesday. Not that that's anything new -- Bryant's fadeaway jumper on the baseline is a near perfect imitation of MJ's just about any day -- but the impersonation was of the gesture variety this time.
After Bryant flicked in his third 3-pointer of the first half of the Los Angeles Lakers' 124-105 win over the Memphis Grizzlies, he raised his shoulders while holding his hands palms up as if he was playing NBA 2K11 and trying to re-enact Jordan's shrug game from the 1992 NBA Finals against Portland.
What Lakers coach Phil Jackson would like to see more of is Bryant looking like Jordan during the fourth quarter of yet another Chicago Bulls blowout -- shooting shirt on his chest, ice bags on his knees and smile on his face as he watches the reserves take care of garbage time.
Jordan averaged 38.1 minutes per game in his final three seasons in Chicago. Jackson said he tried to settle Jordan into a 36-minute average during the regular season and then ramped him up to 40-42 for the playoffs. Bryant averaged 38.8 minutes per game last season and 40.1 minutes in the playoffs.
While we're on the subject of Bryant's minutes, he's up to 37,491 in his career as a Laker, one shy of tying Kareem Abdul-Jabbar's franchise mark. Even with Jackson parsing Bryant's playing time, it's a safe bet that record will fall in the first quarter against Sacramento on Wednesday.
While coach and player still disagree whether Bryant is actually 100 percent back from his offseason knee surgery ("That's what he wants to be out there, so he's 100 percent of what he wants to be," Jackson said, laying the issue to rest), Jackson still prefers to not keep Bryant on the bench for longer than four minutes of game time if he plans to put Bryant back in because if he waits any longer, stiffness starts to set in.
The easiest way for Jackson to persuade Bryant to rest without having to contend with his competitive side is for the Lakers to take the competitiveness out of the game by blowing out their opponents.
"I would like to see us be able to break some games open so that [Bryant] can sit the last six minutes on the bench and not have to crank it out," Jackson said.
The Lakers have allowed that to happen, winning their past two games by an average of 21.5 points while making it so Bryant didn't have to play in the fourth quarter either night -- his average minutes per game dipping to 26.5. Bryant averaged 35.5 minutes in the Lakers' first two games, when L.A.'s average margin of victory was just five points.
Of course, all of these regular-season minute adjustments are done with the goal of Bryant being able to do the ultimate Jordan impression in June by lifting the Larry O' Brien trophy in triumph for the sixth time.
Dave McMenamin covers the Lakers for ESPNLosAngeles.com. Follow him on Twitter. http://twitter.com/mcten.
3. Daily Dime Live Recap
ESPN.com writers and TrueHoop Network bloggers chatted with fans and gave their in-game opinions throughout Tuesday's games -- all in Daily Dime Live.
4. Bucks Lose Early Home Lead
Elias Sports Bureau

The Milwaukee Bucks jumped to a 14-2 lead, but the Trail Blazers went ahead to stay in the closing minutes of the first half and came away earning a 90-76 decision. With the loss, the Bucks matched the number of home losses they had all of last season after holding a lead of at least 12 points; last Nov. 28, Orlando overcame a 17-point deficit to win at Milwaukee 100-98.
By Maurice Brooks
ESPN.com
TUESDAY'S BEST

Wall

John Wall, Wizards: The rookie got the fans out of their seats by dancing "The Dougie" during player introductions and kept them excited throughout the game by posting 29 points, 13 assists and nine steals against Philly.

TUESDAY'S WORST

Salmons

John Salmons, Bucks: The Bucks struggled to score points in their loss to the Blazers and the finger pointing starts and stops with Salmons, who missed 12 of his 14 attempts in a five-point night.

QUOTE OF THE NIGHT

"It starts with us in this locker room but it goes to everybody else as well. When you're 0-4, you don't just look at the team, you've got to look at everybody as a whole."

-- Detroit's Tayshaun Prince on his team's slow start to the season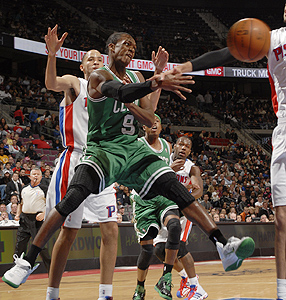 (NBAE/Getty)
Rajon Rondo continued to let his teammates eat, giving out 17 more assists as the Celtics turned away the Pistons by 23 points. Rondo has 67 assists in just four games.
8.

Fans Disappointed At Garden
By Ian Begley
Special to ESPNNewYork.com
NEW YORK -- Reinaart Vandenbrock came in from Belgium on Friday for a five-day stay in Manhattan.
He thought one of the highlights of his trip would be attending Tuesday night's Knicks-Magic game at Madison Square Garden, where he could see Dwight Howard, one of his favorite players in the NBA, live and in the flesh.
So Vandenbrock was confused and disappointed Tuesday afternoon when he saw a message splashed across the Garden marquee informing fans that the Knicks-Magic game had been postponed.
"We'd been planning this trip for three months. I can't believe this happened today," Vandenbrock said.
Vandenbrock was one of hundreds of basketball fans who showed up for the Knicks-Magic game Tuesday only to be turned away by MSG employees who informed fans that the game had been postponed because of a potential asbestos problem in the building.
Employees met fans -- many of whom were tourists -- at the entrance and politely informed them their tickets would be refunded at the point of original purchase. They also handed out a piece of paper with a written explanation stating that debris fell in the arena during overnight maintenance, "which included asbestos-related materials in the attic above the ceiling." The game hasn't been rescheduled and it is unclear when the World's Most Famous Arena will re-open.
To read the rest of Begley's column, click here.
9.

Beasley Leaves Game After Fall
By Kevin Arnovitz
ESPN.com

Beasley
MIAMI -- On Monday, Minnesota forward Michael Beasley attracted a throng of reporters to Timberwolves practice in downtown Miami. Despite the anticipation for his return, the mercurial forward insisted repeatedly that his homecoming to play the Heat was like any other game.
Beasley expressed no lingering grudge toward the Heat, who sold off the second overall pick in the 2008 draft to Minnesota for a couple of future second-round picks during Heat team president Pat Riley's summer clearance sale.
Beasley's spirited time on the floor on Tuesday in Miami suggested otherwise. The third-year southpaw played with an uncommon vitality seen only in fits and starts during his tenure as a Heater. Midway through the first quarter off a Corey Brewer missed jumper, Beasley slipped past LeBron James and over the entire scrum of big men beneath the Timberwolves' basket for a violent left-handed slam on the putback.
But after racking up 11 points in as many minutes, Beasley hit the deck hard on an aggressive left-handed drive through the lane at the 8:10 mark of the second quarter. He landed on his left hip. The contact appeared to be initiated inadvertently by his replacement in Miami, Chris Bosh, though James Jones was whistled for the foul.
"I was trying to make a play on the ball and block his shot," Bosh said. "Then I just heard him hit the floor. He hit the floor pretty hard."
To read the entire column, click here.