1. Point Guard Controversy For The Clippers?
LOS ANGELES -- Can we start a point guard controversy in Los Angeles? It'll have to do in a city that hasn't had an NFL team in 16 years. Besides, Baron Davis versus Eric Bledsoe is much more fascinating than Chris Miller versus Chris Chandler, the QBs who split starts for the 1994 Rams.
What makes this compelling is that Davis is the Clippers' highest-paid player, with $13 million coming his way this season, yet at times he's been their greatest hindrance by clogging the offensive flow and shooting 32 percent.
Bledsoe is making $1.5 million on his rookie scale contract. Yet it was Bledsoe providing the energy and impact so noticeably absent in Davis' three starts this season, and it was Bledsoe leading the Clippers to their first victory of the season -- in convincing fashion -- over the Thunder.
Watching Bledsoe use his quickness to get to the basket or set up teammates, and even knock down the open jumper on his way to a stat line of 17 points on 7-of-10 shooting and eight assists, it was easy to forget about Davis, who was behind the Clippers bench sitting out his second consecutive game with a sore left knee.
Coach Vinny Del Negro isn't going to waffle like Andy Reid, though. He gave no indication that Davis wouldn't regain his spot in the starting lineup upon his return (which would be sooner rather than later if Davis knows what's good for him).
"We need our veteran guys," Del Negro said. "We need to get Baron back, get [Chris] Kaman and Blake [Griffin] playing at a high level. We need everybody."
They don't need a whole lot more out of Griffin, who stays in double-double territory and had 18 points and nine rebounds Wednesday. Kaman, the team's second-highest paid player, scored only four points, but it was not a night to dwell on the negatives for the Clippers.
While Bledsoe's night wasn't as electrifying (and didn't feature as many dance moves) as Kentucky teammate John Wall's home debut in Washington the night before, it did earn Bledsoe a standing ovation when he was removed with a minute left to play and the Clippers ahead by 17. He also drew compliments around the locker room.
"Tough point guard," Eric Gordon said. "I like how he plays. Very scrappy."
"He was the MVP of the game tonight," Griffin said. "The way he led us, the way he called plays. He was poised."
Not bad for a guy making his second NBA start. At least this time he had ample warning, as opposed to Monday night when he saw his name listed among the starters in the pregame locker room.
"Eric Bledsoe did a very nice job for us, pushing the tempo, creating shots," Del Negro said. "He rushed a few but you can deal with that. I liked his aggressiveness."
"If I play hard like that, that's what I can do," Bledsoe said.
The Clippers still face a difficult climb out of the Pacific Division cellar, with a four-game trip to Denver, Utah, New Orleans and San Antonio that begins Friday. But at least they know they have a viable option at an important position.
At the moment, the Clippers actually have fewer issues than the Thunder, who need to address their weak defense and dismal 3-point shooting (4-for-26 Wednesday and a league-worst 19 percent on the season) before we can rightfully consider them a threat to the Lakers.
The old saying for quarterbacks and catchers is that if you have two you're considering starting, then you really don't have any. For the Clippers, though, having another player to consider at point guard means they can stop worrying about when they're going to win their first game.


ESPN senior writer J.A. Adande
• On Twitter @jadande | On ESPN.com | On TrueHoop | On e-mail
• Follow ESPN's NBA coverage on Twitter | On Facebook | On Google+
2. Doc Breaks His Own Rule
By Chris Forsberg
ESPN Boston

Rivers
Celtics coach Doc Rivers broke his own rule about fourth-quarter technicals Wednesday night, getting T'd up by referee Ed Malloy with 11:40 to play in the fourth quarter of a one-point game.
You could make the case that the lone free throw Corey Maggette made for the infraction added five extra minutes to his team's slate and nearly cost Boston a win, but the Celtics made far too many mental miscues to pinpoint one play. Regardless, Rivers expects grief when his team watches tape of the triumph.
Asked afterward if any players had called him out yet, Rivers smiled and said, "Not yet, but they will."
Jermaine O'Neal picked up a questionable foul as Andrew Bogut buried a forearm into his chest trying to fight for position in the lane. Rivers got the technical soon after for yapping at Malloy and, making matters worse for Boston, the referee quickly tagged O'Neal with another foul -- his fifth of the game -- just six seconds after play resumed.
To read the entire Celtics blog, click here.
3. Daily Dime Live Recap
ESPN.com writers and TrueHoop Network bloggers chatted with fans and gave their in-game opinions throughout Wednesday's games -- all in Daily Dime Live.
4. Jason Kidd's Kind Of Game
Elias Sports Bureau

Jason Kidd scored only three points on 1-for-6 shooting from the floor (including 1-for-4 from 3-point range) but he handed out 12 assists in the Mavericks' one-point win at Denver. It was the 21st time in Kidd's career that he registered at least a dozen assists in a game in which he had no more than one field goal. It's the most such games for any player in NBA history. John Stockton did that 18 times (the second-highest total).
By Maurice Brooks
ESPN.com
WEDNESDAY'S BEST

Ellis

Monta Ellis, Warriors: Kobe Bryant had a triple-double (30 points, 10 rebounds and 12 assists), but it is hard to overlook what Monta Ellis did (39, 9 and 8) while leading the surprising Warriors past the Grizzlies.

WEDNESDAY'S WORST

Milicic

Darko Milicic, Wolves: He went 0-for-6 from the field, finishing the night with zero points. He wasn't the only Minnesota player who had a rough game. The Wolves gave up 78 first-half points in a 42-point road loss to the Magic.

QUOTE OF THE NIGHT

"Sometimes you're the pounder, sometimes you're the poundee. We were the poundee tonight."

-- Pacers coach Jim O'Brien after his team was routed by the winless Sixers
7.

Pierce Reaches Milestone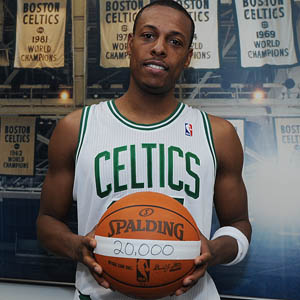 (NBAE/Getty)
Paul Pierce saved his best for last, scoring 12 of his 28 in overtime, including point No. 20,000 in his career as the Celtics edged the Bucks in OT.
By John Hollinger
ESPN.com

Wade
OK, it's only five games.
But after five games, the last four of which were blowout victories, the Miami Heat seem poised to live up to our lofty expectations. After the opening-night stumble in Boston, Miami won four straight by a combined 91 points, and that's with a still-rough-around-the-edges offensive chemistry and Dwyane Wade recovering from a hamstring injury.
The Heat aren't the only team to sport an impressive start, of course. The Lakers are unbeaten after Tuesday night's rout of Memphis, as are the Hawks and Hornets. (Quick side rant: Did Lionel Hollins watch the Finals last season? Kobe Bryant scored 23 points on nine shots in the first half against Grizzlies defenders not named Tony Allen. Allen guarded Kobe for one possession -- yes, just one -- and forced a wild miss that barely grazed the rim.)
Nonetheless, nobody was saying before the season that the Hawks or the Hornets might win 72 games. That's because they won't. And although L.A.'s goose egg in the loss column keeps it ahead of Miami in the standings at the moment, we've already seen what this outfit can do. Win the championship? Perhaps. Win 72? Not bloody likely.
Miami, on the other hand, conjures up a wide range of possibilities, precisely because we haven't seen the limits of what the James-Wade-Bosh partnership can accomplish. We've been wondering all summer if this will be one of the greatest teams of all time or just another nice team. After five games, we're wondering a lot about the former and not so much about the latter. That in itself is a minor accomplishment.
To rank with the all-time greats, obviously, this year's Heat would need to win the championship. But that won't be nearly enough; it's just the minimum threshold. Here are some of the regular-season standards the Heat would need to threaten or exceed, and how they're faring relative to those mile-high standards.
To read the rest of PER Diem, click here.
9.

Rid Sports Lexicon Of 'Cancer'?

Garnett
It's time to retire the word "cancer" from sports talk. Send it up to the rafters of the Boston Garden, just like all those old jersey numbers.
We know it's time because we've seen Kevin Garnett's response to Charlie Villanueva's angry tweet that Garnett called him a "cancer patient" during the Celtics-Pistons game Tuesday night. Garnett's statement in which he denied calling Villanueva a "cancer patient" but instead said, "You are a cancer to your team and to the league," lets us know Garnett believes that there is ever an appropriate time to make a cancer reference in sports.
Garnett developed that attitude because those of us in the media set the tone. We use cancer in the most casual ways. Locker room cancer, clubhouse cancer, on and on, as if anything an athlete does to disrupt team harmony is the equivalent of mutating cells that attack bodies from within and take the lives of our loved ones.
I typed "Terrell Owens cancer" into Google's search engine and received 165,000 hits. I didn't have the time to go through all of them, but I'm pretty sure none referenced a diagnosis of the disease or a visit to a children's hospital. Shouldn't Owens take offense? As bad a teammate as he's been at times, he's never killed anyone. More importantly, we should be offended by constant misuse of such a serious word.
To read the entire Adande column, click here.