Roy
"We're gonna stay quiet, man. We're gonna stay quiet. We want to stay under the radar. Last year we were on the radar and everybody got hurt."
Blazers guard Brandon Roy, refusing repeated invitations to shout about Portland's 4-1 start, even though four of the five games were on the road and despite the fact that centers Greg Oden and Joel Przybilla are still recovering from the knee injuries suffered last season.
But it's not because Roy was anticipating Thursday's nationally televised home defeat in overtime to their division rivals from Oklahoma City, which interrupted the Blazers' best start 1999-2000, when Portland opened 10-1 and went to the brink of the NBA Finals before an unforgettable fourth-quarter Game 7 collapse in L.A. against the Lakers.
It's all because Roy refuses to forget about the unyielding run of health calamities that cost him 17 games (hamstring and knee issues) in 2009-10, sidelined six teammates longer than that … and even inflicted a torn Achilles' tendon upon coach Nate McMillan.
Those unfortunate six in case you've forgotten: Oden and Przybilla missed 61 and 52 games, respectively; Nicolas Batum lost 45 games to a shoulder injury; followed by Travis Outlaw's 44 games lost to a foot ailment, Jeff Pendergraph's 43 (hip) and Rudy Fernandez's 17 (leg).
Sadly, though, B-Roy's understandably conservative approach might not work, either. In the lead-up to tipoff against the Thunder -- with the franchise and the entire city still reeling from Sunday's death of Blazers legend Maurice Lucas -- Portland was forced to announce the retirement of fill-in big man Fabricio Oberto (because of Oberto's longstanding heart condition) and the loss of first-round pick Elliot Williams to a season-ending knee injury.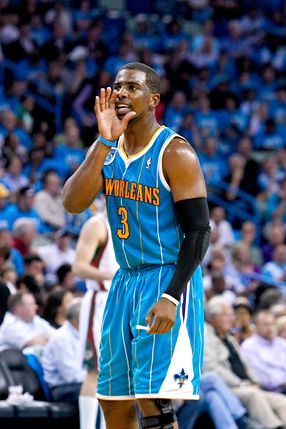 Derick E. Hingle-US PRESSWIRE
Hornets point guard Chris Paul doesn't need to shout. His return to Team USA-worthy form is obvious to the whole league thanks to New Orleans' surprising 4-0 start. (See Box 2.)

Wall
Are we overhyping one game against a team that started 0-4?
Are we getting carried away because this guy was our Rookie of the Year pick?
Or are we rewinding Tuesday night's historic breakout from John Wall to such a detailed degree because ESPN Research and Elias Sports Bureau make it so easy?
Guilty.
Yet none of those admissions are reason to spike this telling compilation of data that slams home just how special and unique Wall was Tuesday night with his 29 points, 13 assists and nine steals in a one-point OT win over Philly … with 21 points, seven assists and eight steals coming after halftime.
Focus on the debatable merits of his 30-second "Dougie" dance during intros if you want. Or the eight turnovers that Wall promptly (and admirably) chided himself for in the post-game interview. I prefer to scroll through the following names and numbers:
MOST ASSISTS FIRST 3 CAREER GAMES
| Name | Year | Total |
| --- | --- | --- |
| John Wall | 2010-11 | 31 |
| Jamaal Tinsley | 2001-02 | 31 |
| Damon Stoudamire | 1995-96 | 31 |
| Ernie DiGregorio | 1973-74 | 30 |
| Oscar Robertson | 1960-61 | 30 |
60 POINTS AND 20 ASSISTS FIRST 3 NBA GAMES
| Name | Year | Pts-Asts |
| --- | --- | --- |
| John Wall | 2010-11 | 71-31 |
| Connie Hawkins | 1969-70 | 63-21 |
| Oscar Robertson | 1960-61 | 72-30 |
MOST STEALS IN GAME BY ROOKIE
Name
Year
Pts-Asts
Ron Harper
1986-87
10
John Wall
2010-11
9
Mario Chalmers
2008-09
9
Quinn Buckner
1976-77
9
(Note: Steals didn't become official NBA stat until 1973-74 season)
20 POINTS, 10 ASSISTS FIRST NBA HOME GAME
| Name | Year | Pts-Asts |
| --- | --- | --- |
| John Wall | 2010-11 | 29-13 |
| Isiah Thomas | 1981-82 | 31-11 |
| Norm Nixon | 1977-78 | 24-10 |
| Oscar Robertson | 1960-61 | 21-10 |
MOST POINTS HOME DEBUT NO. 1 OVERALL PICK
| Name | Year | Pts |
| --- | --- | --- |
| Walt Bellamy | 1961-62 | 35 |
| Frank Selvy | 1954-55 | 35 |
| Allen Iverson | 1996-97 | 30 |
| John Wall | 2010-11 | 29 |
| Kareem Abdul-Jabbar | 1969-70 | 29 |
| Elvin Hayes | 1968-69 | 25 |
8.

D-League McCants' Best Option?

McCants
Texas Legends officials remain optimistic that exposure, as much as anything, will ultimately convince Rashad McCants to join them. They're privately convinced he doesn't have a more appealing option and are pitching the notion that a strong stint in Frisco -- in a league generally regarded as the most scouted league in the world -- could start to repair a reputation damaged by concerns about McCants' attitude when it comes to team ball as well as some past injuries.
The Legends' Nov. 18 season opener at reigning D-League champion Rio Grande will be televised nationally on Versus. And they do figure to attract as much exposure as any D-League franchise can count on with [Nancy] Lieberman as the first-ever female coach of any team under the NBA's umbrella, Spud Webb and Del Harris as team executives, Mavericks president of basketball Donnie Nelson as co-owner and Chinese businessman Sonny Xiao as another co-owner.
Another perk: Tim Grgurich, one of the game's foremost skills gurus and a recent addition to the Mavs' staff, will be made available to work with Legends players on occasion when his schedule permits.
Grgurich doesn't have a formal title with the Mavs beyond "consultant," but it was an undeniable coup for Dallas to secure Grgurich's services after his unexpected departure from George Karl's bench Denver in the summer.
"Gurg doesn't need a title," Nelson said. "Everybody knows what he does and they know he's incredible. There's a line at practice of guys who want to get on the court with him."
As for McCants, Nelson said: "I think this is an ideal situation for Rashad to prove to everyone in the NBA that he's got what it takes to be a star two-guard in this league. If there's any work that needs to be done in terms of the perception he has around the league, this is the perfect place for him to do that."
Click here to read the entire ESPNDallas.com entry.

Iverson
Three random mini-rants (and occasional raves) from our know-it-all perch at Stein Line HQ:
1. The relative indifference that greeted Allen Iverson 's press conference last Friday to formally announce his move to Turkey was shocking and sad enough, especially for those of us who -- because of AI's unfailing honesty -- still find him irresistible no matter how frustrating it was to watch AI stubbornly squander multiple opportunities to reinvent himself as a modern-day Bob McAdoo off the bench. But I'm equally stunned to see him choose Turkey over China. Stunned. Maybe the contract offer from the Turkish club Besiktas is slightly richer, at a reported $4 million for two years, than any of the Chinese deals Iverson was presented. But an NBA player of Iverson's stature would be downright worshipped in China, where there are also serious money-making endorsement opportunities off the floor. I'd have guessed that sort of adulation and additional compensation would make this very humbling transition that awaits Iverson slightly easier. The level of basketball will be higher with Besiktas, true, but that's not what NBA folks will be looking for if impressing people Stateside is truly Iverson's main motivation here. Sticking it out and showing some reliability overseas is what would impress NBA types. Yet the suspicion here is that Turkey is going to feel a lot farther away from home for Iverson than China would have.
2. Pat Riley should really be immune from second-guessing after the roster he's put together in Miami. (LeBron James, Dwyane Wade, Chris Bosh ... and a payroll nearly $4 million under the luxury-tax line?) But I can't shake the feeling that he's going to regret not adding Houston-bound Erick Dampier for the veteran's minimum. The Heat don't need Dampier right now and might not even need him to win the East. That's how good Miami looks already. But the bar is going to be a lot higher in a seven-game series against Lakers, if the two-time defending champs are healthy, than muscling past Orlando or Boston. Totally understand the rumbles about the Heat not wanting to take minutes away from LeBron's guy Zydrunas Ilgauskas when Big Z agreed to come to Miami for such a small salary ($1.35 million). Yet I suspect even LeBron will wish that the Heat had another veteran big with six fouls if they're fortunate enough to get all the way to the Finals in Year 1.
3. I was lucky enough to receive a fun little tidbit from ESPN Research on Thursday that I immediately passed along via Twitter: Blake Griffin and Andre Iguodala are tied for the early league lead in dunks with 11. Then I immediately received multiple versions of the same excellent question via Twitter that I sadly can't answer: Why aren't dunks tracked like other stats and made more readily available for public consumption? It's not as bad as the '90s -- when you had to wait for Harvey Pollack's awesome annual stat bible every year to get the previous season's dunk totals -- but shouldn't dunk stuff be easier to find in 2010? Anyone?