1. For One Night, Thunder Turn Back The Clock
By John Hollinger
ESPN.com
PORTLAND, Ore. -- It's a bit melodramatic to call the fifth game of the season a turning point.
But for the Oklahoma City Thunder, something changed early in the second half in Portland on Thursday night. Out of nowhere, they rediscovered the defensive identity that had been missing the entire preseason and the first four games of the regular season, most notably in back-to-back blowout losses to Utah and the Clippers.
The result was the sudden revival of the Thunder's mojo as they rallied from a 13-point deficit to beat Portland in overtime 107-106. Notably, they did it by holding Portland to 36 points in a 26-minute span, allowing them to survive an 11-minute scoreless stretch in crunch time from scoring champ Kevin Durant.
Durant was part of the defensive resurgence, however, showing his mettle by bottling up Brandon Roy one-on-one on the final play of regulation -- despite having played all but 32 seconds and being on the second night of a back-to-back.
"I was cool," Durant said. "That was my main focus, was to guard Brandon Roy. Coach put me on him the whole fourth quarter and overtime, and I just did my best to stop him."
"It's good to be young," said Thunder coach Scott Brooks. "Kevin last year really stepped up his defense, and this year our defense hasn't been good -- not only him, but the rest of the guys. I think he really got his defensive swagger back."
While Durant and Russell Westbrook get top billing with matching 28-point, 11-rebound performances, the unsung hero was reserve forward Serge Ibaka. He completely erased Portland's LaMarcus Aldridge in the second half, guarding him for 20 minutes and permitting just two points from the Blazers forward.
"He just plays hard and battles him," Brooks said. "He doesn't give him ground, doesn't give him an inch."
Ibaka's performance came after frontcourt starters Jeff Green and Nenad Krstic were repeatedly abused by Aldridge in the first half. The smaller Green was simply overpowered physically, while the less mobile Krstic rarely got within chair-throwing distance. Aldridge hit the 20-point plateau early in the third quarter and had missed only two shots when Ibaka checked in. At the time, the Thunder were down by eight and Krstic had just picked up his fourth foul flailing at an Aldridge drive.
Ibaka would play the rest of the game, barring a couple of last-second situational substitutions, and his low-post defense helped solidify the rest of the Oklahoma City defense and pave the way for their rally.
In fact, the question now is how long the Thunder can get away without starting him. While Brooks said before the game he would be very careful to make any lineup changes with his group, the case for Ibaka is becoming overwhelming. He doesn't space the floor as well as Krstic and fumbles a lot of passes, but his athleticism and defensive energy more than offset those deficits.
Of course, this was about more than Aldridge. The Thunder defended so badly in the second quarter that TNT's Charles Barkley accused them of faking their way on D at halftime. When Oklahoma City gave up three straight easy baskets to start the third quarter and fall behind by 13, the Blazers seemed on the verge of a blowout win.
A quick timeout by Brooks calmed the waters, and he told his team in no uncertain terms that their play was unacceptable.
"This is not us," he told the team, according to Durant. "This is not our team. We're a lockdown defending team."
"We played bad defense in the first half," said Westbrook, and nobody argued his point. "They came out and got three straight buckets, but we stayed with it and stayed together."
So was it a turning point? Or merely a blip on the radar? We won't know until we see whether the Thunder can carry this performance into a difficult two-week stint that includes two games against Boston, one against San Antonio and Utah and a rematch against these Blazers.
But for one night, at least, it felt like the 2009-10 Thunder again.
"It felt like we were right back to where we were last year," Durant said. "We're looking forward to getting back to our old ways."


ESPN Insider John Hollinger
• Twitter @johnhollinger | ESPN.com | TrueHoop | Email | Stats
• Follow ESPN's NBA coverage on Twitter | On Facebook | On Google+
2. Where Were The Chicago Starters?
By Nick Friedell
ESPN Chicago

Rose
Why in the world didn't Derrick Rose, Joakim Noah and the rest of the Bulls' starters come back on the floor after the second unit cut the lead down to nine with five minutes left to play in the fourth quarter against the Knicks on Thursday?
Coach Tom Thibodeau, the floor is yours:
"That group was playing pretty well," Thibodeau said of the second unit. "We had gone with the starters a little longer to start the second half. When we got down 15 is when I subbed them. The second unit, I thought, fought hard to close [the gap]. I wanted to see what they could get out of it. The way the Knicks' guards were shooting, I thought the energy to get out to the line was what we needed … I thought about putting the starters back in, but the second group was getting out to the 3-point line pretty well."
Surprisingly, the starters didn't seem that perturbed with Thibodeau's decision.
"You definitely want to be out there," Noah said after Chicago's 120-112 loss. "I think Coach is definitely trying to make a point. And I think it's pretty clear that we have to come out with better energy and we can't let a team come out and score at will like that. It's the starters' responsibility to do a better job defensively."
Luol Deng concurred.
"The group that came in did a better job than us," Deng admitted. "Coach had all the rights to keep them in. They got us back into the game."
To read the entire Bulls blog, click here.
3. Daily Dime Live Recap
ESPN.com writers and TrueHoop Network bloggers chatted with fans and gave their in-game opinions throughout Wednesday's games -- all in Daily Dime Live.
4. Knicks Score 70 Points In First Half
Elias Sports Bureau

The Knicks outscored the Bulls 70-52 in the first half en route to a 120-112 victory in Chicago. It was only the second time in the past 20 seasons that the Knicks scored 70 or more points in the first half of a road game. The other instance was at Orlando on Dec. 27, 2004, when they scored 71 first-half points in a 119-111 win over the Magic.
The Knicks' 120 points marked New York's highest output in any regular-season or playoff game against its long-time rival in more than two decades. They last reached 120-plus points versus the Bulls in Game 5 of the 1989 Eastern Conference semis, a 121-114 victory for the Knicks at Madison Square Garden, in which Patrick Ewing had a team-high 32 points. New York also scored 120 or more points against the Bulls three times during the 1988-89 regular season.
By Maurice Brooks
ESPN.com
THURSDAY'S BEST

Westbrook

Kevin Durant and Russell Westbrook, Thunder: The duo shook loose for 28 points and 11 rebounds apiece as the Thunder clawed past the Blazers 107-106 in overtime. Westbrook added five assists.

THURSDAY'S WORST

Johnson

James Johnson, Bulls: Sometimes the numbers in the box score don't tell the entire story, but a quick glance at Johnson's line shows that Chicago was minus-19 in the eight minutes he was on the floor.

QUOTE OF THE NIGHT

"I would love to be a part of that team. If [coach Mike Krzyzewski] needs me to be a part of that team, I'm available. Hopefully I'm healthy enough to be a part of that team. Coach K has my number."

-- Miami's LeBron James, saying he wants to rejoin Team USA in 2012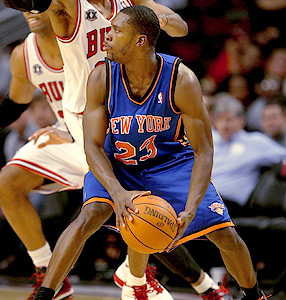 (NBAE/Getty)
Toney Douglas came off the bench and lit up the Bulls, dropping in a career-high 30 points on 9-for-14 shooting -- including going 5-for-9 on triples -- in an eight-point win against Chicago.
8.

Isiah Is Itching For An Encore
By Ian O'Connor
ESPN New York
MIAMI -- Isiah Thomas thought he would be dead by age 20, so at 49 he offers no apologies for betting on himself. Exiled in Miami, haunted by his proximity to LeBron James, Thomas embraces his articles of blind faith like one would a baby in a storm.
Isiah believes James (and perhaps Dwyane Wade) would be starting for the New York Knicks if he had remained president of the team.
Isiah believes he can recruit James out of Miami and into Madison Square Garden in 2014.
Isiah believes that, with or without James, he will someday help the Knicks win their first NBA title since 1973.
"I want to be on the float and I want to get my ring," Thomas said.
As he stepped out of a soft South Florida rain and into a Coconut Grove restaurant the other day, Thomas, now the head coach of Florida International University, projected that familiar boyish vibe he maintained as a grown-up player, coach and executive in the NBA.
Wearing sneakers, sweatpants and a white T-shirt bearing the FIU name and teeth-baring Golden Panthers logo, Thomas looked fit enough to take an outlet pass from Dennis Rodman and lead a three-on-one break.
To read the entire O'Connor column, click here.
9.

John Wall Or Blake Griffin?
By Chris Broussard and Ric Bucher
ESPN The Magazine

Wall
Chris Broussard: For all the great, scintillating point guard play we're now witnessing in the NBA, history -- even recent history -- shows that, when it comes to championships, a great big is more important than a great PG. The past 12 NBA champs had a great big man -- Pau Gasol, Kevin Garnett, Tim Duncan, Rasheed Wallace, Shaquille O'Neal. Take away Michael Jordan's Chicago Bulls (and I probably shouldn't omit Dennis Rodman as a "great big"), and you have to go back to Detroit's Bad Boys to find a champ without a HOF-type post player. And those Pistons had Mark Aguirre, Rodman, John Salley and Bill Laimbeer.
For all the terrific PGs in the league today who are the best players on their teams -- Derrick Rose, Deron Williams, Chris Paul, Steve Nash, Brandon Jennings -- none has led a team to the Finals. And the Lakers have won their past five rings without a great PG (Derek Fisher). The only NBA champ that EVER had a PG as its go-to scorer was Isiah Thomas' Pistons.
To read the entire column, click here.