1. Anthony And Bulls Together? Won't Happen
By Nick Friedell
ESPN Chicago
CHICAGO -- With the assembled media draped around him like one of Jim Boeheim's patented 2-3 zones, Carmelo Anthony deftly tried to deflect any question that would link him to Chicago, or any other city besides Denver, on Monday morning. For the first five minutes he was doing a pretty good job of it, too. He talked about how there is still a possibility he could remain with the Nuggets if they continued to win, while in the next breath he praised the city of Chicago for its basketball tradition and calling it one of his favorite places to play. He said he didn't like to let his mind wander when it came to possibly playing in a new city like Chicago because he wasn't a free agent and was too focused on helping his current team get where he wanted them to be. Anthony played the role of politician perfectly until one question finally made him crack:
Is the Bulls' style of play appealing to you?
The 26-year-old superstar tried to keep the words from coming out of his mouth, but he couldn't help himself.
"I don't want to say this in the wrong way and then ya'll take it," he began. "But anybody would love to play with a guy like Derrick Rose. A young point guard, young star, [who] gets the ball up and down the court. He's improved his game every year. You got a young big man in [Joakim] Noah. You got [Carlos] Boozer, right now Boozer's hurt, but they've got a good team right now."
Clearly, it's a group that Anthony is intrigued by. We knew that when word started to leak that the Bulls were one of the teams he hoped Denver would trade him to over the summer. As much as he tried to play it off as if he had never even thought about what it may be like to play for the Bulls, it was hard to believe him as he stood in front of the bleachers in the old gym on Wells Street.
As you watched Anthony drop 32 points in the United Center a few hours later, it was hard for everybody's mind not to wander. Obviously, Anthony has the type of talent that would instantly make any team better, but he would give the Bulls something they are still lacking, the type of go-to scorer that has the ability to take and make any shot he wants. That's why, when his name was announced before the game, he received one of the louder ovations of the night. That's why, even after his Nuggets dropped a 94-92 heartbreaker to the Bulls, fans lined the tunnel through which the Denver players walked back into the locker room and pleaded with him to stay.
"Who wouldn't want to play with Carmelo?" Rose said as he got dressed in the Bulls' crowded locker room. "He's one of the best scorers in the league. There's no way to stop him."
Just as Anthony had tried to do earlier, Rose caught himself. He didn't want to think about the possibilities, because they are still so remote.
"But I'm good with my teammates that I have now," he continued. "We're building confidence with each other, trust with each other, and the decision really is not up to me. It's up to the front office; that's all I have to say about that."
Rose has the ability to become the type of clutch player that Anthony already became a long time ago. He proved that down the stretch Monday night, shrugging off a brutal shooting performance to score eight points in the fourth quarter. It was a performance that Anthony couldn't help but notice from a distance.
"He's playing outstanding, man," Anthony said of Rose. "I think he's leading his team, attacking the rim, getting them going in transition, getting them easy baskets in the open court, and his speed is one of the top in the league right now."
For all the hoopla surrounding Anthony's whereabouts over the past couple of months, it's clear that there's a healthy respect for him in Chicago, one that wasn't diminished by any of the speculation that seems to follow him everywhere these days.
"It's not Carmelo's fault," Bulls center Joakim Noah said. "I always had a lot of respect for Carmelo as a player. I feel like he's somebody who's obviously very talented, but also somebody who works really hard on his game in the offseason. People don't really talk about how hard he works; he's a hard worker. I always liked his demeanor as a player. I feel like he's very poised out there. To me, he's the best offensive player in the NBA."
As you continue to listen to Noah and Rose speak, it becomes even easier to imagine Anthony sliding into the Bulls' lineup and providing the extra boost they need to start consistently competing against the Miamis, Orlandos and Bostons of the big bad Eastern Conference world.
But here's the problem, and here's why Anthony, Rose, Noah and even the most positive of Bulls fans couldn't get too carried away on this night: The likelihood of Anthony wearing a Bulls jersey any time soon is slim -- extremely slim. In order for Chicago to acquire Anthony, Denver would almost certainly have to take back either Luol Deng or Carlos Boozer in a deal, along with several other pieces, in order to make the salary-cap numbers work. Now, why in the world would the Nuggets do that? If they really wanted to start over, why would they take back that kind of money in any deal? Maybe things will change over the next few months and maybe Anthony somehow forces his old team to send him to Chicago, but it's doubtful.
In the meantime, both teams remain flawed. The Nuggets are still a least a piece or two away from competing against the Lakers, as evidenced by their fourth-quarter meltdown, while the Bulls appear to be at least one more piece away from contending for a title, even when Boozer returns in a few weeks from his broken right pinkie.
It's a sad situation, especially for Anthony and the Bulls, because each caught a glimpse of what they could be with one another Monday night.
"It felt good," Anthony said of the cheers from Chicago fans. "It did surprise me that I was able to come in somebody else's arena and get some cheers. I'm not used to that, but it is what it is."
What it is for now is a dream that will most likely never become the storybook reality that so many people in Chicago -- and maybe even Anthony himself -- were hoping for.
Nick Friedell covers the Bulls for ESPNChicago.com and ESPN 1000.
2. Terry Comes Up Big Again
By Jeff Caplan
ESPN Dallas

Terry
DALLAS -- The last remaining members of the Dallas Mavericks' 2006 Finals team are Dirk Nowitzki and Jason Terry.
Their run started together in 2004-05 when Terry replaced Steve Nash. Nash and the Phoenix Suns wound up beating the Mavs in six games in the West semifinals. You might remember the dagger 3-pointer Nash hit from the top of the arc as Terry sagged off of him.
You also might recall during that frustrating series that Nowitzki verbally lashed out at Terry and he went so far as to question the guard's basketball IQ. The two have since been through numerous battles, triumphs and disappointments, and both keep fighting. Perhaps more than ever, the two must carry the scoring load for a team trying to prove it is contender material.
They combined again for a magnificent finish Monday night, scoring the team's final 15 points to defeat the Boston Celtics 89-87. It was an important home win against the defending East champs that snapped a two-game home skid and gave the Mavs (4-2) their first home win over the Celtics (6-2), and just their second overall, since the Big Three united three years ago.
To read the entire Mavericks blog, click here.
3. Daily Dime Live Recap
ESPN.com writers and TrueHoop Network bloggers chatted with fans and gave their in-game opinions throughout Monday's games -- all in Daily Dime Live.
4. Rondo Dishing, Howard Swishing
Kevin Conlon and Mike Lynch
ESPN Stats & Info

Dwight Howard led the Orlando Magic to a win over the Atlanta Hawks as he put up 27 points and 11 rebounds. He has scored 79 points over his past three games and has scored at least 18 points in each game this season. Howard has displayed a little more range in his offensive arsenal this season. According to Hoopdata, Howard has hit eight field goals from 10 feet and beyond this season after hitting just 19 such shots all of last season. Perhaps his summer work with Hakeem Olajuwon is paying some dividends.
By Maurice Brooks
ESPN.com
MONDAY'S BEST

Randolph

Zach Randolph, Grizzlies: The power forward continued to play at a high level, scoring 23 points and grabbing 20 rebounds for the fifth 20-20 game of his career as the Grizzlies turned away the Suns.

MONDAY'S WORST

Wallace

Gerald Wallace, Bobcats: The versatile forward struggled with more than just his shot (2-for-11, seven points). He failed to register an assist and grabbed three boards as the Bobcats fell to the Spurs.

QUOTE OF THE NIGHT

"I've never had to change channels when my Cowboys played."

-- Miami's LeBron James on the Dallas Cowboys' 45-7 blowout loss to the Packers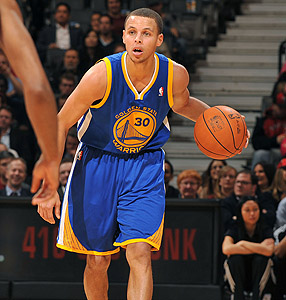 (NBAE/Getty)
Golden State's Stephen Curry felt like his ankle brace was holding him back so he ditched it during the Warriors' seven-point win against the Raptors. It turns out the guard may have been right. He scored 16 of his season-high 34 points in the final quarter.
8.

LeBron Feeling More Comfortable
By Michael Wallace
ESPN.com

LeBron
MIAMI -- Perhaps it was the playful barbs he shouted at Miami Heat teammate Dwyane Wade during Wade's interview session with reporters after Monday's practice. Or maybe it was the way he sat in a corner hounding rookie center Dexter Pittman about his poor passing ability during a drill. By the time LeBron James started to loudly complain about the falling temperatures in Miami, it was obvious.
King James seems to be finding his comfort zone again -- on and off the court.
Privately, James hasn't had an easy transition in his move to Miami after he spent the first seven seasons of his NBA career with the Cleveland Cavaliers. But publicly, James is finally starting to let his headband down and loosen up a bit. And it's beginning to show on the basketball court, too.
After opening the season mired in a turnover-riddled slump through his first five games, James has strung together consecutive outings in which his turnovers were relatively down, while his assists -- and overall productivity -- were up.
To read the entire Heat blog, click here.
9.

Free-Agent Signings Struggling
By John Hollinger
ESPN.com

Lee
Careful what you wish for. You might get it.
That seems to be the lesson from this past summer's free agency, at least if we're to judge by the early returns. After a heady offseason that saw an unusual number of rich, long-term deals flow to players who seemed dubiously qualified for such riches, the first two weeks of the regular season has been the hangover.
Twenty-three players signed deals of five years or longer, including options, and many of their teams already regret it. Believe it or not, only five of the 23 have a better player efficiency rating than a year ago.
OK, maybe that's a high standard to achieve -- after all, most free agents are a bit older than the league average, and besides, if a superstar loses a few percentage points off his rating, he's still worth the money.
So let's set the bar lower: the league average. Surely players worth a half-decade commitment can at least maintain a league-average PER (15.0), right?
Actually, wrong. Of the 23 free agents, only nine have a PER above that 15.0 standard, and many are below 10.0. In fact, if you throw in the two players who are only percentage points into double digits, that makes as many free agents owning or threatening single-digit PERs (nine) as have managed a rating above the league average of 15.0 (nine).
Here's how bad the 2010 free agents have been to start the season: My original intent was to review the early season's biggest disappointments in this column. I soon realized, however, that virtually without exception, all the disappointments had signed massive free-agent contracts in the offseason. (I am forced to say "virtually" rather than "entirely" because of the shocking, unexpected horrors unleashed by Oklahoma City's James Harden, PER 2.0.)
To read the entire PER Diem, click here.