1. Millsap's Career Night Leads Utah Rally
By Brian Windhorst
ESPN.com
MIAMI -- In the euphoric Utah Jazz locker room they were already calling it the "Miami Miracle."
The 22-point comeback win against Dwyane Wade, LeBron James and Chris Bosh on Tuesday night?
Well, that too. But it was more the jaw-dropping performance from the guy they call Miss Bettye's son. That would be Paul Millsap, whose 46 points in the Jazz's comeback 116-114 overtime victory was only the second-most amazing detail of the night.
Not even Millsap's mother, Miss Bettye, would have believed her 6-foot-8 power forward son would make three consecutive 3-pointers in a downright bizarre fourth quarter to erase the Heat's 22-point lead.
The putback at the buzzer that forced overtime, that is more Millsap's style. But the 3s each splashed through the net with such precision that if you didn't have a wide-screen television you might have sworn they were released from the fingers of Kobe Bryant.
"I'm speechless," Millsap said. "When everything is going your way, when it rains it pours."
He made them in a span of less than 25 seconds of game time, each widening the gaze of dumbfounded Heat players. They were doing what they were supposed to do, which was to collapse on Jazz guard Deron Williams and force the ball to someone else.
In fact, Williams' giving up the ball to Millsap outside the 3-point line was exactly what the Heat wanted. It is a wonder that Millsap was even out that far, other than to attempt to set screens to free up his point guard.
"I don't know what Paul Millsap's career 3-point percentage is," James said. "But I know it's not 100 percent."
Actually, it was 10 percent -- before the last 28 seconds. He was 2-of-20 in his career and hadn't tried one all season. What a mistake, he's apparently a late bloomer.
"I know he can shoot 3s, I see him do it all summer long," Williams said. "I ask him every year: Are you going to spread the floor for me and shoot some 3s now?"
Frankly, it is unfair to examine just those three remarkable moments. Millsap's overall performance was probably the finest of his career. He couldn't remember ever scoring so many points in a game at any level.
He was 19-of-28 shooting overall, tearing all facets of the Heat defense to shreds. Miami has posted some strong defensive numbers in the early going. But the Heat have experienced issues defending some opposing big men and this was no different.
While Millsap's 3-pointers will be the memory, the stat line was built on bunnies. In fairness, several times Millsap hit midrange jumpers on the backside of plays that were set up by Williams' excellent driving and passing. No team could defend some of those shots; Williams demands attention and the Jazz have expertly crafted sets that get Millsap the ball in his comfort zone from 15-18 feet.
But there is also no dodging the fact that Millsap victimized Chris Bosh and Udonis Haslem regularly around the rim, making 10 baskets within 5 feet of the basket.
When Millsap made the last of those, the putback at the final horn, he lost Haslem and was untouched. Those are issues the Heat will have to confront sooner or later. The game film from this one will be tough to swallow in the Miami locker room, especially when the last play is reviewed.
But Millsap wasn't thinking about the Heat as he basked in the buzz afterward, his knees in ice along with his hip and his ankle. He actually suffered a bruised hip during the fourth quarter before returning to hit those 3s.
Pain wasn't on Millsap's mind, either. There was something else.
Carlos Boozer had some huge games as a Jazz man, and it is perhaps unfair to compare Millsap to the man he formerly backed up so early in his run as the new starter. No was thinking about Boozer in the Jazz party after this one, except for Millsap.
"This season is what I've been waiting for all my life," he said. "Four years playing under Carlos, I finally got the opportunity to showcase my skills to the fullest. My thing is, I just wanted to come out and try to prove I'm worthy to play that position."
What Millsap means to Utah is worthy of the four-year, $32 million contract the Jazz agreed to in the summer of 2009 when they matched a front-loaded Portland Trail Blazers offer sheet for the free-agent forward. There's still a lot left on that deal, but Millsap can certainly cash his next check with pride.
"How many people would've thought three or four years ago that he'd made three 3-point shots in a row," Jazz coach Jerry Sloan said. "He's a no-nonsense guy when he plays; he's a wonderful guy to coach. It is fun to see someone have success who works like he does."
Brian Windhorst is a regular contributor to the Daily Dime.
Dimes past: Oct. 27 | 28 | 29 | Nov. 1 | 2 | 3 | 4 | 5 | 7 | 8
2. Pacers Can't Miss Against Nuggets
By Jared Wade
TrueHoop Network

Dunleavy
Indiana was hoping to catch a lethargic Denver team sleeping. The Nuggets had lost a heartbreaker to the Bulls in Chicago the night before and were presumably looking past the Pacers to their upcoming national television showdown with Kobe Bryant and the Lakers on Thursday.
But even in their wildest dreams, the Pacers couldn't have predicted that they would be fortunate enough to score 54 points in the third quarter on near-perfect shooting. The floodgates opened calmly enough. A jumper from Danny Granger. A runner from Roy Hibbert. A 3-pointer from Mike Dunleavy. A reverse layup from Darren Collison. It didn't seem as though anything out of the ordinary was taking place. Plenty of teams have opened the second half making their first four shots.
But a historic deluge had begun.
Indiana would make 16 more straight shots in the quarter on an array of 3s, off-balance jumpers and nifty finishes in the paint. It was an exhibition of accuracy in which shots were not just made but the rim was barely touched.
Dunleavy led the charge, scoring 24 third-quarter points as he hit all seven of his shots, including five 3-pointers. Watching the onslaught, it was hard not to compare the display to a 25-point quarter another lanky wing player in a Pacers uniform once tallied inside Madison Square Garden back in an era when you could regularly find an Indiana game on national TV.
Dunleavy didn't need Spike Lee for motivation this night, however. He simply couldn't miss. The only Pacer who could miss in the third was Josh McRoberts, whose errant 3-point attempt with four seconds remaining in the period ended the team's chance to post a perfect shooting quarter. McRoberts' miss changed 20-for-20 to 20-for-21. But a minor blemish couldn't mar a joyous 12-minute stretch during a blowout victory for a team that needed nothing more than to record a blowout victory.
In historic terms, it was the fourth-best scoring quarter any team has ever recorded. That will now forever be a footnote in history. More importantly for the young 2010-11 Pacers, it is a step in the right direction after a rough week.
Read more from Wade at Eight Points, Nine Seconds.
3. Daily Dime Live Recap
ESPN.com writers and TrueHoop Network bloggers chatted with fans and gave their in-game opinions throughout Tuesday's games -- all in Daily Dime Live.
4. Bench Players Key Cavaliers
Elias Sports Bureau

The Cavaliers were led by reserves Antawn Jamison (15 points, three assists), Daniel Gibson (14 points, four assists) and Ramon Sessions (15 points, five assists) in their 93-91 victory over the Nets in New Jersey on Tuesday night. It is the first time in over 14 years that the Cavs have had three bench players register double digits in points and at least three assists in a game. The last time that happened was on Feb. 29, 1996 when reserves Dan Majerle (16 points, three assists), John Crotty (19 points, five assists) and Bob Sura (12 points, five assists) led the team to a win over the Bucks in Milwaukee.
By Maurice Brooks
ESPN.com
TUESDAY'S BEST

Millsap

Paul Millsap, Jazz: In four pro seasons, Millsap had made just two 3-pointers. Tuesday, he knocked down three trifectas in the fourth quarter to help the Jazz rally past the Heat. The forward scored a career-high 46 points.

TUESDAY'S WORST

Smith

J.R. Smith, Nuggets The entire Denver team belongs here after giving up 144 points to the Pacers, but Smith is representing the Nuggets after also missing 10 of 13 shots from the field.

QUOTE OF THE NIGHT

"It is hard to find anything negative to say about anybody tonight."

-- Bucks coach Scott Skiles after Milwaukee routed the Knicks, 107-80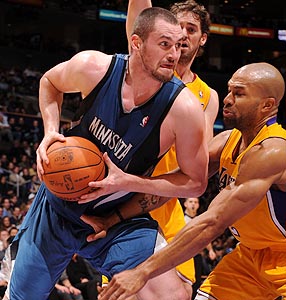 (NBAE/Getty)
Kevin Love muscled his way inside for 23 points and also pulled down a career-high 24 rebounds, but it wasn't enough to prevent the Timberwolves from falling to the Lakers.
8.

Al Jefferson Isn't Panicking
By Kevin Arnovitz
ESPN.com

Jefferson
MIAMI -- The first thing Jerry Sloan told Al Jefferson when the big man arrived in Utah from Minnesota during the offseason was, "Don't panic."
"He said, 'We're going to throw a lot of stuff at you.' Just don't panic," Jefferson said.
That stuff is the infinite number of demands that Sloan's offense requires of its players.
Jefferson is a throwback post player -- a stationary force down on the left block. When he's been healthy, Jefferson's modus operandi is to call for the ball by raising his enormous right hand. He collects the entry pass, then unleashes his massive drop-step or deceptive up-fake to barrel his way to the rim. There's been precious little variance to that plan over the course of his career. Jefferson has an acute understanding of his strengths and limitations and has fashioned his game accordingly.
To read the entire TrueHoop blog, click here.
9.

Should Love Get More Minutes?
By Ramona Shelburne
ESPN Los Angeles

Love
Kevin Love got to Staples Center early on Tuesday, but the Minnesota Timberwolves forward was one of the last guys to get dressed for the game.
"I just have so many ticket requests whenever I'm in L.A.," former UCLA star said. "Some people, all I can do is give them postgame passes."
At this moment, the ticket issue ranks as an annoyance, not a problem, for Love, who had 23 points and 24 rebounds against the Lakers.
A problem would be trying to find a new, delicate answer to the question he gets asked just about every night. It's usually some variation of, "Kevin, so what's up with you and Kurt Rambis?" or "Kevin, are you surprised that in Year 3 of your career, after the summer you had, you're only playing 26 or 27 minutes a game?"
It varies from town to town, and Love varies his answers. The only thing that's clear is that he's frustrated by the situation, but trying to stay as professional as possible about it.
"We're cool. We definitely are," Love said of his relationship with Rambis, the Timberwolves' coach. "There's times that we go back and forth and we disagree on things. It's like that in every business and every thing that goes on."
That's the nice answer.
Still, you can tell he's frustrated.
"The thing I had trouble with last year is that we were a 15-win team. That's what made me upset," he said. "If I were on the Lakers or this team right here [gesturing to the big screen in the Timberwolves locker room showing the Lakers-Trail Blazers game from Sunday], I wouldn't have minded at all.
"But I just felt like, being out there, being 21 years old, that I would get better in the time that I was playing so I wanted to be out there more.
"I think one thing Kurt and I agree on is that he'd be upset if I didn't want to be out there all 48 minutes."
Last season, you could kind of understand why Love started only three games after Jan. 15.
Al Jefferson needed to start for the same reason Andrew Bynum needs to start with the Lakers: Once a surgically repaired knee is warmed up before the game, you don't want it to cool down.
And once Minnesota traded for Darko Milicic at the trading deadline, it wanted to see what he could do with starter's minutes before making a decision on him as a free agent in the summer.
But this season?
After Love earned rave reviews in winning a gold medal with the United States national team at the FIBA World Championship in Turkey, why is Rambis only playing him 26-27 minutes again this year?
"I don't know why everyone settles in on Kevin," Rambis said. "Right now, our starting unit isn't playing particularly well together. They haven't jelled as a unit, and we bring in a second unit and they bring some energy and effort, and we're just trying to find combinations and get some extended minutes out there when we're playing well.
"Until we have guys playing well together, it's going to cut into everybody's time -- everybody."
There are whispers that Rambis isn't happy with Love's defense and the consistency of his effort.
Love's heard that too.
"I think a lot of it is defense," Love said. "Obviously, being a young player I'm still learning and progressing on that. I think just being in shape and playing hard the whole time, that's probably it."
It's the "probably" at the end of that statement that makes you stop a second.
"There's sometimes where if I didn't understand something I'll ask [Rambis]," Love said. "Other than that, I'll just keep my mouth shut, put my head down and keep playing. I don't think anyone can say that I don't play hard."
Ramona Shelburne is a columnist and writer for ESPNLosAngeles.com