1. What's Wrong With Miami? It Starts With D
By Brian Windhorst
ESPN.com
MIAMI -- There's not an easier target in NBA right now than the Miami Heat and the calendar can't bail them out, convenient scapegoat that it may be.
There are issues in predictable areas. The LeBron James-Dwyane Wade dynamic is one. The illusion that coach Erik Spolestra may be panicking a little bit while under significant scrutiny is another. Then there's this week's most popular talking point -- that Chris Bosh isn't a proper fit as the third wheel.
All of these have some merit, especially after the Heat lost for the third time in four games, 112-107 to the Celtics on Thursday night.
For all the intrigue and hand-wringing over what ails the Heat, the simplest answer isn't all that sexy:
It's defense. Plain, boring defense.
It's what carried the Heat when they looked like a title contender a few times over the past three weeks. It's been the missing ingredient when they've sputtered against three recent quality opponents they've played. And it's the one thing that team has worked on more than anything else.
The James-Wade chemistry is a more riveting storyline with twists and turns.
On Tuesday, Wade scored 39 points and made James an overtime bystander, something never before seen, in a loss to the Utah Jazz. Then on Thursday, Spoelstra challenged James to attack more and called the first three plays of the game for him to get him started. James had 35 points and just missed a triple-double. But this time Wade turned into an observer as James preferred Udonis Haslem as a pick-and-roll partner. Not exactly the 1-2 punch everyone expected and feared in July.
James did look like a two-time Most Valuable Player for the first time all season, but the formula to get him working with his fellow first-team All-NBAer obviously isn't percolating yet.
But that -- like Spoelstra's wild substitution patterns while riding James for 44 minutes and Bosh's passive efforts -- belongs on the back burner. On Friday, the New Orleans Hornets shot 49 percent and scored 50 points in the paint in beating the Heat. On Tuesday, just in regulation, the Jazz scored 104 points, shot 49 percent and scored 54 points in the paint against Miami.
On Thursday, Boston shot 54 percent while hanging 112 on the team that had been the best defensive outfit in the league until this week. The Celtics managed only 38 points in the paint, but with the number of wide-open 3-pointers available along the perimeter, why bother?
"They simply out-executed us and carved us up and exploited us," Spoelstra said. "And it paralyzed us."
The Heat's defensive structure isn't anything special. It is a help-and-recover system that requires teamwork and hustle. It gets really effective when great athletes -- like those who reside on the Heat's roster -- are performing those tasks.
But when there's uncertainty, lethargy and faulty communication, it breaks down fast, which is what the Heat are losing.
Putting up 107 points on 50 percent shooting from the floor -- including an impressive 45 points and 68 percent shooting from the bench -- is a winning effort against the Celtics. No team has torn Boston's steady defense to shreds like that. That output came on a night when Wade was woeful, 2-for-12 in field goal attempts for only eight points.
When the defense was humming, the Heat could withstand a clunker like that from one of its offensive stars. That wasn't the case on Thursday night.
"You can attribute that to the competition," Bosh said. "It's no mistake that they've had the success they've had. We have to keep that in mind, and one day we're going to have that same continuity."
Well, you have to give that to Bosh. He's right about the Celtics. Rajon Rondo looked like he could operate the offense in the dark. He's so aware of his teammates' spacing and can sniff out defensive weaknesses the instant they surface.
Bosh might ultimately be correct about the Heat. But that doesn't excuse what happened when Rondo drove for an uncontested dunk as Bosh stood and watched in the first half. Nor does it explain how Ray Allen was left outrageously open for a 3-pointer after he'd already made his first six attempts. The seventh, in the fourth quarter, sent fans to the exits.
"The things we had been doing well, we were kind of caught watching," Spoelstra said. "We're better than this."
That's probably true and the Heat have plenty of time to affirm it, but two losses to a Celtics team missing key players suggest Miami is much further way than the team anticipated being at this point.
When practice starts Friday and the latest post mortem gets underway, expect defense to be where Spoelstra begins to reapply his team.
"Initially, when the team was assembled, you're excited and you know how good it can be," James said. "These tests, right here, show us how far we have to go."
Brian Windhorst is a regular contributor to the Daily Dime.
Dimes past: Oct. 27 | 28 | 29 | Nov. 1 | 2 | 3 | 4 | 5 | 7 | 8 | 9 | 10
2. Nuggets Hand Lakers Loss No. 1
By Dave McMenamin
ESPN Los Angeles

Anthony
DENVER -- As devastating as trading away Carmelo Anthony would be to the Denver Nuggets' title dreams in the near future, losing their No. 1 option could actually hurt the Los Angeles Lakers on their three-peat championship search rather than help them.
Ever since the 2007-08 season, the Anthony-led Nuggets have played foil to L.A., squaring up against the Lakers twice in the playoffs and in four meaningful, circle-the-date-on-the-calendar games every regular season.
It happened again Thursday. Denver became the first team to blemish L.A.'s unbeaten record, dropping the Lakers to 8-1 with a 118-112 victory. Anthony led the charge with 32 points and 13 rebounds.
"I would tend to agree with that, even though reluctantly," Lakers head coach Phil Jackson said when asked before the game if the Nuggets have helped the Lakers by providing a rival. "I think that when [Allen] Iverson was here, that was probably the making of our team when we took on this team in the playoffs that first year we went to the [NBA] Finals in 2008. It was a good victory for us and a good way for us to establish defensive abilities, which we did."
In the 2009 playoffs, Denver gave L.A. all it could handle in the Western Conference finals, pushing the Lakers to six games and making them a better team for it when they faced the Magic in the championship.
Last season they tested the Lakers during the regular season, winning three out of four games and causing Pau Gasol to shed his nice-guy demeanor. "They talk too much," Gasol declared, embracing the toughness his team had been imploring him to display for two seasons. "Way too much. I don't listen to things that don't make sense. I'm a player that likes to play and that's how I talk, by me playing. Other players can't do that."
If Anthony leaves, who is going to light the Lakers' fire every year moving forward? They only get to play Boston, Orlando and Miami two times each. Oklahoma City still seems like it's a couple years away. San Antonio seems like it's a couple of years past it's prime. Dallas has never had the nastiness of the Nuggets.
The Nuggets came to Staples Center during the preseason last month and George Karl was spouting optimism prior to the tip.
"I don't think my team is that far from that level of success," Karl said of the Lakers. "I just keep trying to figure out why people think we're not going to be any good, I'm just shocked."
"George is always saying that man." Anthony said.
That's all I needed to hear to believe that three-year extension would never be signed.
The Nuggets and Lakers don't play again until Jan. 21 and by then, Anthony could already be condominium hunting in Chicago, New York or New Jersey.
Denver won without Chris Andersen or Kenyon Martin in the lineup Thursday.
After the game, Anthony said, "I'm happy right now."
The Nuggets hope that happiness lasts all season and Anthony sticks it out in Denver for at least one last ride. In a strange way, the Lakers should hope that happens too.
Dave McMenamin covers the Lakers for ESPNLosAngeles.com..
3. Daily Dime Live Recap
ESPN.com writers and TrueHoop Network bloggers chatted with fans and gave their in-game opinions throughout Thursday's games -- all in Daily Dime Live.
4. Deng Leads The Way For Bulls
Elias Sports Bureau

Luol Deng tallied 26 points, 11 rebounds and six assists in the Bulls' 120-90 rout of the Warriors. It was Deng's first career game with at least 25 points, 10 rebounds and five assists. The only other Bulls player to record a 25/10/5 game in the past five seasons was Derrick Rose, who did so exactly two years to the day before Deng (Nov. 11, 2009 vs. the Hawks).
By Maurice Brooks
ESPN.com
THURSDAY'S BEST

Allen

Ray Allen, Celtics: Allen is one of the top 3-point shooters in NBA history, but that didn't prevent Miami from constantly leaving him open. He made them pay by draining his first seven trifectas on the way to a 35-point night.

THURSDAY'S WORST

Wade

Dwyane Wade, Heat: Another game, another loss for the Heat, who have won just five of their first nine games after losing to Boston ... again. The finger pointing can start with Wade, who went just 2-for-12 for eight points.

TWEET OF THE NIGHT

It's been a pleasure to bring my talents to south beach now on to Memphisless than a minute ago via Twitter for iPhonePaul Pierce
paulpierce34

---

QUOTE OF THE NIGHT

"You can see the juice is just not there. You want to play your starters as long as you can because sometimes, they may fool you. No question the Bulls had the upper hand in terms of the energy department."

-- Warriors coach Keith Smart after Golden State lost to the Bulls by 30 points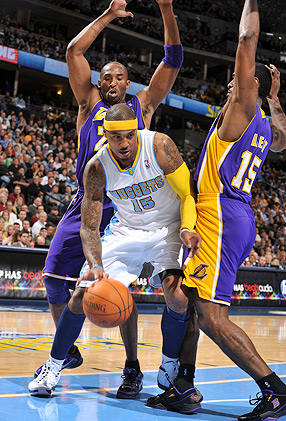 (NBAE/Getty)
Kobe Bryant put on an offensive show, finishing with 34 points and five assists, but Carmelo Anthony led the charge for Denver, tallying 32 point and 13 rebounds.
8.

Is Rondo NBA's Top Point Guard?
By Jackie MacMullan
ESPN Boston

Rondo
MIAMI -- The point guard was clairvoyant. Rajon Rondo doesn't talk much, but he sees plenty.
Before the Miami Heat suffered another big-time, big-game meltdown against the Boston Celtics on Thursday night, before Rondo dropped 16 assists on the star-studded (and noticeably sagging) South Beach caravan, before he spurred his team on to 60 percent shooting in the first half, he calmly predicted Miami would have no answers for him. He also hypothesized they would make a concerted effort to squelch his creative juices by throwing a variety of defenders his way, including the one Rondo feared most -- LeBron James, the 260-pound power forward.
"He's like Kobe,'' Rondo explained before the sufficiently hyped Celtics-Heat rematch that Boston won 112-107 at American Airlines Arena. "He can give me space and still challenge my shot because of his incredible wing span.
"But if they put LeBron on me, who guards Paul? Who guards Ray?"
Clearly, the answer was no one. The Heat did intermittently shift LeBron on to Rondo in the first half, which meant Pierce was left to gleefully feast on post-up opportunities against Dwyane Wade, Jerry Stackhouse and, later, old friend Eddie House. It should come as no surprise Pierce finished with 25 points on 10-of-16 shooting.
To read the entire MacMullan column, click here.
9.

Tired Warriors No Match For Bulls
By Nick Friedell
ESPN Chicago

Rose
CHICAGO -- The Chicago Bulls actually held onto a 35-point lead Thursday night.
This may not seem like much of a feat, but considering that the team couldn't do the same in December against Sacramento, the Bulls may be starting to make the type of progress that first-year head coach Tom Thibodeau has been hoping to see. Granted, both situations are completely different, but the symbolism of Derrick Rose and company keeping their foot to the floor and running all over the Warriors has to make the team and its fans feel good about what's to come.
"You've been in situations like that before and you just learn from it," Rose said. "Tibs and the rest of the team will never let that happen again."
So why exactly were the Bulls able to have so much success on Thursday night, in what was undoubtedly their best performance of the young season?
Playing in their fourth game in five nights, and without All-Star forward David Lee, Golden State looked tired from the outset, and the Bulls took advantage. The Bulls had 37 fast-break points and pushed the pace whenever they got the chance. They tried to break the Warriors' will early and did just that.
"We talked about playing on the road how you're going to run into the wolf, the bear and the lion," Golden State head coach Keith Smart said. "We escaped the wolf [Wednesday night in New York], but the bear got us tonight."
To read the entire column, click here.