1. Korver, Bulls' Bench Come Up Big
By John Hollinger
ESPN.com
HOUSTON -- If you're a 6-foot-7, 212-pound NBA player, few things are better for a bad knee than flying two-and-a-half hours in economy class.
That's the only conclusion we can reach after Kyle Korver shook off a knee injury, reacquainted himself with the joys of 31-inch seat pitch on a United Airlines flight to Houston, and delivered a stat-sheet-stuffing 26 minutes -- 10 points, six rebounds, four assists and three steals-- in the Chicago Bulls' 95-92 win over the Houston Rockets.
"Perhaps," Korver said of the correlation between commercial aviation and his on-court success. "But don't tell the Bulls that."
Derrick Rose was the headliner, and deservedly so -- his 14-point outburst in the Bulls' 18-0 to start the fourth quarter was one of the most dominant individual stretches of the young season.
But we expect excellence from Rose. The difference, then, between his Bulls and the Houston Rockets was that he got a ton of support from a much-maligned second unit. Chicago's subs outscored Houston's 29-10, with Korver (+23), Ronnie Brewer (+16) and rookie big man Omer Asik (+16) partaking in a dominating second quarter that reversed a slow start. The trio then formed three-fifths of the Bulls' lineup through most of crunch time.
They needed it, too. On a night when Taj Gibson (1-for-9) and Luol Deng (6-for-21) couldn't buy a basket, Chicago's second unit turned a seven-point deficit after the first quarter into an eight-point advantage at halftime.
"Our bench was terrific," Bulls coach Tom Thibodeau said. "Omer coming in, Ronnie coming in, they gave us energy and a spark. And of course Derrick was Derrick.'
Korver in particular stood out in that second quarter, which Chicago won 30-15. Twice he took the ball from counterpart Courtney Lee on defense, and in addition to making all three shots he hit Brewer multiple times on his trademark cuts around the basket -- plays that seemed right out of Jerry Sloan's playbook.
Ironically, Brewer and Korver hardly played together with the Jazz because they usually subbed in for each other.
"In the preseason [Brewer] was hurt a lot," Korver said, "and we've kind of been finding our way in our new system. But I thought tonight we had a couple pretty good plays. I always see him cutting to the basket. He knows my game, I know his game, and I feel we play off each other well."
Korver was questionable with a bruised knee and skipped the Bulls' charter flight to Houston early Monday so he could undergo an MRI. Instead, he took a commercial flight on Monday night and, with first class full, parked himself in a window seat three rows from the back.
Korver said he injured his knee contesting a shot against Washington on Saturday, but it felt good once he got on the court.
"He was terrific," Thibodeau said. "He did a lot more than shoot the ball. I thought he played terrific defense. When he plays on the floor with Derrick, it opens it up, because they can't cheat on him at all."
However, he got plenty of help. Brewer, not renowned for his defense, played a season-high 32 minutes and had a major role in bottling up Houston's Kevin Martin. He also set season bests with 11 points and three steals, with the only negative being a cringe-inducing set of three missed free throws in the fourth quarter after a lane violation gave him an extra try.
And Asik was a revelation. The 7-1 rookie from Turkey provided a presence around the basket while using his surprising mobility to choke off Houston pick-and-roll plays. The Bulls used him as a backstop in the fourth while having Luol Deng playing power forward and fronting Luis Scola, a set-up that helped limit Scola's touches after he'd run amok on Gibson earlier in the game.
Asik's inclusion for nine minutes in the fourth -- at Noah's expense -- raised eyebrows among Bulls watchers, but Thibodeau said he was too valuable to remove.
"He's so active," Thibodeau said, "and with his size at the rim, [because] they're such a good cutting team, you have his shot blocking there and his activity. And he sets such a good screen on the pick-and-roll, and he rolls to the rim and has great hands.
"Plus, that group was functioning extremely well, so I wanted to stay with him longer."
As a result, the Bulls got off to an important first step on the first date of their seven-game "circus trip," so named because of the two-week circus that takes over their home court at the United Center.
Further tests await, including Wednesday's tilt in San Antonio and upcoming road battles in Dallas, L.A., Phoenix and Denver before, finally, a weaker opponent comes up in the finale against Sacramento.
And they may not get such favorable circumstances in all of them. Houston played without Aaron Brooks, Yao Ming and Chase Budinger, helping offset the fact the Bulls were without Carlos Boozer. Truth be told, this was some ugly November basketball -- the two teams combined for 43 turnovers, 19 missed free throws and five shot-clock violations.
But winning ugly is part of the drill in the NBA's 82-game grind, and on Tuesday the Bulls succeeded. If they can keep getting solid contributions from the second unit, there will be plenty more nights when Rose (and eventually Boozer) can do the rest of the work. And if they're doing it with one particular player flying from city to city in a cramped seat in the back of the plane, you can blame it on Tuesday night's success.


ESPN Insider John Hollinger
• Twitter @johnhollinger | ESPN.com | TrueHoop | Email | Stats
• Follow ESPN's NBA coverage on Twitter | On Facebook | On Google+
Dimes past: Oct. 27 | 28 | 29 | Nov. 1 | 2 | 3 | 4 | 5 | 7 | 8 | 9 | 10 | 11 | 12-13 | 14 | 15
2. Knicks Fall To The Nuggets
By Chris Sheridan
ESPN New York

Amare
The losing streak has reached six games, but the New York Knicks at least showed some resiliency by coming back from an 18-point deficit in the fourth quarter and tying the game with 3:07 remaining. Danilo Gallinari appeared to be doing all he could to sabotage his own trade value as he missed his first six shots, all of which were 3-pointers, although he recovered somewhat and finished with 21 points. The Knicks missed 15 of their first 16 attempts from 3-point range, and Toney Douglas finished 0-for-4 from the field, making him 1-for-15 over his past two games. Amare Stoudemire had 24 points, including a late 3-pointer with 15 seconds remaining to cut the Knicks' deficit to 2. But the Knicks finished 9-for-31 on 3s and missed 10 of 33 free throws.
To read the entire blog, please click here.
3. Daily Dime Live Recap
ESPN.com writers and TrueHoop Network bloggers chatted with fans and gave their in-game opinions throughout Tuesday's games -- all in Daily Dime Live.
4. Hawks' Smith Gets It Done
Elias Sports Bureau

Josh Smith registered 25 points and seven blocked shots to help lead the Hawks to a 102-92 win over the Pacers in Indiana on Tuesday night. It is the second time in his career that Smith has had at least 25 points and seven blocked shots in a game, previously doing that on Dec. 6, 2007 against the Timberwolves (28 points, seven blocks). No other player in Hawks franchise history has done that even once (the NBA began tracking blocked shots in 1973-74).
By Maurice Brooks
ESPN.com
TUESDAY'S BEST

Rose

Derrick Rose, Bulls: Rose spent the final minutes of the third quarter sitting on the bench in foul trouble. He more than made up for it in the final period, scoring 17 of his game-high 33 points -- he also had seven assists -- as Chicago edged the Rockets.

TUESDAY'S WORST

Calderon

Jose Calderon, Raptors: The reserve didn't have his shooting touch working, missing seven of his eight attempts, including going 1-for-3 from distance. Toronto was minus-8 during Calderon's 17 minutes on the floor.

QUOTE OF THE NIGHT

"He did exactly what we needed. He scrapped defensively. I thought he let the offense come to him. It was good to see him knock down some shots and get to the basket."

-- Portland coach Nate McMillan on Wesley Matthews, who scored 30 points while filling in for Brandon Roy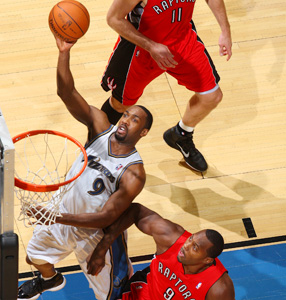 (NBAE/Getty)
With rookie John Wall sidelined, the Washington Wizards turned to Gilbert Arenas and the guard didn't disappoint, posting 20 points, seven rebounds and six assists in a win against the Toronto Raptors.
8.

Bucks' Defense Comes Up Short
By Jeremy Schmidt
TrueHoop Network

Bogut
There will be nights when shots don't fall, but defense is a constant. Or so it's said. But when the NBA's highest-rated offensive team met the highest-rated defensive team Tuesday night in Milwaukee, the only constant was Lakers points. There were 118 of them in all, as they became the first team to put up triple digits in regulation this season against the Bucks.
The Milwaukee Bucks entered the game having held opponents to just 42.5 percent shooting on the season, but it was evident early that this wouldn't be one of the Bucks' most noteworthy defensive efforts. Not after the Los Angeles Lakers hit better than 50 percent of their shots in a 32-point first quarter. All hope was not lost early though, as the Bucks got off to a strong start themselves, scoring 29 points on 63.2 percent shooting.
A shootout appeared in the making and that's not Bucks basketball.
"At one point we were shooting 67 percent and it was a tie game," Bucks coach Scott Skiles said after the game. "We kind of commented on the bench that this was going to be a difficult game for us to win even though we were playing pretty well offensively."
Like it has so many times before this season, Milwaukee's offense would eventually stall, and its defense was unable to recover. When the Bucks had success tripping up the Lakers' starters, they experienced the new and improved Lakers bench for the first time.
Shannon Brown scored 19 fourth-quarter points, hitting one wide-open 3-pointer after the next. He missed just one shot in the period, finishing 7-for-8 from the field and 4-for-4 on 3-pointers. As a unit, the Lakers' bench outscored their counterparts 27-13 in the second half.
Bucks forward Drew Gooden came away impressed by Brown. "He was so efficient out there for them, 21 points in 21 minutes, no turnovers," he said. "That's an efficient game coming off the bench."
An even scarier sight for Milwaukee than their suddenly absent defense, was center Andrew Bogut taking another hard fall, this time collapsing over forward Corey Maggette while trying to make a block. In the locker room, a somber Bogut iced his elbow after missing eight of 10 free throws and looked inward for blame.
"[Free throws] evened up in the second half, I've got to knock mine down," he said. "They ran their triangle very well all night, they couldn't get stops. We gave them a lot of easy baskets and, kind of, over-respected their triangle a little bit."
Skiles knows where success will come from with his group.
"The losing mindset is look at other people to blame," he said regarding an early free throw disparity. "That's generally not what winners are doing and if that's what we're doing, that's not a good sign. We didn't take care of our business tonight."
Defense is the Bucks business and it certainly went uncared for.
To read more from Schmidt, click here.
9.

Coach Of The Year Candidates
By Maurice Brooks
ESPN.com

Williams
1. Monty Williams, Hornets: After missing the playoffs a season ago, New Orleans was the last team in the Association to take an L this time around. Chris Paul makes everything go for the Hornets, but Williams has them playing suffocating defense.
2. Keith Smart, Warriors: Golden State is just 19 victories away from matching last season's win total.
3. Byron Scott, Cavaliers: LeBron James may have taken his talents to South Beach, but there is still a scrappy group of talented ballers in Cleveland chasing a playoff berth. The Heat are just 1½ games ahead of the Cavaliers.
4. Gregg Popovich, Spurs: Pop has led San Antonio to the best record in the league by relying less on his Hall of Fame power forward and more on the trio of Richard Jefferson, Tony Parker and Manu Ginobili.
5. Jerry Sloan, Jazz: Is this the season one of the greatest minds in the sport finally wins the award?
To read the entire column, click here.