1. Bosh And LeBron Showing Off Chemistry
By Brian Windhorst
ESPN.com
MIAMI -- Although it might be tempting, it wouldn't be fair to call what Chris Bosh did against the Phoenix Suns on Wednesday a "breakout" game.
Bosh delivered a brilliant performance, shredding the Suns' varied but ultimately meager efforts to defend him. He scored 35 points in the Heat's 123-96 victory. From an individual standpoint, it was easily his best game of the season thus far.
It would be a nice story if Bosh answered recent critics with a resounding statement on national television. But Bosh didn't sound very motivated after the game.
Heat coach Erik Spoelstra was thrilled with his team and with Bosh's efforts in beating a Suns team that was fresh off impressive victories over the Lakers and Nuggets. Spoelstra said he believed what happened Wednesday was the result of two intense practices he conducted Monday and Tuesday while the Heat had three days off between games.
In an interview with ESPN after the game, Bosh certainly backed up the part about the hard practices. But he sounded less pleased about the supposed payoff.
"We got back to getting after it again; I guess [Spoelstra] felt he was loosening up a little bit too much," Bosh said. "He knows he has to meet us halfway. He wants to work; we want to chill."
Well, Spoelstra could have been listening. He gave the Heat Thursday to chill; there will be no practice.
Bosh's comment will certainly draw some reaction and might, in fact, earn Bosh and his teammates a few extra drills when the Heat practice again. Which, fortunately for the players, likely will not be until Tuesday.
Whether it is the practice time or not, there seems to be something going on with Bosh and his teammates. At least one in particular.
Bosh and LeBron James are progressively finding a groove. The victory over the Suns displayed a rhythm that has been gradually developing for several weeks.
In fact, what is happening with James and Bosh is in some ways the opposite of what is happening with James and Dwyane Wade.
The two megastars haven't seemed to make much progress with their on-court chemistry. Other than a few highlight-worthy fast-break finishes, Wade and James basically have settled into a routine in which they take turns dominating the ball and the offense. This dynamic plays out even at the end of close games or in overtime -- not exactly the partnership they envisioned last summer.
It has gotten to the point where Spoelstra actually opts not to play them together for much of the game. But there's plenty of time to observe that over the next several months.
Meanwhile, the James and Bosh combination seems to be working.
The way Bosh got his points Wednesday, while aesthetically pleasing, wasn't all that sustainable. He made eight of the nine jumpers longer than 16 feet that he attempted, often settling into a soft spot in the Suns' unsteady zone.
James was mired in rare foul trouble against Phoenix and played only 23 minutes. But 17 of them were with Bosh, which is when things really worked for Miami. Bosh made 7 of 10 shots while he was on the court with James, and six of those seven baskets came off assists from James.
This has been going on for awhile. This season, when Bosh shares the floor with James, Bosh is shooting 54 percent. When he's on the court without James, he shoots only 43 percent, according to ESPN Stats & Information.
In those minutes with James, Bosh's rebound rate doubles, as well, an indication that he just seems to play better alongside James. At least so far.
"It is seeing the same things over and over," Bosh said. "When I set picks for him, he knows [what I am going to do]. You can kind of see the play forming a little bit. At the end of the day, it is LeBron James; you're going to have to respect his drive."
Bosh and James are pick-and-roll players. They have run thousands of them in their careers and probably will run thousands more. But they are showing the beginnings of chemistry, even if it doesn't always make the "SportsCenter" Top 10.
Simply put, Bosh has never played with someone who demands the attention James does when he peels off a screen. The Raptors thought they were getting that type of player when they signed Hedo Turkoglu, but it didn't work out.
And James has never had a partner as dynamic as Bosh. In Cleveland, Anderson Varejao was fantastic at rolling to the rim, and Zydrunas Ilgauskas was excellent at popping out for jumpers. Bosh, when he's playing properly, can do both.
Bosh did both Wednesday. He made a lot of jumpers but he also got to the foul line 11 times. Rather than depending on those jumpers to fall, attacking off feeds from James is a sustainable way to play.
That is what the Heat are looking for at this point in the season, even if it comes out of some unpleasantly hard practice sessions. Whatever Bosh thinks about those practices, he and James are starting to feel it.
"For me and Chris, we're getting comfortable with one another," James said. "The turnovers have gone down and the communication is there. Practice time helps that; game time helps that. I haven't had this combination of bigs [to run pick-and-roll] with."
Brian Windhorst is a regular contributor to the Daily Dime.
Dimes past: Oct. 27 | 28 | 29 | Nov. 1 | 2 | 3 | 4 | 5 | 7 | 8 | 9 | 10 | 11 | 12-13 | 14 | 15 | 16
2. Portland's Oden Out For The Season
By J.A. Adande
ESPN.com

Oden
With the latest Greg Oden injury news, all I can think about is the money. We've already shed our tears for Oden, the nice guy whose body has repeatedly betrayed him. We've already made the Sam Bowie comparisons, rendered our verdict on Oden versus Kevin Durant, lamented what might have been for the Portland Trail Blazers if only Oden stayed on the court. Now it's time to count the lost dollars.
Oden's string of injury woes could cost him some $80 million to $90 million. Even Bill Gates cringes at the thought of missing out on $90 million.
To read the entire Adande column, click here
3. Daily Dime Live Recap
ESPN.com writers and TrueHoop Network bloggers chatted with fans and gave their in-game opinions throughout Wednesday's games -- all in Daily Dime Live.
4. Young Studs Show Off
Elias Sports Bureau

Michael Beasley (age 21) scored 33 points for the Timberwolves on Wednesday night; Eric Gordon (also 21) scored 30 and Blake Griffin (another 21-year-old) scored 26 for the Clippers in the same game. It was only the fourth game in NBA history in which three players younger than 22 each scored at least 25 points. The three previous such games all happened last season and all involved Oklahoma City's Kevin Durant and Russell Westbrook. The players joining the Thunder duo were Tyreke Evans, DeJuan Blair and James Harden.
By Maurice Brooks
ESPN.com
WEDNESDAY'S BEST

Bosh

Chris Bosh, Heat: Bosh didn't play in the fourth quarter, but that didn't stop him from setting a season high in points (35) as the Heat rolled past the visiting Suns 123-96. The power forward also had six rebounds and four assists.

WEDNESDAY'S WORST

Villanueva

Ben Gordon and Charlie Villanueva, Pistons: The duo have been two of the league's top reserves this season, but that wasn't the case against the Lakers; they made just 5 of 22 shots from the field.

---

TWEET OF THE NIGHT

But don't think for 1 second this doesn't hurt me my heart. Losing messes with every aspect of your life.less than a minute ago via Twitter for iPhoneLou Williams
TeamLou23

---

QUOTE OF THE NIGHT

"These are the games when you're on the playground and you beat somebody up, and then the real bully comes and beats you up. We played great last night ... and then the big fish came and whupped us up."

-- Washington's Gilbert Arenas after the Wizards got crushed by the Celtics on Wednesday night
7.

Hornets Get Their Revenge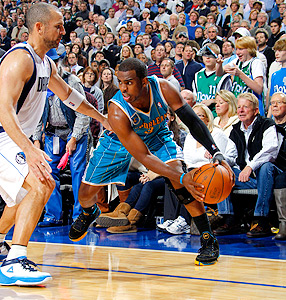 (Layne Murdoch/NBAE/Getty)
The Hornets lost their only game of the season Monday against the Mavericks. Chris Paul (20 points, 11 assists) made sure it didn't happen again, directing New Orleans past Dallas 99-97.
8.

Knicks Snap Six-Game Skid
By Jared Zwerling
ESPN New York

Gallinari
After a gallant comeback effort Tuesday night in a two-point loss to the Nuggets, you would have thought the Knicks would come out strong Wednesday night. But instead they finished strong and beat the Kings 113-106. It took a whole quarter for the Knicks to get going, which has been a common theme for the team lately. The Knicks took the court like it was their first time playing together and looked discombobulated on offense, rushing and missing outside shots (they were 5-of-23 from the field in the first quarter). And on defense, their rotations were slow and the Kings were able to get inside the paint and score. But during the first quarter, MSG Network color analyst Walt Frazier made a positive guarantee, saying, "The Knicks will come back. They like to come back the hard way. They need to settle down and take better shots." And that's just what the Knicks did after being down 27-14.
To read the entire Knicks blog, click here
9.

Delonte Worth The Wait

West
BOSTON -- He could have had the date circled, underlined and capitalized. That is, if Delonte West didn't know, intuitively and instinctively, that the 11th game of the Boston Celtics' 2010-11 season fell on Nov. 17.
The venue? Who cared. The opponent? Ditto. His team was 10 games into a season that he could watch only from afar, not even from the bench during games. That's what happens when you mess up off the court and David Stern steps into your life as judge and jury.
If there was anyone at TD Garden on Wednesday night who cared a whit about West's transgressions, he or she was hard to see. West was welcomed back with a warm ovation when he entered the game late in the first quarter -- and then got a quick reminder of what it's all about.
"The fans, they showed me some love,'' West said. "It almost brought a tear to my eye. Then Nick Young scored about four straight baskets on me and the tear dried up pretty fast."
To read the entire column, click here.