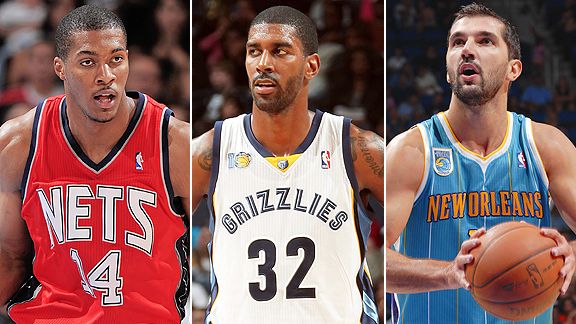 Getty Images Will some burgeoning youth be served up? Peja cooked in Canada? Feast on some fresh trade morsels.
1. Latest NBA Trade Chatter
A few heaping helpings of post-Thanksgiving trade and roster chatter, with the NBA's deadline for deals just 90 shopping days away:

Anthony
Pursuant to last week's discussion in this cyberspace about the existence of a small handful of teams that would be willing to gamble on a Carmelo Anthony trade even if they couldn't get Melo's signature on an extension as part of the transaction, I've been advised in very strong terms to make sure New Jersey is not on that list.
Not if the Nuggets would be expecting Derrick Favors to be included in the deal.
The Nets remain highly motivated to land Melo before the Knicks find a way and believe they can still assemble a deal that sends Favors (June's No. 3 overall pick) along with multiple future first-rounders to Denver, even if original trade partners Utah and Charlotte can't be roped back into the discussions that progressed to the brink of a deal in late September.
Yet a source close to the situation stressed, no matter how obvious this might seem, that the Nets haven't budged from their stance. The prospect of renting Anthony for a few months and then watching him walk in free agency -- not far off the nightmare scenario in Denver that so many believe will ultimately force the Nuggets to deal him -- is not a dice roll New Jersey is willing to make.
If an Anthony trade took the form of an extend-and-trade -- where Melo also finally signs the three-year, $65 million extension that Denver has had on the table since June -- then, yes, Favors will be one of the headliners. If not, Melo is definitely headed elsewhere.
Interesting supplementary theory supplied by Sports Illustrated's Chris Mannix: Denver might be merely delaying a deal with New Jersey in an attempt to ensure that the Nets' pick is as high as possible, given that sending Melo to the Nets in, say, December would give them too much time to pull away from the upper reaches of the lottery.
---

Mayo
I've yet to hear conclusively that O.J. Mayo -- widely presumed to be on the trading block now that he's coming off the bench -- has actually been made available by the Grizzlies like he was in February when Memphis offered Mayo with Hasheem Thabeet to Golden State in a pitch for Monta Ellis
The stronger suggestion you hear from the personnel grapevine these days is that Mayo is not available.
That can certainly change with about three months to go before the deadline and Memphis having committed more than $120 million to Rudy Gay and Mike Conley, which presumably doesn't leave much (if anything) for Mayo. Yet it can also be argued that the Grizzlies, who will have Mayo locked into a rookie contract through next season even if they don't offer him an extension between July 2011 and next Halloween, could simply opt to keep Mayo around until they're forced to make a decision on his future because of the favorable financial terms.
Disconcerting as it is to see him shooting 38.7 percent from the field and having earned just 31 attempts from the free throw line in 15 games, Mayo will make $4.45 million this season and $5.63 million next season.
The Grizz, furthermore, are clinging to hope that a move to a sixth-man role and the greater offensive freedom that potentially comes with it could restart Mayo's season if he's willing to embrace it.
---

Stojakovic
The overwhelming sense in Toronto, according to multiple parties consulted, is that Peja Stojakovic is more likely to leave the Raptors by trade rather than buyout before the deadline.
At least that's the Raps' plan.
Yet if no follow-up swap materializes before Feb. 24 involving Stojakovic's $15 million expiring contract, he's a virtual lock to be bought out by the Raps before March 1, which would enable Peja to take his forever-accurate J J -- Dallas watched him ring up a quick 17 points in just 19 minutes this month -- to the contender of his choosing for the stretch run.
Raptors president Bryan Colangelo has already publicly acknowledged the buyout scenario and left the clear impression that he'll work with Stojakovic on a mutually beneficial parting when the time comes. One of the likely reasons: Without Stojakovic's cooperation in waiving $437,470 of a $1,215,953 trade kicker to make the salary-cap math work in the deal with New Orleans co-headlined by Jarrett Jack, Toronto couldn't have completed a trade that brought young Jerryd Bayless to Canada ... and finally rid the Raptors of Marcus Banks.
League rules on trade kickers only allowed Stojakovic to surrender the exact amount required to make the trade legal, but it was still a six-figure sacrifice that otherwise could have scuttled the deal.
The Serbian sharpshooter, furthermore, is determined to stay in the NBA for two or three more seasons after this one, according to agent David Baumann, despite the persistent wishful thinking from European teams about luring the 33-year-old back to their shores.
And a buyout, frankly, is possible even if Peja gets traded again, depending on the state of the team that acquires him. It's not hard to imagine, should Peja shake loose, more than a few top teams trying to woo him in March when veteran shooters and big men who become in-season free agents are hot commodities.
---

Thornton
Hornets second-year guard Marcus Thornton unexpectedly snagged a spot on our recent list of available players who might surprise you ... and word is that he remains so even after the trade headlined by Stojakovic and Jack took New Orleans nearly $4 million beneath the luxury-tax line.
Jerryd Bayless departed Louisiana in that deal, but Willie Green, Marco Belinelli and obviously Jack -- each of them supplying more of the defense demanded by Hornets coach Monty Williams -- are three newcomers who still rank ahead of Thornton in the scrap for the minutes in the Hornets' backcourt that don't belong to Chris Paul. So Thornton remains gettable, albeit with the same disclaimer as before that he can't bring much in return unless he's packaged into a bigger trade because the 23-year-old -- who averaged 14.5 points last season as a second-round pick -- is making $762,195.
And as appealing as Thornton might be to teams who need an extra scorer and are drawn to his cap-friendly price tag, obviously he can no longer be packaged in a deal with Peja.
---

Paul
Something I did not know before the Hornets did the deal with Toronto: CP3 might be even closer to Jack than LeBron James.
Ditto, apparently, for the Grizzlies' Rudy Gay.
For about the 10th time in the past week, I'll concede that Hornets fans should rightly maintain a degree of skepticism whenever they hear that Jack's arrival will have a major impact on whether or not Paul commits his long-term future to the Hornets, given that similar claims were made in Toronto about Jack's sway with former Georgia Tech roommate Chris Bosh.
Yet I do think there's a difference here, because Jack is not one of Paul's former college teammates (like Jack and Bosh were) but someone Paul refers to, without exaggeration, as a brother.
LeBron, Carmelo, Dwyane Wade, Tyson Chandler and J.R. Smith are all close to him, too, but Paul essentially confirmed the depth of his ties to Jack and Gay shortly after the deal went through in this exuberant reaction to the trade via Twitter in which he seemed to enjoy tweaking Gay for missing out on the Paul-Jack reunion.
Dimes past: Nov. 8 | 9 | 10 | 11 | 12-13 | 14 | 15 | 16 | 17 | 18 | 19-21 | 22 | 23 | 24 | 25
2. Another Young, Available Big Man

Wright
Recent Weekend Dimes have listed Sacramento's Jason Thompson and Chicago's James Johnson as young power forwards who've been made available via trade by the teams that made them recent first-round picks.
Another name to add to that group, according to NBA front-office sources, is Golden State's Brandan Wright, who simply hasn't been able to produce (or stay healthy) consistently for the Warriors despite his intriguing length and athleticism.
The Warriors selected the slender 6-10 power forward with the eighth overall pick in 2007 and have an undeniable need at the moment for dependable players off the bench. Frontcourt, backcourt, you name it.
But Wright only made it onto the floor for 77 games in his first three seasons thanks largely to a run of shoulder injuries and hasn't been able to catch up. Not even with David Lee (elbow), Louis Amundson (finger) and prized rookie Ekpe Udoh (wrist) all dealing with their own health woes.
3. Western Conference

Ime Udoka replaced Danny Green on San Antonio's roster this week largely because Spurs coach Gregg Popovich, even in the midst of the best start in franchise history, wants to have a comfort level with everyone on the roster. Even the 13th man.
Udoka, though, will carry a mildly newsworthy distinction for as long as he lasts in San Antonio, no matter how little he plays.
Udoka, you see, is the last free agent signed for 2010-11 who can be included in a trade this season.
The NBA's annual trading deadline falls on Feb. 24. Since free agents can't be traded until 90 days after signing, any player signed after Nov. 24 can't be dealt. And Udoka, for the record, can only be moved on deadline day.
Free agents who signed in the summer are ineligible to be dealt until 90 days have passed or the arrival Dec. 15 ... whichever is later based on the date they signed.
---
Some numbers of note in the West this week:
4: Four was Tim Duncan's previous season high for single-digit scoring nights. San Antonio's face of the franchise has been held under 10 points five times already this season, although Spurs-watchers would tell you that better balance and Duncan's understandable inclination to keep as much gas in his tank as possible for the postseason are the triggers for that trend.
1: New Orleans' unexpected road loss Monday night to the lowly Clippers left San Antonio with the league's only one-loss start. A win would have enabled the Hornets to combine with the Spurs in recording the first two 12-1 starts in the same season since Houston and Chicago opened 12-1 in 1996-97. Two teams in the same division starting 12-1 has happened only once in NBA history: Detroit and Milwaukee in 1970-71.
3: With 32 points and 22 boards in an overtime loss to San Antonio on Wednesday night, Minnesota's Kevin Love became the fifth active player with at least two 30/20 games in the same season. Love joins Shaquille O'Neal (two in 1992-93, three in 1993-94), Tim Duncan (two in 2000-01), Kevin Garnett (two in 2002-03) and Zach Randolph (two for Memphis last season) in that exclusive club.
9: Even though their individual stats have been near-identical in head-to-head matchups since both were drafted in 2005, Utah has a nine-win edge -- at 12-3 -- when good friends Deron Williams and Chris Paul square off. D-Will's Jazz pounded the Paul-led Hornets by 18 points in Wednesday night's latest installment.
4: Stephen Jackson recently became the fourth opponent in Suns history to post a triple-double against them with two franchises. Jackson has now done it with Golden State and Charlotte and joins Micheal Ray Richardson (New York and New Jersey), Clyde Drexler (Portland and Houston) and Jason Kidd (Dallas and New Jersey).
---
Intriguing follow-up morsel to last week's note in this cyberspace about the seemingly collapsing sale of the Hornets from George Shinn to minority partner Gary Chouest and the belief of one source close to the situation that the sale will actually still happen by the end of the calendar year: Chouest has been a very visible presence at New Orleans home games. And Shinn hasn't. The Hornets have privately countered skepticism about their ability to keep hold of 2012 free agent-to-be Chris Paul by insisting that the team's high trade activity since general manager Dell Demps took over in August -- which began with the surrender of Paul's presumed successor Darren Collison in a four-team deal to get championship-tested swingman Trevor Ariza -- and the club's well-chronicled plans to thoroughly upgrade its practice facility are signs that the Hornets are moving away from the non-spending Shinn is known for. ... Warriors co-owner Joe Lacob, on the record $450 million his group spent to buy the franchise from Chris Cohan, which is $49 million more than the previous high Robert Sarver's group paid to purchase the Phoenix Suns in 2004: "I was convinced 100 percent that it was absolutely worth this amount. I really had a great, great means of comparison to the Celtics and other NBA franchises. And I know what this [franchise and market] can be."
4. Miami Nice

They are 1-6 against teams with winning records. They entered the weekend one game worse than last season's 9-6 start that came with LeBron James still in a Cavs uniform and Chris Bosh still in Canada. They have fallen to an unfathomable 0-7 when James logs 40 minutes or more.
They just watched Dwyane Wade join 1947-48 scoring champion Max Zaslofsky in Monday night's home loss to Indiana as the only players ever to attempt at least 13 shots from the floor and five from the line in the same game and make one or fewer of each.
They look like a team desperately lacking leadership despite the undeniable star quality of LeBron and D-Wade.
They are coached by a 40-year-old under serious fire ... even though Erik Spoelstra can't do anything about the Heat's major size issues, injuries to Mike Miller and Udonis Haslem, resultant lack of depth or play point guard for them like he did at the University of Portland.
So ...
In our strain to offer up some balance and find something nice to say about the situation -- since Heat president Pat Riley apparently doesn't see fit to come out with a public statement in support of Spoelstra no matter how speculation (founded or unfounded) is mounting daily about Riles coming downstairs to take over -- this is all we could really come up with:
Four teams have managed to start as poorly as the Heat have through 15 games and recover to win the championship.
You hesitate to give Miami the privilege of including them in the title mix with all the issues we just zoomed through, but history says a resurrection this season is possible.
So why not -- in a nod to the 2005-06 Heaters who started 11-10 before Riley did come downstairs and ultimately win his first coaching ring since 1988 -- at least acknowledge that possibility?
Worst 15-Game Starts: Teams That Won NBA Championships
| Season | Team | Start | Result of 16th Game |
| --- | --- | --- | --- |
| 1998-99 | Spurs | 7-8 | Won at Mavericks |
| 1950-51 | Rochester Royals | 7-8 | Won at Baltimore Bullets |
| 1997-98 | Bulls | 8-7 | Won at Wizards |
| 1977-78 | Bullets | 8-7 | Won vs. Rockets |
15-Game Starts: All NBA Champions
| Start | Number of championship teams |
| --- | --- |
| 15-0 | 1 |
| 14-1 | 7 |
| 13-2 | 8 |
| 12-3 | 12 |
| 11-4 | 12 |
| 10-5 | 13 |
| 9-6 | 4 |
| 8-7 | 2 |
| 7-8 | 2 |

It's a bit of a stretch to suggest that a home date with the Wizards -- even if it was the high-profile opening half of TNT's Thanksgiving doubleheader -- was a must-win for the Hawks.
However ...
A loss would have been highly embarassing, since Atlanta went into the holiday just one more L away from becoming the fourth team in history to slide back to .500 after starting a season with six successive wins.
The Hawks ultimately avoided that fate with a 116-96 trouncing of the Wiz, but that's hardly enough to calm the concerns that peaked Monday night when they fell behind by 26 points -- in the first quarter -- to a ripened Boston team they've routinely tortured in the regular season with their athleticism. (On the second night of a back-to-back for the Celts, Boston set a record for the biggest first-quarter lead in franchise history in the shot-clock era.)
Earlier this week, Professor Hollinger compiled the sort of thorough breakdown of the issues that you'd expect from an Atlanta resident and veteran Hawks-watcher of his stature. So there's no need to go too deeply into follow-up mode.
One thing I would add, though, is what more than one league observer warned would be a problem long before the season started: Atlanta provided rookie coach Larry Drew with almost no platform in the authority department by simply promoting a players' favorite from within after a search with little sizzle and then inviting more of a substitute-teacher effect by signing Drew to a contract that reportedly pays him just over $1 million annually.
Drew has toiled for ages as an assistant waiting for this chance and was presented as the coach most of Atlanta's players badly wanted after the long and grating reign of Mike Woodson. The truth, though, is that finances were a huge factor in ownership's decision, perhaps because the Hawks knew they would soon be offering Joe Johnson last summer's richest contract awarded to any free agent.
Rest assured it's a disparity that everyone in the locker room is aware of. Johnson scored a megadeal he's immediately struggling to live up to and Drew landed what might be the league's least lucrative coaching contract. There are obviously other factors at work that have inflicted a whopping five early losses at home, as Hollinger expertly details, but nothing is as distressing as the many questions in circulation -- so soon after a 6-0 start -- about how tuned in the Hawks are. Drew began the week by publicly assailing his players' focus and effort after the Boston loss and more than one scout queried has rapped Atlanta for teamwide "defensive laziness."
---
Some numbers of note in the East this week:
11: Orlando's Dwight Howard has already made 11 baskets outside of the paint this season, after just 21 for the entire 2009-10 season.
3: Mo Williams' buzzer-beating jumper Wednesday night in Cleveland to beat Milwaukee was Williams' third career dagger with no time left on the clock and his first since Dec. 2, 2005. His first two came when Williams was playing for the Bucks.
5: A home-and-home sweep of Larry Brown's Bobcats gave the Knicks their first five-game winning streak since a six-gamer under Brown in January 2006. Every other team in the league except Minnesota, in the interim, has enjoyed at least two streaks that long. New York's four consecutive road wins account for its longest win streak away from home since a five-gamer from Dec. 22, 2000, through Jan. 19, 2001.
136: How unlikely was Washington's rally from 15 points down in the fourth quarter to beat visiting Philly in overtime Tuesday night? The Wizards had lost their previous 136 games in which they trailed by at least 15 at any point in the fourth quarter, dating to a comeback win over Phoenix on Jan. 30, 2004.
3: Shaquille O'Neal, at 38 years and 262 days old, became the third-oldest Celtic in the last 25 seasons to post a 25-point, 10-rebound game with his 25 and 11 in Wednesday's home win over New Jersey. Robert Parish had two such games at 40. It was Shaq's 432nd career 25-and-10 game, which is the highest total among active players and the most since Karl Malone retired with 525. Wilt Chamberlain is the all-time leader in 25-and-10 games with 631 ... 30 more than Kareem Abdul-Jabbar. (As recently as last Sunday in Toronto, Shaq was seen fouling out of the Celts' loss in Toronto in just 19 minutes, marking the first time in his career that he racked up six fouls in less than 20 minutes of playing time.)
---
The Heat's decision to wait so long before signing Erick Dampier puzzled many and deciding to waive Jerry Stackhouse to make roster room for Dampier -- as opposed to the ineffective Jamaal Magloire -- is almost as puzzling.
Reason being: Miami isn't just thin in the frontcourt after losing Udonis Haslem but also short on wing scoring behind LeBron James and Dwyane Wade, who both missed time in preseason with groin injuries.
There's no question Stackhouse was off to a difficult start in his Heat career, but Dampier was signed largely because the Heat's current platoon of centers (Zydrunas Ilgauskas, Joel Anthony and Magloire) was producing so little.
Dampier taking Magloire's spot thus seems to make more sense, but Stackhouse rolled with his abrupt release like a pro, knowing that he was particularly at risk because he was the one possessing a non-guaranteed contract.
Dampier, for the record, will receive a pro-rated salary of $1,129,469 in Miami, which will count on the Heat's payroll for salary-cap and luxury-tax purposes as a mere $713,666 because it's a veteran-minimum deal.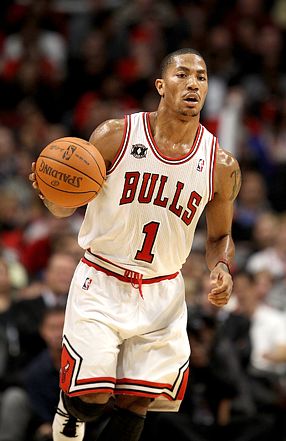 Jonathan Daniel/Getty Images
Derrick Rose doesn't mind being the face of the franchise in Chi-Town. ... Just make sure to keep the hands off the merchandise. (See Box 7)

Rose
"My swag is a little down right now, as you can see. I don't like getting my face touched."
-- Bulls guard Derrick Rose, sharing something about himself I'd guess most of you didn't know after Chicago's big victory last Friday in Big D.
Rose had just helped the Bulls claim an 88-83 triumph over the Mavericks in the only game of the five so far on Chicago's annual Circus Trip in which he has failed to score 30 points.
But his relatively modest total of 22 points against the Mavs certainly wasn't the source of Rose's dismay. A cut on the nose, opened by a Dirk Nowitzki swipe at the ball, brought the Bulls' increasingly unstoppable point guard way down, not only because he was forced to leave the game twice to get the bleeding stopped but because of the mark it left.
"I'm easy on the eye," Rose said, attempting to explain why he would find any sort of nick so upsetting.
Yet it must be said that Rose's apparent funk, vain as it seemed at the time, was quickly forgotten when he rung up a ridiculous 35 points, 12 rebounds and seven assists before fouling out Wednesday night in Phoenix, hauling the Bulls out of a 23-point deficit in an eventual double-overtime victory over the Suns that left Chicago only one W short of clinching a winning record on the annual two-week excursion that has inflicted so much suffering since Michael Jordan's retirement.
And then, sadly, it was pushed further into history by some lasting pain, which might be the first thing that truly stops Rose this season after weeks of tucking the ball under his arm almost like a running back and relentlessly launching himself at the rim. The Bullls had been worried about the offensive load Rose has been forced to shoulder so far this season -- an issue that should be alleviated when Carlos Boozer makes his Bulls debut in the next couple weeks -- but neck spasms Rose says have been bothering him since before the game in Phoenix threatened to knock him out of Friday's visit to Denver.
The Bulls had to get a split from its weekend back-to-back against the Nuggets and Saturday in Sacramento against the Kings to finish the dreaded Circus Trip at no worse than 4-3.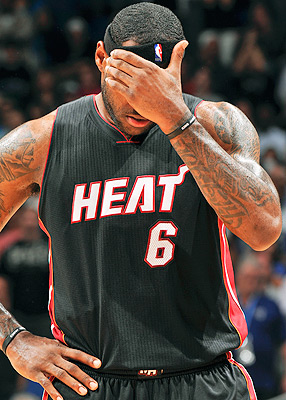 Fernando Medina/NBAE/Getty Images
We found a ray of light, LeBron. Despite Miami's cold start, four teams have started 8-7 or worse in NBA history and still won it all. (See Box 4)
10.

Inside Collison's New Contract

Collison
With Nick Collison now scheduled to earn $3.3 million in 2011-12 -- and with his salary descending all the way to $2.2 million in 2014-15 -- Oklahoma City has secured a valued member of its rotation at a very cap-friendly price. That will put the smallest possible drain on its payroll in coming seasons when the Thunder have to accommodate the extension raises due to Kevin Durant as well as future extension recipient Russell Westbrook (and possibly Serge Ibaka).
Flush with other assets to use in potential trades, Oklahoma City made the determination that it couldn't do anything better with that $6.5 million in leftover cap space from the summer before the space vanishes June 30.0, when the space vanishes. It remains to be seen how risky the strategy of giving Collison such a hefty bonus is, since the cap space could have been offered up to other teams in trade discussions between now and the Feb. 24 trading deadline, but OKC isn't known for its gambles and is surely convinced it didn't really take one here. (Don't forget that Thunder GM Sam Presti will always give nearly as much consideration to how a player fits into his team's culture as the player's skills.)
Collison, meanwhile, naturally couldn't resist opting for long-term security in these uncertain times. He can now face the prospect of a lockout this summer and potential contract rollbacks in a new CBA knowing he not only has that security but also the added bonus of getting a substantial safe-from-rollbacks chunk of extra change immediately.