1. Quiet, Please: Magic Sideshow In Progress
By John Hollinger
ESPN.com
CHICAGO -- Of course it would happen this way.
Of course the Orlando Magic, the Rodney Dangerfields of the NBA, would play their best game of the season when absolutely nobody is talking about anything but LeBron James' return to Cleveland.
The Magic's 107-78 win over the Bulls on Wednesday night was a complete and utter domination from start to finish. This wasn't basketball, it was surgery. So exquisite was Orlando's half-court execution that they won in a laugher despite failing to register a single fast-break point. So on-target was their shooting that they were 10-of-21 on 3-pointers and 23-of-24 from the line (I'll give you one guess who had the miss).
And so overwhelming was their energy that the Magic hammered Chicago 44-21 on the boards -- even though the Bulls entered the game leading the NBA in rebound rate. Chicago shattered a team record for fewest rebounds in a game, with 25 being the previous mark; center Joakim Noah, who averaged 13.2, had none in 26 minutes.
Not that you'll see much mention of this performance on the front page of the paper Thursday.
"How'd the Heat do tonight," joked Magic coach Stan Van Gundy to open his postgame news conference. "Was their chemistry good, did they all get along?"
"Tomorrow, the only the thing that's going to be on ESPN is LeBron going back to Cleveland, right? Because ESPN only covers two stories -- Brett Favre and the Miami Heat. And then we have about five minutes for the rest of the sports world."
Actually, our TV network has covered a certain Orlando Magic season-ticket holder fairly thoroughly, as well, but Van Gundy's larger point is that his team once again is lying in the weeds while big-market teams hog the spotlight. The Magic, at this point, are basically San Antonio East.
Despite a choppy opening fortnight, the Magic sit at 14-4, tied with Boston for the best record in the East, and sport the NBA's second-best point differential at plus-7.9 points per game. Orlando has won nine of its past 10, with the only defeat coming on the road against those Spurs in a contest virtually every observer deemed NBA Finals-quality.
And on Wednesday night, they were even better.
"For us to do this on the second night of a back-to-back," said Van Gundy, "I thought it was our best win of the year."
Vince Carter set the tone, beating Noah for three offensive boards in the first three minutes and scoring 20 points in the first half, which concluded with Orlando ahead 61-37.
True, the Bulls were ripe for the picking. Chicago was playing the dreaded first home game after a long road trip (which every NBA exec insists is basically another road game) and, more importantly, incorporating a rather clearly unready Carlos Boozer into the lineup for the first time. He loafed through a screen on the first trip to give Rashard Lewis a wide-open 3-pointer, didn't score his first basket until the Bulls trailed by 20 points, and finished with just five points and two rebounds in 22 minutes of inaction.
But the Magic also made Chicago look bad with their aggression, particularly from the backcourt. Van Gundy said the Magic drove into the paint 29 times in the first half -- they had only 45 trips -- and Carter and Jameer Nelson were the protagonists on virtually all of those drives.
"When Vince is aggressive, he's a really difficult guy to play," said Van Gundy, which raised the other obvious question of why Carter isn't this aggressive all the time.
"I don't know. I think Vince needs to keep Vince aggressive. I can talk to him and remind him, but I don't have a magic switch."
What he does have, however, is enviable depth when Carter isn't feeling quite as energetic -- and also when he is energetic. On Wednesday night, for instance, Brandon Bass came off the bench to score 17 points on just eight shots after Lewis tweaked his knee and checked out early.
When Mickael Pietrus followed that up by depositing his stomach contents in a United Center hallway -- after J.J. Redick was already sidelined by a similar ailment -- the Magic went to a smaller front with Chris Duhon and Nelson together. Nelson had 24 points and nine assists and missed only three shots while largely holding Derrick Rose (15 points, four assists) in check.
So good were Orlando's guards, in fact, that center Dwight Howard didn't need to unveil his midrange bank shot -- all 12 of his attempts came from inside 10 feet. Howard's newfound weapon is but one more reason the Magic seem as viable as ever as an Eastern Conference contender.
But they'll be fighting an uphill battle for attention on most days this season, with their in-state rivals commanding most of our attention and the two-time champion Lakers soaking up much of what's left. But the Magic would like to remind you that they won the East in 2009, were two wins away from repeating the feat last postseason, and seem just as potent this time around. Ignore them at your own peril.


ESPN Insider John Hollinger
• Twitter @johnhollinger | ESPN.com | TrueHoop | Email | Stats
• Follow ESPN's NBA coverage on Twitter | On Facebook | On Google+
Dimes past: November 15 | 16 | 17 | 18 | 19-21 | 22 | 23 | 24 | 25 | 26-28 | 29 | 30 | Dec. 1
2. Westbrook's Touch: 38-15-9 In OT Win
By Chris Sheridan
ESPN.com

Westbrook
NEWARK, N.J. -- The focus afterward was on what point guard Russell Westbrook pulled off offensively in the third overtime, scoring all 13 of Oklahoma City's points. What was secondary, but ultimately equally important, was the way he played defense -- how softly he played it, actually -- in the final 6.8 seconds of that third extra period.
After Westbrook went to the line and scored his 12th and 13th points of the third overtime to put the Oklahoma City Thunder ahead of the New Jersey Nets 123-120, the Nets were out of timeouts and had to go the length of the court to attempt a game-tying 3.
And as point guard Jordan Farmar (career-high 28 points) dribbled the ball upcourt just a teeny bit slower than full speed, Westbrook laid off him.
Had Farmer pulled up and tried a 3, this epic might even have gone to a fourth overtime. He certainly had enough space to try. But instead, Farmer kept driving toward the hoop before attempting to fire a pass to Anthony Morrow in the corner, and the final horn sounded before that final pass even reached its destination.
"Our coaches did a good job of warning us what play they might run, and that's what they ran and we played it well. We knew that play was coming, and we stopped it," said Westbrook, who scored 38 points with 15 rebounds and nine assists (he played the final 16:13 without getting the 10th assist that would have given him his third career triple-double) and was backed by Jeff Green's career-high 37 points in the Thunder's three-hour and 21-minute, 123-120 triple OT victory Tuesday night.
"That's a play we have in our playbook, and we have one or two options -- and the first option is to get the guy in the corner," Nets coach Avery Johnson said. "It's an NBA play that 20 NBA teams run, and we thought the second option [Farmar pulling up for a 3] was open. We just couldn't get it done."
Westbrook scored 38 while being defended for much of the game by forwards Travis Outlaw and Stephen Graham. He was only 3-for-9 from the field at halftime, 2-of-5 in the third quarter and 0-for-1 in the fourth. Westbrook then scored four points in each of the first two overtime periods before his 13-point outburst in period No. 7.
This one was sent to overtime when Nets guard Anthony Morrow hit a 3-pointer off an inbounds pass with 1.5 seconds left in regulation, and it moved improbably into a third extra session when Green drew a three-shot foul against Graham with 4.6 seconds left in the second overtime and drained all three free throws to tie it at 110. The Thunder were without star forward Kevin Durant (sore left knee) for the third time this season, and all three times they have pulled off victories on the road -- at Boston, at Milwaukee and now at New Jersey.
Durant expects to play Friday at Toronto, where the Thunder will try to improve upon their 7-1 record against teams from the East. They are now 10-1 in games decided by seven points or less.
3. LeBron, After The Fall
By Michael Wallace
ESPN.com

LeBron
MIAMI -- About the only thing that could go wrong for LeBron James -- as well as the Miami Heat, the NBA and the fans waiting in Cleveland -- almost happened on Wednesday night.
James hit the deck. Hard. Then he struggled to get to his feet from an awkward fall following a botched block attempt of a Jason Maxiell dunk with 7:53 left in the third quarter against the Detroit Pistons.
As much as Cavaliers fans don't care to see James happy in Miami, odds are they certainly didn't want to see him hurting -- at least not before he gets to Quicken Loans Arena for Thursday night's showdown/homecoming/moment of truth to face his former team for the first time.
But there was James on Wednesday night, sprawled flat on his stomach along the baseline near the Heat bench. And an entire team, franchise, arena, city and -- perhaps -- league collectively held their breath.
"That's the only thing you think about," Heat forward Chris Bosh said of pondering the worst-case scenario after James crashed to the court. "Just get up. You see so many people take hard falls in basketball. Get up, get up, get up. OK. He's fine."
•
For the full story, click here
4. Daily Dime Live Recap
ESPN.com writers and TrueHoop Network bloggers chatted with fans and gave their in-game opinions throughout Wednesday's games -- all in Daily Dime Live.
WEDNESDAY'S BEST

Battier

Shane Battier, Rockets: Even the Mamba himself had to salute the outburst from the Rocket who is usually the designated stopper. Battier went off, scoring 11 of his 17 points in the final three minutes in a 109-99 win over the Lakers.

WEDNESDAY'S WORST

Arenas

Gilbert Arenas, Wizards: Welcome back, John Wall. Agent Zero made one hoop more than his nickname after hoisting 10 shots, his worst shooting night of the season, in the Wizards' fourth straight L, a 19-point loss to Toronto.

---

TWEET OF THE NIGHT

Funny how ever since Phil Jackson ran his mouth about the Heat his Lakers have hit a snag. T-Mac, too. Stay in your lane, folks.Thursday, 12:44 a.m. via Twitter for BlackBerry®Michael Wallace
WallaceHeatNBA

---

QUOTE OF THE NIGHT

"How'd the Heat do tonight? Was their chemistry good, did they all get along?"

-- Magic coach Stan Van Gundy, taking sardonic measure of the Heat hype after his team's win over Chicago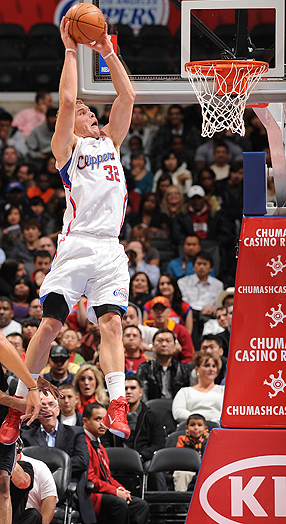 (Photo by Noah Graham/NBAE via Getty Images)
Clippers rookie Blake Griffin rises for a dunk against the NBA-leading Spurs. Griffin had 31 points and 13 rebounds in the win, sinking 67 percent of his shots in a 90-85 home victory.
8.

Keeping Tabs On Parker-Longoria

Parker
LOS ANGELES -- Tony Parker's Wednesday was more E! Network than ESPN. Parker is in the midst of a divorce from actress Eva Longoria and, according to several entertainment websites, the two had lunch at the Spurs' hotel in Santa Monica when Parker's team was in Los Angeles to play the Clippers.
While Eonline.com quoted an "eyewitness" as saying "Eva and Tony were acting real lovey-dovey with each other," and another source told People magazine, "They remain friends and everything is amicable," Parker didn't seem himself before the game at Staples Center and played a shaky, distracted game.
Parker missed 5 of 6 shots and Spurs coach Gregg Popovich took Parker out of the game for good 2½ minutes into the third quarter. A basketball source said Popovich could tell Parker was distracted and ineffective so he decided to keep him out. The Spurs lost 90-85 in their first road defeat of the season and their first loss to the Clippers since March 7, 2006.
When asked what was wrong with Parker, Popovich said, "I just made a decision to play different people."
Parker took a back exit from the visitors locker room and didn't speak to the media after the game.
This is the risk when sports and celebrity collide. You can believe the Hollywood spin if you like -- you'll notice it's always favorable to the actresses, such as the People source who said "Eva is a class act, that's how gracious she is" -- but clearly all was not well. When Tony Parker plays only 18 minutes and the Clippers beat the Spurs for the first time in 19 games, that's Hollywood happening, not NBA normalcy.
9.

Revenge Of The Clippers
By Elias Sports Bureau and ESPN Stats & Info

The Spurs and Clippers became the first NBA conference rivals to complete their 2010-11 season series, and it concluded with Los Angeles beating San Antonio for the first time since March 7, 2006. The Spurs had won their previous 18 games against the Clippers, which was the longest current winning streak for any NBA team against a particular opponent before Wednesday's outcome. The longest current team-versus-team winning streak in the league is now 13 games, shared by the Mavericks (over both the Bobcats and Heat), Lakers (against the Timberwolves) and Spurs (also versus the Timberwolves).
If the Spurs had won Wednesday and improved to 9-0 on the road this season, they would have joined some select company. If history is any indication, a 9-0 start on the road would have meant the Spurs would win it all this season:
How Do You Know?
| Team | Year | Road Wins |
| --- | --- | --- |
| Knicks | 1969-70 | 12 |
| Celtics | 1961-62 | 10 |
| Celtics | 1960-61 | 10 |
| Rockets | 1993-94 | 9 |
Each of the four teams above went on to win the NBA title that season. •
More from Elias