Have to do a quick follow-up -- purely in a bow to the relentless precision my engineer father demanded when I was a kid and he drew straighter right angles freehand than I could with a ruler -- on Nick Collison's contract extension in Oklahoma City:
The well-chronicled $6.5 million boost Collison received to his $6.75 million salary this season, by the letter of salary-cap law, is not officially referred to as a signing bonus, even though that's basically what it was.
I've been instructed to pass along that, in the most accurate technical terms, the final year of Collison's existing contract was "renegotiated" upward from $6.75 million to $13,270,000. He then, as stated, received a four-year extension worth $11 million and change.
But all the basic concepts covered in this cyberspace last week were accurate: Oklahoma City decided that the best use of its leftover $6.5 million of salary-cap space from the summer was paying it all to Collison now in exchange for a below-market extension that ensures Collison's cost-effective presence on the roster when Kevin Durant, Russell Westbrook and maybe even Serge Ibaka are all commanding big dollars in the midst of their own contract extensions.
Doing so, of course, means that the Thunder no longer have that cap space to increase their trade options between now and the Feb. 24 trading deadline. And if they're ever second-guessed for anything, it's their ongoing unwillingness to go out and trade for a productive veteran.
Yet those who've studied the machinations of Thunder general manager Sam Presti in building this team surely aren't surprised that he was willing to go to such lengths to keep a mere rotation player such as Collison. The reality in OKC is that (A) Presti places a high value on players he knows fit into the Thunder's culture and (B) Presti still has a good handful of trade assets even after surrendering the cap space.
---
Some numbers of note in the West this week:
0: None of Phil Jackson's 11 championship teams has endured a four-game losing streak, which is what the Lakers took into Friday's home date with Sacramento.
1: San Antonio's Tim Duncan is the only player in league history to post more triple-doubles in the playoffs (four) than he has in the regular season. Duncan's up to three after amassing 15 points, 18 rebounds and 11 assists in a romp Tuesday at Golden State.
9: History says that Duncan's Spurs might really regret not finding a way to win in Los Angeles against the Clippers on the night after his triple-double. The loss was San Antonio's first in nine road games this season … and each of the four teams in NBA annals to open a season 9-0 on the road went on to win the championship. They are: New York (12-0) in 1969-70, Boston (10-0) in 1961-62 and 1960-61 and Houston (9-0) in 1993-94.
13: Russell Westbrook's 13 points in the third overtime Wednesday in Oklahoma City's eventual win at New Jersey fell just shy of tying the highest-scoring OT ever. Gilbert Arenas had a 16-point OT outburst in December 2006, narrowly besting the 15 points scored in an overtime by Earl Boykins in January 2005. Dirk Nowitzki (February 2009) and Butch Carter (March 1984) tied for third with a 14-point OT … and in a random aside I can share that I attended Carter's summer basketball camp as an eighth-grader long before I ever imagined winding up as unofficial president of Dirk's fan club.
700: Houston's Shane Battier played in his 700th career regular-season game last weekend, making him the ninth player from Duke to reach that milestone in the NBA. The others are Jeff Mullins, Jack Marin, Mike Gminski, Danny Ferry, Christian Laettner, Grant Hill, Corey Maggette and Elton Brand. Only North Carolina (14) and UCLA (13) have produced more 700-game NBA players than Duke.
---
Veteran center Mikki Moore, who appeared in 23 games for Golden State last season before his release in January, has received interest from Hapoel Jerusalem in Israel and other teams overseas. But I'm told the 35-year-old remains hopeful of finding one more NBA job. … Spanish tennis star Rafael Nadal wore a purple shirt with a yellow headband and wristbands throughout the year-end ATP World Tour Finals event in London, but countryman Pau Gasol said it wasn't any sort of Lakers tribute as far as he knows. Of greater concern, obviously, to Gasol: Pau has averaged just 14.3 points per game in L.A.'s four-game skid after averaging 22.1 points in the season's first 15 games.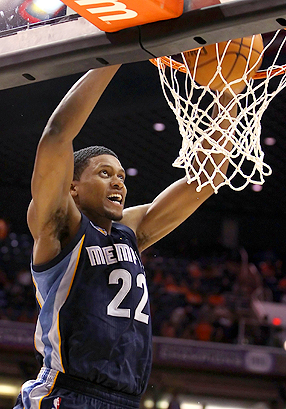 Christian Petersen/Getty Images
As Griz fans could tell you, Rudy Gay's game got a big boost in Istanbul. (See Box 1)

Only three times in NBA history has a team that made an in-season coaching change gone on to win the championship.
But Pat Riley has been the coach in two of those three instances: 1981-82 with the Lakers and 2005-06 with the Heat.
So …
Miami could have improved to 17-3 after Thursday's trouncing of LeBron James' old friends in Cleveland -- as opposed to 12-8 -- and we still would be wondering whether Riley's return to the bench is looming. Chatter about that scenario is simply impossible to extinguish, no matter how many times someone credible says that Riley, at 65, wants no part of coaching this team. Erik Spoelstra knew the deal going in and has to live with it.
But I do believe that Spoelstra will manage to last (and deserves to last) the season, even if the Heat have more losing streaks and/or team meetings in their immediate future. Whatever extra Riley could conceivably coax from LeBron by holding him more accountable than any other coach ever has, I would imagine that Riles can also convince Heat owner Micky Arison that this season is the wrong season to play that card -- no matter what -- when Miami had holes in its roster even before the only two players it spent money on outside of its three stars (Mike Miller and Udonis Haslem) went down with long-term injuries.
It's equally true that the interim options out there make even less sense. I've been reliably advised that Isiah Thomas would crawl from Florida International University for the right to coach LeBron & Co. … even if he had to accept a game-to-game contract. I've also been led to believe that longtime Riles pal Mike Fratello would be willing to come in whenever summoned and try to get LeBron and Dwyane Wade clicking. But how could anyone believe that a knee-jerk change like that -- given the resultant chaos and knowing that the new guy would have to endure all the same speculation about Riley coming downstairs -- could work out better than Spoelstra?
Coach Spo, as they call him down there, has years of tenure in the Heat's unique culture. He somehow manufactured 90 wins out of the last two seasons when the roster was in the process of being stripped down to make room for the pursuit of Chris Bosh and James. You can believe it whenever you read or hear that Riley wants him to succeed.
Getting full buy-in from LeBron will always be a challenge when there's no escaping the shadow of a coach with Riley's pedigree. The fact that Spoelstra's job security has been questioned so much already is likewise symptomatic of the unprecedented scrutiny this team faces in the modern-day era. But even as you acknowledge the more legit concerns about his playoff pedigree and whether Spoelstra can truly coach the faster game James and Wade almost certainly need to succeed, you inevitably still conclude that one interrupted season to try to make the pieces fit is the least he should be granted.
As long as he, and everyone else, understands that the Riley chatter is going to get cranked up again as soon as there's fresh trouble.
---
Some numbers of note from the East this week:
3: The trio of Kevin Garnett, Paul Pierce and Ray Allen were 150-50 in their first 200 regular-season games together … just three off the pace set by the previous signature triumvirate in Boston. Larry Bird, Kevin McHale and Robert Parish went 153-47, with just as many titles, in their first 200 games together from 1980 to '83.
35: When Brook Lopez rang up 36 points and Amare Stoudemire answered with 35 in the Knicks' 110-100 victory Tuesday night over Lopez's Nets, it marked the first time in Madison Square Garden's 43 years of NBA play that each team's starting center cracked the 35-point plateau. MSG-goers hadn't seen opposing centers score at least 30 points since Patrick Ewing (40) and the Suns' Tom Chambers (31) did so on March 7, 1989.
5: The Knicks have won five straight road games, entering Friday's stop in New Orleans, for the first time since the 2000-01 season.
162: Hornets rookie coach Monty Williams was the 162nd coach to oppose Charlotte's Larry Brown when host New Orleans beat the Bobcats on Wednesday night. Only all-time wins leader Don Nelson has gone head-to-head against more NBA head coaches (172) than Brown.
10,000: With nine boards Tuesday night at Orlando, Detroit's Ben Wallace became just the 34th player -- and the only undrafted player -- to record 10,000 career records. Only four active players have reached that milestone: Shaquille O'Neal (No. 1 overall pick in 1992), Tim Duncan (No. 1 in 1997), Kevin Garnett (No. 5 in 1995) and Wallace.
---
There are no Weekend Dimes in late September. We were also consumed at the time by the prospect of Carmelo Anthony nearly getting traded to New Jersey, so there is no shortage of alibis here.
But I still regret not making more of Andray Blatche's Sept. 24 contract extension from the Wizards, mainly because it was the season's first example of the innovative template Oklahoma City just used to extend Nick Collison's contract last week (see Box 5).
By quietly taking its available salary-cap space left over from the summer and offering it to Blatche, Washington sprinkled an additional $5.6 million into what is now a five-year deal, bumping Blatche's salary for this season ($3,260,331) and next season ($3,520,661) to $5,904,152 and $6,442,083, respectively, then tacking on three more seasons at $7,118,502, $7,794,921 and $8,471,339.
Because of Blatche's reliability issues, though, Washington can count on more of the Collisonesque second-guessing the Thunder are getting for investing so heavily in a backup. Blatche can justify those dollars talentwise and through his offensive production as a 17-and-8 guy, but questions persist about his defense, focus and conditioning.

Nowitzki
Randy Galloway thinks he's seeing the best Mavericks team since the glory-days squad of Blackman/Aguirre/Harper in the 1980s that had the mighty Lakers in its way. Marc Stein joins Galloway & Company on ESPN Radio in Dallas (103.3 FM) to explain why it's too soon to go that far.
10.

Alternative Listening