4.

Dec. 15 Is Almost Here
Wednesday could (stress: could) be a big day in the NBA. Reason being: There are 108 players who signed free-agent contracts between July 1 and Sept. 15 who become eligible to be traded Wednesday because it's Dec. 15.
The reality, of course, is that front-office executives have been already been including such players in trade discussions when necessary in anticipation of the increased wheeling-and-dealing freedom.
Yet multiple teams have also been whispering warnings about the uncertainty regarding the conditions of the next labor agreement and how it could make several teams hesitant to take on long-term deals, since no one can fully forecast the down-the-road ramifications of taking on an expensive contract.
Bearing all of the above in mind, here are a few names from the list of 108 summer signees who hard as they might be to move in this climate do rank as available based on what we're hearing on the front-office grapevine: Orlando's J.J. Redick, Dallas' Brendan Haywood and Memphis' Tony Allen.
Some bookkeeping to add to the discussion with regard to where teams stood luxury-tax wise as of Friday morning:
LUXURY TAX TEAMS
| Team | Current Tax Bill |
| --- | --- |
| Lakers | $24,695,480 |
| Magic | $24,019,804 |
| Mavericks | $14,867,302 |
| Nuggets | $13,552,541 |
| Celtics | $7,369,054 |
| Jazz | $6,733,605 |
| Blazers | $2,650,314 |
| Rockets | $2,393,546 |
Reminder: Where teams' payrolls wind up on the date of their final regular-season game, in relation to the league's $70.3 million luxury-tax threshold, determines the final amount of tax owed for 2010-11. Based on the eight teams in tax territory, each of the 22 teams currently under the tax line are on course to receive a rebate in July of $3.2 million per team.
Footnote: There are four teams under the tax by less than $2 million: Atlanta ($759,787), San Antonio ($850,591), Milwaukee ($1,256,819) and Philadelphia ($1,864,546).
Footnote II: New Orleans was nearly $700,000 over the tax line before its recent trade with Toronto headlined by Canada-bound Peja Stojakovic and Hornets-bound Jarrett Jack. The Hornets are now nearly $4 million under the tax, with the Raptors at $3.6 million under.

Cuban
"He got some bad advice."
Mavericks owner Mark Cuban, when asked recently on ESPN Radio in Dallas (103.3 FM) if LeBron James should have given more than mere exploratory consideration to signing with Dallas as a free agent last summer.
The lure for LeBron, in Cuban's obviously-biased view, was not just playing alongside Dirk Nowitzki but hooking up with his Team USA teammate and team organizer supreme Jason Kidd.
And that wasn't the first time Cuban has publicly questioned James' wisdom in signing with the Heat. As recently as Nov. 27 -- before the Mavs scored a 106-95 victory over visiting Miami that sent LeBron's new squad straight into a postgame team meeting that lasted nearly 45 minutes -- Dallas' loquacious owner revealed that he had texted James and close friend Maverick Carter several times during the recruiting process to warn them "that no one had ever blown up a team down to the core and added a couple free agents and won a championship."
Like Miami's Pat Riley was trying to do.
"It's always taken somebody coming to a team to put it over the top," Cuban said that night, leaving little imagination required to know that he was suggesting James could have been that guy in Big D.
Yet it should be noted that Cuban has lobbed a few South Beach-bound bouquets in addition to the barbs, insisting that he would never write the Heat off purely because of a bad start after the Mavs "went 0-4 and wound up winning 67 games" in 206-2007. And this week Cuban has been walking around telling reporters in Dallas that the Heat are suddenly playing better than anyone else in the league after six straight wins entering the weekend.
When asked to elaborate Thursday night after the Mavs stretched their own win streak to 11 with a home cruise against New Jersey and former Mavs coach Avery Johnson, Cuban credited better meshing among Miami's three stars and the Heat's improved defense as justification for a pro-Miami claim that was greeted with plenty of skepticism.
"Damp has helped them a ton," Cuban said, referring to former Mavs center Erick Dampier.
PS -- While true that the Mavs were not on the short list of teams to get face-to-face interviews with Team LeBron in Cleveland in July, Cuban and Kidd maintained a level of contact with James' camp throughout his free agency. Knowing that it had zero shot (with zero cap space) at winning the LeBron Sweepstakes without sign-and-trade co-operation from jittery Cleveland, Dallas didn't press for a face-to-face meeting, fearful the extra attention generated by a sitdown would only unnerve the Cavs further.
PPS -- The Mavs complete their season series with the Heat in Miami in a little over a week on Dec. 20. Stay tuned.

Some numbers of note in the West this week:
145: Since his rookie season in 1996-97, Steve Nash has reached the 20-point and 10-assist plateaus in the same game no less than 145 times. That's the most in that span, followed by Gary Payton (134), Stephon Marbury (116) and fellow 1996 draftee Allen Iverson (104).
57.3: Dirk Nowitzki is shooting 57.3 percent from the field -- and averaging 24.7 points -- during the Mavericks' 11-game win streak.
21: With 21 more points, Kobe Bryant will move to 11th on the league's all-time scoring list and pass Boston's John Havlicek (26,395) for the fourth-highest career point total with one franchise in NBA history. Indiana legend Reggie Miller is third with the highest point total (25,279) playing for only one franchise, followed by Lakers legends Jerry West (25,192) and Elgin Baylor (23,149).
5: Minnesota's Kevin Love is up to five 20-point, 20-rebound games this season. The rest of the league has combined for five, courtesy of Carmelo Anthony, Andris Biedrins, Al Horford, Nazr Mohammed and Zach Randolph.
1: One more win will enable George Karl to become the seventh coach in league history to reach 1,000 career victories, joining Don Nelson (1,335), Lenny Wilkens (1,332), Pat Riley (1,210), Jerry Sloan (1,206), Phil Jackson (1,113) and Larry Brown (1,097). If he gets it Friday night when Denver visits Toronto, according to the Elias Sports Bureau, Karl would become the first of those seven to earn win No. 1,000 on the road.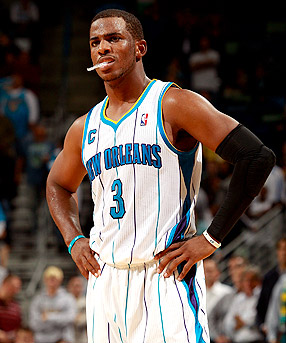 Chris Graythen/Getty Images
Could New Orleans-loving Chris Paul be repping Seattle in the near future? We've got the buzz on the Bees. (See Box 10)

Some numbers of note in the East this week:
6: Amare Stoudemire's six straight games with at least 30 points entering Friday's play is the second-longest such streak in franchise history, trailing only Willie Naulls' seven-game run in 1961-62. The Knicks, meanwhile, are just the fourth team in NBA history to win nine of their first 12 games on the road.
2: Kevin Garnett's layup off a lob pass from Rajon Rondo for the win in Philadelphia on Thursday night was the second game-winning bucket with less than two seconds to play in Garnett's Celtics career. It was also Boston's seventh straight win in Philly, matching the Celts' longest-ever road streak against the Sixers.
98: Rondo is up to 98 career games with at least 10 assists, good for third in Celtics history behind Bob Cousy (249) and Larry Bird (118) and just ahead of John Havlicek (92).
2: Tom Thibodeau is just the second coach in Bulls history -- joining Phil Jackson -- to post a winning record in his first 20 games in charge. Jackson went 13-7 to start the 1989-90 season; Thibodeau is 12-8 entering Friday's home date with Jackson's Lakers. Doug Collins (1986-87) and Rod Thorn (1975-76) got off to 10-10 starts.
25: When he turned 25 this week, according to the Elias Sports Bureau, Orlando's Dwight Howard had played more games (508) and grabbed more rebounds (6,419) than any other player in history by that age. LeBron James (505) is the only other player to appear in at least 500 NBA games before turning 25, and Howard has almost 2,000 more rebounds than any other player under 25. Don't forget, though, that Moses Malone -- No. 2 behind Howard with 4,544 NBA rebounds before his 25th birthday -- spent his first two seasons in the ABA.
10.

Alternative Listening

Marc Stein visits ESPN Radio in Seattle (710 AM) to join two old friends -- former Sonics play-by-play voice Kevin Calabro and former Sonics beat writer Jim Moore -- for a lengthy discussion about Seattle's chances of getting another NBA franchise and the loud rumblings about Microsoft CEO Steve Ballmer preparing to reach into his billions for a bid that ultimately brings the Hornets to the Pacific Northwest.