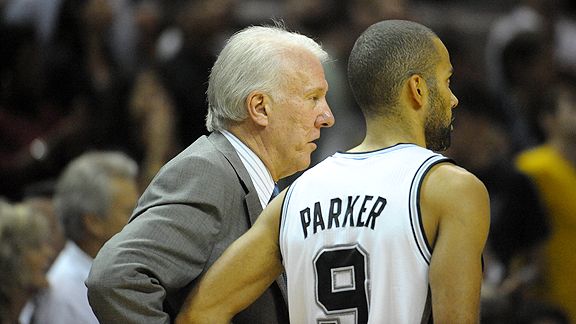 Brendan Maloney-US PRESSWIRE Spurs head coach Gregg Popovich and guard Tony Parker have sped things up en route to a 18-3 mark.
1. Quarter Report: We Never Saw It Coming
We asked ESPN.com writers for their biggest surprise at the quarter-season mark. Here's what they had to say:
Henry Abbott, ESPN TrueHoop: Lukewarm Heat, the age-defying Spurs and Celtics, the NBA-owned Hornets, a four-game Lakers losing streak, the remicrofracturing of Greg Oden, the Blake Griffin explosion, that string of Jazz comebacks. There have been plenty of surprises in this young season.
But here's what surprises me the most: At the beginning of the season, everybody just knew Kevin Durant was going to be the MVP. When surveyed, GMs and experts were more or less in lockstep. But if the contest were held today, Durant would be one of a small handful of All-Stars who is not a serious candidate. Chris Paul, Russell Westbrook, Al Horford, Kobe Bryant and LeBron James top John Hollinger's player efficiency ratings at the moment while Dirk Nowitzki and the Dallas Mavericks, and Dwight Howard and the Orlando Magic, have been reeling off wins. Of course that could change at any time, and when it does, it won't be surprising at all.
J.A. Adande, ESPN.com:
My pick is the
San Antonio Spurs
, the surprise leaders of the Western Conference. I expected a year older, I didn't expect ... better, faster and higher-scoring. The other word is unfamiliar. There's still
Tim Duncan
,
Manu Ginobili
and
Tony Parker
, but six players on the roster weren't on the team in 2008-09. Was a little disorienting the first time I went into their locker room.
Kevin Arnovitz, ESPN TrueHoop:
The biggest surprises of the season are the number of surprises themselves. The two best perimeter players in their primes are still learning how to maximize their talents as a tandem in Miami. The Dallas Mavericks -- one of the stingiest squads in the NBA -- spend more minutes in a zone defense than any other team in the league. The San Antonio Spurs, once the paragon of the measured, half-court game, are now the NBA's 10th-fastest offense.
DeShawn Stevenson
,
Jodie Meeks
and
Arron Afflalo
are the three most efficient shooting guards in the game. Curiosities like these make the start of 2010-11 one of the most interesting regular seasons in recent memory.
Chris Broussard, ESPN The Magazine: A few weeks ago, the answer would have easily been the New Orleans Hornets and their 11-1 start but now the answer is easily the San Antonio Spurs. I don't think anyone envisioned the Spurs having the league's best record (18-3) at this point, especially with Tim Duncan averaging just 29 minutes and 14 points per game. But Manu Ginobili, Tony Parker and Richard Jefferson have been terrific.
Tom Haberstroh, ESPN.com: For me, the biggest surprise has been the Spurs. We generally assume that the recipe for a surprise team consists of a budding young core or a shaken up roster, but the 18-3 squad in San Antonio features neither of those ingredients. Instead, it's veterans Tony Parker, Manu Ginobili and Tim Duncan who have evolved their individual games stylistically for the good of the team.
John Hollinger, ESPN.com: The biggest surprise is that the old teams won't go away. Boston, Dallas and San Antonio have the league's three best records; about six months ago, we thought the windows for all three of them had probably shut. Each has supplemented its bench to take some of the strain off an aging core, but for each the core players have also proven remarkably resistant to decline. As a result, our expected Lakers-Heat duopoly has instead became much more interesting.
Marc Stein, ESPN.com: You mean besides Kris Humphries snagging Kim Kardashian? I swear that it's not because I'm sitting in a New Orleans hotel room as I type this -- just as I swear that I haven't gotten anywhere near the French Quarter on this trip with so much happening around the Hornets -- but Chris Paul and Co. have consistently surprised us from the first dribble of the season. An 8-0 start? Franchise sold to the NBA? Part of a surprising chasing pack in the West (along with San Antonio, Dallas and Utah) that might put up more resistance to the Los Angeles Lakers cruising back to the NBA Finals than many of us forecasted? It's been a roller-coaster. Even by Hornets standards.
Chris Sheridan, ESPN.com I saw a guy at Madison Square Garden on Wednesday night who used to sit in the front row behind the old media table. We always called him "Gotti" because of his resemblance to the former crime boss, John Gotti. I hadn't seen this "Gotti" in a decade, and I figured he had been rubbed out. But there he was again to watch this surprising Knicks team that is finally starting to capture the atttention of New York after a decade of irrelevance. "Gotti" was a fixture of the Ewing years. Seeing him reminded me of how special that building used to be, and how that feeling is returning.
Michael Wallace, ESPN.com: My first instinct is to suggest the biggest surprise is/was the Heat's sluggish start to the season amid all of the offseason hype and lofty expectations. But to see how Amare Stoudemire and the New York Knicks have come on in recent days, especially on the road, has to be the biggest unexpected development on the court this season to date.
Brian Windhost, ESPN.com:
The San Antonio Spurs haven't just surprised me, they've shocked me with their strong start. Not just because of their record but how they're doing it. They are playing at one of the fastest paces in the league, averaging nearly 107 points a night. They've allowed Tim Duncan to become basically a glorified role player many nights. Any they're getting excellent production from unexpected places such as
Gary Neal
,
James Anderson
and even Richard Jefferson.
Dimes past: Nov. 25 | 26-28 | 29 | 30 | Dec. 1 | 2 | 3 | 4-5 | 6 | 7 | 8 | 9
2. Matthews Bringing It For Portland
By John Hollinger
ESPN.com

Matthews
PORTLAND, Ore. -- Cancel the funeral dirges. It appears the Portland Trail Blazers may contest the rest of the season after all.
Portland played its most complete game of the season on Thursday, coming from an early 14-point deficit to topple the Orlando Magic 97-83, for its third straight win. The Blazers have clawed their way back to .500 at 11-11, and find themselves tied with Phoenix for the coveted eighth position in the Western Conference.
And for that, they can thank that rarest of rarities: a midlevel-exception player who has proven to be worth his money. While the Curse of the MLE has claimed victims far and wide, Portland's Wesley Matthews -- who signed a front-loaded five-year, $33 million deal with the Blazers this past summer -- has instead been a revelation.
Matthews scored 20 points in the victory Thursday and is averaging 21.1 points per game in nine outings as a starter. Moreover, his contributions are exactly of the variety the Blazers had been missing. He's proven a jack-of-all trades scorer who can hit 3-pointers off the catch, attack off the dribble and get out in transition -- all areas where the post-up heavy Blazers have struggled to produce points, especially with Brandon Roy's gimpiness.
Portland, meanwhile, is starting to figure out how to play through Roy's limitations ... partly because Matthews has proven so capable at creating offense on the wings. For the season, in fact, he leads the Blazers in points per minute and shooting percentage -- even though he's had virtually no plays called for him.
When the Blazers signed him, they thought they were getting a defensive stopper who would hit a few 3s. He's done that -- witness the sequence in which he fought off the bigger Rashard Lewis in the post before drawing a charge -- but has proven to be much more as well.
As a result, this is one midlevel deal in which the signing team doesn't have buyer's remorse. The Blazers still will land shy of the lofty goals they had entering the season, but as long as Matthews keeps delivering, they may not fall as far as originally feared.
3. Daily Dime Live Recap
ESPN.com writers and TrueHoop Network bloggers chatted with fans and gave their in-game opinions throughout Thursday's games -- all in Daily Dime Live.
THURSDAY'S BEST

Miller
Andre Miller, Blazers: At least something good came out of Miller's one-game suspension. His fresh legs delivered 22 points, eight dimes and seven boards in a win over the Magic. His consecutive-games played streak is now at 1.
---
THURSDAY'S WORST

Outlaw
Travis Outlaw, Nets: Hey, haven't we seen you in this space already this week? Yup. Four days after going 0-7 from the field in a loss to Boston, Outlaw went out and did likewise against the Mavs. That's six straight L's for the Nyets.
---
TWEET OF THE NIGHT
a year ago, the C's wouldn't even consider a lob to KG. this year, they felt it couldn't be stopped. http://es.pn/LOBtoKG [#celtics story]8:57 a.m., Friday via bitly
Chris Forsberg
ESPNForsberg
---
QUOTE OF THE NIGHT
"The crazy part about all that is that I messed that play up so many times in practice. It's only right that the basketball gods gave it to me tonight."
-- Celtics forward Kevin Garnett after taking a lob from Rajon Rondo for the winning basket. Proof that KG's back?
By Jeff Caplan
ESPN Dallas.com

Butler
DALLAS -- Jason Terry picked off a pass with 5.9 seconds left in the first half, and Caron Butler had the ball at the right wing with the clock ticking down. He could have launched a 3-pointer with a defender running at him, and no one would have thought twice about his decision.
But Butler spotted Jason Kidd wide open to his right, tossed it underneath the oncoming defender and Kidd splashed the 3-pointer at the buzzer for a 55-40 lead. Butler raised both arms in the air as the Mavs jogged off to the locker room.
It was one of four assists for Butler and one of a season-high 31 on 41 baskets for the Dallas Mavericks as they won for the 11th time in a row, 102-89, over Avery Johnson's young and struggling New Jersey Nets.
Butler's extra pass seemed to define what this win streak that started Nov. 20 has been all about: A bunch of veterans coming together under one common belief.
"It's the way our season's been going. It's the identity of our team, making the extra pass and playing unselfish basketball," said Butler, who had 15 points on 7-of-11 shooting in 27 minutes. "We're doing a great job, and it's rubbing off on everybody."
The team concept is in full bloom for the Mavs (18-4), but the petals nearly came off in the third quarter after the Nets turned a 21-point laugher into a five-point ballgame with 2:13 to go in the period. But yet another aggressive drive by Jason Terry, a 19-foot jumper by Dirk Nowitzki and an 18-footer from Terry put the Mavs back up 10 heading into the fourth quarter.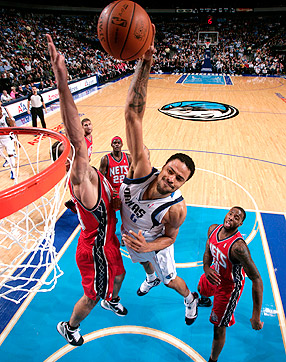 (Glenn James /Getty Images)
Tyson Chandler and the Mavs slammed home a win over the Nets. They go for their 12th win in a row Saturday night against the visiting Jazz.

Barea
Jose Juan Barea came off the bench and was credited with 13 assists in 27 minutes in Dallas' victory over the Nets. Only three other Mavericks players ever recorded that many assists in one game with as little playing time as Barea: Brad Davis in 1986 (17 assists in 24 minutes), Derek Harper in 1987 (13 in 22) and Jason Kidd in 2009 (13 in 27).
Barea's 13 assists were the most in one game by a Mavericks substitute since Derek Harper's baker's dozen in 22 minutes on Feb. 27, 1987.