1. Nine In A Row? Wade's Way Is All The Rage
By Michael Wallace
ESPN.com
MIAMI -- Dwyane Wade has been a lot of things during the Miami Heat's winning streak -- dynamic, dominant, efficient and energetic, to name a few, amid his most impressive stretch of the season.
On Monday night, Wade was something altogether different. He was angry. And the New Orleans Hornets would discover they wouldn't like him too much when he's angry.
"We've seen Dwyane enough," Heat coach Erik Spoelstra said. "I still remember the game against the [New York] Knicks [two seasons ago] when they struck blood. That's probably the worst thing you can do against Dwyane. It sparked his interest. He imposed his will."
Hornets guard Jarrett Jack didn't draw blood when he grabbed Wade around the shoulders and neck to prevent the high-flying, constantly falling Heat guard from swooping in for a dunk with 9:12 left in the second quarter. Jack was whistled for a routine foul on the play, and not a flagrant one.
Wade went nuts and quickly set his sights on two targets. First, he shouted in frustration at referee Rodney Mott for not assessing Jack with a stiffer penalty. For that outburst, Wade was assessed a technical foul. After that, Wade furiously took matters into his own hands and seized control of the game.
Instead of celebrating hours after he was named the NBA's Eastern Conference Player of the Week, Wade spent much of the night seething as the Heat ran their victory streak to nine in a row after sprinting away from the Hornets 96-84 at AmericanAirlines Arena.
Considering the way he's played during the Heat's recent surge, Wade didn't need any additional motivation or ammunition. But at a time when he could have been struggling to summon the energy in the Heat's first game back from a four-game road trip, he instead found the spark he needed for a 32-point effort. He shot 8-of-13 from the field and converted 14-of-17 from the free throw line.
"It's only a couple of players in this league who can get angry and still focus," said Wade, who scored 17 points over the final nine minutes of the first half after absorbing the hard foul from Jack. "I felt that it was too much. If I would have fell, I would have been out for a while, so I was very angry."
Instead, Wade was just starting to roll. He became the attacking player LeBron James and Chris Bosh continuously tell Wade they came to Miami to play alongside. He entered the can't-miss zone that elevates his game from spectacular to special. When Wade gets to this place, teammates have about as much luck calming him down as defenders have at cooling him off.
This was the Wade that Spoelstra remembers from that Feb. 28, 2009 game against the Knicks, when an inadvertent elbow from then-rookie Danilo Gallinari caught Wade in the face and sent blood spewing from Wade's mouth. But the Knicks caught the splatter -- 15 consecutive points from a livid Wade, who went on to score a 24 points in the fourth quarter of a Heat runaway victory.
James, who was sitting on the bench in the midst of Wade's tantrum on Monday, tried to calm his teammate. Wade shouted back. But James has been in these types of moments before. He understood. So he backed down. James Jones also tried to approach Wade and escort him away from the official. Wade shoved Jones away. Jones digressed.
"I don't want nobody to tell me to calm down," James said, trying to sympathize with Wade. "But it's the right thing to hear. I think D-Wade knows exactly what he's doing. But we can't afford to lose D-Wade on the basketball court. It doesn't matter what he says back to you as a teammate. You just try to tell him to move on to the next one. He has the right to say what he wants to say. He got his point across and he let his game do the talking the rest of the game."
Wade insists his demonstrative antics didn't come close to landing him a second technical, which would have led to an automatic ejection from the game. But it did have a catapulting effect.
"The whole time, we're looking for a chance to turn [on] our momentum," Bosh said of the Heat, who went on to extend the franchise record of consecutive victories by a double-digit margin to nine games. "Yeah, it's nice to watch [Wade] when you have the same jersey. It's not as much fun when you're on the other team. He plays good angry ... when he's got that edge to him."
Wade routinely has used anger as motivation. He did so when he forced his body through months of grueling rehabilitation from shoulder and knee surgeries in the spring of 2008 to prepare for the Beijing Olympics. He led that team in scoring on the way to winning a gold medal. Wade also carried that anger into the 2008-09 season, when he led the league in scoring and finished third in MVP voting.
Spoelstra actually prefers the version of Wade that's in a constant state of adversity. Two weeks ago, Spoelstra was coaching Wade through shoulder and wrist injuries that contributed to a slump during which the star guard strung together 2-of-12, 4-of-13, 1-of-13 and 6-of-21 shooting performances. Since then, Wade has bounced back to average more than 30 points, eight rebounds and five assists during the past five games of the winning streak.
The difference between Wade then and now?
"Not overreacting with any of us or panicking about it," Spoelstra said. "It seems that at the beginning of the year, at least while I've been coaching, even as an assistant, there was always a stretch -- a week or so -- where he wasn't playing his normal, great basketball. And it seemed like everybody would panic and give you all something to write about for a few days."
And then, the Wade we see now would emerge. It's the Wade that takes the criticism personally. It's the Wade that returns to the arena in the wee hours of the morning after a bad game and gets up hundreds of shots. It's the Wade who hits the weight room before games to summon strength to close out teams.
"Whatever sluggish start he has, you just know it's a matter of time before he turns it back around," said Heat center Joel Anthony, who has been in Miami with Wade longer than any other teammate aside from Udonis Haslem. "To me, it's not surprising to see him like this. That's what I'm used to."
Anthony, who has been around Wade for four seasons, knew he had this sort of mean streak in him. Jack is a relative stranger. So was the referee.
Neither had an idea of the fury or the flurry they unleashed Monday night.


NBA Writer Michael Wallace
• On Twitter @WallaceNBA_ESPN | On ESPN.com
• Follow ESPN's NBA coverage on Twitter | On Facebook | On Google+
Dimes past: Nov. 25 | 26-28 | 29 | 30 | Dec. 1 | 2 | 3 | 4-5 | 6 | 7 | 8 | 9 | 10 | 11-12 | 13
2. Quest For Win No. 13 Proves Unlucky For Mavs
By Jeff Caplan
ESPN Dallas.com

DALLAS -- The Dallas Mavericks coughed up a 20-point lead and then gave way to the Boston Celtics' 10-game win streak and the Miami Heat's nine-game streak.
Dallas' 12-game streak, tying the San Antonio Spurs for the longest of the season, got buried unexpectedly under the quick feet of Brandon Jennings and the Milwaukee Bucks Monday night, 103-99, after the Mavs had plowed ahead by 20 points midway through the second quarter.
Perhaps the Mavs should have seen it coming. They got fast and loose with 20-plus-point leads in their last two home games to New Jersey and Utah, but hung on.
The Mavs couldn't get to No. 13 despite leading 42-22 with 5:04 left in the second quarter against a Bucks team that looked as though they weren't all that keen on playing. But, a 28-12 run,which included an 18-8 dash to start the third quarter, got the Bucks back in it. Then a killer 14-0 run over a three-minute span late in the fourth quarter supplied just enough cushion.
Dirk Nowitzki had a chance to tie it with about 12 seconds left, but his off-balance, 7-foot fallaway from the lane fell flat and hit off the front rim.
"They took it," Mavs coach Rick Carlisle said of the Bucks' effort. "We gave them opportunities and they took it."
The second-half stat sheet is ugly. The Bucks (10-13), last in the league in both scoring (91.5) and field-goal percentage (40.7) entering Monday's game, scored 60 points on a Mavs defense that ranks in the top five in scoring (92.6) and field-goal percentage (43.2). Jennings outscored everyone with 18 points. The Bucks' bench outscored the Mavs' reserves 30-18. The Bucks outrebounded the Mavs 22-19, and committed half as many turnovers.
Carlisle's assessment was blunt.
"They kicked our ass," Carlisle said. "I don't know any simpler way to say it."
4. Daily Dime Live Recap
ESPN.com writers and TrueHoop Network bloggers chatted with fans and gave their in-game opinions throughout Monday's games -- all in Daily Dime Live.
MONDAY'S BEST

The Bucks Bench: Keyon Dooling, you the man. The well-traveled vet stepped up with 16 points in snapping the Mavs' 12-game win streak. And Chris Douglas-Roberts' 14 points? Gravy. Of course it's never over if Ersan Ilyasova is out there (14 points).
---
MONDAY'S WORST

Hibbert
Roy Hibbert, Pacers: An otherwise solid season hit a low point with a six-point, three-rebound effort by the Pacers' big man. Never mind Hibbert trying to cover Bulls forward Carlos Boozer ranging outside in a 92-73 drubbing.
---
TWEET OF THE NIGHT
Yes! On to San Antonio! Bus is upbeat and alive, great feeling.Monday, 11:42 p.m. ET via Echofon
Andrew Bogut
AndrewMBogut
---
QUOTE OF THE NIGHT
"It ain't Chinese algebra. If you get stops and you execute on offense, normally that team wins."
-- Grizzlies reserve Tony Allen, whose team held the Blazers to nine points in the fourth quarter of a 86-73 win.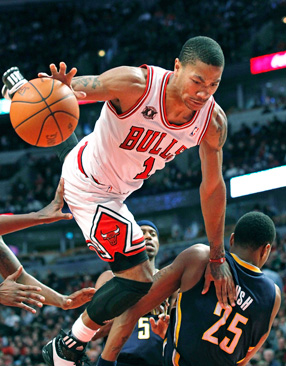 (Mike DiNovo-US PRESSWIRE)
Bulls point guard Derrick Rose heads for the floor after colliding with Brandon Rush. "I saw my whole future flash before my eyes, coming down," Rose said of the
hard fall he took in the fourth quarter.
"I thought it was going to be worse than that. But right now it just feels sore."
By Nick Friedell
ESPN Chicago.com

Boozer
CHICAGO -- This game was hard to watch for Chicago Bulls fans, and I'm not just talking about the two times when Derrick Rose was writhing on the floor in pain after spraining his wrist and tweaking his ankle.
After racing out to a 17-point lead in the first quarter, the Bulls took their foot off the gas and allowed the Indiana Pacers, playing without Danny Granger, to creep back into the game. The second quarter resembled the Bulls' usual first-quarter malaise. They couldn't hit shots, the offense was stagnant and the defense didn't look crisp. Indiana outrebounded the Bulls 19-8 in the second quarter, gaining more confidence as the seconds passed. Bulls coach Tom Thibodeau had seen enough.
"Plain and simple, Coach Tibs just said they kicked our butt in the second quarter on the boards," Carlos Boozer said. "I don't know what it was, but it wasn't pretty. Usually we're a dominant rebounding team and the entire halftime he talked about our non-rebounding in the second quarter. That's been the mark of our team, why we've been able to win games, because we've been able to dominate the boards. So we had a concerted effort to go out there and rebound the ball in the second half. I thought we did a much better job of attacking the rebounds."
That mentality, along with Boozer's solid play, lifted the Bulls to their sixth straight win. The power forward had a monster night, going off for 22 points and 18 rebounds. For the second time in a week, he showed the Bulls just how valuable he can be when Rose and Joakim Noah can't get things going.
By Breene Murphy
ESPN TrueHoop

Sterling
It strikes me that Clippers owner Donald Sterling is doing this [heckling] as a way to be liked. After all, what has been a bigger unifying force in Clipperdom than the constant bewilderment and frustration with Baron Davis? Sterling must hear about it all the time because he sits in his very public courtside seats and the fan distaste for Baron is palpable. But Sterling can't join in on the chants to be just like everyone else, it won't make him liked. It's like the rich kid in college hearing all of his friends whine about being broke. If he whines too, it's just annoying.
What will make Sterling liked is if he puts together a winning team (as gross as that sounds considering his frequent ethical gaffes), not if he commiserates with the fans, because he can actually do something about the success of the team. He signs the checks, he approves the signings (or at least hires people to do so) and he controls the atmosphere. He has the responsibility.

Deron Williams had 30 points and 10 assists in the Jazz's win over the Warriors on Monday. It was Williams' 18th career game with at least 30 points and 10 assists, tying the Utah Jazz's team record, set by Pete Maravich when the team played in New Orleans.