1. Knicks-Celtics Getting That Rivalry Feeling
By Brendan Jackson
ESPN TrueHoop
The game-winning 3-point shot from Amare Stoudemire may have been a second too late, but the message was loud and clear: We are here. The Boston Celtics left Madison Square Garden with that message in tow.
The word "rival" implies a certain sense of equality, a sense that a viable counterpart exists. However, there is one type of rivalry that is not derived from equality but, rather, circumstance. The Celtics and the New York Knicks have shared the same division since 1970, and since then, Boston has won 19 division titles to New York's 4. Boston has been the bully of that division since its inception, an unrelenting older brother.
For the past four years the Knicks have been unable to even come close to the Celtics, finishing below .500 in each successive season since the 2007-08 campaign. This season is different. Wednesday was a prime example of just how different the New York Knicks will be this season and what that means for the Boston Celtics.
The Celtics aimed to assert their veteran savvy early, as Paul Pierce stole the opening tip and scored a quick layup. A tone-setter. The Knicks saw what they were in for and responded with power and resiliency. Stoudemire paced the Knicks in the early going, scoring New York's first seven points.
By halftime, the Knicks appeared poised to run away with this contest after securing a seven-point lead over their Atlantic Division brethren. Stoudemire had already scored 23 of his game-high 39 points, and point guard Raymond Felton was well on his way to notching his 26 points and 14 assists. The third quarter ended in a stalemate with both teams scoring 32 points. The Celtics would not go away, and the Knicks had an answer for everything the Celtics threw at them -- until the fourth quarter.
In the fourth quarter, the older brother flexed his muscles. Kevin Garnett began challenging the Knicks in the paint, scoring eight points in the game's final five minutes. Ray Allen ran the Knicks' defenders off screens and knocked down two huge 3-pointers. Doc Rivers made gutsy call after gutsy call. He decided to keep Rajon Rondo in the game after turning his ankle. Rivers shuffled his lineups, interchanging Glen Davis, Nate Robinson and Allen; hitting the Knicks with mismatches.
After 47 minutes and 48 seconds, the game had reached an impasse. Something had to give. In this moment, Rivers put the ball in the hands of the most tenured Celtic. Before taking the floor to finish out the game's final 12 seconds, Shaquille O'Neal whispered a few unknown words of wisdom to Pierce.
In a matter of seconds, it was over. Pierce, like so many times before, drained a heavily contested step-back jumper with time running out. Before Stoudemire could shoot his would-be game winner, Pierce took his victory lap around Madison Square Garden. The crowd showered him with boos, but it did not matter to Pierce. The big brother is still on top. This time, however, he knows his little brother is right on his heels.
For the first time in four years, the Celtics are no longer the big brother picking on the helpless younger brother. Instead, they are the elder statesmen fending off the younger, more precocious, but impressive upstart. Paul Pierce said of the Knicks after the game, "They have arrived." Stoudemire echoed that sentiment as well in his postgame news conference, "Boston respects us."
They do. They have no other choice.
Brendan Jackson's work can be found at CelticsHub.com
Dimes past: Dec. 1 | 2 | 3 | 4-5 | 6 | 7 | 8 | 9 | 10 | 11-12 | 13 | 14 | 15
2. Promising Loss For Knicks
By Mike Kurylo
ESPN TrueHoop

It's a heartbreaking loss for the Knicks, one that you could argue the Knicks should have won. Had New York lost this game anytime in the past decade, it'd be reasonable to shake your head and think "Same old Knicks!" But things are different with this season's incarnation.
There are a lot of ways this game could have ended up in New York's favor: If Kevin Garnett's layup didn't swirl around the rim right back to him. If Raymond Felton didn't fall down on a drive, giving the Celtics a four-on-five. If the refs properly calculated how much time remained after Paul Pierce's shot. If Amare Stoudemire didn't take that hop right before he shot. If you could build a time machine and rewind the final two minutes a hundred times, New York probably would win 80 or 90 times.
But that's irrelevant. This isn't one of those games that exposes a bad team with a good record. For 46 minutes, New York looked primed for a win over one of the league's best teams. Stoudemire outplayed Garnett. Felton got the best of Rajon Rondo. Wilson Chandler (18 points, 12 rebounds) and Danilo Gallinari (20 points on 14 shots) both stepped up against a great defense.
These weren't career nights for these players. Before Wednesday night's game, New York had the league's fourth-best offense. This is a team that can score points on any team in the league.
Despite Boston's pleas that the Knicks weren't a rival, this game proved the contrary. New York forced the pace and the style. Near the end of the game, Mark Jackson remarked that the Celtics were defending the pick-and-roll poorly. That's what good teams do, make other good teams look bad at times. This wasn't a game in which the Knicks were fortunate to keep up with a good team. It was a game that Boston was lucky to win.
For more from Kurylo and other Knicks bloggers, check out knickerblogger.net
3. Stoudemire Sets The Tone
By Chris Sheridan
ESPN New York.com

Stoudemire
NEW YORK -- As measuring-stick games go, the New York Knicks were a couple of inches short and a click of the clock too late.
This game in a nutshell? That's it right there. If Amare Stoudemire had gotten a couple of inches closer to Paul Pierce on the step-back jumper that everyone from here to Boston knew he was going to take, perhaps Stoudemire would've gotten a finger on it and it wouldn't have dropped through.
And if Stoudemire had shown just a tad more hand speed on the catch-and-shoot 3-pointer he hit after the final buzzer had already sounded, the jubilation that the Madison Square Garden crowd displayed would have actually been meaningful.
4. Daily Dime Live Recap
ESPN.com writers and TrueHoop Network bloggers chatted with fans and gave their in-game opinions throughout Wednesday's games -- all in Daily Dime Live.
WEDNESDAY'S BEST

Pierce
Paul Pierce, Celtics: Hit the winning shot over Amare Stoudemire en route to 32-point, 10-rebound night. His Truthiness made all 10 of his free throws. And if you take a bow afterward, it's definitely a rivalry.
---
WEDNESDAY'S WORST

Bobcats' offense: Sure, the Bobcats are defensive-minded. But when you put up 80 points and 20 turnovers in a 113-80 loss to Memphis, and you still haven't cracked 100 points in December, it makes one yearn for a megadose of some Michael Adams, circa 1990-91 Nuggets.
---
TWEET OF THE NIGHT
Tough loss... smh... Learn from it and get better...11:19 p.m. via ÜberTwitter
Wilson Chandler
wilson_chandler
---
QUOTE OF THE NIGHT
"I've never won 10 games in a row. So I'm happy."
-- Heat forward Chris Bosh, whose team hit the double-digit mark by beating the Cavaliers.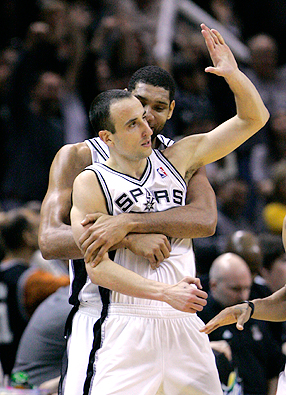 (Soobum Im-US PRESSWIRE)
Spurs guard Manu Ginobili celebrates with his teammates after making the winning 17-footer at the buzzer over the arm of Luc Mbah a Moute. The Spurs beat the Bucks 92-90.

Griffin
Blake Griffin scored 20 points and collected 18 rebounds in the Clippers' loss at Philadelphia. It was Griffin's 13th straight game with more than 10 rebounds. In the past 40 seasons, the only other rookie with a streak as long as Griffin's was Shaquille O'Neal, who grabbed at least 11 rebounds in each of 15 straight games for the Magic in 1992-93.