SUNDAY'S BEST

Hill
Grant Hill, Suns Who needs the yet-to-suit-up new guys? Calvin's 38-year-old kid went for a season-high 30 points (most points in a game since 2005) and pulled in 11 rebounds in a 113-110 road win over the Thunder.
---
SUNDAY'S WORST

Hawks offense: Joe Johnson's second game back from elbow surgery was something of a dud, with him hoisting 16 shots and making 25 percent in an 89-82 loss to Sasha and the Nets.
---
TWEET OF THE NIGHT
Bout to catch flight to ATL from OKC. Didnt get chance to go back to PHX so I only got 3 outfits until @pure_addiction sends me clothes lol.1:50 p.m., Dec 19 via Echofon
Jason Richardson
jrich23
---
QUOTE OF THE NIGHT
"It's been awhile since I played a very important role. I like this style of play and I like being part of this team."
-- Nets newcomer Sasha Vujacic, who has already played more minutes this season in two games with the Nets (56) than with the Lakers (54).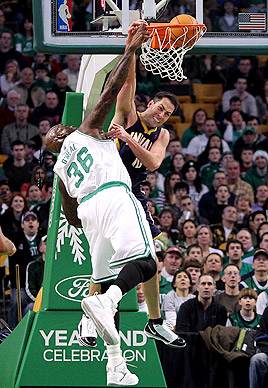 (Mark L. Baer-US PRESSWIRE)
Celtics center Shaquille O'Neal
returned to action
and threw down two of his 11 first-quarter points over Pacers center Jeff Foster. Shaq, who missed four games due to soreness in his right calf, also had five rebounds over 20 minutes of action.

Vujacic
The Nets defeated the Hawks, 89-82, and they outscored Atlanta 61-38 with Sasha Vujacic in the game. Vujacic's margin of plus-23, in only his second game since joining the team, was the highest such mark by any Nets player this season. In fact, during his seven seasons with the Lakers, Vujacic compiled a plus-minus that high only five times in 420 regular-season games.
By Jeff Caplan
ESPN Dallas.com

Chandler
DALLAS -- The most dominant Big Three in recent seasons, to no surprise, belongs to the Boston Celtics. Since Kevin Garnett and Ray Allen joined Paul Pierce in Beantown, the trio has led Boston to a championship and a second NBA Finals appearance in three seasons.
It continues to be an unwavering force, ranking as the league's top three-man combination so far this season. On its heels is the most ballyhooed Big Three assembled since the Boston bunch. Riding a 12-game win streak, the Miami Heat's trio of Dwyane Wade, LeBron James and Chris Bosh now ranks as the NBA's second-best threesome.
Rankings are best measured on plus-minus rating, meaning how many points the trios outscore or are outscored by their opponents when on the floor together. According to ESPN Stats & Information, the Celtics' Big Three is a plus-229. Miami's, after Saturday's fourth-quarter comeback at Washington, is a plus-217. The Heat trio is a plus-150 during the win streak, and Saturday's nail-biter pushed another Big Three into third place.
Any guesses which trio that is?
It belongs to the Dallas Mavericks, starting with Dirk Nowitzki and Jason Kidd. Who's the third member of the NBA's third-best Big Three?
Center Tyson Chandler. Nowitzki, Kidd and Chandler are plus-210, well ahead of Kobe Bryant, Pau Gasol and Derek Fisher of the Los Angeles Lakers (173).
For the full story by Caplan, click here